It's every kid's dream to live in an ice cream factory. Even if you're not a kid anymore, who doesn't love ice cream?
Buying more interesting flavours can get expensive. Or there just isn't much variety for specialty ice cream that meets your dietary needs. Either way, it would be much easier if it were possible to make great ice cream at home. It is!
With an ice cream maker, you can run your own personal ice cream factory at home. Create any kind of ice cream you like, whenever you want, for a fraction of the cost of buying it ready-made. Let's explore how ice cream makers work and why they'll make dessert much more fun.
What are ice cream makers?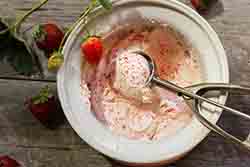 Making ice cream is a little more complicated than flavouring and freezing a bowl of milk and cream – that just gets you frozen milk. Not only do you need the right ingredients, but you also need the right process. Ice cream needs to be churned constantly while freezing to aerate it, stopping ice crystals from forming and achieving a smooth creamy texture.
There are three major components to an ice cream maker – a freezing bowl, a motor to rotate the bowl, and a paddle for churning the ice cream. To use, the freezing bowl should be put in a freezer for at least 12 hours before making ice cream.
Ice cream makers generally don't produce ice cream as hard as the kind you'll buy from the supermarket. It produces more of a soft serve texture, but just a couple of hours in the freezer and it'll firm right up. Either way, you can make some delicious desserts! Your ice cream maker will likely come with a few recipes to get you started.
Check out this Breville ice cream maker in the company of celebrity chef Heston Blumenthal.
Source: The Good Guys
Why get an ice cream maker?
Making your own ice cream is a great way to get ice cream just the way you like it. Ice cream makers are surprisingly easy to use and clean.
With an ice cream maker, you can create more unique flavours that can be hard to find in stores. You can also make healthier, low-sugar versions of your favourite frozen treats. It's a particularly useful tool for those with particular dietary preferences and needs, for example lactose intolerant and vegan people. Specialty ice creams can be really expensive!
What can you do with an ice cream maker?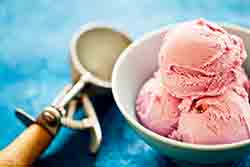 While you can of course make ice cream, that's not the only frozen treat you can make with an ice cream maker. You can also make frozen yoghurt, frozen custard, and sorbet – yum!
Making ice cream from scratch means you can be pretty inventive with it. You can turn your ice cream into ice cream sandwiches, ice cream cakes, ice cream blocks, and any number of cold delicious desserts. Plus, you can add in any extra bits and pieces you like, from chocolate chips to pieces of fresh fruit to gummy bears (if you're so inclined).
Are ice cream makers difficult to use?
Most of the work is in preparing the ice cream mix. This is pretty straightforward when following recipes. Some recommend heating the mix to a gentle simmer then cooling it in the fridge overnight to make creamier ice cream. Otherwise, just mix your ingredients together and pop them into the machine.
Using the ice cream maker itself is very simple. Turn it on, pour in your mix, and let it do its thing. It takes around 20-40min for the ice cream to thicken up as much as it's going to in the machine. You'll know it's done when it stops moving around the bowl. If you're adding mix-ins (such as chocolate chips), just make sure you've done it before the ice cream is too firm to mix in properly.
Clean-up is a breeze – while there's a few little parts, everything washes out easily.
How much do ice cream makers cost?
They're not a particularly common appliance, but if you're serious about your ice cream you should seriously consider adding an ice cream maker to your kitchen. Ice cream makers can be purchased as either standalone appliances or as attachments for kitchen mixers.
Freezer bowl attachments for kitchen mixers cost around $129-$199 from brands such as KitchenAid, Breville and Kenwood.
Below are indicative prices for standalone ice cream makers from major appliance brands, based on advertised prices at time of writing.
| Brand | Low End | High End |
| --- | --- | --- |
| Cuisinart | $139 | $649 |
| Sunbeam | $39 | $349 |
| Breville | – | $399 |
Should I get an ice cream maker?
It might look like an expensive purchase just to make ice cream, but in the long term an ice cream maker could be a big money saver. This is especially the case if you buy specialty ice creams (such as non-dairy) or prefer niche flavours.
It's also a lot more interesting. Buying ice cream is much less fun than experimenting with different flavours and add-ins to really earn your dessert!
See Canstar Blue's Ice Cream Tub Ratings