Fact Checked
Golden North scoops up sweet victory for fourth year in a row
On a scorching summer's day, there's nothing like a big bowl of ice cream to cool you down! And with non-dairy, plant-based, gluten-free and nut-free options now widely available, almost everyone can indulge in this special treat. But with so many options to choose from, which ice cream brand serves up the best blend of taste and value? The supermarket freezer aisle is packed full of different brands, so which are worth a try?
To help you find out which brand you should be sinking your sweet tooth into, we've again surveyed more than 2,900 Australian consumers about the ice cream tub(s) they have bought and eaten from a supermarket or grocer in the last three months. Survey respondents scored brands on their range variety, taste, consistency, packaging, value for money and overall satisfaction. Brands that met the minimum required sample size of 30 responses are featured in our results. So, what did we find this year?
Aussies continue to melt for Golden North, with the brand scooping up the title of best ice cream brand (for tubs) for the fourth year running. It got five-star reviews for taste, consistency, range variety, packaging and overall satisfaction.
Best Ice Cream Tubs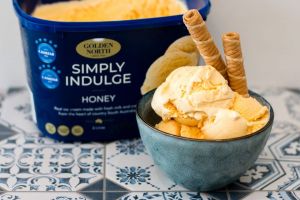 Here are the best ice cream tub brands in Australia, as rated by consumers in Canstar Blue's 2021 review:
Golden North
ALDI Monarc
Connoisseur
Bulla
Blue Ribbon (Streets)
Peters
Sara Lee
Haagen-Dazs
Magnum (Streets)
Cadbury
Weis
Woolworths
Ben & Jerry's
Coles
Golden North remains the crème de la crème in our latest ice cream tubs review, eating up the competition for the fourth year in a row! Most brands, including ALDI Monarc, Connoisseur, Bulla, Sara Lee, Haagen-Dazs and Magnum scored four stars overall. The remaining brands, including Cadbury, Weis, Woolworths, Ben & Jerry's and Coles rounded up the scores on three stars for overall satisfaction.
It's worth mentioning that discount supermarket ALDI was rated best for value for money, earning a five-star review with its Monarc range. Connoisseur similarly achieved full marks for taste and range variety.
So, what is ice cream anyway?
Today is the day you find out you've been living a lie! The ice cream you have in your freezer might not actually be 'ice cream' at all! According to Food Standards Australia New Zealand, ice cream is officially defined as "a sweet frozen food that is made from cream or milk products or both, and other foods, and is generally aerated". A food that is sold as 'ice cream' must, by law:
be ice cream; and
contain no less than:

100 g/kg of milk fat; and
168 g/L of food solids.
This means many of the 'ice cream' tubs you buy from the supermarket are in fact confectionery due to the lack of dairy cream they contain. Generally speaking, however, we refer to all products in the freezer aisles as ice cream for the sake of our ratings. You know what we mean…
Ice Cream Tubs
Golden North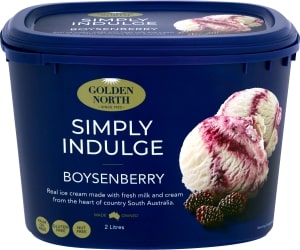 Golden North is proudly South-Australian made and owned, producing ice cream for almost 100 years. Its products are boasted for being 100% palm oil-free and nut-free, with most of its range also gluten-free. The brand's Simply Indulge range features flavours like Vanilla, Boysenberry, Café Cino, Chocolate, Honey, Rum & Raisin, Spearmint Sundae and Vanilla Sundae. Golden North additionally offers a Diet Plus range, which is specifically designed for people with diabetes and classified as having a low glycaemic index (GI). You can also find the brand's Country Style line for nut-free and gluten-free alternatives. Tub sizes come in various options including 1L, 2L and 5L, depending on which variety of ice cream you're after.
Golden North milked another win after it achieved five-star reviews for taste, consistency, variety, packaging and overall satisfaction. It also got four stars for value for money.
ALDI Monarc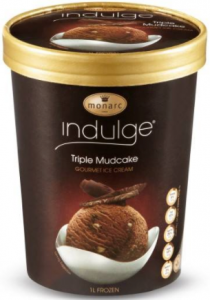 For a wallet-friendly sweet fix, German supermarket discount chain ALDI has its own line of home brand ice cream tubs for a lick of the price of pints from other brands. The Indulge range includes flavours such as Vanilla Opulence and Triple Mudcake. ALDI Monarch will usually set you back just $4.49 for a 1L tub.
ALDI Monarc rated best for value for money, scoring five stars, and achieved four stars for variety, consistency, packaging and overall satisfaction. It got three stars for taste.
Connoisseur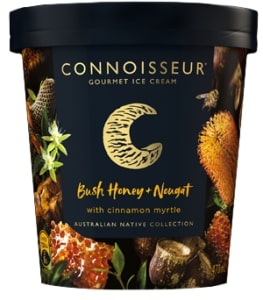 Move over, vanilla and chocolate. Connoisseur doesn't have time for bland ranges and instead prefers to mix up unique combos such as Mint With Cookies, Sumatran Coconut With Chocolate Fudge Sauce, Derwent Valley Raspberry With White Chocolate, Chocolate Brownie With Chocolate Custard, and Murray River Salted Caramel With Chocolate-Coated Hazelnuts.
The brand offers several collections such as Plant-Based, Crafted by Australia, Australian Native Collection and The Brooklyn Collection. Aside from tubs, Connoisseur also sells ice cream cookies and sticks. The gourmet ice cream tubs are usually available in either 1L or 450ml tubs.
Connoisseur whipped up five-star reviews for taste and range variety, before landing on four stars for consistency, packaging and overall satisfaction. It additionally got three stars for value for money.
Bulla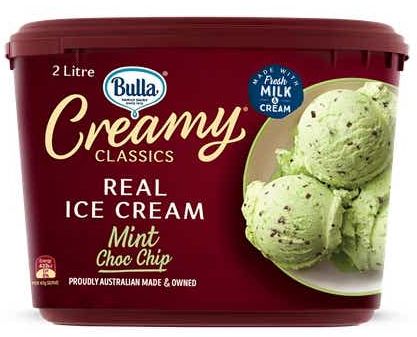 Bulla grabs life by the horns, making each day sweeter than the last with its Creamy Classics range and Murray Street Ice Creamery collection. So, the brand thinks anyway.
Bulla's Creamy Classics tubs are available in 2L varieties, offering flavours including Mint Choc, Vanilla & Boysenberry, Cookies & Cream and Vanilla. More unique alternatives can be found in 460ml Bulla Murray Street Ice Creamery tubs, with options such as Coffee Swirl & Cookie Chunks and Caramelised Peanut Brittle.
Bulla finished with a smooth four stars across all research categories, such as for taste, consistency, value for money and overall satisfaction.
Blue Ribbon (Streets)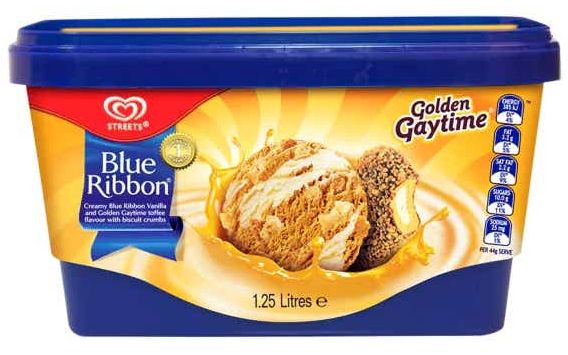 Blue Ribbon is a Streets brand that has had many Australians tied around its finger (or should we say spoon) for many years with its Classics collection as well as new additions including Blue Ribbon Crafted Ice Cream and Blue Ribbon 308-372 Calorie Tubs.
The Blue Ribbon Classics range is available in 2L tubs and includes 3-in-1 combinations including Neapolitan and even Caramel & Honeycomb, as well as the usual flavours like Vanilla and Chocolate. The brand also uses 100% sustainable Australian cream from several Victorian dairy farms in its Blue Ribbon Crafted range, offering options including Cookies & Cream, Chocolate and its signature Buttermilk Vanilla in 1L tubs. Lighter alternatives are available, with the Blue Ribbon 308-372 Calorie Tubs, which are said to provide reduced-fat ice cream in 460ml tubs. Flavours include Raspberry Fudge Swirl, Cookies & Cream, Creamy Chocolate and Vanilla Bean.
Blue Ribbon cleaned up with four stars in each category, including taste, range variety, value for money and overall satisfaction.
Peters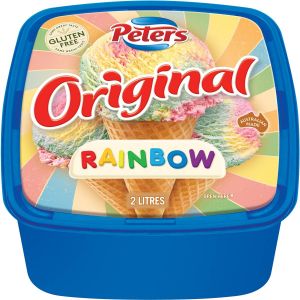 From Drumsticks and Life Savers to Icy Poles and the classic ice cream party cake, Peters is behind some of the biggest brands in the world. Its Original ice cream tub range is no exception, with 2L and 4L tubs available in flavours including Vanilla, Neapolitan, Chocopolitan and Rainbow. Peters also offers a Light & Creamy collection, which includes 1.8L tubs in Raspberry Ripple and French Vanilla. The brand also provides a lactose-free option, which comes in a slightly smaller 1.2L tub.
Peters usually costs between $4.75 and $7.60.
Peters chilled with four-star reviews across the board, including for taste, consistency, variety, value for money and overall satisfaction.
Sara Lee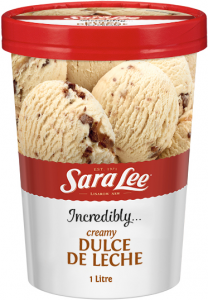 Sara Lee puts a modern spin on traditional desserts we all know and love, especially when it comes to ice cream. Flavours include Strawberries & Cream, Hazelnut Chocolate Ripple, Dulce de Leche, Rocky Road, Ultra Chocolate, French Vanilla and Honeycomb & Butterscotch. Each delicious pint comes in a 1L tub, which will typically cost you $9 at the checkout.
Some other sweet goodies available from Sara Lee include pies, cheesecakes, puddings, cakes and brownies.
Sara Lee scooped up four stars in the majority of areas, such as taste and overall satisfaction. The only exception was value for money, where it got three stars.
Haagen-Dazs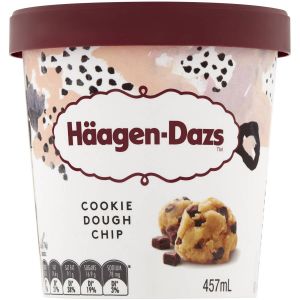 'Try me once, love me forever' is a pretty fitting motto for Haagen-Dazs, a popular go-to pick for sweet tooths around the world. The brand says its range of ice creams always start with four simple ingredients, namely real cream, milk, eggs and sugar. Various flavours include Cookie Dough Chip, Chocolate Frappe, Peanut Butter Crunch, Mango and Raspberry, Brownie Macchiato, Strawberries & Cream and Vanilla. Haagen-Dazs alternatively offers mini-cup multipacks and stick bars.
Haagen-Dazs picked up four stars for most factors, such as taste, variety and overall satisfaction. It got three stars for value for money.
Magnum (Streets)
Magnum is another mighty Streets brand keeping Aussies cool and on track with their summer plans. While its products mostly consist of multipacks and individual stick varieties, the brand also creates 440ml tubs in flavours like Chocolate Ganache and Salted Caramel. If you miss crunching into the cracking chocolate coating that holds the velvety vanilla ice cream together, the Magnum Classic similarly contains the same chocolate shards (and even the shell) you normally expect from a Magnum.
Magnum dished out four-star reviews in most research categories, including taste, consistency, variety, packaging and overall satisfaction. It scored three stars for value for money.
Cadbury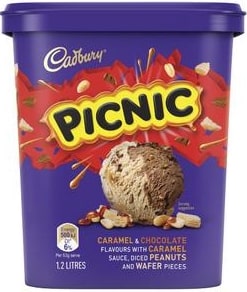 Cadbury may be the king of the chocolate bar aisle, but did you know they've got a stake in the freezer section too? The range includes ice cream versions of Aussie favourites such as Picnic, Dairy Milk (chocolate and vanilla) and Crunchie. These usually come in 1.2L tubs and cost $9 each.
Cadbury achieved an even split, scoring four stars for range variety, consistency and packaging as well as three stars for taste, value for money and overall satisfaction.
Weis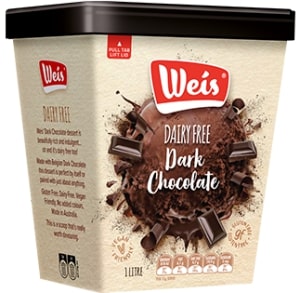 Weis is 'the taste on everyone's lips, including those looking for a fairly affordable dairy and gluten-free alternative. Made in the same state that houses the Big Mango, Queensland, it's fitting that the brand's Mango and Cream Bar is its most well-known and supposedly best-selling product.
Weis markets its Real Good tubs as a range that gives people with dairy or gluten intolerances, as well as vegans, the freedom to enjoy ice cream. Its products are made with a variety of real fruits, premium grade nuts and natural ingredients. Everything is free from artificial colours or flavours. Flavours include Simply Coconut, Dark Chocolate and Boysenberry Acai & Coconut.
Weis landed on four stars in the majority of factors, such as taste and range variety, before ending on three stars for value for money and overall satisfaction.
Woolworths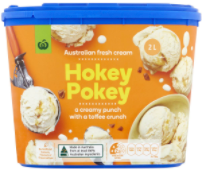 Woolworths is another supermarket to offer its own homebrand line of budget-friendly ice creams. It has a couple of flavours to choose from, including a 2L tub of Hokey Pokey and a 1L tub of Peanut Butter & Salted Chocolate. Products like the Hokey Pokey are advertised as reduced-fat ice cream with 67% less milk fat than Woolies' 1L ice cream.
Woolworths rated four stars for value for money and range variety, plus three stars for taste, consistency, packaging and overall satisfaction.
Ben & Jerry's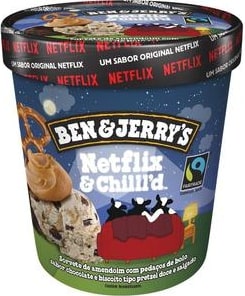 As one of the most well-known and popular brands of ice cream around the world, it seems people can't scoop up enough of Ben & Jerry's creative concoctions like Netflix & Chill'd and Half Baked. It has several ranges to choose from, including its Moo-phoria, Cores and regular line. There are also non-dairy alternatives and mini cup options. Ben & Jerry's are among one of the most expensive ice cream tubs featured in our review, checking out at $12 for a 458ml tub.
Ben & Jerry's packed up with four stars in most research categories, including taste, consistency, variety and packaging. It got three stars for value for money and overall satisfaction.
Coles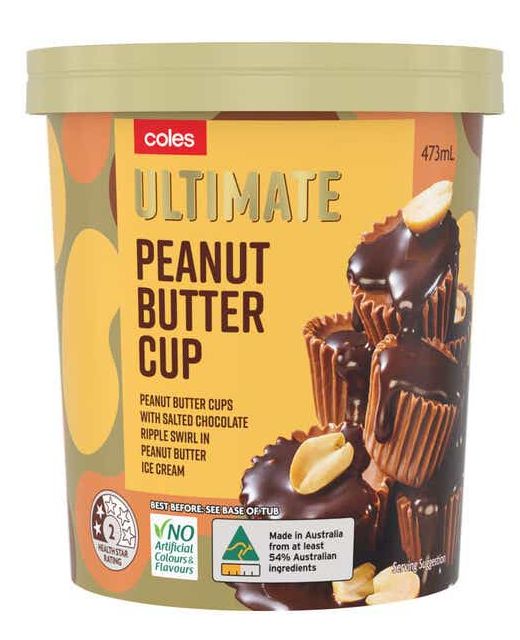 Compared to other supermarket chains, Coles has a wide variety of ice cream flavours and sizes to scan through. There are a few unique combos like Ultimate Peanut Butter Cups, Choc Honeycomb, Rum & Raisin, Honey Caramel & Macadamia, Salted Caramel Fudge and Cookie Dough Chocolate Ripple. Coles also has dairy-free ice cream in flavours including Coconut & Mango with a Passion Fruit Swirl.
Whether you want a tub for the whole family or just yourself, you can find products in 473ml, 500ml, 1L, 2L and 4L varieties. Similar to Woolies and ALDI, this homebrand range is on the affordable side, with tubs costing between $2.75 and $6.
Coles rounded up the scores with four stars for value for money and three stars everywhere else, including taste, variety and overall satisfaction.
Australia's favourite ice cream flavours
When asked what their favourite flavour of ice cream is, vanilla was the most popular choice of survey respondents:
Vanilla: 17%
Chocolate: 10%
Cookies & Cream: 7%
Caramel/Salted Caramel: 6%
Mint: 4%
Neapolitan: 4%
Berry (i.e. strawberry, raspberry): 3%
Coffee: 3%
Fruit (i.e. mango, banana): 2%
With one in ten (12%) survey respondents admitting to enjoying ice cream daily during summer, and the same portion claiming it as their go-to snack (12%), picking the right tub can be serious business. Analysis of our research shows that taste is ultimately what makes Aussie tummies happy (28%), with consistency (22%) and value for money (18%) also ranking as important drivers of customer satisfaction.
About the author of this page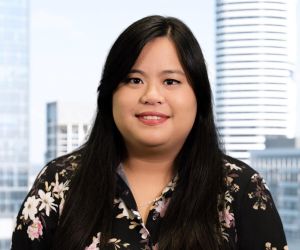 This report was written by Canstar Blue's home & lifestyle journalist, Tahnee-Jae Lopez-Vito. She's an expert on household appliances, grooming products and all things grocery and shopping. In addition to translating our expert research into consumer-friendly ratings reports, Tahnee spends her time helping consumers make better-informed purchase decisions on all manner of consumer goods and services, while highlighting the best deals and anything you need to be aware of.