Fact Checked
Russell Hobbs rated the hot pick in kettle review
After a long, hard day, there's nothing better than sitting down with a nice hot cuppa. Unless, of course, your kettle is on the fritz, which would leave many of us at boiling point. While it won't seem like a kitchen without one, the humble kettle is often underrated in the modem home, with appliances such as smart fridges and dishwashers taking the spotlight. Despite this, many of us still turn to the kettle for either a relaxing cup of tea or an energising cup of coffee when we need it most.
While purchasing a kettle isn't a big financial decision, finding one that works for your needs, and kitchen aesthetics, warrants enough thought so that you don't just grab the first one you find. So, which brand has ticked all the boxes for Aussie consumers? To find out, we surveyed more than 1,100 consumers on the new electric kettle(s) they've bought and used in the last two years. Respondents rated brands on ease of use, boiling performance, functions and features, quietness, design, value for money and overall satisfaction. Brands that received the minimum survey sample size (30 responses) are featured in our report.
Russell Hobbs topped our ratings to become the best-rated brand for overall satisfaction in Canstar Blue's 2022 kettle review. It was also the winning brand for kettles in 2019 and 2020.
Best Kettles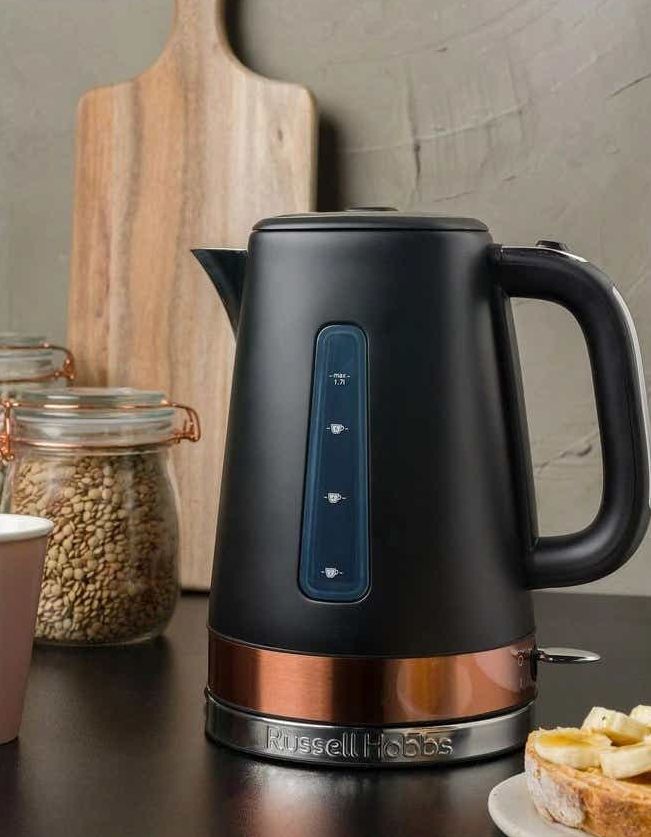 Here are the best kettles in Australia, as rated by consumers in Canstar Blue's latest review:
Russell Hobbs
Smeg
Target
Sunbeam
Kambrook
Breville
De'Longhi
Kmart
Bellini
Russell Hobbs took out Canstar Blue's top gong after rating five stars for boiling performance, functions and features, value for money and overall satisfaction. Premium brand Smeg also stood out with full marks for design, quietness, ease of use and boiling performance. Meanwhile, Target scored the same result for value for money.
Top-Rated Kettles
Russell Hobbs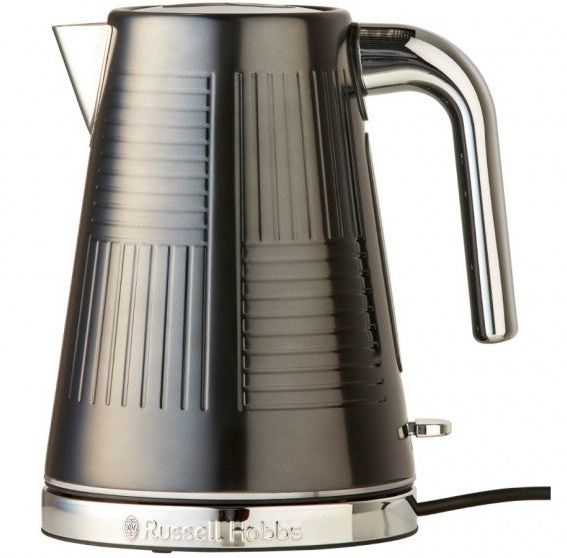 Offering a variety of modern-style kettles, as well as vintage-style kettles for those after that 'old school' aesthetic, Russell Hobbs is a well-known brand in the kitchen appliance market. It has a number of kettle series, giving you plenty of options to consider.
Available in a variety of designs, some kettles in the Russell Hobbs range include:
Russell Hobbs Carlton Kettle (RHK82BRU): $49.95 RRP*
Russell Hobbs Addison Digital Kettle (RHK510): $79.95 RRP*
Russell Hobbs Brooklyn Glass Kettle (RHK172): $99.95 RRP*
If you want a classic look for your kitchen, Russell Hobbs' Legacy collection features the same dome shape as the brand's original design, and is available in bold charcoal or purple as well as pastel green and cream. You can also expect a few modern functions found in other Russell Hobbs models, such as a keep warm setting, quiet boil technology, a removable anti-scale filter and blue LED lighting to indicate when your kettle is boiling and ready to use.
Russell Hobbs served up five stars for boiling performance, functions and features, value for money and overall satisfaction. It got four-star reviews for design, quietness and ease of use.
Smeg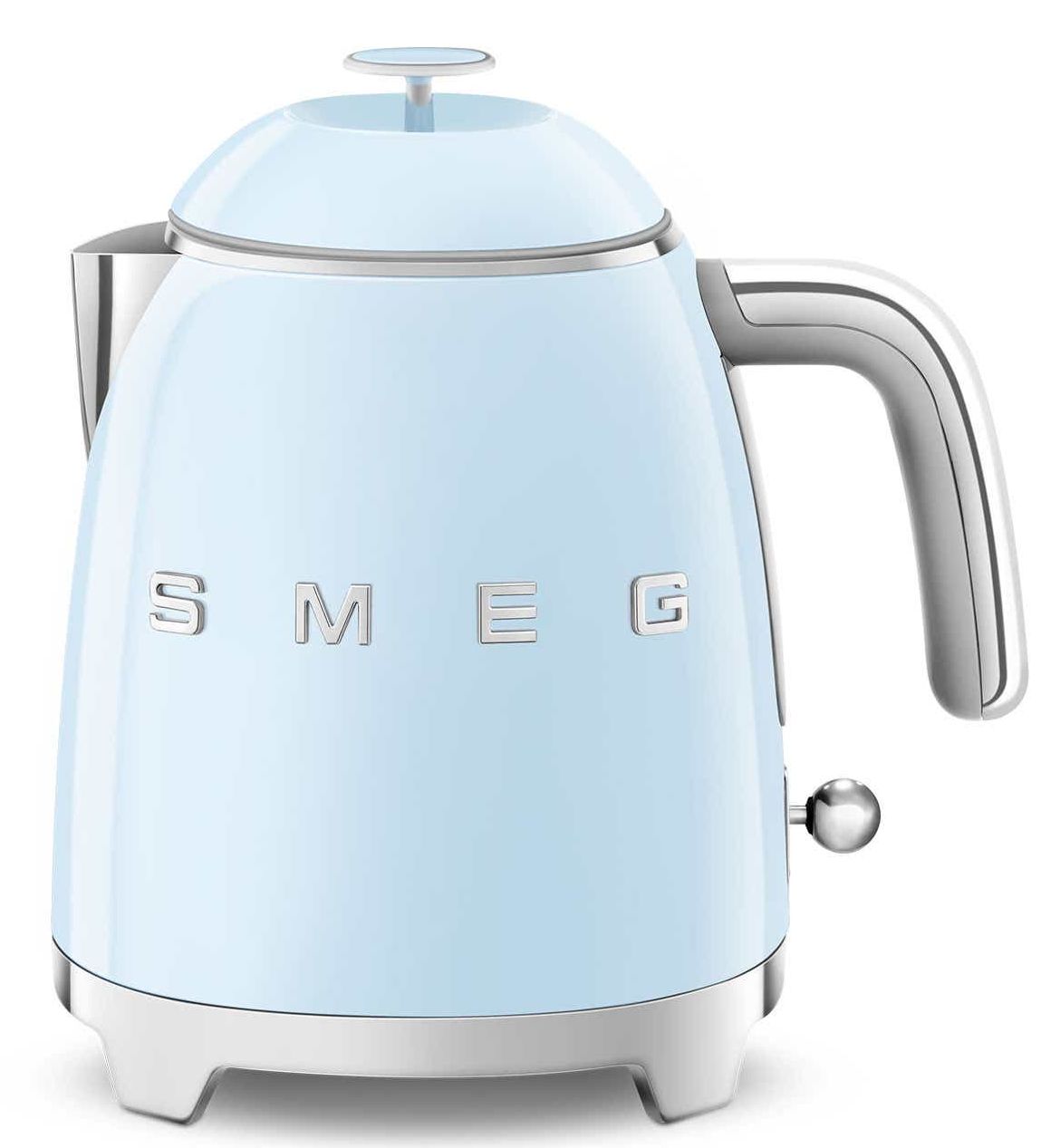 Smeg seems to be the go-to brand for fans of vintage and retro designs, with many consumers loving the Italian brand's 50s aesthetics and bright colour palette. Smeg has a few kettles to pick from, including variable temperature kettles that let you customise the water temperature to help brew the perfect cuppa. You can also check out Smeg's standard kettles, which offer a 1.7L capacity, and the brand's mini alternatives that can fill up to 0.8L (three cups).
Different kettles from Smeg include:
Smeg 50s Style Mini Kettle (KLF05PKAU): $189 RRP*
Smeg 50s Style Electric Kettle (KLF03RDAU): $249 RRP*
Smeg 50s Style Variable Temperature Electric (KLF04WHAU): $289 RRP*
Depending on the model, some functions in Smeg kettles include a keep warm mode, a removable limescale filter, built-in cord wrap, acoustic alarm, backlit controls and a variable temperature range between 50°C and 100°C.
Smeg earned five-star reviews for boiling performance, quietness, design and ease of use. It got four stars everywhere else, including for overall satisfaction.
Target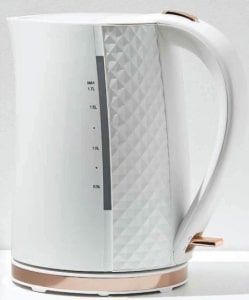 When it comes to variety, Target hits the spot with a wide range of options from different brands such as Bellini, Breville, De'Longhi, Russell Hobbs and Sunbeam. The department chain also has its own affordable range of kettles, with nothing costing more than $30.
For a stylish design without the hefty price tag, you might want to pop into your local store to check out the 1.7L Adela Kettle. Similar to pricier models from other brands, this model comes with boil-dry protection, overheat protection, water gauge and a 360-degree rotational concealed heating plate. It also has a removable water filter. Otherwise, there's Target's 1.7L Stainless-Steel Kettle. This particular model also comes with a 360-degree rotational concealed heating plate and is available in silver or red.
Target's range of kettles currently includes:
Target 1.7L Adela Kettle: $25 RRP*
Target 1.7L Stainless-Steel Kettle: $29 RRP*
Despite having a small number of its own brand of kettles to choose from, Target still stocks a variety of other brands and styles to choose from, including traditional gooseneck kettles, an option some major brands may not offer.
Target impressed on value for money, receiving full marks, and scored four stars for overall satisfaction and in the majority of the remaining research areas. It got three stars for functions and features.
Sunbeam

With one of the largest ranges available, Sunbeam has households sorted when it comes to hot drinks. Regardless of your needs or budget, Sunbeam will have a model for you, ranging from traditional plastic and stainless finished to stainless-steel and glass models.
Some models in Sunbeam's wide range of kettles include:
Sunbeam Quantum Plus Kettle (KE2360): $24.95 RRP*
Sunbeam Maestro Quiet Shield (KE6451): $99.95 RRP*
Sunbeam New York Collection Pot Kettle (KE4410KB): $169 RRP*
Some nifty features packed in Sunbeam kettles include Quiet Shield Technology, which supposedly reduces the size of the water bubbles during the heating process to produce a less noisy boil. Other additions include a lid window so that you can see the progress of the boil, and a fast boil element that uses 2200W of power to heat your water.
Sunbeam maintained four stars for most areas, including boiling performance, design, ease of use, value for money and overall satisfaction. It got three stars for quietness and features.
Kambrook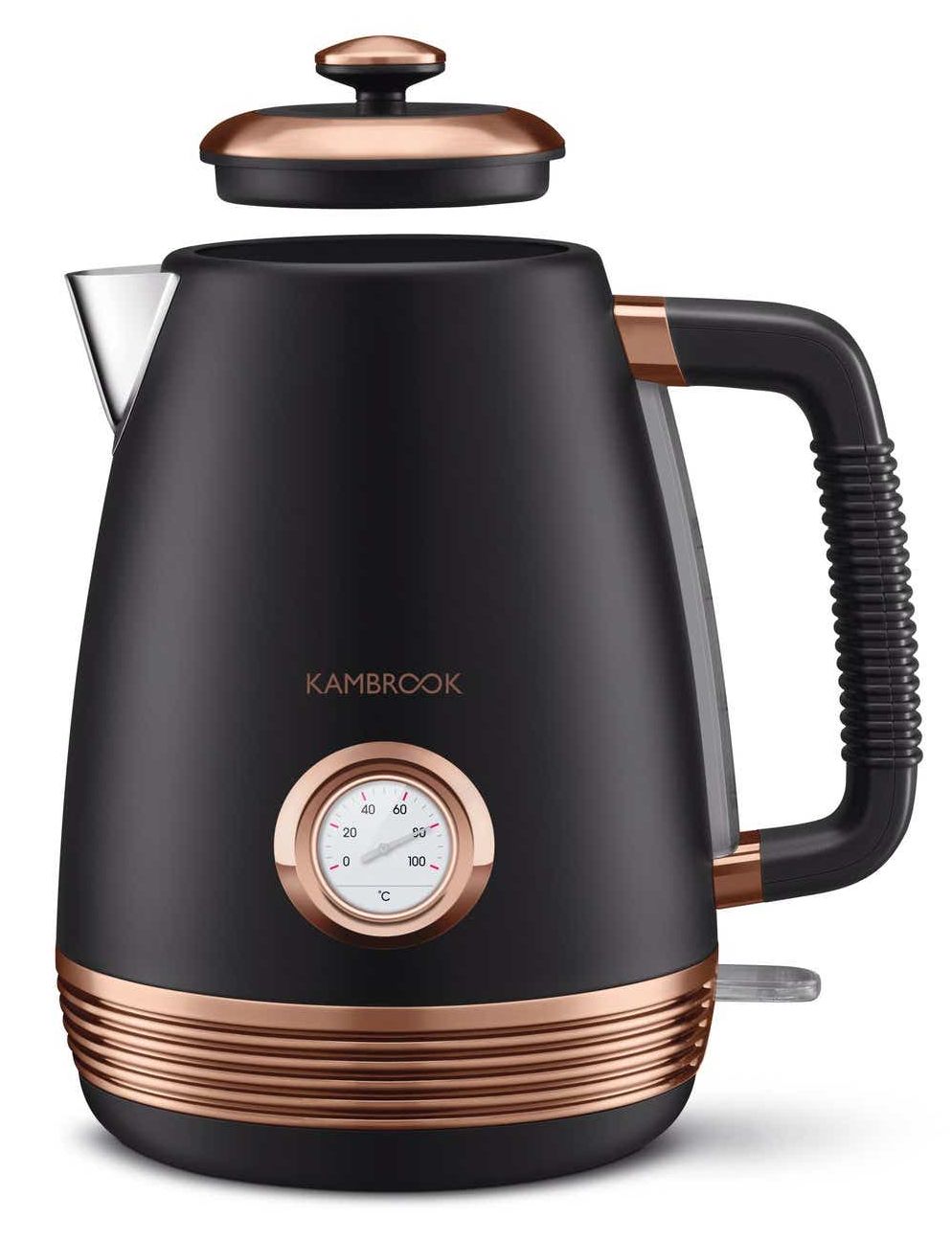 A veteran of the kitchen appliance market, Kambrook offers a variety of kettles for all budgets, with a range of glass and stainless-steel models available. Kambrook's most basic and cheapest kettle is the Pour With Ease model. It has a 1.7L capacity and, like all other Kambrook kettles, is BPA-free. The model includes features such as dual water windows, a removable scale filter, a one-touch pop-up lid, illuminated power light and a multi-directional swivel base.
Kambrook's kettle range includes:
Kambrook Pour With Ease (KKE280WHT): $39.95 RRP*
Kambrook Textured7L BPA-Free Kettle (KKE380GRY): $49.95 RRP*
Kambrook Baroque 1.7L Cord-Free Kettle (KKE74MTB): $79.95 RRP*
The most expensive kettle from Kambrook includes many of these same features, plus more. Although it has slightly less capacity at 1.5L, despite costing more than double the price. The Glass Kettle is cord-free and contains a removable and washable filter to reduce impurities. It also has a concealed element for easy cleaning and boil dry protection.
Kambrook landed on four stars for design, ease of use, value for money and overall satisfaction. It finished with three stars in the remaining areas.
Breville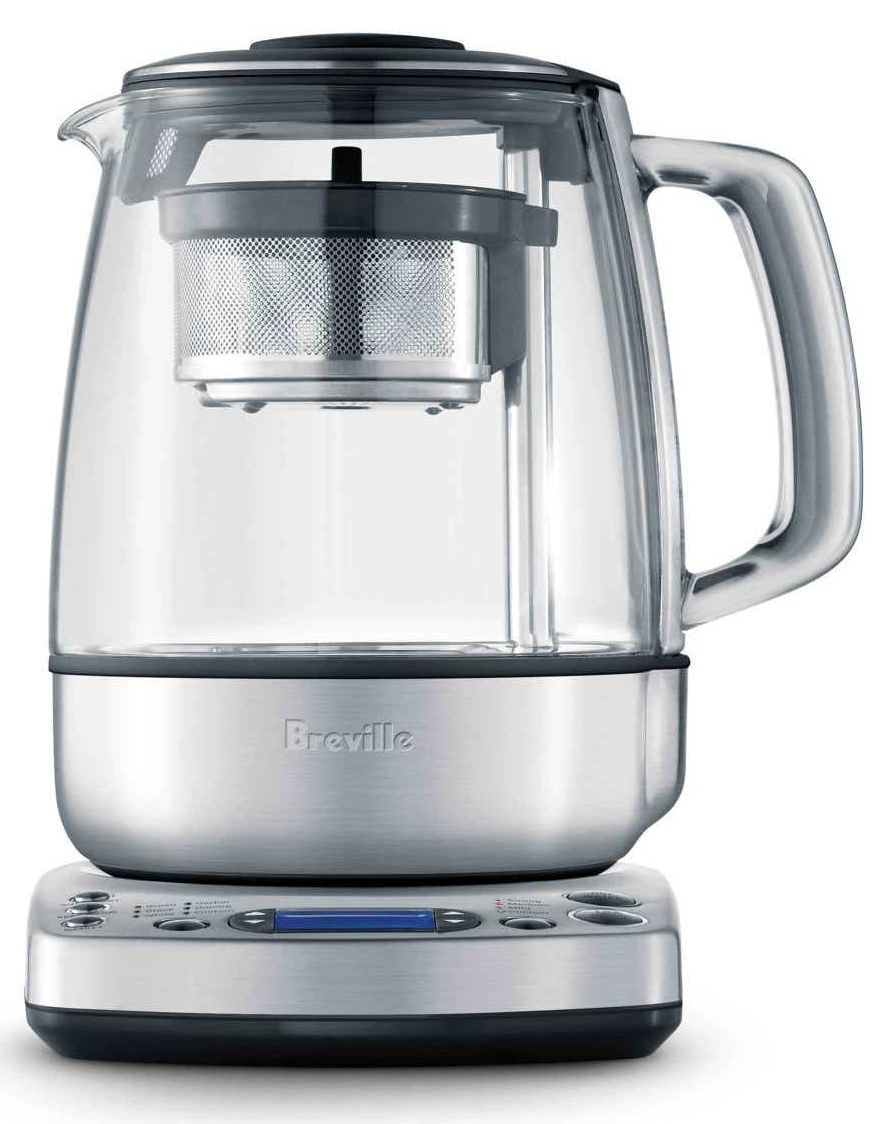 With plenty of kitchen appliances available, it's no surprise that Breville has a wide variety of automatic and manual kettles to choose from. Whether you're after a simple model, a stainless-steel model or a kettle with a tea infuser built in, Breville likely has you covered.
Some Breville kettles include:
Breville The Soft Top (BKE625WHT1BUS1): $59.95 RRP*
Breville The Smart Kettle Luxe (BKE845BSS1BUS1): $199.95 RRP*
Breville The Smart Tea Infuser Compact (BTM500CLR1BUS1): $149.95 RRP*
For those after the latest in kettle technology, Breville offers the Smart Kettle and the Tea Maker which uses five pre-programmed temperature settings to help households make certain types of drinks. It's also said to keep water hot for up to 20-60 minutes, depending on the model, and features a stainless-steel design. Breville also provides glass kettles, including the Crystal Clear kettle, built with DURAGlass for safety. The Crystal Clear comes with auto shut-off with boil-dry protection to limit the risk of burns.
Breville achieved four stars for design, ease of use, value for money and overall satisfaction. It scored three stars everywhere else.
De'Longhi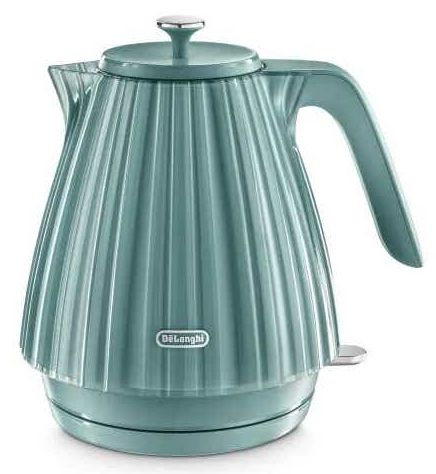 Italian brand De'Longhi has a range of kettles to suit your household style and size, with plenty of kettles to choose from. Many of De'Longhi's kettles fit in with modern and vintage aesthetics, making the brand a viable option for many households.
De'Longhi's Brillante kettles might be worth considering if you're shopping for a kettle with a bold design. Available in silver or black, these models provide a 1.7L capacity and a detachable base for cord-free convenience. It also contains three-level safety protection, which includes auto shut-off once water starts to boil, thermal cut-off, and auto shut-off when the body is lifted from the base.
De'Longhi usually offers a 12-month warranty on all kettles. Some products include:
De'Longhi Argento Silva Kettle (KBX2016.Y): $79 RRP*
De'Longhi Ballerina Kettle (KBD2001.W): $119 RRP*
De'Longhi Icona Capitals Tokyo Kettles Tokyo Red (KBOC2001.R): $139 RRP*
The biggest series in the De'Longhi range, Icona, offers a larger variety of styles to choose from and usually contains the same 1.7L capacity across all models. Different models from the Icona series include Icona Vintage, Icona Capitals, Icona Metallics and Icona Classic. These are typically priced between $89 and $149, with the Icona Kettle being the cheapest option. This comes with a detachable base, removable anti-scale filter and a three-level safety protection system.
De'Longhi earned four stars for design and overall satisfaction, plus three stars for boiling performance and in all other categories.
Kmart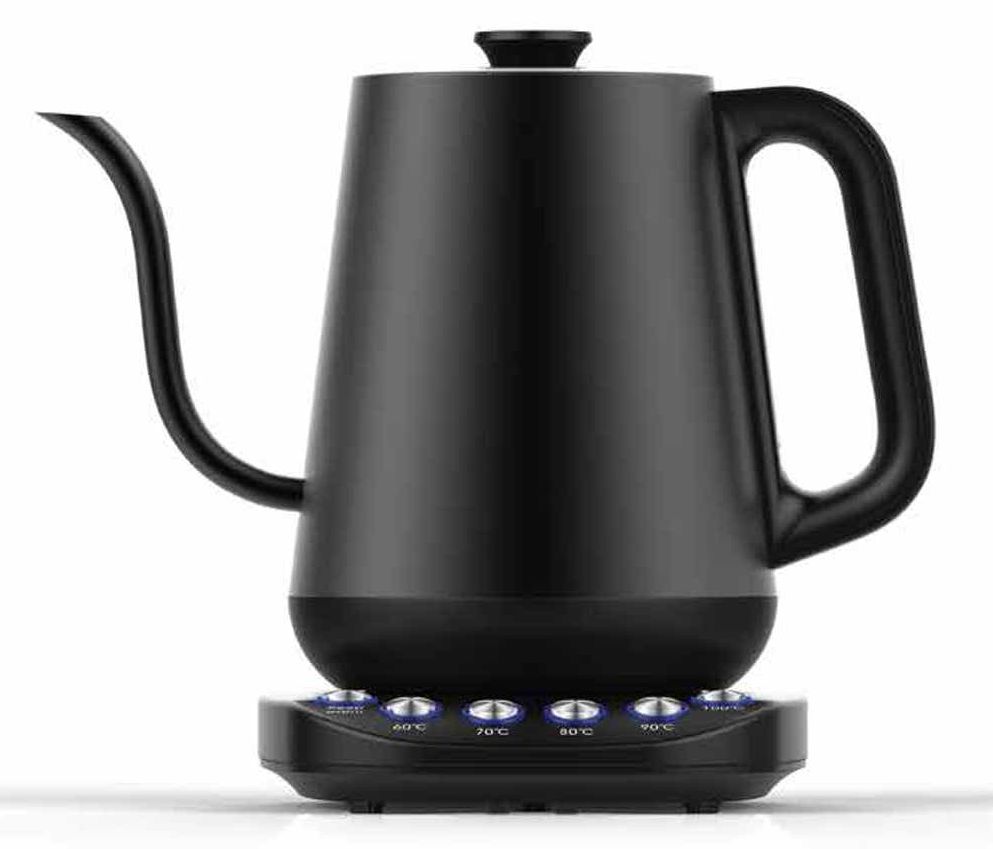 Kmart offers many cheap and cheerful kettles, with almost 20 models on offer at the time of writing. The range features different types of kettles, including everything from classic enamel kettles to modern smart kettles packed with multiple temperature options. The style range is just as wide, with a variety of clear, matte, ombre and stainless-steel designs to pick from.
Some kettles from Kmart's range include:
Kmart 1.7L Stainless-Steel Kettle: $20 RRP*
Kmart 1.7L Digital Kettle: $39 RRP*
Kmart 0.8L Gooseneck Kettle: $49 RRP*
Kmart's most basic and cheapest model, the 1.7L Cordless Kettle, has a maximum power of 2200W and is designed with an external water level indicator. Pricier models, such as the 1.7L Stainless-Steel Kettle, comes in multiple colours and has extra features including dry-boil protection, 360-degree rotation and a concealed heating element.
Prices start from $7 for the 1.7L Cordless Kettle and max out at about $59 for the techier Kmart 1.7L Smart Variable Temperature Kettle. Kmart offers a 12-month warranty on most kettles.
Kmart achieved four stars for value for money, before ending on three stars for boiling performance, design, overall satisfaction and the remaining factors.
Bellini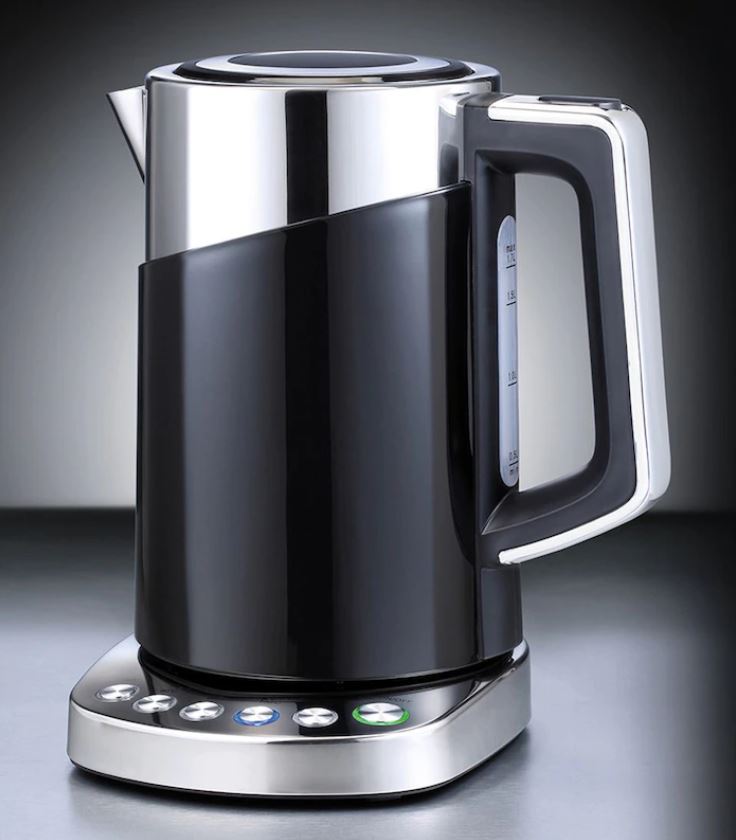 Bellini is another budget brand that's been gaining popularity for its affordable alternatives and unique styling. One of its cheaper models is the Bellini 1.7L Pyramid Kettle, which boasts a stainless-steel build and cordless jug. For a few more dollars, you can alternatively get the Bellini 1.7L Digital Base Kettle. This comes with adjustable temperature settings, a removable filter and automatic lid-opening structure.
Here are the prices for these Bellini kettles:
Bellini 1.7L Pyramid Kettle (BSSKW21): $39 RRP*
Bellini 1.7L Digital Base Kettle (BDK20B): $49 RRP*
All Bellini kettles sit under the $50 mark and can be purchased from Target.
Bellini rounded up the scores on three stars across the board, including for value for money and overall satisfaction.
What to consider when buying a kettle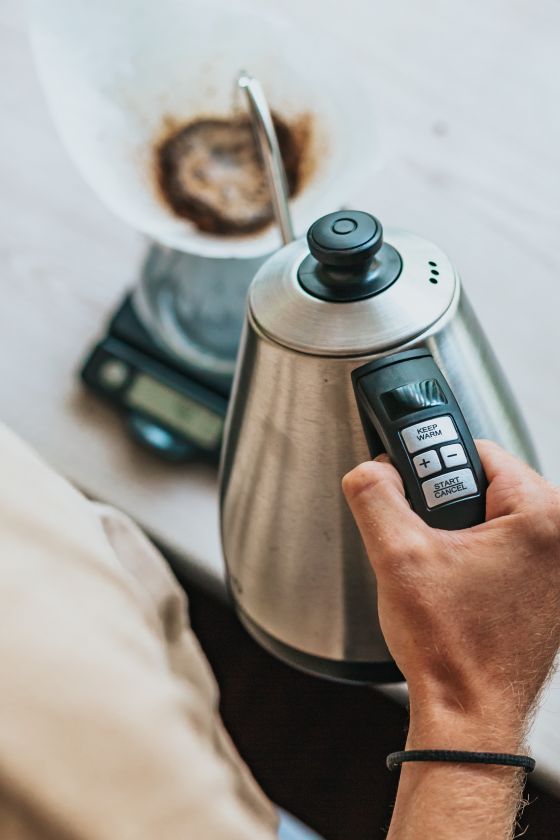 In addition to finding out which brands Aussies love most, we asked survey respondents to tell us about the main purchase decision behind their kettle of choice.
Price was certainly a priority for almost half of survey respondents, with 40% listing cost as their main factor of consideration. These are the main factors that swayed our respondents:
Price: 40%
Style & appearance: 22%
Ease of use: 12%
Size: 9%
Brand name: 8%
Features: 7%
The amount Aussies spend on a new kettle has also dropped since last year, going from $53 to $41. Plus, fewer people said they wished they'd spent more on a better-quality kettle (4%) or a model with a different water capacity (2%).
When it came to features, one in three (33%) opted for a cordless model and almost a fifth (18%) picked something that would complement their other appliances or match their kitchen aesthetic. With traditional plastic, stainless-steel and glass kettles available, consumers are even more spoilt for choice. In addition, making a kettle the statement piece of your kitchen is easy with the abundance of different colour options on offer.
Which kettle should I look at buying?
Russell Hobbs' success in our kettle ratings proves Aussies love a brand that strikes the right balance between quality, functionality and value for money. Smeg also impressed consumers in a variety of areas, especially design, quietness and ease of use. Target was another hot pick for shoppers wanting good bang for buck.
While a kitchen essential, finding a kettle that suits your lifestyle and your drink preferences can be tricky, with plenty of options available, making it difficult to narrow down. While most popular brands have similar capacities, additional features such as auto shut-off, cord storage and quick boil functions are all factors you will have to be aware of when browsing the shelves.
With plenty of options available, it's always best to do your research before reaching for your wallet, as some brands or styles may fit your personal preference or household better than others, with a reliable kettle just as good as a cup of tea when you really need it.
About the author of this page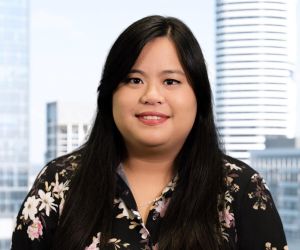 This report was written by Canstar Blue's home & lifestyle journalist, Tahnee-Jae Lopez-Vito. She's an expert on household appliances, grooming products and all things grocery and shopping. In addition to translating our expert research into consumer-friendly ratings reports, Tahnee spends her time helping consumers make better-informed purchase decisions on all manner of consumer goods and services, while highlighting the best deals and anything you need to be aware of.
*Prices taken from respective retailers, correct as of January 2022.
Picture credits: Tyler Nix / Unsplash.com.