While often associated with bodybuilders and counting calories, kitchen scales are a handy addition to any household, regardless of whether or not you're looking to make a few healthier lifestyle changes.
Kitchen scales are essential for adding the correct amount of ingredients to recipes, helping to make mouthwatering meals and tasty treats. Otherwise known as food scales, kitchen scales might be the small appliance to make a big difference to your cooking game, while also helping you improve your diet, in terms of the amount of food you eat, but also the quality of food.
With a number of brands on offer, finding one that will suit your needs in the kitchen may prove to be a struggle if you're after something specific. With digital and mechanical models available, Canstar Blue can help narrow down your options with this quick guide.
Top Kitchen Scales
Beurer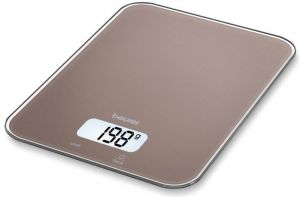 While not a common household name, German manufacturer Beurer has been operating for over 100 years, with a focus on electrical devices for health, including blood pressure monitors, therapy devices, and all types of weight scales, including the kitchen variety.
When it comes to food scales, Beurer offers a number of models, including flat scales in addition to scales with measuring bowls. Beurer's introductory model, the KS 19, comes in a variety of styles for personal preferences, as well as in a slim design for easy storage and use. The KS 19 also includes an LCD display and easy clean glass surface, making it user-friendly, with a total weight capacity of up to 5kg.
For those cooking in bulk, the KS 59XXL has a weight capacity of 20kg, meaning you can accurately cook for a small army. Additional features include a memory function, which displays the last measured value, automatic switch-off, and the ability to switch between imperial and metric measurements, making the KS 59XXL possibly the new go-to for larger households.
If you're after something a bit different, or just really pressed for space, the wall-mounted KS 52 may be the kitchen scales for you, with the unit also retractable to save further space. With its 5kg capacity, the KS 52 also comes with a timer, clock and automatic switch off for easy use.
Users who are big on cooking may be interested in the KS 25, 32 or 54 models, with all three coming with a weighing bowl for larger capacities. And with a number of additional features that include LCD displays, metric and imperial readouts and overload indicators, Beurer scales could suit all households, regardless of whether you're a cooking veteran or kitchen novice.
Beurer's top of the line model, the KS 800, may blow your dinner guests away, with the kitchen scale compatible with Bluetooth, and has an accompanying app which comes loaded with recipes for you to try. With a touch screen LCD display, the KS 800 also comes equipped with a timer, overload indicator and a USB cable for charging, making it one of the more advanced models available on the market.
You may also be interested in:
Breville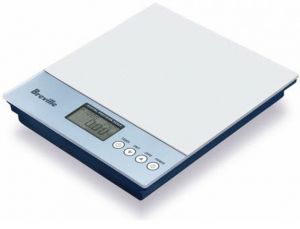 A long-standing name in the kitchen appliance space, Breville offers plenty when it comes to filling out your house. Not to be outdone by other brands, Breville offers a few kitchen scales, including the Multi Measure and the Little Genius, handy for whatever meal you're preparing. Boasting an accuracy of up to 1g, the Multi Measure may be worthwhile for those looking to crack down on their nutritional intake, or those who want to closely follow a recipe.
The Multi Measure contains an LCD display, as well as a converter to switch between both metric and imperial measurements to make sure you don't get your measurements mixed up. With an easy-clean surface for those messy ingredients, the model is powered by two 3V Lithium batteries.
Breville's other model, the Little Genius, may be a suitable addition to your kitchen if you're serious about cooking, with these scales able to do much more than simply weigh food. With a timer and thermometer also built in, users are able to keep track in the kitchen to ensure that your meals are cooked to the proper temperature.
With an easy clean surface and a max capacity of 5kg, the Little Genius also comes with a five-year warranty.
Sunbeam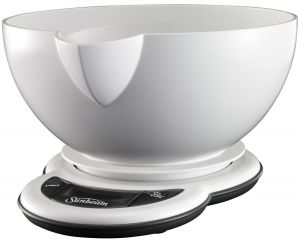 Another veteran of the home appliance market, Sunbeam offers the EasyMeasure Food Scales, with a large measuring bowl ideal for all types of meals and foods. With a 3kg capacity, the EasyMeasure contains a variety of functions for easy use, including an LCD display with both metric and imperial measurements, in addition to auto power off and sleep mode for when you're not using it.
Including a 1.9L measuring bowl, Sunbeam says it utilises 'Strain-Gauge' technology to accurately weigh ingredients regardless of where or how its positioned on the scales, helping you to accurately follow any recipe to create delicious meals.
Sunbeam products come with a 12 month warranty.
Accura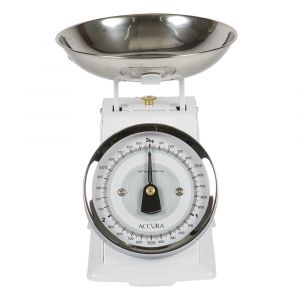 Produced by Australian manufacturer Albi, the Accura mechanical scale comes in a variety of colours to suit any kitchen style and décor. With a choice between 3kg and 5kg capacity models, the Accura range has a large dial to help you keep a close eye on ingredients, with an easy to clean stainless steel bowl, perfect for those who regularly make a mess. One of the major benefits of the mechanical model is no need for batteries, meaning they're good to go whenever you are!
The Accura comes with a minimum three-year warranty.
Which kitchen scales should I buy?
While it may not be an essential item for some households, kitchen scales certainly come in handy for those looking to properly track their diets, as well as those partial to cooking up a storm by taking the guesswork out of ingredient and portion sizes.
With the potential to set you back more than $100, depending on the brand and model, doing your own research before you head off to the store could potentially save you some money, as well as ensure that you pick a product that won't collect dust at the back of the cupboard.