The kitchen is the heart of the home, a hub where family members can plan their day over a bowl of cereal or entertain guests while preparing a tasty charcuterie board. And thanks to the introduction of smart fridges, the range of tasks that can can be completed from the kitchen, has got so much wider. Buying groceries, making calls, browsing the internet and watching movies can now all be conveniently done via a screen on the front of your fridge door! But while a smart fridge is still fairly new to Aussie households, one brand has attracted attention for serving up what promises to be the ultimate kitchen convenience.
Samsung's Family Hub 5.0 Fridge received Canstar Blue's Innovation Excellence Award (Kitchen Appliances) for 2021. This new award recognises smart innovations in home appliances and consumer electronics and is awarded based on Canstar Blue's sophisticated rating methodology under which winners are scored on a range of factors, including whether the product is unique and how disruptive it is to its product category. Other factors considered are affordability, ease of use and impact on the average consumer.
What is the Samsung Family Hub 5.0 Fridge?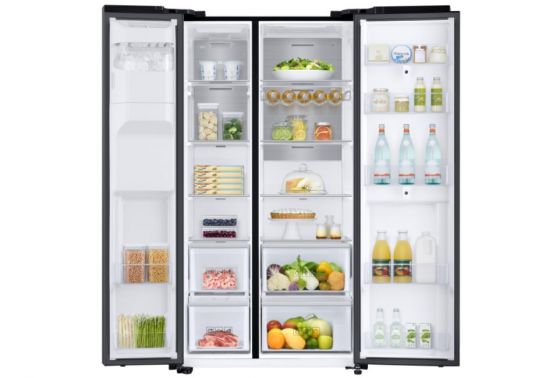 Samsung has been a pioneer when it comes to smart home appliances, with the brand being among the first to offer features such as built-in cameras, voice command and Bluetooth compatibility in its refrigerators. The new Samsung Family Hub 5.0 is no exception and has been designed with busy Aussie families in mind, as well as households that love to entertain and require plenty of storage space. The new Hub features 5.0 software updates for optimised food management, keeping track of your food's expiry dates, monitoring your fridge while you're out, ordering groceries and giving recipe ideas.
The 656L Family Hub Side-by-Side Refrigerator is the latest addition to the Family Hub range, retailing for $3,549. It boasts several unique features, including a built-in camera that lets you see the contents of your fridge via your smartphone or the 21.5-inch screen on the fridge door. You can also make and receive calls, listen to Spotify or TuneIn radio and browse the internet from the screen.
Other features include:
SmartThings: control other compatible smart appliances and IOT devices in the home via the Family Hub fridge.
SmartView: mirror your TV or smartphone to the screen on the fridge door.
Recipe & Meal Planner: get personalised recipe suggestions based on set food preferences, dietary needs and favourite cuisines.
New Bixby: use voice control to perform tasks such as set alarms and read recipe instructions. New Bixby is designed to adapt to suit your household's specific routine and preferences.
Morning Brief: displays information including weather forecast, calendar events and food reminders. You also activate New Bixby's voice recognition feature to receive personalised information, based on who is talking.
Family Board: Write notes and messages, post photos and videos, share schedules and play music.
Digital Inverter Technology: automatically adapts the unit's operating speed to suit cooling demand.
The Samsung Family Hub range offers large-capacity French door fridges and side-by-side fridges, ranging from 634L to 725L.
Why do we like the Samsung Family Hub Fridge?
The Samsung Family Hub 5.0 Fridge range offers greater convenience in all aspects, whether it's planning meals, buying groceries, controlling entertainment systems or keeping up to date with each family member's daily schedules. It acts as a central point for connectivity in the home, making it easier for to manage a busy household.
According to Samsung, what makes the Family Hub Fridge 5.0 series particularly innovative is its ability to encourage better food management. Food wastage is a common problem, and the technology in the latest models is designed to help families address this problem by tagging food expiration dates, offering personalised recipe recommendations and improving visibility of the fridge's contents (either by swiping down on the fridge door or remote access via smartphone).
The addition of the SpaceMax technology is said to maximise storage capacity by using high-efficiency insulation that removes the need to extend the external dimensions. Samsung noted that Family Hub models feature dimensions that fit under most standard Australian kitchen bulkheads, making them suitable for rental homes and renovated kitchens.
What are our Innovation Excellence Awards?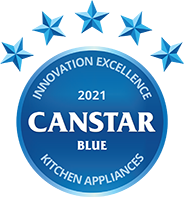 Canstar Blue's Innovation Excellence Awards use our unique expert rating methodology to compare submissions received from home appliance and consumer electronics brands throughout Australia. Canstar Blue's Innovation Excellence Award winners represent a selected group of innovative products released within these fields over the most recent year. Canstar Blue's Innovation Awards Methodology is available on request.