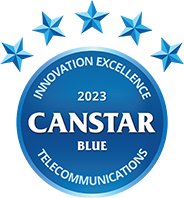 2023 Innovation Excellence Award Winners – Telecommunications
---
Exetel My Speed Boost

Exetel's My Speed Boost is an added extra on a customer's NBN plan, where they are able to boost their internet speed to the next highest tier for one day. Customers on NBN 50, 100/20, 100/40 and 250 plans will automatically receive five free speed boosts per month, otherwise it will cost $2 per Boost Day (lower speed tier customers will need to pay for any boosts). Any unused Boost Days can also be banked for future use, with up to 30 days of 'Boost Bank' storage available.
Accessing Exetel's My Speed Boost is also simple, with the ability to switch it on via the app or My Exetel online portal. You can enable your boost then and there, or schedule it in advance for a certain day. This is a fairly unique customer-focused product, and the inclusion of free Boost Days for certain plan types will no doubt serve households with higher internet needs. The flexibility may also suit those with intermittently higher speed needs, such as times when the kids are on school holidays and parents may be working from home.
Boost Mobile Trade-In App
Boost Mobile's Trade-in App is a free, convenient and easy-to-use service that offers a hassle-free way for customers to trade in old or unwanted smartphones. Boost's app provides trade-in quotes by asking users to complete six gamified diagnostic tests to help judge the value of their old device; customers can then accept the quote, send their phone in free of charge, and receive cash back within 24 hours.
While other telcos also offer online trade-in services, Boost Mobile's app includes built-in diagnostics with step-by-step instructions on deleting old data and completing the trade-in process. Customers can also have their phone's value paid directly into their bank account, rather than the mobile plan credit offered by other providers. With many Australians holding on to old devices years past their use-by date, Boost Mobile's Trade-in App offers a fast and easy way for customers to dispose of unwanted phones and earn some extra pocket money in the process.
2022
2021
Aussie Broadband Carbon Platform
2020
Dodo Five Dollar Plan
Aussie Broadband MyAussie App
Optus Donate Your Data
2015 
Vodafone Data Workout Roaming Plan
Internode AdelaideFreeWiFi
Huawei TalkBand B1 Fitness Watch
Netgear Nighthawk X6 Tri-Band Router
Innovation comes in many forms, but what does Innovation Excellence mean to us, and how do we determine it? We've created a methodology to allow us to determine winners consistently and without bias.
Read our Innovation Excellence Methodology