Shopping for an air conditioner can be a daunting task. You get bombarded with jargon and scare stories about how XYZ air conditioner will kill dolphins. The department store salesman isn't helping either. His square-toed shoes and greasy hair aren't doing much good to stop your anxiety that summer is coming round the corner (it's going to be a scorcher!). You want the most trouble-free option possible, but with the dizzying array of choice these days, that can be a hard nut to crack.
In comes the Braemar Superstealth – it's the B2 Stealth Bomber in an industry full of kites, and it might surprise you about just how it works.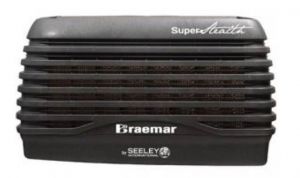 What is the Superstealth air conditioner?
Seeley International's Braemar Superstealth evaporative air conditioner is a revival of a pretty old – but reliable – technology. It has been known for thousands of years that evaporated water is a good choice for cooling, and the Superstealth essentially does this, just really well. Evaporative coolers draw hot air from outside, passing it through a series of damp filters. Water from the filters evaporates, and dry heat is then drawn out of the air; this creates cooled, more humid air. It sounds like a complicated process, but it's really not.
Evaporative coolers are more well-known in dry areas – lovingly nicknamed swamp coolers. They are especially popular in dry mountainous regions of the United States like Denver, Salt Lake City, and areas in Texas – areas that appreciate having their home turned into something resembling a cool swamp in the middle of an oppressive summer. They are also popular in rural regions of Victoria like Mildura, which experience stifling dry heat. But how does Superstealth hold itself against the traditional players in the air con industry?
Portable or split system air conditioning: The pros and cons
How does the Braemar Superstealth stack up?
The Superstealth has a litany of features that make it competitive with the likes of ducted and split system air conditioners. The top features are:
It's super quiet and super cool: Don't be kept awake by a humming and sputtering air conditioner ever again. The new Superstealth claims to be 50 per cent more efficient than its predecessor. This could result in a lower power bill – compared to other air conditioners – and a more peaceful home without a loud unit.
Some serious hardware: Increased efficiency is delivered through the axial fan and Braemar's first inverter motor. The Superstealth is the top of the line for Braemar's range, and it gets all the goodies. Its energy efficiency compared to other swamp coolers means that it is industry leading and more environmentally friendly. The top of the line Superstealth has a cooling capacity of over 14kw! This blows a lot of split system air conditioners out of the water. Overall, the Superstealth's patented 'Invertair' inverter motor, and the Superstealth fan make for a humble swamp cooler to be deadly powerful.
User-friendly tech: It's no use having a powerful system if you find it clunky to use. The command centre for the Superstealth is through the intuitive MagiQTouch – a touch-screen controller. It features a touch screen – similar in size to your smartphone – and this provides familiarity and ease of use. Clicking the icons – like apps – you are able to control exactly how you want your Superstealth to be.
Is the Braemar Superstealth worth the money?
The Superstealth is a highly efficient cooling machine, but it's not a dandelion in the wind when it comes to the initial unit cost. From the least powerful 8.4KW unit, to the most powerful 14.2KW, the unit prices retail at over $2,000. This is a significant investment, but if you've been hunting around for different types of air conditioners, you'll realise that it is not totally out of the ballpark. Top range split system air conditioners are frequently over $2,000 and are generally boast power capacities significantly lower than the Superstealths'. The initial unit cost looks significant, but is not priced significantly higher or lower than any other air conditioner.
Consider the energy savings
Another thing to consider is the potential power bill savings. Braemar claims that the Superstealth can save you up to $329 off your power bill when compared with traditional ducted systems. If you are environmentally conscious, then their study also highlights that you can save up to 1329kg in carbon emissions per year, compared to power hungry reverse cycle air conditioners. These significant reductions could make the Superstealth pay for itself in the long run.
Consider where you live
Being that evaporative coolers work well in more arid environments, it makes sense when building a home in dry regions to choose an evaporative air conditioner. However dry you think it may get in Brisbane, for example, chances are it's not dry enough for a swamp cooler to thrive. They are bested suited to regional areas in Victoria that experience only a 20-30 per cent humidity level in summer. In short, southern inland areas benefit most, while most coastal regions of Australia render a swamp cooler ineffective.
Overall, the Braemar Superstealth is a strong contender to look at, and under a few conditions, it could be the right air conditioner for you.