A handy tool for any workshop is a wet and dry vacuum cleaner. It's essentially a vacuum at heart, but with additional functionality and capacity for more environments both indoor and out. Whether you'll need one in your home or workspace will depend on your cleaning needs – read on for a full review to find out.
What is a wet & dry vacuum cleaner?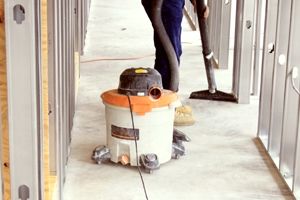 A wet and dry vacuum cleaner is similar to a regular vacuum but with the ability to clean both dry and liquid messes regardless of whether it's inside or outside the home. Instead of a vacuum bag, it usually has a two bucket system that separates the solids from the liquids. The two separate compartments are also there to make sure that it's a safe appliance to use with no risk of damage or electric shock. It uses a foam filter for the liquid spills and paper cartridge filter for dry elements, which will need replacing from time to time.
Why buy a wet & dry vacuum?
While wet and dry vacuum cleaners are most commonly used for industrial cleaning such as commercial properties, they're also versatile enough to be used for your day to day cleaning tasks around the home. Most wet and dry vacuum cleaners have long power cords and are equipped with a number of brushes for different tasks such as cleaning car seats and mats as well as cleaning out grout on tiling. Some other uses of these machines include:
Clearing debris, wood shavings or leaves after renovations (with a blower function)
Cleaning up different spills from a burst pipe to a bath overflow or simply a bottle of wine
Removing water from a blocked sink (with a blower function)
Tackling hardwood floors and most kinds of material including curtains (with additional attachments)
Emptying water mattresses (most models stop automatically when the tank is full)
What size cleaner do you need?
Depending on the job needing to be done and the size of the mess needing to be cleaned, these aspects will ultimately influence the tank capacity, hose and filter size you go with. If you expect to be clearing out large sized debris you may opt for more capacity. However, for fine debris, a small sized wet-dry vac should suffice. As a general guide:
Large size: more suited for the industrial wet and dry jobs as they tend to have the most capacity and power. However, these are heavier and more bulky.
Medium size: provides a compact machine while not losing out on performance for a variety of cleaning situations.
Small size: are lighter to carry around and easy to store but with a sacrifice on performance and capacity.
There are also three variants of suction hose sizes to choose from. For cleaning large debris, look for a 2.5m hose or above. For small sized debris, you could opt for a hose size between 1.25 – 1.5m, but for something in between a 1.5 to 2.5m hose should suffice, depending on your cleaning needs.
Features to look for:
With a number of wet and dry vacuums boasting various features, there are a number of more general aspects to consider including:
Castors and carry handle for convenience
On-board accessory mount to save space
A blower function that expels air out to push leaves, dust and other debris before gathering it
HEPA cartridge filter or HEPA collection bag if you suffer from allergies
How much do wet & dry vacs cost?
| Type | Price |
| --- | --- |
| Domestic | $50 – $300 |
| Industrial | $300 – $2,500 |
General guide only
Who sells wet & dry vacuums?
Vax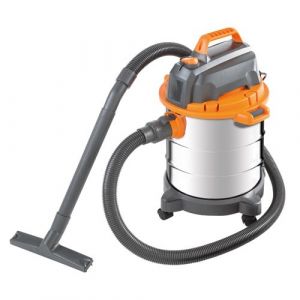 Vax provides a large range of all things floor care. From numerous vacuum cleaners to a range of steam mops as well as wet/dry vacs, Vax is bound to have a cleaner worth looking into. It offers one Vax Wet and Dry Vacuum Cleaner (VX40) with a blue colour variant (VX49) also available. Both of these vacuum cleaners provide 20L of capacity and are designed on castor wheels. The 1250W VAX wet/dry vacs are equipped with a blower function and crevice tool. Other specs include a total weight of 5.1kg, an 8m power cord and a 1.8m suction hose. These vacuums will likely cost you around $100. Vax wet and dry vacuum cleaners are offered in a variety of stores including Harvey Norman, The Good Guys and JB Hi-Fi.

Ryobi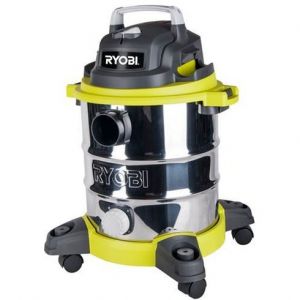 Ryobi Tools is one of the world's largest power tool manufacturers, specialising in a number of power tools from cutting to drilling to woodworking, as well as garden tools. It claims to offer affordable prices for both the hobbyist and craftspeople. At the time of writing, Ryobi offers four models of wet and dry vacuum cleaners, ranging from 20L capacity to 60L.
The Ryobi 20L Stainless Steel Wet Dry Workshop vacuum is claimed to be designed for any workshop and is priced at under $100 at Bunnings. It features a carry handle, four castor wheels and an on-board accessory storage with a crevice tool. It's equipped with a blower function and an in-built drainage plug for easy maintenance, but it doesn't feature a water level indicator so you'll have to keep an eye out to not overfill. With its 20L capacity, it weighs in at around 7.4kg and has a 1.8m hose.
For a large capacity model without the blower function, there is the Ryobi 60L wet and dry workshop vac that is priced around the $300 mark. With additional capacity it doubles in weight (14.5kg) but features large wheels for easy transportation.

Ozito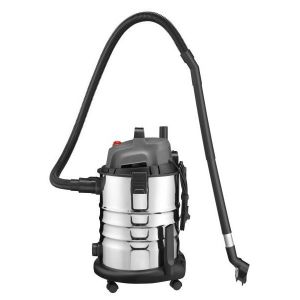 Ozito Tools has a broad range of power tools and garden products all which are also sold in Bunnings. Since 1993, it has aimed to help both the Aussie and Kiwi home heroes to pursue their passion of DIY at affordable prices, it says.
There are more than five models in the Ozito range, one of which is the 1500W 30L stainless wet and dry vacuum (VWD-1530) for indoor and outdoor cleaning. It features a blower function (with the blower port accessible from the rear of the motor), a water drainage outlet and an accessory mount at the top with a crevice tool for those hard to reach areas. It's 5.7kg in weight and has a 2.5m suction hose. For easy storage it features a cable bracket, carry handle plus castors wheels.
For something smaller to use around the home, Ozito offers its 1250W 12L stainless wet and dry vacuum (VWD-1212). It's a similar model to the one above but with a 1.5m suction hose. With a total weight of 2.7kg, it's an easier model to lug around but if 12L capacity is too small for the job you may want to look for larger models in the range instead.
Karcher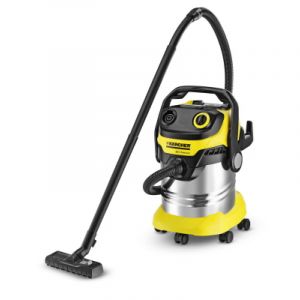 German company Karcher specialises in both industrial and commercial cleaning products. Whether it's steam mops or heavy duty pressure washers, Karcher has all cleaning areas covered, including wet and dry vacuum cleaners.
An industrial wet and dry vacuum in its armoury is the 'NT 65/2 Tact²' cleaner, with 2,760W maximum power. It boasts a large 4m suction hose and castor wheels with brakes as its total weight is 26.5kg. This 65L capacity cleaner is also designed with auto shutdown, a drain hose, and the Tact² automatic filter cleaning system for convenience. Its on-board storage can be used for tools, small items and bottles.
For a domestic wet and dry vacuum, the NT 30/1 Me Classic model is stated to be a practical and robust cleaner with 1,500W of power and 30L container capacity. It's 8kg in weight and is equipped with a 2.5m suction hose.

Shop Vac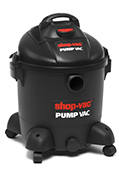 Shop Vac Australia specialises in wet and dry vacuum cleaners, and it aims to continue innovating and advancing its technology, the company says. Being around for over 60 years, it has an extensive range of industrial and commercial use vacuums for heavy-duty cleaning needs. From its handheld rechargeable vac to a large 30L ultra pump vac, Shopvac might have a wet and dry vacuum just right for the job – with some models available at Godfreys.
The Shop Vac Ultra Pump Vac 30L (#58708) is boasted to pump up to heights of 15m at 23L/minute. It's claimed to be ideal for emptying broken washing machines and flooded basements. It's equipped with numerous tools, including a crevice tool for any hard to reach areas, gulper nozzle and a round brush.
Another model in the range is the Shop Vac Super 20L 1400 Watt Max Wet/Dry (#59703). This domestic vacuum is designed with blower functionality, ideal for the garage, basement or workplaces both indoor and out. Its on-board tool storage can store the crevice tool, cartridge filter and foam sleeve.
Should I buy a wet & dry vacuum cleaner?
Our list above is not exhaustive and other providers of wet and dry vacuum cleaners to look out for include Dewalt, Derni, Makita, Pullman and Work Hero. And if you love your beloved Henry the vacuum cleaner, there's also Charles the wet and dry vacuum with its iconic face design (pictured).
Before deciding on one, there are a number of factors to consider, such as identifying the exact type of cleaning you're embarking on. If you regularly clear debris and leaves, you may like to consider one of the models mentioned above that is equipped with a blower function. Furthermore, as cleaning liquids can end up with a smell when the tank is not maintained, an easy to use drain hose is worth considering as one of the main features.
With an average consumer spend of around $300 on standard vacuums, you can find domestic wet and dry vacs for a lot less. However, for industrial wet and dry vacuums, you should expect to pay closer to $500. It would be wise to shop around as there are a number of options available for all types of users. Just make sure that you find a brand and model that meets your specific cleaning requirements and any preferences. While you're at it, why not also review vacuum cleaner brands via the link below to gain an idea of what brands are hitting the mark for other Aussie consumers.