Sometimes you'll need to contact your energy company to ask about the signing up process, or query a bill that doesn't look right. But you can also pick up the phone to your electricity or gas retailer simply to ask for a better deal. As the old saying goes, 'if you don't ask, you don't get' – and that's definitely true when it comes to energy.
After years of rising power prices, the government is now encouraging Aussies to contact their retailers and simply ask for a better deal, so to save you a little time and effort, Canstar Blue has compiled a list of phone numbers from electricity providers, so you can be proactive and potentially save yourself a few bucks – or even hundreds of dollars a year if you haven't switched in a while.
Sometimes a simple phone call could save you heaps, but you may also find that switching providers delivers even greater savings. Why not take a moment to jump into our energy comparison tool to compare offers in your area?
Compare Electricity Plans
Energy Company Phone Numbers
1st Energy Contact
ActewAGL Contact
AGL Contact
Alinta Energy Contact
Amaysim Energy Contact
Aurora Energy Contact
Click Energy Contact
Commander Contact
CovaU Contact
Call 1300 689 866
Visit: CovaU
DC Power Co Contact
Diamond Energy Contact
Dodo Power & Gas Contact
Elysian Energy Contact
EnergyAustralia Contact
Energy Locals Contact
Enova Energy Contact
Ergon Energy Contact
Future X Power
GloBird Energy Contact
Horizon Power Contact
Kleenheat Contact
Locality Planning Energy Contact
Lumo Energy Contact
Mojo Power Contact
Momentum Energy Contact
Origin Energy Contact
People Energy Contact
Pooled Energy Contact
Power Club Contact
Powerdirect Contact
Powershop Contact
QEnergy Contact
ReAmped Energy Contact
Red Energy Contact
Sanctuary Energy Contact
Simply Energy Contact
Sumo Contact
Call 13 88 60
Visit: Sumo
Synergy Contact
Tango Energy Contact
Why should I contact my energy provider?
To query a recent energy bill if you think you're paying too much
To enquire about customer rewards and other incentives, like discounts and promotions
To ask about getting a better deal on your electricity and gas
To give you an idea of how much you could be saving in energy costs, we used our comparison tool to calculate the difference between each state's most expensive standing offer and the cheapest market offer. Use these figures as a general guide only, but it gives you some idea of the potential savings on offer. Use our electricity comparison tool for latest prices where you live.
| State/Territory | Standing Offer | Market Offer | Annual Saving |
| --- | --- | --- | --- |
| Victoria | $2,632.00 | $1,093.89 | $1,538.11 |
| New South Wales | $2,466.22 | $1,466.23 | $999.99 |
| South Australia | $3,058.14 | $1,982.56 | $1,075.58 |
| SE Queensland | $2,389.62 | $1,411.57 | $978.05 |
| ACT | $1,773.20 | $1,358.93 | $414.27 |
Figures calculated using estimated annual pricing for three-person households at selected postcodes in each state, March 2019. Use our comparison tool above for accurate quotes in your area.
What to ask your energy provider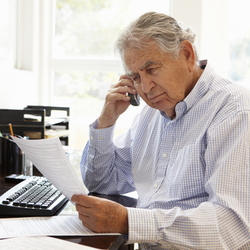 When it comes to getting an improved deal, the only thing you really need to ask your energy retailer is: "Can I get a better deal?" This simple question is designed to help customers ensure they are getting the cheapest rates they can from their existing provider. Some energy companies provide multiple products, so it's easy to find yourself on a plan that isn't the cheapest. Make sure you confirm with your retailer that your deal is the best it can do.
Some other questions customers can ask their electricity and gas providers include:
Am I on a fixed rate energy plan?
Am I on standing offer or a market offer?
Which tariff(s) are available and which would be the best for me?
Are there any discounts, conditional or otherwise, that are available?
GOOD LUCK GETTING A BETTER DEAL!

Picture credits: sebra/Shutterstock.com, Monkey Business Images/Shutterstock.com