Fact Checked
If you're like many Aussies who scratch their heads when trying to decipher your energy bill, you're not alone. Although the jargon listed on your statement can be confusing, it's important to understand the type of tariff you are on.
Why? Well, your tariff is one of the key components that impacts the price you pay for power. In a nutshell, there are three main types of electricity tariffs: single rate, time of use and controlled load. In this guide, we unpack everything you need to know about single rate tariffs, and explore how they stack up against the others.
What is a single rate tariff?
Also known as a 'peak', 'anytime' or 'general usage' rate, a single rate tariff is a type of pricing structure offered by energy retailers that has no peak or off-peak time periods. This means you'll be paying the same price for electricity irrespective of what time of day you use energy. Single rate tariffs will vary between different energy distribution networks.
Like all tariffs, a single rate tariff comprises of two parts:
A usage charge which is charged in cents per kilowatt hour (kWh)
A daily supply charge which is the cost of energy supplied to your home
Generally, a single rate tariff is cheaper than the 'peak' rates on a time of use tariff, which is great if you use most of your energy during peak periods, such as weeknights. A single rate tariff is the simplest type of tariff and is available regardless of your meter type.
Single rate tariff on your bill
The below example is a bill from Red Energy for a household with a single rate tariff, plus controlled load. Be aware that in this example it displays the single rate tariff as 'Total Anytime', with total usage costs of $320.76 for the period.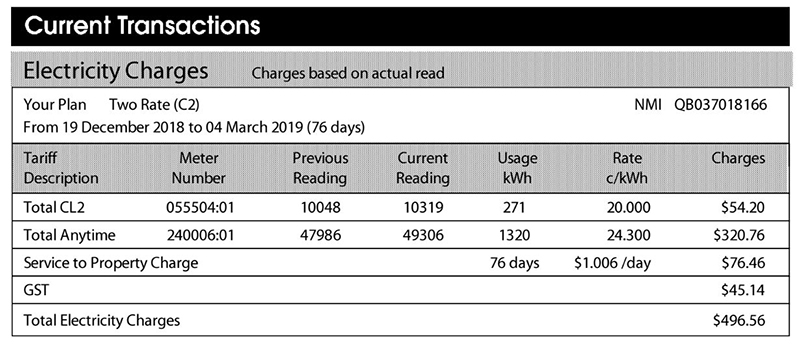 Single Rate Pricing
What is the cheapest electricity tariff?
Although tariffs have a big impact on your overall energy costs, it's important to look at other features of your plan, like whether you're on a standard or market offer, and if the energy retailer provides pay on time discounts or other sign-up incentives. Ultimately, the 'cheapest' tariff will depend on a variety of circumstances, including:
Times where you use energy the most (i.e. during weeknights or on weekends)
Types of household appliances you use and when (e.g. dishwasher between 10pm and midnight)
If you want to take advantage of 'peak' and 'off peak' times, provided you have a smart meter
If you have large appliances like a pool pump or floor heating that require controlled load tariffs
If you'd like to know how to find a great-value energy plan in your state, click on the links below. Don't forget to use our comparison tool for a specific quote in your area.
What other types of electricity tariffs are there?
Aside from single rate tariffs, there are a range of other electricity tariffs you may have access to, including:
Time of use tariff: A different usage rate applies depending on the time of day (i.e. cheapest rates are late at night and early morning).
Block rate: Price of electricity varies with each daily or quarterly 'block' of energy usage, usually the only tariff available for gas customers.
Controlled load: Designed for large household appliances like hot water systems that are metered separately. Electricity prices are generally lower; however, it's only supplied during off-peak hours.
Feed-in tariff: Receive small credits for electricity that solar systems export back to the electricity grid.
Some of the energy tariffs above won't be available in all states or accessible through every energy retailer. You'll also require a compatible meter for specific tariffs. If you'd like to learn more about electricity tariffs available in your state, click on the guides below:
Is a single rate tariff right for you?
A single rate tariff could be a suitable option if you consume most of your energy during peak or busier periods of the day, like weeknights. Given that single rate tariffs are generally charged at a cheaper rate than the peak rates of other tariffs, you could save a bit of money on your overall energy costs in comparison.
That being said, if you're looking to take advantage of shoulder or off-peak rates, you may be better suited on a time of use tariff, provided that you have a smart meter. Keep in mind that all electricity providers offer single rate tariffs regardless of where you live.

Picture credits: Tap10/Shutterstock.com, tommaso79/Shutterstock.com