Fact Checked
Maxi-Cosi & Britax Safe 'n' Sound rated best choice in baby car seat ratings
Keeping your kids safe is always priority No.1 for parents, especially when it comes to travelling in the car. That means you'll want the 'best' car seat you can buy. It's a major purchase decision, whether you are buying one for the first time, or replacing an old one after a couple of years. So, it pays to know what your options are, and what other parents think of the car seats they use. And that's where Canstar Blue comes in.
To find out what car seat brands keep families happy, we surveyed hundreds of parents across Australia who have bought a new car seat in the last three years. Mums and dads were asked to rate the car seat they own on a range of important factors, including comfort and support, durability, design and style, flexibility, value for money and overall satisfaction. The idea is to give you as much information about the compared brands as possible, to help you make an informed purchase decision when the time (or date) comes. So, which brand came out on top in 2021?
Maxi-Cosi and Britax Safe 'n' Sound were joint winners in parent's eyes, with both brands earning five-star reviews for overall satisfaction and in the majority of categories.
Best Baby Car Seats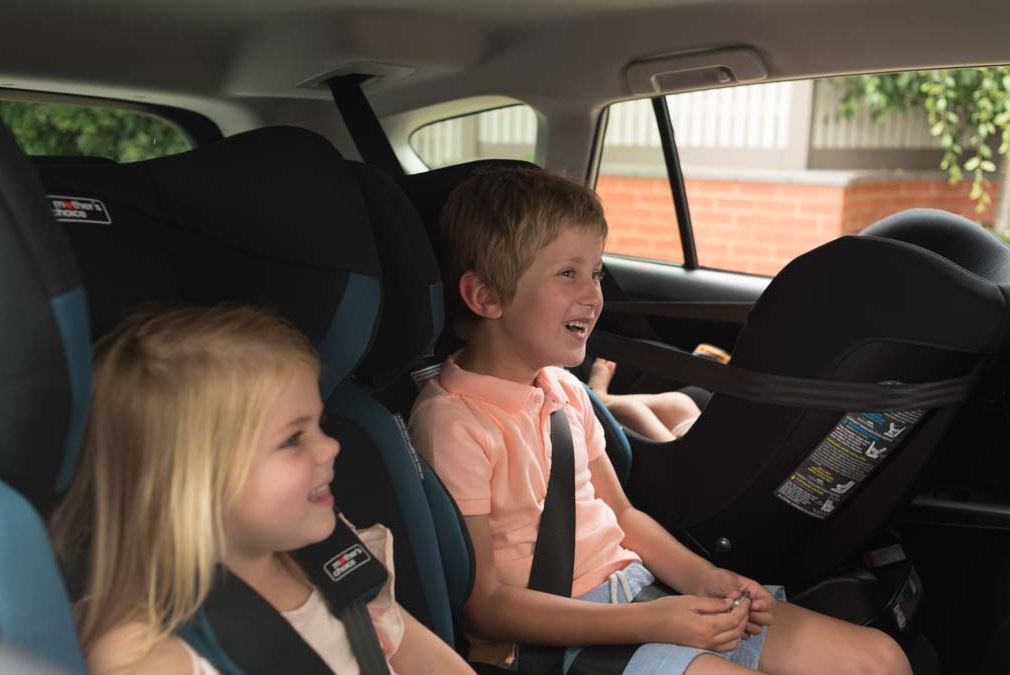 Here are the best car seat brands in Australia, as rated by parents in Canstar Blue's latest review:
Maxi-Cosi & Britax Safe 'n' Sound
InfaSecure
Mother's Choice
BabyLove
Kmart
Maxi-Cosi and Britax Safe 'n' Sound were Aussies' choices for baby car seats in our latest review, both earning five-star reviews for overall satisfaction. Maxi-Cosi also received five stars for design, durability and quality, and flexibility. Britax Safe 'n' Sound scored full marks for comfort and support, design and flexibility, alongside InfaSecure. Notably, Mother's Choice was the only brand to get five stars for value for money.
It's important to note that our review includes feedback from parents with all types of new car seats. With the average spend of those surveyed being $351, baby car seats from leading brands evidently aren't cheap – so it's worth doing your research.
Read on for a guide to what the six brands in our review have to offer parents in market for a baby car seat, plus tips on what to look for.
Top Baby Car Seat Brands
Maxi-Cosi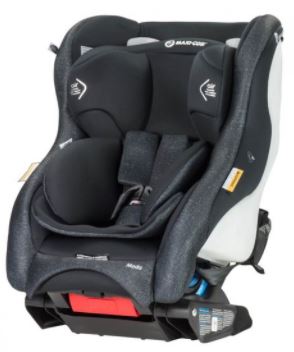 Maxi-Cosi is a brand owned by Dorel Juvenile. It provides a modest range of capsules, convertible car seats and booster seats suited for children across most age brackets, from newborns to kids approaching their preteens. With a number of colours also on offer, there's likely to be something out there for every parent.
Arguably the most exciting in the range is its convertible car seats, boasting ISOFIX which is an internationally standardised car seat fitting system that locks the car seat or car seat base, onto two metal clips between the vehicle seat of your car. This removes the need to use a seat belt to keep the car seat in place. Many of Maxi-Cosi baby car seats also feature 'G-CELL' crash absorbing technology with crumple zones and 'Air Protect' for superior side impact protection.
Maxi-Cosi's infant car seats are priced around the $300-$400 mark, while the convertible car seats often cost nearer $500 in a lot of cases with some models priced at $799. Maxi-Cosi also offers a lifetime warranty on baby car seats.
Maxi-Cosi was rated five stars for design and style, durability and quality, flexibility and overall satisfaction. It got four stars for comfort and support, plus value for money.
Britax Safe 'n' Sound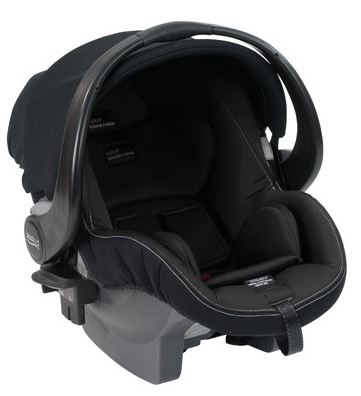 Britax is a well-known producer of baby car seats, encapsulating car seats for a range of different life stages, including baby capsules, convertible seats, and booster seats for older kids. Britax Safe 'n' Sound has a huge range and boasts several leading technologies to help your baby or infant get from point A to B safely.
Britax lays claim to providing the only capsule in Australia suitable for low birth weights or premature babies without restrictive medical conditions − with its Unity ISOFIX compatible baby capsule (pictured). The brand also offers a wide range of rearward facing car seats for babies up to four years old, as well as aircraft compatible seats.
Britax booster car seats can be found for less than $100 but seats for younger kids can easily fetch $500+ prices. This cost is said to go towards rigorous testing and innovation.
Britax achieved five stars for comfort and support, design, flexibility and overall satisfaction. It got four stars for durability and quality, plus value for money.
InfaSecure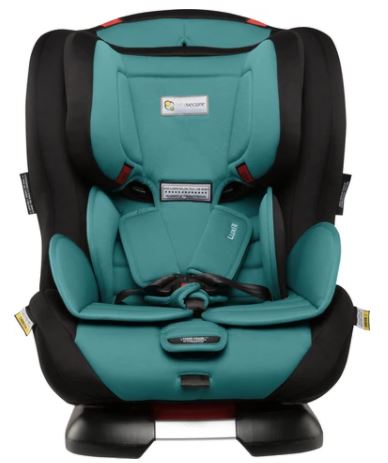 InfaSecure makes a wide range of infant, toddler and child car seats. It boasts a range of infant carriers with detachable bases, front and rear-facing convertible seats, as well as booster seats. There is also a wide variety of colours on offer, away from your standard grey and black that make InfaSecure seats at least interesting to look at.
Many convertible car seats also come with the 'Twist & Lift' system, which makes it easier to adjust headrests and harnesses without fiddling too much and 'Secur-Air' side impact protection for added safety.
The infant carriers can be found for around the $300 mark, on par with convertible and booster car seats. For older kids, car boosters can be had for around $100.
InfaSecure received five stars for flexibility and four stars in the remaining categories, including comfort, durability, design and overall satisfaction.
Mother's Choice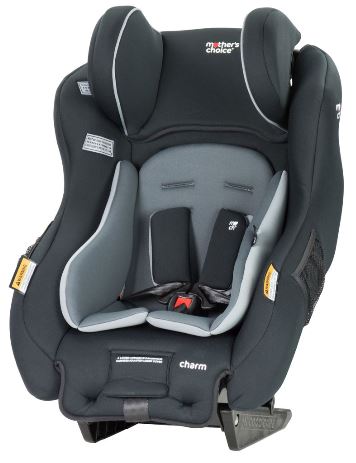 Mother's Choice is another company owned by Dorel Juvenile. It produces a large range of baby capsules and child car seats, with convertibles and boosters on offer. Mother's Choice baby car seats feature Air Protect technology for added peace of mind, a large seating depth to keep your bub comfy in the car, and are made with a breathable wicking fabric and washable covers.
Convertible car seats can be forward or rear-facing and have multi-position adjustable headrests and forward-facing recline positions for maximum comfort. Some boosters can be found for under $100, going up to $299 for the Adore AP Convertible Car Seat, while convertibles start from around the $170 mark and max out at $349 for the Eve Convertible Car Seat.
Mother's Choice was rated five stars for value for money, plus four stars in the remaining categories including comfort and support, durability, design, flexibility and overall satisfaction.
BabyLove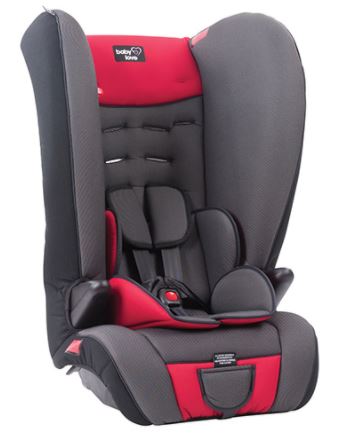 A brand owned by Britax, BabyLove car seats have historically been a popular choice in Australia, with a relatively modest range of child seats currently available. Its car seat range is designed to accommodate a newborn baby through to approximately eight years by allowing you to have it rear-facing at first and then convert to a forward-facing position later on when your child is older. BabyLove's boosters also feature detachable cup holders.
You can expect padded inserts alongside shoulder pads and deep side wings stated to provide additional protection. BabyLove's booster seats can be found for under $100, while combo seats are usually around the $200 mark, and capsules and infant seats are nearer $300.
BabyLove earned four-star reviews across the board including for comfort, design, quality and durability, value for money and overall satisfaction.
Kmart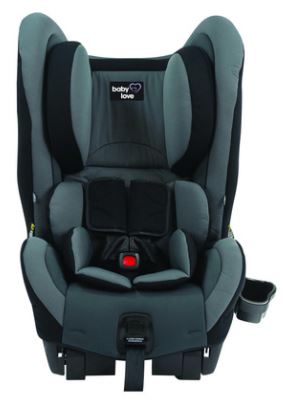 Kmart has a cheap and cheerful (although modest) range of baby car seats and boosters – all priced under $180. The cheapest Kmart model is the Transit Booster Seat for $89. It features a blow moulded design for side impact protection, while the headrest side wings act as airbags to reduce the force on your child's head in case of a side impact accident. The Transit Booster Seat also has an anti-submarining feature to help protect your children from serious abdominal injuries. Kmart also stocks car seats from brands like InfaSecure, Mother's Choice and Britax Safe 'n' Sound.
Kmart rounded up the scores on four stars for value for money and three stars everywhere else including for overall customer satisfaction.
Sign up to Disney+ Australia
Disney+ has arrived in Australia with all your favourite shows and movies. There are two plan options to choose from – a monthly subscription at $11.99 per month, or prepay for a year at $119.99 and save on the monthly cost. Both plans include the same features, with unlimited downloads and the ability to stream on up to four screens at the same time. This table includes links to a referral partner.
Other Car Seat Brands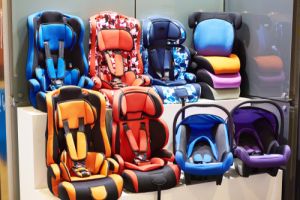 Besides the top six brands that made it into our ratings this year, there are several others you might like to consider:
Safety 1st: Safety 1st produces a wide range of products including car seats, travel system strollers, baby gear and safeguarding solutions. Expect features like multiple headrest positions for comfort, machine washable covers for easy cleaning and the ISOGO ISOFIX compatible soft latch seat system that's claimed to offer simple and secure car installation.
Baby Jogger: This brand is designed for practical parents on the go. Its baby capsule is suitable for newborns up to approximately 12 months and is priced around $300. It can be attached to Baby Jogger strollers and cars. It's said to feature a UV50+ Sun Canopy complemented by a plush infant insert and advanced no-rethread harness system, plus its ISOFIX base is claimed to be easy to install and comes with an auto-adjust dial and a spirit level indicator.
Joie: Offering a versatile collection of car seats, Joie states it has a focus on safety, security and that perfect fit for growing little riders. Allowing for multi-group and multi-stage use, its baby car seat range is designed to accommodate young infants to grown-up riders. Within the line-up, you'll find boosters, convertibles and infant capsules. Expect patented Intelli-Fit foam, claimed to provide side impact certified protection, plus integrated headrests and adjustable harnesses. Prices start from around $200 and go up to $500.
Steelcraft: A Britax-owned company, Steelcraft manufactures travel systems, strollers and high chairs. When it comes to car seats, you can expect adjustable base positions for better fitment in the vehicle seat, baby inserts and shoulder pads for infants as well as head support to ensure comfortability. Its range is also boasted to have lightweight designs for easier moveability and compatibility with selected Steelcraft and Britax baby strollers for its capsules.
Things to consider when buying a car seat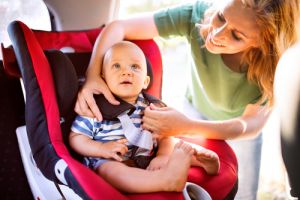 First and foremost, when it comes to kids and cars, safety is always the priority. All car seats in Australia are required to meet safety standard AS/NZS (2004, 2010 or 2013). Apart from safety, below are the key drivers of satisfaction for parents identified from our research:
Comfort and support: 26%
Durability: 20%
Value for money: 20%
Design and style: 20%
Flexibility: 14%
Along with the above key drivers of satisfaction, you might like to consider the car seat's weight – for easy maneuverability – and also features, for ease of cleaning. Compatibility with your stroller and car is also important if you're purchasing a capsule or an ISOFIX car seat. Other key findings from our 2021 survey include:
What type of baby car seat should I get?
The type of baby car seat you should get largely depends on the age and size of your child, with personal preference also coming into play. There are generally three different types of baby car seats – infant car seats, convertible car seats, and booster seats.
Infant Car Seats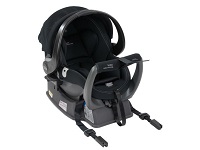 As the name suggests, infant car seats are designed for infants and are suitable for children's use up to 12 months of age. Infant car seats are most cocoon-like of all, and are rear-facing. Depending on the growth rate of your baby, infant car seats are good for about six months to 12 months, but that's not a hard-and-fast rule, and the general rule of thumb is to keep them rear-facing as long as possible. Quite often, infant car seats double as a carrier, with easily detachable bases for easy transportation. This makes it easy for transporting baby between two cars, between car and home, and for clicking onto strollers.
Convertible Car Seats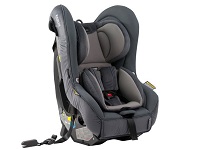 Convertible car seats are generally the most varied type of child car seat and suit a wide range of ages, up to 30 months. Often, they come as one whole unit, rather than with a detachable base. They often come with removable covers, making them much easier to wash and clean. Based on your child's size, these car seats will generally be suitable from birth to four years. Some can be rear-facing for up to 30 months. The main downside with convertible seats is that they are not exactly portable and cannot be used as child carriers. However, given their longevity, they arguably provide the best value for money.
Booster Seats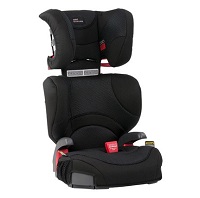 The last in the lifecycle of baby car seats, booster seats are the final step before your child is capable of sitting in a regular seat. Booster seats are often the most basic in design, and make use of the full-sized seatbelt. Booster seats are forward-facing and are suitable for toddlers and older children. Booster seats can also generally take the most weight, with kids up to around 35kg able to sit in them. Child height is critical in this segment, and if your child is tall enough, they may even be able to do away with a secondary seat entirely. Generally, the recommendation is that a booster seat should be used until children are eight years of age, with the legal requirement for sitting in a front seat being at least 12 years. The general rule is if the child is less than 145cm tall, they stay in their booster seat.
What is ISOFIX?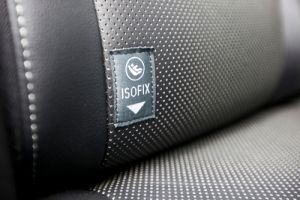 ISOFIX is the name for the international standard of attachment points for children's car seats. Dubbed 'LATCH' in the US and 'CANFIX' in Canada, ISOFIX is a standard set of attachment points that will feature in all new cars in Australia.
The first compatible products were released in 1997, and by 2013 the UN stipulated that all new vehicles must have ISOFIX points attached. This development makes it much easier for parents to properly fasten their child seats in different cars. With universal attachment points, the aim is for much confusion to be removed and for car seats to be easily fitted in mum and dad's car.
The bottom line on car seats
When deciding which car seat is best for your child, give some thought to the factors mentioned above. While 'baby stuff' typically ain't cheap, car seats are required by Australian law and shouldn't be considered lightly. Buying one may result in a significant hit to your baby budget, but you really can't put a price on safety!
All of the brands featured in this report are reputable and must comply with Australian safety standards, so you should have confidence that your little one is in safe hands. As a result, factors like flexibility and convenience really come into play. While your car seat is for your child, it's mum and dad who will be carrying it in and out of the car every five minutes, so find one that works for everyone!
About the author of this page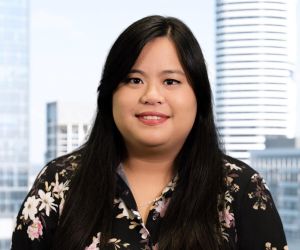 This report was written by Canstar Blue's home & lifestyle journalist, Tahnee-Jae Lopez-Vito. She's an expert on household appliances, grooming products and all things grocery and shopping. In addition to translating our expert research into consumer-friendly ratings reports, Tahnee spends her time helping consumers make better-informed purchase decisions on all manner of consumer goods and services, while highlighting the best deals and anything you need to be aware of.
Picture credits: Sergey Ryzhov/Shutterstock.com, Karolis Kavolelis/Shutterstock.com.