Uniden eyes top spot for baby monitors
Being a parent often means you need eyes in the back of your head in order to make sure your children aren't getting up to mischief and staying safe. As much as we don't like to admit it, sometimes our kids can get away from us, as well as tire us out, so an extra pair of eyes and ears is a blessing for all parents. While friends or family can give you a break during the day, baby monitors give you those extra eyes and ears often where they are needed most – in baby's bedroom.
Baby monitors allow mums and dads to keep an eye and ear on their sleeping bubs, through either a visual or audio unit, or both. The peace of mind means you can get on with your evening without having to duck your head around the door to check up on your little one – potentially disturbing their sleep! But not all baby monitors are the same, with many features, capabilities, camera types and numerous other factors to consider. How do you know which baby monitor will be best for your specific requirements?
To offer some guidance, Canstar Blue produces an annual review of baby monitors, surveying hundreds of parents about their experiences good and bad. Their feedback forms our customer ratings, which this year have seen these brands ranked in the following order for overall satisfaction:
1

st

Uniden

2

nd

Oricom

3

rd

Angelcare

4

th

Vtech

5

th

Motorola
The survey found that reliability (30%), power source (19%) and image quality (15%) are the main drivers of satisfaction for parents, with sound clarity (13%), ease of use (8%), features (8%) and value for money (7%) slightly less important.
Read on to find out what each brand has to offer, and which may be the best fit for you and your bundle of joy.
Top Baby Monitors
Uniden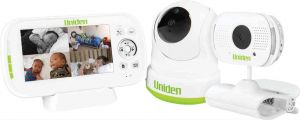 Uniden is a Japanese wireless communication company with global reach, manufacturing radios, scanners and cordless phones, along with a variety of baby monitors. With both audio and visual options available for parents to choose from, Uniden's baby monitors are available at most electronic retailers.
Uniden's audio range includes the BW 120 and BW 130 models, each coming with a parent receiver, baby unit, rechargeable batteries and AC adaptors. The difference between the two audio units is the BW 130's functionality, boasting an LCD display that comes with additional room temperature alerts, allowing mums and dads to keep a closer eye on their little one's comfort during the night.
Uniden offers a wide selection of video monitors and cameras, both available for separate purchase and packaged deals, allowing consumers to select what they want or need. Uniden's range starts with the BW 3001 model, which includes a 2.3inch display with a camera, which includes a "Walkie-Talkie" function, in addition to night vision. Other video models, including the BW 3101R, give parents a larger 4.3inch colour screen display, with the ability to also monitor via the Uniden app. Other features include a temperature display, night light and a selection of lullabies to help put your child to sleep, with night vision and multiple camera capabilities ensuring that parents can keep an eye on their child at all times.
Uniden's top of the line video model, the 3451R + 1, includes two cameras, with an additional handy clamp camera that can be mounted on most surfaces, allowing parents to achieve the optimal angle for close up monitoring. The 3451R's second camera includes Zoom, Pan & Tilt functionality, which can be wirelessly controlled via Uniden's Baby Watch app, allowing for full control while your child rests.
In addition to five stars for overall satisfaction, Uniden rated five stars in almost every category, with a three-star rating for power source the only difference.
Oricom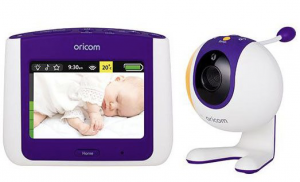 Australian-owned Oricom has a wide range of audio and radio products, including a wide variety of baby monitors, whether you're after an audio only model, or looking to set up a video monitor. Oricom products are available in baby stores around Australia, although it's best to check with your local store before you make the trip in.
If you're after an audio monitor, Oricom offers three models from the Secure range, with the introductory model coming with features such as talk back functionality, a night light and rechargeable batteries. Other monitors, such as the Secure320, include additional functions such as the mute feature, as well as volume control and a longer battery life. Oricom's top of the line audio model, the 520, comes with features such as lullabies and white noise tracks, as well as functions such as feeding alarms, temperature monitoring and a torch built into the parenting unit.
For those leaning more towards a video monitor, Oricom has plenty to consider through the Secure range, offering a number of different monitors and cameras to suit your needs. The series begins with the 2.4inch Secure705, including features such as 2x digital zoom, infrared night vision and night light, with an 8-hour battery life. If you're after something with a few more features, the 710 and 720 models include additional features such as lullabies, multi-camera capabilities and talk-back functionality.
Oricom also has larger monitors, with a 3.5inch and 4.3inch display available with the 850 or 860 models. Both monitors include a larger range of camera movement, as well as room temperature display and alert for increased safety. The 860 also come with a touchscreen parent unit, which comes with more options and features for a better night's sleep for both you and your newborn.
In addition to audio and video units, Oricom provides Breathing Movement Monitors, which include the parenting monitor, as well as the Babysense2 unit, which monitors the breathing movement rate of your sleeping child. Intended for use for those with sleep apnoea, the Babysense2 will alert you if your baby's breathing falls below a certain rate, or cannot be detected, allowing both parents and children to have a safer, and better, night's sleep. Each model comes with a parenting unit, camera and Babysense2 monitor, with features such as talk-back functionality, infrared camera and volume control all available across the range.
Scoring five stars for power source and ease of use, Oricom was rated four stars in all remaining categories, including overall satisfaction.
Angelcare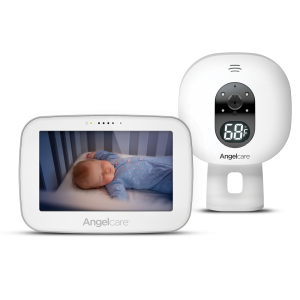 Angelcare offers a variety of audio, video and breathing monitors, in addition to handy accessories, such as adaptors, charging cradles and extra cameras & units, available at both local baby stores and electrical retailers.
Making up the bulk of Angelcare's baby monitors range, Breathing Monitors are available with a range of features, including digital displays, movement sensors and up to two months of analytics on some models, giving parents plenty of options to consider.
The AC701 – Angelcare's introductory model – includes features such as talk-back, rechargeable units, as well as an adjustable night light, and even a unit locator if you're prone to misplacing the parent unit. The model can also be powered through either batteries or via AC adaptor, ideal for when you're on the go.
Other Breathing models include the AC115, AC117 and AC017, all of which include audio monitors, with the AC115 and AC117 models including features such as room temperature displays and two-way talking capabilities. If you're after a top of the line model, Angelcare offers the AC315, AC417 and AC517, which include video displays, movement pads and analytic features. Each monitor is compatible with up to four cameras, and include additional features such as night vision, two-way talking and wall mounting options, making it a handy option for many, regardless of how your house is set up.
If you're after a video monitor, Angelcare offers three models, including the AC1320, AC310 and AC510, each including features such as zoom and panning camera capabilities, as well as night vision. The AC1320 is the introductory model, with its 3.5inch display screen and night light, whereas the AC310 and AC510 have a variety of additional features, such as wall mounting options, additional compatible cameras, and room temperature tracking to ensure you and your child get a good night's sleep.
For those looking for a purely audio model, Angelcare offers the AC420, which includes features such as a full colour digital display, a temperature display, and the option to switch between continuous or voice-activated sound monitoring. It has a range of 250m and a portable and rechargeable parent unit.
Scoring a four-star rating overall, Angelcare was additionally rated four stars for reliability, power source, sound clarity and ease of use, with three stars in the remaining categories.
Vtech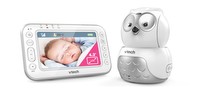 Vtech is a global supplier of electronic learning products, in addition to cordless phones and some baby monitors. Offering both audio and video models, the Hong Kong-based company has plenty to offer local parents.
Its introductory audio model, the BM1000, operates on DECT technology, with the baby unit operating on mains power, while the parental unit can operate for 14 hours on batteries, with recharging capabilities. Other features also include multiple volume levels, with alerts for low battery and out-of-range warnings.
Other monitors, such as the BM2150, include additional features such as lullabies, temperature sensors, night lights, as well as two-way communication between baby and parent units, while the BM2000-OWL model allows the baby monitor to blend into the room through its owl-shaped design.
If you're leaning more towards a video monitor, Vtech provides a number of models, all coming with full colour display units. The range begins with the BM3200, which includes a VGA camera capable of vertical angle adjustment and night vision, in addition to temperature sensors with a split-screen mode for the parental unit.
Vtech's top of the line video model, the VM9900, includes a 5inch touch screen display, allowing parents to control the 720p HD camera through gesture-control technology. Compatible with the Vtech app for remote viewing and recording, the VM9900 also allows parents to record to an SD card.
While scoring a five star rating for power source, Vtech was rated four stars for a number of categories, including overall satisfaction, and a three star rating for image quality
Motorola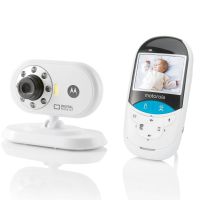 Known for its telecommunication branch, Motorola has diversified into a range of electronics industries, including baby monitors, offering a variety of audio and video models. Available at local baby stores and electronics retailers, Motorola gives parents plenty of options when it comes to monitoring nap time.
Motorola has a number of audio baby monitors, whether you're looking for a basic model, or something with plenty of features. If you're more inclined for a simple audio device, the MBP160 monitor may suit your needs, including features such as volume control and battery alerts, whereas other models such as the MBP161 include activity timers, as well as two-way communication and room temperature display. Motorola's other audio model, the MBP140, includes additional features such as a night light and power saving mode.
If you're leaning more towards a video model, Motorola has you covered, with additional cameras also sold separately for those looking to lock down all angles. The video models begin with the MBP25S, with a 2.8inch display screen and camera with a 300-degree viewing range. Other models, such as the MBP360, include two cameras, one for inside use while the other can be used for outside, providing a 360-degree vantage point.   
Motorola additionally offers the Smart Nursery video baby monitor, which includes a 7inch touchscreen and pre-installed baby care apps to make life easier for parents. The model additionally includes two-way communication, infrared night vision and temperature and humidity monitoring, with notifications sent to your smartphone via the Hubble app.
Which baby monitor should I buy?
Baby monitors can be a handy gadget for parents, allowing you to tackle the household chores, or catch up on some relaxation, while also keeping a close eye on your sleeping bub. But with plenty of options to choose from, finding one that will suit your needs could lead to a few sleepless nights.
Purchasing a baby monitor will be unique to your situation, with household size, preferences towards audio or video, as well as how many bundles of joy you have to look after, all factors to consider when browsing your options. With brands offering plenty of additional extras, doing your research before you walk into the shops may not only save you a few headaches when it comes to tackling the technology, but also save you time and money down the road.