Angelcare your guardian angel for baby monitors
If you're caring for a baby or young child, there's no shortage of 'stuff' you feel like you have to buy. Amongst all the filler, a baby monitor is arguably one of the more useful and necessary of the 'must haves'. Baby monitors can give parents peace of mind, knowing their little cherub is resting safe and sound. You might spend the rest of your life wishing you could watch over your son or daughter without them knowing. Baby monitors allow you to do this during their most important years – and get on with other things around the house, knowing you'll be alerted to their cries.
Canstar Blue understands the stress of balancing life and little ones – many of us are parents to young kids ourselves! To save you the hassle and the headache of poring over different baby monitors yourself, we've done the research for you, by surveying hundreds of mums and dads across the country and seeking their reviews of baby monitors. Their opinions are reflected by the star ratings you see above, with Angelcare baby monitors rated highest by parents in 2017.
Angelcare was a standout performer, rated five stars for overall satisfaction and for most other research categories, including value for money, sound clarity, image quality, reliability, ease of use and flexibility of power source. While no other company was rated five stars overall, there were a couple of other noteworthy achievements:
Philips Avent: Five stars for image quality
VTech: Five stars on value for money and features
Oricomm: Five stars for features and flexibility of power source
In any case, a baby monitor has to offer quite a lot for its price, and brands can't just rely on being cheap – parents evidently demand reliability and quality when it comes to keeping a close eye on their little ones.
The average national spend on a baby monitor kit is a touch over $170, our 2017 survey found. Western Australians tend to splash out the most on their baby monitors, with an average spend of $189. However, you have to ask yourself, is this worth your peace of mind? We suspect the answer is probably yes.
Baby monitors with smartphone connectivity are also a hot commodity, with our new research indicating that 35% of parents have a baby monitor that has a compatible smartphone app to act as a tertiary monitor and so on. Many also got a lot more for their money than they'd have hoped for, with 31% hearing strange noises through the baby monitor – can your baby speak to extra-terrestrials?!
What to look for in a baby monitor
Baby monitors need to do a lot more than just offer a cheap price. While it is tempting to just buy the cheapest one out there, it must also perform well over time, have good features, and be user-friendly. The main drivers of customer satisfaction identified from our research were as follows:
Reliability: 25%
Sound clarity: 18%
Ease of use: 16%
Value for money: 12%
Flexibility of power source: 11%
Features: 9%
Image quality: 9%
This indicates that parents generally want clearer sound, rather than clearer images. Of course, having something that's reliable and easy to use also goes a long way, as does having power source flexibility (i.e. having it run on both batteries and mains power).
Top Baby Monitor Brands
To help you make a decision on which baby monitor is best for your needs, here is an overview of the six brands that featured in our review. Other brands are available, but it's probably fair to assume these are the biggest in Australia.
Angelcare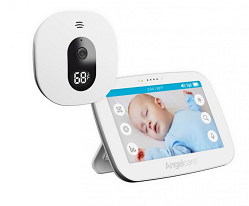 Angelcare is an international company that makes all things designed to make looking after the little ones a little bit easier. This includes nappy disposal products, bath time products and baby monitors. For baby monitors there are several available, ranging in price from under $100 up to nearly $300. Some only record sound, while others also come with video technology and others incorporate sound, visuals and movement. All Angelcare baby monitors come with both battery and mains power, with most also coming with full-colour digital displays. Pictured is the AC510 kit with a video monitor and touchscreen display. Angelcare rated five stars overall in 2017 and top marks most other research categories, except for features where it was rated four stars.
Motorola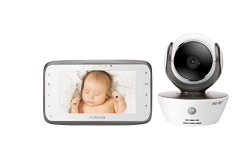 Motorola is well known as a telecommunications company selling mobile phones, but what you might not know is it also produces a range of baby monitors. Motorola produces a range of connected baby monitors, video baby monitors, as well as audio-only models. With connected baby monitors, you're able to access a high definition feed from your monitor or a compatible smartphone, tablet or computer. Video baby monitors have a direct feed into a supplied device, while audio-only monitors are evidently much the same, just without the video aspect. Prices for video monitors start at around $180, while connected models are priced a little higher, and audio-only devices are usually slightly cheaper. Motorola was a solid performer, with four stars for overall satisfaction and in most other research categories, except for reliability where it was rated three stars.
Oricom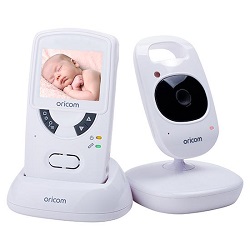 Knocked off its perch by Angelcare in 2017, Oricom was last year's winner, and this year it still achieved solid marks. Oricom was rated four stars for overall satisfaction but notably achieved five stars for both its features and flexibility of power source. Oricom produces other devices like UHF radios and phones, meaning your telecommunication needs in the home and on the road are well-covered. Oricom produces a fairly large range of baby monitors, ranging from the cheap and no-frills ones from around $80, to the ones boasting a 3.5" touchscreen monitor for about $360. The more expensive models naturally feature more handy extras, like 'starry lightshow' projections and touchscreen monitors.
Philips Avent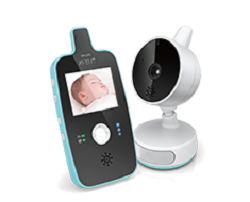 Philips is a Dutch electronics company and is probably best known for producing things like TVs, headphones and electric shavers, but it also produces a modest range of baby monitors under its 'Avent' moniker. On offer from Philips are its digital video monitor and an audio-only device. Both feature private connections and zero-interference, as well as two-way communications, meaning your baby can hear you, too! The digital video device brings a 150m range, while the audio-only model boasts a 330m range. Little pricing information is given on the website, but the video monitors are sold at retail stores for around the $200 mark, which is in line with what most other brands are charging. Philips Avent was a solid performer overall, rated four stars for overall satisfaction. Notably it was rated five stars for image quality.
Vtech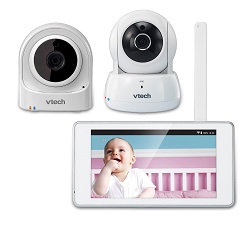 VTech produces a large range of baby monitors, including Wi-Fi monitors, video monitors and audio-only monitors. The Wi-Fi monitors allow you to watch your baby while on the go. VTech says it transforms your "phone into a virtual parent unit". While we'd never recommend leaving baby at home to duck out for milk, for quick check-ins if you're away on business with someone babysitting, it could be a vital tool. VTech's video monitors are usually around the $150-$160 mark, while audio-only models can be had for less than $100. The Wi-Fi models tend to be over $200. VTech was rated four stars for overall satisfaction in 2017 but notably achieved top marks for value for money and features, no doubt due to the large range on offer and having a range that's also technology-packed.
Uniden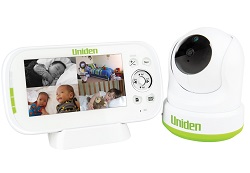 Uniden is well-known as a telecommunications provider, but it also boasts a large range of baby monitors. They encompass wireless monitors with compatible smartphone apps, video baby monitors, as well as audio-only monitors. Its wireless monitors are around the $200 mark, while the video monitors can be found for less than that. Audio-only monitors are cheaper again at around the $100-$150 mark. The top-of-the-line wireless monitor boasts a 4.3" screen, as well as smartphone apps for monitoring on the move. Uniden was the only brand to rate three stars for overall satisfaction. It also rated three stars in every other category.