Top Frozen Fruits Brand – Orchard & Vine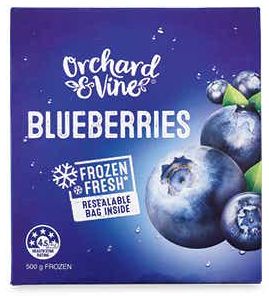 ALDI's Orchard & Vine frozen range includes mixed berries, raspberries, and blueberries − packed in a resealable bag inside each box, with most fruits sold in 500g packets. The budget supermarket says Orchard & Vine products are frozen fresh within 24 hours of harvesting, which locks in both nutrition and flavour.
ALDI Orchard & Vine was rated five stars across all categories, including value for money, variety and range, taste, packaging convenience and overall satisfaction.
Is it bad to eat fruit frozen?
There's virtually no risk of food poisoning by consuming frozen fruits unless the product was contaminated before freezing. This is very unlikely though, but some frozen fruit products have previously been recalled due to contamination risks. Most frozen fruits found in supermarkets are snap frozen at the peak of freshness and ripeness, which means they're often fresher than canned fruits. Additionally, because the fruits are snapped frozen when they're ripe, they also retain the majority of their nutrients, making them arguably as healthy as non-frozen fruit.