Fact Checked
How we rate breakfast cereal
Cereal is a staple breakfast food in many Aussie households. Whether you're cuckoo for cocoa puffs or favour frosted flakes, a bowl of crunchy goodness is a wholesome way to start the day or to whip up as a 'lazy' (but delicious) dinner or snack, as do 25% of consumers we surveyed. And, with ample options available on supermarket shelves, you can definitely be choosy with your cereal, so it makes sense to pick the best. Canstar Blue has you covered, by comparing the top cereal brands on the market to find the one worth getting spoony over.
On this page:
---
Find more detailed information on our ratings methodology.
---
Top Breakfast Cereal Brand – Sanitarium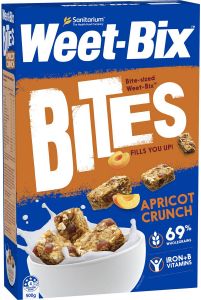 Sanitarium prides itself on being into wholesome, plant-based foods way before it was trendy – about 124 years ahead in fact. The brand started production in 1898, as a small health foods company and has since grown to become a major player in the cereal aisle, offering a wide range of products like Weet-Bix, muesli, and granola, as well as kid-friendly favourites like Honey Puffs and Skippy Cornflakes. You can find Sanitarium breakfast cereals in most major supermarkets, grocers, convenience stores and even the occasional petrol station grocery aisle, with prices starting from around $3.25.
Sanitarium poured out a healthy win, earning five stars for texture, and overall satisfaction. It rated four stars for taste, packaging convenience, value for money, and variety and range.
What's in cereal?
Cereal is made with grains of dried seeds from different types of grasses and can be quite starchy. Some of the most commonly eaten cereal grains include wheat, oats, millet, corn, barley, rice, rye, spelt, teff, triticale, buckwheat, chia, quinoa, and amaranth.
Breakfast cereals are made from processed cereal grains. These can be puffed, flaked, rolled, or milled to turn into all kinds of shapes, often with added flavourings and other extra ingredients. Some breakfast cereals are quite heavily processed and have a lot of additives, while some breakfast cereals are quite simple. Breakfast cereals are usually eaten with milk, yoghurt, or fruit, and can be served hot or cold. So technically, porridge counts as a breakfast cereal just as much as Coco Pops.
What are 'ancient grains' cereals?
A number of health food and 'natural' brands have begun introducing breakfast cereals and other food products made from so-called 'ancient grains.' Ancient grains are considered to be those which have been left relatively unchanged by human intervention such as selective breeding over the last few thousand years. A few examples of these are spelt, millet, barley, teff, oats, bulgur, sorghum, quinoa, amaranth, buckwheat, and chia.
Much of the marketing around these grains claims that they're healthier than those which have been modified through selective breeding. But there is still no conclusive research confirming this is the case. What we do know is that nutritional value varies depending on grain type rather than heritage.
What's the healthiest cereal?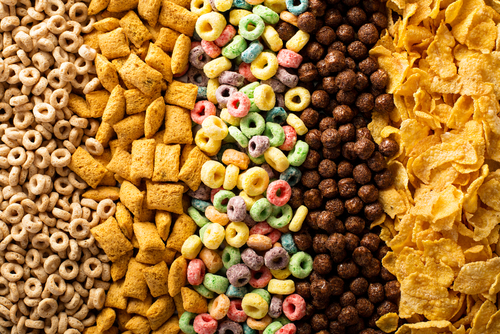 According to the Australian Government Department of Health, the healthiest cereals are made from any of the following:
Wholegrain
Wholewheat flakes
Wholegrain puffed cereals
Wholewheat biscuits.
You can alternatively buy breakfast oats to make a healthy porridge. Keep in mind that toasted muesli can contain high amounts of saturated fats. So, it's always a good idea to read the nutritional label on the packaging. It's also recommended that you eat cereal with low or reduced-fat milk, yoghurt, and/or fruit.
It's also important not to fall into the trap of thinking that all cereals are healthy. Yes, many cereal brands have a decent Health Star Rating (HSR) but this often fails to differentiate between added sugars and the sugar that naturally occurs in food. Be sure to look for 'no added sugar' or 'naturally sweetened' options when you shop.
How do you choose a healthy breakfast cereal?
You can check the ingredients and nutrition table on the cereal box, however, be wary. Brands use their suggested serving sizes to make health claims, but the amount you put in your bowl and the serving size listed on the box can be wildly different. These suggested serving sizes also often make assumptions about the type of and quantity of milk you use with your cereal, which can make it impossible to make an accurate assessment.
The government health star rating system was designed in collaboration with Food Standards Australia New Zealand and other health experts to make it easier for Australians to make at-a-glance assessments of the nutritional profile of packaged foods. These are based on a standardised 100g or 100mL of the product as-is in the packaging, so you can easily compare directly between products and brands regardless of each product's suggested serving size.
The health star label compares 'risk nutrients' – unsaturated fat, sugars, and sodium, as well as energy – and 'positive nutrients' which may include fibre, protein, calcium, or particular vitamins and minerals depending on the nutritional content of the product. This cuts through the confusing nature of nutritional labels, and is a much easier nutritional comparison tool.
Lots of people like to add a teaspoon (or two) of sugar on top of their Weet-Bix or cornflakes, but that's an easy way to turn breakfast from a healthy meal into a sweet treat. If you really can't do without a bit of sweetness, it's better to add sugar in the form of a bit of fruit, such as sliced banana.
What are some healthy breakfast cereal options?
High Fibre Cereal
Bran, such as Woolworths Select High Fibre Bran, GoldenVale Just Bran (ALDI) and Kellogg's All-Bran, is that brown tube-shaped stuff that your dad probably eats. It's incredibly high in fibre as its ingredients are mostly wheat bran. If you're not a fan, flaked bran can be a more palatable alternative. Watch out for the sugar content, but apart from that it's one of the healthiest cereals you can choose from. Bran is a great cereal for eating with fresh fruit.
Low Sugar Cereal
It's an easy way to start the day – grab your favourite tasty cereal, pour it in a bowl and add milk. When you've got fussy kids to get going, you may choose to just shove some chocolatey stuff (in packaging that assures you it's fortified with iron and full of whole grains) in front of the little monsters and hope they don't chuck it against the wall.
But sugar is the worst offender when it comes to hidden nasties in breakfast cereal. Kellogg's Crunchy Nut looks healthy enough – it's basically cornflakes with nuts and honey. It's actually one of the most sugary cereals you can find, with a whopping 11.1g of sugar per 35g (1/2 cup) serve – that's nearly a third sugar by weight! For comparison, the World Health Organisation (WHO) recommended daily sugar intake of 5% of total energy intake, which for the average adult is about 25g per day.
Low Carb Cereal
Eating cereal on a low-carb diet can be quite tricky, as most cereals are quite high in carbohydrates. The first thing to note is that, unless your doctor specifically recommends otherwise, carbohydrates aren't inherently bad. It's the source of carbohydrates that really matters. There's a huge difference between carbohydrates from whole grains versus those from loads of sugar.
Long-lasting energy is important to get you through the day without feeling a 'slump' between meals and keep you feeling full. Cereals, as starchy foods, are sources of complex carbohydrates, which break down slowly over time to release a consistent energy supply. Sugar, meanwhile, is a simple carbohydrate, which means it all breaks down very quickly, giving you an energy 'high', then drops off to leave you feeling lethargic and hungry again, a feeling described as a 'sugar crash'.
If, for doctor-recommended health reasons, you're looking to avoid carbs, look for a high protein cereal to replace your regular choice. Some cereals are relatively low in carbohydrates while containing a high proportion of protein, which is also a good source of energy and makes you feel fuller for longer. Chia seeds are one such example. It's really easy to make a tasty breakfast out of chia seeds – just mix a tablespoon or two of chia seeds with a healthy plant-based milk, leave it in the fridge overnight, and in the morning you'll have a healthy chia pudding. Add in a bit of fruit, cinnamon, or other healthy ingredients to add more flavour. If you don't like the texture, chuck it in the blender.
High Iron Cereal
While there is some iron content already in cereal products, as almost all wholegrains naturally contain some iron, it's quite common for brands to fortify cereal products with extra iron. One of the most common quantities in fortified breakfast cereals is around 3.0mg per serve, as you can see from the below table of examples. Natural rolled oats contain about 1.1mg of iron per 30g serve.
As the type of iron found in cereals is non-heme, it should be consumed with a source of vitamin C to improve iron absorption. This could be a glass of orange juice, or some vitamin C-rich fruit sliced on top of your cereal. On the flip side, breakfast favourites coffee, tea and milk can reduce iron absorption.
Gluten-Free Breakfast Cereals
As awareness of coeliac disease rises, more and more brands are offering gluten-free alternatives that don't taste like dust. In addition, brands that specialise in gluten-free and other dietary requirements are on the rise. Here's a list of some of the gluten-free cereals you can find on supermarket shelves, in the breakfast or health food aisles.
Which breakfast cereal should you buy?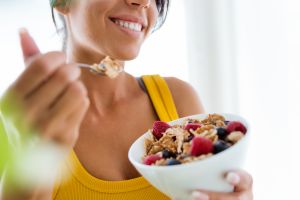 Our latest survey results show Sanitarium is worth buying if you're shopping for a cereal that offers a pleasing texture and a solid result across the board (which is important if you've got fussy eaters at home). ALDI's GoldenVale range is also good to check out, especially if you're searching for something affordable. ALDI's range also dominated our breakfast cereal ratings in 2020 and 2021, so it's definitely doing something right!
Beyond the colourful packaging designed to catch your eye, separating the best breakfast cereal from the rest isn't easy. Cereal is a quick and easy breakfast, but can start your day off on an unhealthy foot if you're not careful.
To make cereal the healthy centrepiece in your morning routine, start by looking for wholegrain cereal, which is higher in fibre content and typically seen as a healthier option than cornflakes, for example. Scan the ingredients list on the back of your cereal box for whole grains like wheat, oats, barley and rice.
If you're really having trouble giving up that sugar fix from your Crunchy Nut or Coco Pops, try to enjoy it as an occasional treat between wholegrain cereals. For a healthy lifestyle, balance is everything.
Meet our consumer experts
---
Megan Birot: Home & Lifestyle Editor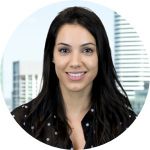 Megan is Canstar Blue's Home & Lifestyle Editor, leading the team that focuses on consumer products and services, ranging from supermarkets and groceries to home and personal appliances and retail stores. She interprets Canstar Blue's bespoke research on the thousands of brands that we compare, rate and review, to help shoppers make better purchasing decisions.
Samantha Howse: Consumer Research Specialist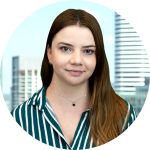 Samantha Howse is Canstar Blue's Consumer Research Specialist, coordinating the consumer research program behind our customer satisfaction awards across Canstar and Canstar Blue in Australia and New Zealand. Sam has earned a Bachelor of Business (Marketing) from Griffith University and, with seven years in market research and 2 years in marketing, she is experienced in survey design, implementation and analysis, coupled with an understanding of marketing principles and best practice.
Picture credits: Elena Veselova/ Shutterstock.com, Josep Suria/Shutterstock.com