Honda lawn mowers: Reliable, powerful
Honda is more than just that 20-year-old Civic your neighbour drives with a loud muffler every morning. They make a variety of things as long as they have an engine inside, from motorbikes to leaf blowers and yes – lawn mowers. Most people recognise Honda for their motorsports presence, and their reliability (V-Tec anyone?). And while their lawn mowers aren't likely to win a Grand Prix anytime soon, Honda's focus on hardy, reliable machines definitely carries here. Though how do they really stack up? Compare Honda mower models in this review by Canstar Blue.
What's in the Honda lawn mowers range?
Honda has a large range of different petrol and electric lawn mowers for both home and commercial uses alike. There are three categories – Domestic, Premium Domestic and Commercial. As we suspect that most home owners will be content with one of the seven featured in the 'domestic' line-up, we'll compare them after a little video:

The Buffalo Buck
The most standout model out of the Domestic line-up from Honda is the Buffalo Buck (pictured). The Buffalo Back, as Honda says, is ideal to make short work of the average residential block. Retailing for $939, you'll get a 48cm alloy, rustproof deck and a 60 litre Dacron catcher… not to mention a catchy name to go with it. The large capacity of the catcher also means that fewer stops are needed to dump grass.
Additionally, as the name suggests, this mower is designed to cut through typically tough Australian buffalo grass with a 16-76mm cutting range. Another neat feature is the pull cord is located near the top of the handle, so you won't pull your back out trying to start the thing. These features make for a great lawnmower that we suspect will make many suburban yards cower in fear about their imminent haircut. Though if over $900 is a bit hard to swallow, then check out these cheaper models in the Honda line-up:
| Model | Features | Price (RRP) |
| --- | --- | --- |
| HRE370 | For smaller lawns, lightweight, electric mower, 25m extension cord, 18-65mm cutting range | $399 |
| HRS216PKU | Side chute mower, 53cm deck, 30-100mm cutting range | $699 |
| HRR216PKU | 53cm deck, 67-litre catcher, for a variety of lawns, 30-100mm cutting range | $729 |
| HRR216VKU | Self-propelled, 53cm deck, 67-litre catcher, 8" wheels for stability and manoeuvrability, 30-100mm cutting range | $799 |
| HRR216VYU | 53cm deck, 67-litre catcher bag, 30-100mm cutting range, one-touch grass mulch, bag or discharge feature | $899 |
| HRU19K1 | 53cm deck, 16-76mm cutting range, 60 litre catcher bag, for mediums-sized lawns | $899 |
What about the Honda Premium Domestic range?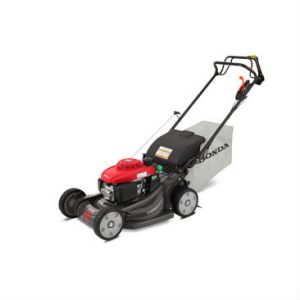 For those who fancy themselves as a bit of a grass enthusiast (not that grass), then we suspect you'll be looking to go one further and dive into the world of premium lawn mowers. They pack a lot of punch, but just what do you get with a premium mower over a regular one? Compare the two models in Honda's premium domestic line-up:
Seperated by only a letter, the two models in Honda's line-up include the HRX217HYU and the HRX217HZU. However, they're more than a name; after all, it's what's under the hood that counts.
The HYU (pictured, top) is for those who don't want to compromise on safety, with Blade Brake Technology stopping the blade within three seconds of releasing the handle. This allows the engine to continue running and for you to have a breather and clear away any hazards. Think of it like an idling car. Moreover, the chassis is a lightweight but heavy-duty 53cm deck made of "NeXite". It's rust-proof and anti-corrosion, and it makes for a manoeuvrable mowing experience.
Further bells and whistles include its cruise control feature. This is essentially an advanced self-propelled function – controllable from 0-6km/h. Honda also claims the blades' fine cutting technique enables you to mow 30 per cent further before having to empty the catcher. It also features the 'Versamow' system, which allows the mower to mulch, bag, discharge or shred leaves. The HYU is a serious bit of kit with some nifty bells and whistles – what could the HZU possibly add to the experience?
The key difference with the HZU is that it has an electric key start. This allows for easier engine ignition, which is kinder on your back. The HZU retails for $1,499, and the HYU $200 less, so you are essentially paying $200 extra for a key start, which may or may not be a deal breaker for you. Beyond these bells and whistles, let's look at the cold hard specs:
| Model | HRX217HYU | HRX217HZU |
| --- | --- | --- |
| Cutting Width | 533mm | 533mm |
| Cutting Height | 19-100mm | 19-100mm |
| Catcher Capacity | 88 litres | 88 litres |
| Mulching? | Yes | Yes |
| Self-Propelled? | Yes | Yes |
| Rear discharge capability? | No | Yes |
| Safety? | Blade Brake | Advanced Blade Brake |
| Price RRP | $1,299 | $1,499 |
Source: Honda website
As you can see, the justification for $200 seems pretty minor, but it may be a world of difference for some. And the key differences between premium models and regular models? It seems that premium models give you all the bells and whistles, as well as solid mowing capability. The premium models pay more attention to user experience and safety features. Though, for a steep price increase over regular models, some people may find it hard to justify those extra costs.
Are Honda lawn mowers worth the money?
Like their range of cars, Honda mowers represent fuss-free, reliable and workhorse sensibilities. Their 'no-bull' approach has won over many consumers, having been a consistent top-performer in our lawn mower customer satisfaction ratings.
They deliver steady performance mainly catered towards the suburban homes – rural acreage owners may feel a bit left out – and their range of electric and petrol motors will make many people smile. As for their premium mower range – like Honda's 'Acura' luxury car range – the premise is that they add more fruit onto the already-decent consumer range. For an extra few hundred dollars you are essentially getting enhanced safety features and some other bells and whistles centred on the user experience. If you want no-frills mowing, then you may struggle to justify the cost of these premium mowers, however many of the regular domestic models represent great value, and might even make you excited to hit the lawn this Sunday.
About the author of this page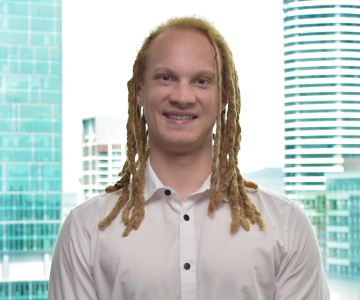 This report was written by Canstar Blue's Content Projects Lead, Dean Heckscher. He's our resident expert on all things automotive, health & fitness, streaming and more. Dean is also one of Canstar Blue's customer research report producers, helping to turn complicated subjects into easily-digestible information for our readers. He's passionate about helping consumers make better-informed purchase decisions on all manner of consumer goods and services.