When it comes to getting the garden and lawn in shape, there's no shortage of tools available for you to stock your shed with, including staples such as a lawn mower and chainsaw, through to more specific tools such as line trimmers and pressure washers. But if you've got a property surrounded by bushes, these tools won't do much to help stem the growth of an unruly row of hedges, so what tool should you be looking at to give trouble areas the haircut they need?
Enter the hedge trimmer, a specialised power tool that's sole purpose is to ensure that your hedges, bushes and all types of foliage is kept neat and trim, all the while being easy to control while the chain is spinning. But what should you know about hedge trimmers before starting the engine, and which brands offer a hedge trimmer for you to try? Find out all you need to know below.
What is a hedge trimmer?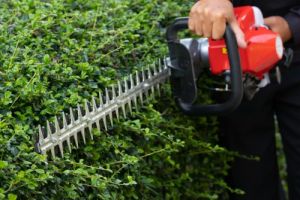 A hedge trimmer, otherwise known as a shrub trimmer or bush trimmer, is a gardening tool that is used to cut, trim and prune hedges and bushes. Hedge trimmers work similarly to how a chainsaw does, with a cutting blade (powered by electric or petrol engine) used to cut hedges more efficiently than manual shearers or clippers.
Types of hedge trimmers
While you may think that choosing any old hedge trimmer will be enough to transform your garden, it's worth investing a bit of extra time in getting to know what's available, as it may help make the job ahead of you a bit easier, or save you a bit of cash along the way. Types of hedge trimmers include:
Gas-powered hedge trimmers: The traditional variant, gas-powered – otherwise known as petrol-powered – hedge trimmers are usually fueled by 2-stroke to power the engine and blade.
Electric hedge trimmers: Available as either a corded or battery-powered model, electric hedge trimmers are more recent inductees to the market, but are still a popular option for users as they run quieter than petrol-powered models, making them ideal for those early morning jobs.
Pole hedge trimmers: Hedge trimmers that are attached to (generally) extendable poles to help you reach those high up places.
What to consider when buying a hedge trimmer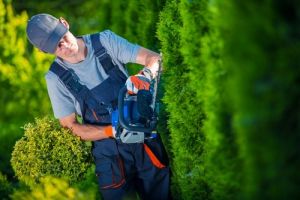 While they'll all help you get the job done, keeping a few things in mind before you head down to your local hardware store can save you hassle down the line. Here's what to consider when buying a hedge trimmer:
Power: Hedge trimmers will come in a variety of engine sizes, allowing you to generally find a model for your needs, whether you need something for the occasional Sunday morning spruce up, or you're looking to regularly tackle the big jobs. As a result, you'll want something that can handle the workload (without being too hard to handle), with gas-powered models traditionally more powerful than electric hedge trimmers.
Weight: As you look to give your hedges a pristine finish, you'll likely end up holding your hedge trimmer for either a long period of time, or at an awkward angle, to get your bushes looking their best. As a result, looking into the weight of the hedge trimmer can prevent from your arms getting tired, and allow you to comfortable wield your blade until the job is done.
Blade Type & Length: The blade is a crucial part to the hedge trimmer, and can often be what sets each model apart. A longer blade will help you cut more at once, but, as a tradeoff, will often be heavier and take more effort to handle. Additionally, you'll have to consider whether you'd prefer a single-sided or double-sided blade (where the teeth are on both sides of the blade for a continuous cut), as well as take notice of how far apart each of the blade teeth are. The space between blade teeth will determine how well your hedge trimmer will cut through branches and hedges, meaning what workload you have in store will affect which blade you should go for.
Price: As with any purchase, the attached price tag can be the deciding factor in which brand and model you walk away with. While it may be tempting to go with the most expensive model, a high price doesn't always equate to good value, meaning a bit of research into what's out there can help you find the best tool for the job.
Hedge trimmer maintenance
As with any power tool, maintenance is a key part in ensuring everything runs smoothly when it comes time to start the engine. What areas do you really need to pay special attention to? Here are the key maintenance areas for hedge trimmers:
Sharpen the teeth: If you've used your hedge trimmer for multiple jobs, you'll likely find that as time goes on it struggles to cut as it once did. That's likely a result of the blade teeth becoming dull, meaning that to get back to a clean cut, you should spend some time sharpening the teeth. Most brands offer a sharpening kit, which comes with the necessary tools and instructions on how to get your hedge trimmer back in the game.
Lubricate the chain: As with the teeth, the chain is an important area to keep properly maintained to ensure you're getting the best cut possible. Ensuring the chain is properly tightened and lubricated will influence how efficiently the unit works, and that you don't run any risk of potentially damaging the engine or blade. Occasionally oiling the chain will also ensure that the blade spins as it should the next time you start the motor.
Clean the surface: As with any power tool, you'll likely be putting it through its paces when it comes to tackling jobs around the place, meaning after a hard day's work your hedge trimmer will be covered in clippings, dust and all manner of particles, which can block the air filtration unit or impact the engine itself. As a result, wiping down the blade and motor after every use ensures that you're ready to roll the next time a job comes your way.
Proper storage: Properly storing your hedge trimmer in between uses ensures that it's ready to go when you are, with many brands including or offering blade sheaths to keep your blade from collecting dust or being accidentally knocked and damaged.
Where to buy hedge trimmers
A fairly common addition to the garden shed, hedge trimmers are available for purchase at hardware stores such as Mitre 10 and Bunnings, along with power tool retailers, third-party retailers or directly through brand websites.
Hedge trimmer brands
Multiple brands offer a variety of hedge trimmers for you to choose from, with some of the major brands listed below.
Stihl

One of the heavy hitters in the power tool and lawn care market, Stihl has a variety of hedge trimmers, including both gas and electric-powered models. Stihl's gas-powered range includes models such as the entry-level HS 45 hedge trimmer, which is available with a 45cm or 60cm blade, while the HS 87T has a 100cm blade, so may catch the eye of those after a professional model.
Stihl's range of electric hedge trimmers include both battery-powered and corded models, the corded models coming equipped with Cable Strain Relief to prevent from accidently becoming unplugged. The battery-powered range is where the bulk of Stihl's electric hedge trimmers are located, with a number of hedge trimmers available as either a single unit or as a kit, with the majority of Stihl's battery hedge trimmers powered by a 36V battery.

Ryobi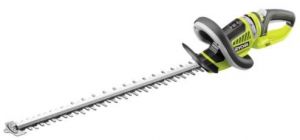 Another well-known brand within the power tool market, Ryobi predominantly focusses on battery-powered hedge trimmers, with only one petrol-powered model available for purchase, although the brand does also offer pole trimmers to help with those hard to reach places. Ryobi's sole petrol model – the 25cc Easy Start – includes a 60cm blade, rotating rear handle for easy handling, as well as an Easy Start motor to help you get going, making it worth looking into if you've got plenty to get done.
Ryobi's battery range includes both 18V and 36V models, such as the 18V ONE+ hedge trimmer, which features a 50cm blade and anti-jamming system for additional safety, alongside a 600W hedge trimmer, which includes five cutting angles and a dual-reciprocating blade to get the cut you want. Ryobi even has an 18V Compact Hedger & Shear for those close shaves, helping you to get the garden looking the way you want it.

Husqvarna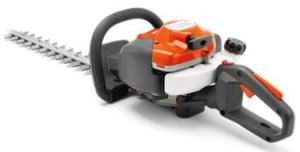 Husqvarna's range of hedge trimmers is split into the 'Occasional Use' and 'Professional Use' ranges, offering something for those looking to get stuck into the garden on the weekend or those who do it for a living. The Occasional Use range includes models such as the 122 Hedge Trimmer, which is available with a 45cm or 60cm blade, and comes equipped with a multi-position handle for easy use, as well as Smart Start and a low vibration handle for user comfort.
The Professional Use range includes heavier and more powerful models, with the 522 the top of the line. The 522 includes a 75cm blade length alongside a two-part air filtration system to ensure that your unit is running smoothly, as well as an integrated leaf catcher to help cut down on the clean up afterwards. Husqvarna also offer a pole trimmer as well – the 525 – for those who need a bit of help getting to the top.

Ozito

While it may not have the range of some brands, Ozito offers a number of models to choose from, including shearers, pole trimmers and traditional hedge trimmers, all of which are battery-powered. Ozito's range begins with the OHT-0185, which includes a 46cm blade, sure-grip handle for user comfort, along with a dual-handed safety switch for additional safety.
Other Ozito models include the PXC 18V, which features a 46cm blade and weighs under 2.5kg for easy maneuverability to help get the look you want. If you're really particular about your hedge aesthetic, the 18V PXC Shearer may just help you get that manicured look. Ozito additionally offer a pole trimmer for harder to reach areas, which includes a 40cm blade and telescopic extension pole with a reach of over 3m.

Bosch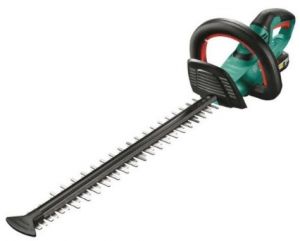 Well-known in the appliance and power tool markets, Bosch has a number of hedge trimmers on offer for you to pick from, including both corded and battery-powered models, in addition to pole trimmers and hedge shearers. Bosch's primary battery-powered model is the 18V unit, which includes a 50cm blade and Quick-Cut Technology for an improved cut.
Corded models include the AHS 45 and the 450W hedge trimmer, with the AHS 45 suited more towards higher workloads, while the 450W weighs in lighter, making it more ideal for those wanting to aim for the sculpted look rather than a simple cut. Bosch additionally offer the DIY 18V pole trimmer – which includes a blade tip protector so you don't get caught while reaching for the top – and a 3.6V or 10.8V shearer also available for work closer to the ground.

Makita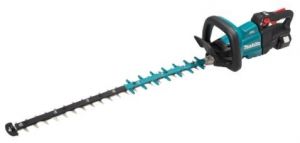 Offering a wide variety of hedge trimmers, including shearers and pole trimmers, power tool brand Makita offers both kits and the hedge trimmer unit by itself. Makita's petrol range includes a number of 22cc models, with blades varying in size between 50cm and 75cm to suit multiple workloads. Each petrol model comes with a 400mL fuel tank and 0.68kW engine output, and all weigh around 5kg.
The bulk of Makita's range is battery-powered, with the majority of models powered by an 18V battery to help you get the job done quick. Models such as the DUH75RT include a 75cm blade and rotating rear handle to help you get the right cutting angle, while other models such as the DUH523SF, which includes a 52cm blade and a two-handed safety switch for additional protection. Makita also has a number of petrol and battery pole trimmers available, alongside battery-powered shearers, to help you get your garden looking its best.

Victa

Known for its range of lawn mowers, Victa also has a range of hedge trimmers for you to consider, alongside a separate hedge trimmer attachment. Victa's entry-level model, the 18V Hedge Trimmer, is powered by a Lithium-Ion battery for a longer operating time, and also comes equipped with a 58cm dual-shear cutting blade, along with a multi-purpose handle for user comfort and easy handling.
Other models include a 40V and 82V hedge trimmer, both of which would be ideal for those who have plenty of hard work to do, with the 82V model coming with a multi-positional rear handle for increased control and maneuverability, alongside a 66cm dual-sided blade.

Black & Decker

Known for its range of power tools, Black & Decker has a number of yard tools available, including a variety of battery and corded hedge trimmers. Black & Decker's corded range includes the 420W and 520W models, both of which feature a 50cm blade, with the 520W recommended for those larger jobs, with the 420W physically smaller and lighter.
Black & Decker's battery-powered line-up includes 18V and 36V models, with a blade length ranging between 43cm to 55cm. The Power Command is the top of the line model, featuring the 55cm blade as well as a 36V battery to help get those shrubs sorted, with additional features including a two-handed starting switch for additional safety, and weighs in at just over 3kg.

Is it worth buying a hedge trimmer?
While many argue that you can never have too many tools, a hedge trimmer may not be a garden shed essential for everyone, unless you've got plenty of hedges or foliage around your property. However, if you do have plenty that needs trimming, a hedge trimmer may be a worthwhile investment rather than slaving away with some shears. But with plenty of models, types and brands available to choose from, it's important to do your research and weigh up what you need to get the job done, as you don't want your bank account to suffer a bigger trim than your garden.

Picture credits: adriaticfoto/shutterstock.com, frank60/shutterstock.com, Virrage Images/shutterstock.com