With Australian homes becoming work stations, many of us have had to take a closer look at our home office setup (and likely make some changes) to ensure that we keep on top of the workload. While desks and desk chairs often take the limelight for being the most important part of the home office, things like scanners are an overlooked essential for the modern home office, helping to keep you on the top of documents and save you from drowning in paper.
With an abundance of scanners available for purchase, it can sometimes be confusing when looking to buy. Do you need just a scanner, or do you need a printer, or do you need both? Do you work on the road, or do you need something a bit more high-tech? In this Canstar Blue guide, we 'scan' the market for potential additions to your home office, as well as what you should keep an eye out when purchasing a scanner.
What is a scanner and what does it do?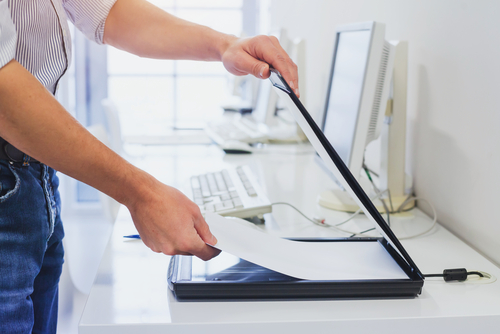 A scanner is a hardware device that utilises reflected light to translate paper documents into computer files, allowing you to store all of your documents in a digital format. Traditionally, scanners work with documents sized A4 and smaller, although scanners with a larger glass screen, such as the machine you likely have in your normal office, can scan physically larger documents.
Types of scanners
There are various types of scanners tailored for different purposes, workloads and budgets. Here is a breakdown of some of the more common types of scanners you'll likely come across.
Flatbed scanner
A flatbed scanner is generally what most people would envisage when they think of a home office scanner. As the name suggest, a flatbed scanner uses a flat, glass-based surface to hold documents for scanning, with an adjustable lid made for bulkier objects. This is also the most common type of scanner, meaning there's plenty of brands and models available to choose from.
Handheld scanner
Handheld scanners' cost effectiveness, mobility and size make them a great alternative to the traditional scanner, as you can even fit one in your briefcase! With handheld scanners running on batteries, high-grade scanners tend to encompass a digital display showing different modes, storage space and any other controls. While being considerably smaller, handheld scanners still offer a variety of features which you would see with their bigger desktop counterparts, making them an ideal scanner for people on the go, or those who have to visit client offices.

Sheet-fed scanners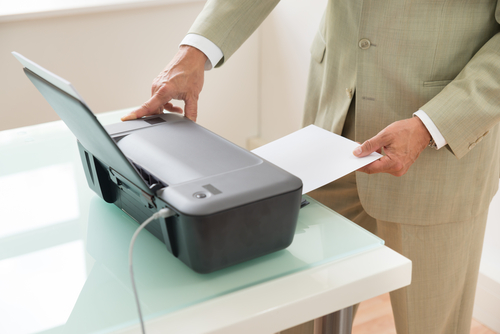 Sheet-fed scanners are primarily suited to those jobs when you have plenty of documents – such as reports or bunches of loose papers – that need to be digitised. Unlike other scanners mentioned in this list, sheet-fed scanners are designed with a feeder for the paper to be placed in, rather than the more traditional flat-bed design. However, this also means that you can scan a large quantity of paper in a small amount of time, making it an efficient addition to any home offices, with most models also small enough to take with you into client offices.

Printer scanners
In a market that looks to improve efficiency, the printer scanner combo is a device that aims to be your one-stop-shop for your document needs. Usually on the upper end of the price range, printer scanners are built for high work demands, and are great for facilitating most everyday work needs. With printing turning computer files into physical documents, and scanning turning physical documents into computer files, the polar-opposites make the printer scanner combo a worthwhile addition to your setup, tackling anything the workday throws at you.

Things to consider when buying a scanner
Picking the right scanner for you can be challenging, with plenty to consider when comparing types, brands and models. Here are a few things you should consider before heading to the counter.
Budget
As with any purchase, price can be a big factor in what you walk away with. While you can opt for a cheaper option, you may not get the same range of features that more expensive models come equipped with, such as scanning in colour, a larger feeder tray, as well as saving your files as multiple document types, such as PDF or JPEG. But with plenty on offer, there are scanners suited to all budget types.
Type
As mentioned above, there are a number of scanner types available, all with different features and functionality. If you need something simple to have on hand for a few documents or scan a page out of a book, a flatbed scanner may be the best fit for you, but if you're regularly heading to client offices or working on the road, a handheld or sheet-fed model may be your best bet.
Features
Simple features such as colour scanning, saving documents into different document formats, as well as additional computer programs could also sway your decision, as you don't want to be forking over for a scanner that doesn't do everything that you need, while you also don't want  to spend too much on something that you only need for the basics. As a result, it's best to really look at what you plan on scanning and using documents for, to help with your final decision.
Where can I buy a scanner?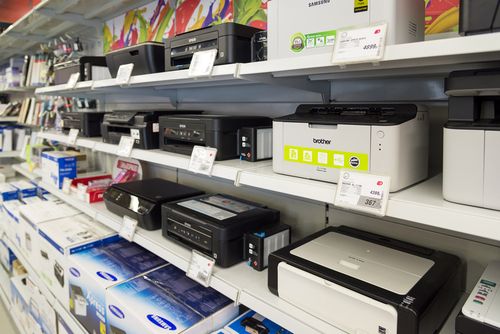 Scanners are available at a number of retailers, both online and physical, including Officeworks, Harvey Norman and Kogan, while more specific printing and tech stores will also offer a number of models to choose from. Additionally, you can always buy directly from the brand if you find something that fits your needs.
Do I need a scanner?
Nothing can kill productivity like losing that one piece of paper amidst a stack of documents, or not having a digital copy ready to go for your next big meeting. With so many other aspects of working life digital, making all physical documents easily accessible via your computer seems like a natural next step, making a scanner a handy addition to your home setup, as well as a great way to de-clutter your office space.

Photo credits: Song_about_summer/shutterstock.com, sripfoto/shutterstock.com, Vlarvixof/shutterstock.com, Andrey_Popov/shutterstock.com, FabrikaSimf/shutterstock.com, BestPhotoPlus/shutterstock.com