Among the technologies being employed in the multi-technology mix rollout of the National Broadband Network, fixed wireless and satellite are being used to deliver high-speed broadband access to rural and remote communities of Australia
In its 2016 Corporate Plan, NBN Co stated that it expects its fixed wireless tower build to be largely completed by 2018, while the first of its two satellites, Sky Muster, was launched in October of 2016, with plans rolled out in early 2017.
The wireless technology being employed by NBN Co does, of course, differ markedly from the other technologies being employed in the NBN rollout, with different methods of broadband transmission being employed and different speeds on offer. While a lot of the attention has focused on the fibre rollout, consumers living in areas covered by fixed wireless and satellite may be wondering how wireless NBN compares to other broadband technologies and what their options are.
Wireless NBN: What are my options?
There are two main types of wireless NBN:
Fixed wireless
Satellite – known as SkyMuster
'Options' is a bit of a misnomer, as you have no choice about the service you are on. Wireless NBN is basically the alternate NBN connection that does not use the usual Fibre to the Node (FTTN) network currently rolling out across most of the country. Simply put, it's like a permanent data connection that you'd get with your mobile phone, but for your home. It's especially useful for homes unable to get access to the fibre network, or for those in remote areas. Let's see with a bit more detail what these two alternate forms of NBN can mean for you.
What is Fixed Wireless NBN?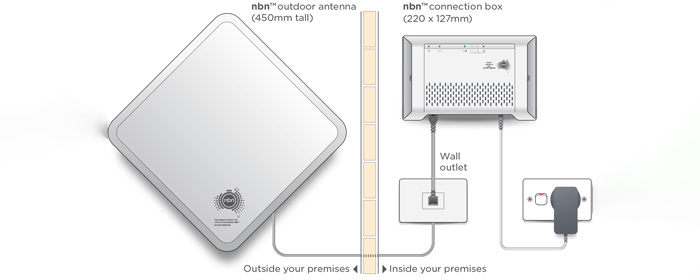 Fixed wireless uses a technology known as LTE (also known as 4G), with NBN Co explaining that it works via the transmission of signals "to and from a small antenna fixed on the outside of a home or business, which is pointed directly towards the NBN fixed wireless facility".
The antenna will be connected by a cable running through the wall to an NBN connection box located within the premises. NBN Co states that each of its fixed wireless facilities serves a set number of premises, with the bandwidth per household designed to be more consistent than mobile wireless.
The house or building is basically a large 4G network
Up to 50mbps download, 20mbps upload speeds
Individual devices then connect as normal to the in-house network
This results in a more stable connection, as opposed to mobile wireless that can be spotty and inconsistent
According to NBN Co's Corporate Plan, fixed wireless will account for five per cent of premises upon the scheduled completion of the NBN's rollout in 2020, comprising 600,000 premises.
Download speeds of 100Mbps are said to be achievable by April 2018
Fixed wireless seems to have a bright future – potentially brighter than that of FTTN connections. In April 2017, NBN Co tested fixed wireless speeds in Ballarat, and clocked max speeds of over 1Gbps – 1000Mbps – which is 10 times faster than the fastest available to customers on a fibre NBN connection. What's more is that fixed wireless plans are often no dearer than their fixed line counterparts.
What is SkyMuster NBN?
NBN Co's satellite service – named the 'SkyMuster' – is designed for use in regional and remote areas of Australia. A small antenna or dish is installed on the building to send and receive data from the orbiting satellite. It works as many satellites do – the satellite transmits data back to ground stations (large dishes) – and in turn you get internet goodness.
There are two NBN satellites with 10 ground stations
These ground stations then feature two 13.5m satellite dishes
The stations are located strategically to cover mainland Australia, Tasmania and other particular locations: Norfolk Island, Christmas Island, Lord Howe Island and the Cocos Islands.
Satellite NBN will yield up to 25Mbps download speeds, and 5Mbps uploads – equivalent of NBN Tier 2
NBN Co's Corporate Plan shows that in 2020, satellite will account for three per cent of premises, comprising 400,000 premises.  Satellite speeds obviously lack compared to traditional NBN and fixed wireless, but the speeds are still fantastic compared to what many remote regions were receiving before NBN. SkyMuster officially launched in February 2017.  It's an exciting time for cat videos – especially for regional and remote regions who may have felt like they've been left behind thus far. Below are some options for SkyMuster, noting that the price you pay per gigabyte is often much higher than other forms of NBN; unlimited data is also not often available, with data limits maxing out at about 300GB:
What's good about wireless NBN?
There are three glaring benefits with NBN's wireless services:
Ability to reach remote places
Providing much-needed reliable internet to rural Australia
Bright future, with gigabit speeds achieved in testing for fixed wireless
Reaching Hard-to-Reach Places
While fibre-to-the-premises and fibre-to-the-node, along with hybrid fibre coaxial, are making up the vast bulk of the NBN rollout, NBN Co states that fixed wireless and satellite will deliver high-speed broadband beyond the fixed line footprint.
Fixed wireless and satellite will not deliver speeds equivalent to the fixed line technologies being used, however will deliver a speed upgrade on existing internet technologies.
To put the sort of speeds on offer into context, NBN Co states its fixed wireless plans operating at 50 Mbps download and 20 Mbps upload speeds will be capable of:
Downloading a 10 minute lecture from YouTube in 12 seconds.
Downloading a 2 hour podcast in 3 minutes 12 seconds.
Downloading a 2 hour HD movie in 16 minutes.
Uploading a 2 GB document to the cloud in 13 minutes 20 seconds.
These two NBN service types in tandem should afford those living remotely or regionally better access to the internet.
How do I connect to NBN wireless services?
To arrange for a fixed wireless or satellite broadband plan, you will need to get in touch with your preferred internet service provider (ISP) to find out whether your premises is eligible before ordering your broadband plan. As explained by NBN Co, to be eligible for fixed wireless "customers' premises must be within the NBN wireless coverage area and have a line of sight between the closest or most appropriate NBN fixed wireless base station".
Customers will need to arrange for a technician to visit. As explained by iiNet, an outdoor antenna on the roof of the customer's premises will connect to a designated wall outlet for an indoor NBN connection box to plug into. iiNet makes the following recommendations as to where NBN equipment should be installed:
Within 1.5 metres of an electrical outlet
In an office or study, or near any existing phone sockets
A cool, dry and ventilated area with no sinks or water outlets
Away from busy areas where it may be knocked or damaged
A place where the equipment can be easily reached
A place where you're not planning any major renovations
Customers will also need to check to see if their modem or router is compatible with some ISPs offering modems with their respective plans.
With regard to satellite broadband installation, as explained by NBN Co, a qualified technician will install a dish, typically on the user's roof or wall, generally either 80 cm or 120 cm in diameter depending on the user's location. NBN states that the receiver and transmitter are mounted on the dish, with two cables to be used to connect the dish to the user's satellite modem, located inside the premises.
What providers offer wireless NBN?
There are a handful of providers offering either satellite or fixed wireless plans. Generally, expect these plans – compared to NBN fibre – to offer less data and less overall value, but that's the price to pay for such a new technology. We suspect for those living rurally, having a stable connection is invaluable.
NBN Satellite Plans
Four providers standout as offering some tech-forward satellite plans. Keep an eye out for providers such as iiNet and Harbour ISP  As you can see, prices are currently quite expensive for the amount of data you get. However, for those in remote locations, having a stable connection is better than nothing. Keep an eye out for NBN specialist Skymesh as well, and Southern Phone, which gives back to regional councils across the country.
NBN Fixed Wireless Plans
A much more expansive network than what's on offer with satellite broadband delivery, fixed wireless plans are often such good value that they are exactly the same as their regular NBN fibre counterparts. Fixed wireless operates on the NBN's different speed tiers, and you can expect prices to increase as you jump into a faster plan.
12/1 Plans
In general, you can expect to get 100GB of data for around $40 a month at this speed tier. Keep an eye out for providers such as Internode, Southern Phone, Exetel and Amaysim.
25/5 Plans
For the first step into what can be considered 'Superfast' NBN, these 25/5 plans cost on average $10 a month or so more than their 12/1 equivalents. This brings us to 100GB for about $60 a month. As usual, keep an eye out for providers like Internode, Southern Phone and Amaysim. Infinity Broadband also comes into the fray. Overall these providers tend to be most competitive.
50/20 Plans
A significant step up in terms of speeds also brings a significant step up in price. Expect prices to increase another $25-$30-odd. The main kicker is that you'll now most likely be on unlimited data. Keep an eye out for providers like MyRepublic, which is one of the cheapest providers out there. Other providers worth considering are Mate Communicate, Aussie Broadband and Barefoot Telecom. Be prepared to budget around $90-$100 a month as a whole though.
Is wireless NBN good value the money?
Wireless NBN is a great premise, but those in metro areas likely won't find much use out of it because:
They have a range of other broadband plans on offer.
They don't qualify for it anyway i.e. they aren't in a regional area.
Wireless NBN has a promising future, but in its infancy there are a few setbacks. The main drawback is the price inequality compared to other broadband types. It's a new technology; it's naturally more expensive by the gigabyte. The other main drawback is speed;
NBN Co offers up to 100Mbps download speeds with its fastest fibre plans, but you cannot currently achieve this on a fixed wireless or SkyMuster plan.
While current speeds available are great considering the method of delivery, the reality is fixed-line NBN customers often get better 'bang for buck' and a much broader choice of providers.
Skymuster launched in early 2017, and it has had a limited release so your home may not be covered… yet. The wait times for wireless NBN in combination with prices mean you should shop around for the best options across all broadband types. You'll need to keep in mind your likely usage and the potential for this to rise over time. With the advent of new and more data-demanding media services, the likelihood of a larger plan in the future may make it necessary to 'future-proof' your broadband connection.