Internet outages are the worst – not being able to use the product you're paying for is a real hassle, and the worst part is not knowing why your broadband is out, or for how long. Fortunately, internet downages don't last forever – but if you're dissatisfied with the amount of outages you're getting, it might be time to think of some solutions. 
In this article we've got some fault-fixing solutions if you're experiencing NBN downtime, and some tips on combating problems with internet outages completely.
Jump to: 
What do I do in an NBN outage?
Check if your service has been reported as down
Restart your modem/router
Call your provider
Consider a new NBN plan
Look into NBN alternatives
Your first move is determining if the outage is happening to you solely, or if it's a widespread issue affecting other customers. Try visiting an outage checking website first – this may be your internet service provider's (ISP) official online portal, or an independent website that monitors multiple providers. Alternatively, you can call your ISP directly, or check your provider's app for outage notifications and updates. 
How can I check if my internet is down?
Head to an internet outage website like AussieServiceDown.com or downdetector.com.au to check if your service is experiencing any reported downages. Your internet service provider will typically also have their own version of these sites, where outages are logged and reported as soon as they're confirmed.  
Typically, all you'll have to do is check your area or type your address into a search box. If you're using AussieServiceDown.com or downdetector.com.au, you can check if your ISP's service is out depending on how other users have reported downages on their ends. NBN Co also has a outages website, but it's only responsible for outages on the larger NBN network. Regardless, you can also check your address here too. 
Some internet providers such as Aussie Broadband and Telstra also offer diagnostics apps for when you want to test your internet connection. Make sure you check out if your ISP offers one of these apps, because these can alert you to potential downages, as well as allowing you to communicate directly with technical support, check the current status of your connection, or just get general help with your technology. 
How do I restart my modem or router?
Before speaking to your ISP, check that your modem has the right lights on, and if it doesn't, work through reactivating your internet connection with your ISP on the phone. You should also try restarting your modem or router.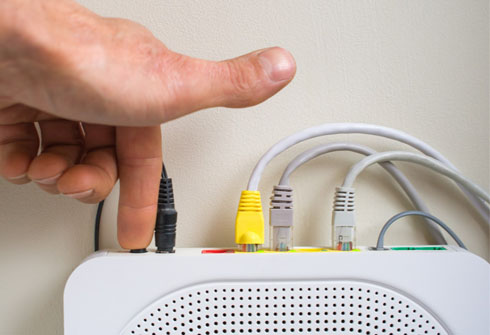 You can easily restart your modem or router if it's experiencing connection issues.
1. Investigate if any lights are off or are flashing.
If all the lights are on as normal, the problem could lie elsewhere.
2. If the lights aren't working normally, feel around the back for a button.
If there's no button on the back, try pulling the cable out directly without damaging the unit.
3. Leave the unit off for about a minute or two.
This will allow it to rest a little while the modem or router gets back to basics.
4. Turn the unit back on, and let it start up.
Allow about five to 10 minutes for the unit to get back to normal. 
5. If there's no change in your internet experience, contact your ISP.
This is one of the few things you can do on your end to resolve dodgy internet. If this doesn't work, it's likely that you're experiencing a outage that you can't control, and will need the help of your NBN provider.
If you'd like to get in touch with your ISP, we've included the tech support phone numbers of the most popular providers below.
Telstra: 13 22 00
Optus: 13 13 44
Vodafone: 1300 650 410
iiNet: 13 22 58
TPG: 13 14 23
Belong: 1300 235 664
Aussie Broadband: 1300 880 905 
MyRepublic: 1300 130 888
Tangerine: 1800 211 112
Flip TV: 1300 354 788
Exetel: 1300 788 141
Mate Communicate: 1300 876 283
Kogan Internet: 1300 010 400
Dodo: 13 36 36
Should I get a new NBN plan?
If you're dissatisfied with the experience your NBN provider is offering, be it from downages or customer service, it might be time to change your NBN plan. The good thing about the NBN is that it all operates from the same network, which means you'll for the most part be getting a similar experience from every provider as far as speeds go. The differences can be things like inclusions, dropout occurrences and prices.
Below we've put together a table of NBN plans across various speed tiers.
The following table shows a selection of published cheap Premium Evening Speed (NBN 100) plans on Canstar Blue's database, listed in order of standard monthly cost, from the lowest to highest, and then by alphabetical order of provider. Use our comparison tool to see plans from a range of other providers. This is a selection of products with links to a referral partner.
The following table shows a selection of published cheap Standard Plus Evening Speed (NBN 50) plans on Canstar Blue's database, listed in order of standard monthly cost, from the lowest to highest, and then by alphabetical order of provider. Use our comparison tool to see plans from a range of other providers. This is a selection of products with links to a referral partner.
What causes network outages?
Typically a network outage in your area can be caused by faults in network devices, such as the local node or the wiring to your home. Alternatively, power failures can also cause network outages, along with internet server faults on the end of the ISP. Another cause could be technology introduced on your end, such as a modem with a fault, or a cable that doesn't work – these issues are easier to find, and easy to resolve.
If the issue is a power outage, power returning should bring the network back. The most you can do in this case is wait it out. Not having any power means that you won't be able to use a fixed connection, unless your NBN type uses a battery backup (seen in Fibre to the Premises connections). 
What if there's network damage in my area?
Faults in the local node or the wiring to your home can be fixed by an NBN technician, which can be arranged by contacting your ISP. Your provider will organise to send a technician out as soon as possible, who should be able to repair the technology on site. 
What are some NBN alternatives?
If you're unhappy with your NBN experience so far – and swapping plans or providers hasn't done the trick – you can move to an NBN alternative, or pick up a modem with 4G backup capability.
Consider getting a modem with a 4G backup
Plenty of NBN providers offer modems with 4G backups on the Telstra, Optus or Vodafone 4G networks, which are typically reserved for mobile use. You can only access these networks with compatible technology, and depending on your provider your 4G service may be slower than your NBN connection. However, if your NBN connection goes down, the 4G service will activate, which you can use to stay connected to the internet during down time.
Not every provider offers 4G backup modems, but here are some of them. 
Telstra
Optus
Vodafone
Tangerine
Keep in mind that 4G backup modems generally cost a lot more than their counterparts without backup settings.
Consider NBN alternatives
The NBN just isn't for everyone, and there are plenty of alternatives out there if you're dissatisfied with the dropouts. Mobile broadband, home wireless broadband and private networks are all worth thinking about as alternatives, depending on your location, budget and usage needs.