Cheaper internet, stronger Wi-Fi, and a new way to make home phone calls are coming your way if you are a Vodafone customer.
Vodafone has announced it is introducing discounts on its National Broadband Network (NBN) plans for existing postpaid mobile customers. The telco giant has also released a Wi-Fi booster, but perhaps most interesting is its peculiar approach to home phone calls.
Vodafone's 'Mobile Landline' essentially lets customers keep their old home phone number, but when a call goes through that number, it is redirected to a Vodafone postpaid mobile, rather than your clunky old phone in the corner of your living room. It will work like any mobile call, so no functionality is lost.
Vodafone's General Manager for Fixed Broadband, Matthew Lobb, said the mobile landline redirect was a "natural evolution" for the company – and what customers have been asking for.
"Some legacy telcos require customers to buy a home phone as part of their broadband service. This is because they're addicted to getting revenue for a service that lots of people don't want," Lobb said.
"The vast majority of voice calls are now made on a mobile so most home phones sit on the kitchen bench gathering dust."
The 'Mobile Landline' service will cost $5 a month on top of any Vodafone NBN plan, with plans to roll out the service to both postpaid and prepaid mobile customers. Ordinarily, home phone line rental and other associated fees can cost upwards of $30 a month.
Vodafone NBN price and contract changes
Vodafone has also announced it will discount its NBN products for new and existing Vodafone postpaid mobile customers. These customers will receive up to $10 off their monthly bill, which is similar to what Optus did earlier in June.
"If you think about this in traditional telco contract terms, over the course of two years this could stack up to $240 dollars in savings," Mr Lobb said.
Prices on the 'Essential' plan will be $64 for Vodafone customers (as opposed to $69); those on the 'Essential+' plan will pay $69 (as opposed to $79); those on the 'Premium' plan will pay $89 (as opposed to $99).
The Vodafone 'Loyalty' offer is set to end September 30.
Vodafone has also ditched 12 or 24-month contracts on its internet plans. Previously, upfront costs amassed to over $100, which included the Wi-Fi modem. Now, the Wi-Fi modem is charged at $5 a month over 36 months.
Customers on-contract then have this $5 fee credited to their account – meaning it comes at no cost over 36 months – but if they leave will be charged the amount for the months remaining.
This is similar to Vodafone's phone plans, which separate the phone from the device repayment. Users can select device repayments over 12, 24 or 36 months. The plan itself comes on a no lock-in basis, but if users wish to leave their contract they can simply pay off the remaining months on the phone.
Vodafone Wi-Fi booster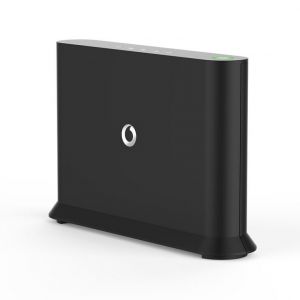 In addition, Vodafone has also announced it will provide a Wi-Fi booster, which works to extend Wi-Fi signal throughout the home.
The booster can be purchased outright for $180, or bundled for $5 per month over 36 months.
Are 36-month contracts becoming more common?
Customers reading the news from Vodafone may be surprised to realise the existence of 36-month plans. However, Vodafone's plans are somewhat unlike those from other service providers in that the plan itself is usually month-to-month, but associated devices come on a 36-month repayment term.
Still, the movement could mean users will need to stick around for three years, or risk paying out a device.
"While Vodafone's mobile and now NBN plans will technically be month-to-month, the devices bundled in can come on a 36-month repayment term," said Canstar Blue's Telco Specialist, Harrison Astbury.
"This means that if you leave after a year, you still have two years' worth of device to pay off… if you do this with the Wi-Fi Hub, that means you could be paying $120 for it, or more if you leave even sooner."
The only other phone provider to separate the plan from the device repayment is Woolworths Mobile, but 36-month repayments are not on offer. Instead, users can pay off the device over 24 months.