Mobile broadband is great if you're looking for an alternative to NBN, or home wireless broadband. It's great if you're the on-the-go type who needs to travel a lot, or if you've got a big family at home soaking up all the bandwidth. It's great to have a mobile broadband dongle, SIM card or modem around somewhere just in case there's no other options, but you might find it useful for your life.
In this article we'll be doing a deep dive into Vodafone's mobile broadband offers.
Jump to:
What is mobile broadband?
Mobile broadband is a type of internet connection that, while not as hard-hitting and download intensive as a Standard Plus 50 NBN Plan or a Premium 100 NBN plan, is still great to have with you if you're all business and need to stay online no matter what. It's great if you're a traveller and need a constant internet connection, or if the home internet goes down and you need to get online right then and there.
Rather than taking advantage of the internet lines to houses and properties, mobile broadband relies on 4G mobile coverage. Telstra, Optus and Vodafone all have mobile coverage across Australia, and are also rolling out their respective 5G networks.
This means that mobile broadband operates at similar speeds to mobile phones, typically at speeds higher than the 12Mbps limit found on basic NBN plans, and with a maximum of about 100Mbps, although this will vary. It also means that if home broadband connections are getting choked up by bandwidth constraints, like they are with COVID-19 traffic, this makes a brilliant alternative if your home internet is too slow.
While there are currently no unlimited data mobile broadband plans on the market, there are some big data allowances out there. Mobile broadband can come in a variety of packages – with Vodafone, it takes the form of a data-only SIM card, but with others it could come in the form of a modem or in the form of a dongle.
How much does Vodafone mobile broadband cost?
Vodafone Mobile Broadband plans start at $15 a month for 5GB of data, with the most expensive listed as $60 a month for 100GB data. Vodafone's plans require you to lock in for up to 12 months, forming the minimum cost.
The following table shows selected published Vodafone Mobile Broadband plans on Canstar Blue's database, listed in order of cost, from the lowest to highest and then by data allowance, largest to smallest. Use our comparison tool to see plans from a range of other providers. This is a selection of products with links to a referral partner.
Across the market, mobile broadband prices range between $15 a month for a small data plan to $110 a month for a huge data plan. There aren't any unlimited data plans on the market right now, which means the price is largely dependent upon the packaged-in technology and the size of the data plan itself, ranging between 7GB and 250GB. Plans range between being month-to-month and having 12 month plan lock-in periods.
Mobile broadband plans compared
To get a good idea of the prices of mobile broadband prices from different providers, we've included this table below for your consideration.
Vodafone mobile broadband modems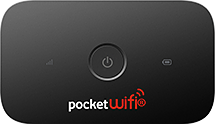 Vodafone offers a Vodafone Pocket WiFi 2 4G modem for customers signing up for mobile broadband plans. While this isn't necessary, it's still a great piece of kit to have. You'll need to pay the modem off if you have it added to your plan, with the price starting at $17.50 a month for the minimum data plan.
It's a great modem for being on the go and it supports up to ten device connections, which makes it great at home too.
How fast is Vodafone mobile broadband?
You should be able to reach download speeds of between 20Mbps and 100Mbps on a good 4G connection. Vodafone is currently rolling out 5G coverage, but no mobile broadband options are yet available; however, 5G mobile broadband could reach speeds of 1Gbps or faster.
Keep in mind that there are speed differences between devices and networks, and performance may also vary by location. We've done a great deep-dive article on that here.
Why should I switch to Vodafone mobile broadband?
Mobile broadband is a great option for you for several reasons. It's a great alternative to the NBN when the network is under a lot of stress, such as within the COVID-19 pandemic, and it's also great for if you're out and about and need a reliable internet connection.
Having a separate internet connection at home could also be a great idea if you're looking to stop bandwidth congestion for your family. If your family is watching something on Netflix and you're trying to do a video call with your workplace, you'll certainly notice some bandwidth tension, so maybe it's worth thinking about mobile broadband.
If you don't have the NBN available in your area, then mobile broadband is something you should certainly consider. Mobile broadband speeds can easily outstrip around the Basic NBN 12 speed, which rivals the max speed of ADSL connections.


Image: Nako Photography / Shutterstock