Wireless phone charging is a relatively new form of charging for smartphones and consumer technology, involving charging your device without needing to plug your device into anything. Typically, it'll involve a charge mat or just putting your phone in a position where it can start charging. With it being so new, there's a lot of confusion and curiosity around it, so let's jump into the facts.
Jump to:
What is wireless charging?
Wireless charging is charging that doesn't involve plugging your phone into anything, rather putting it in a position where it can charge simply from being in a stationary position. It's a simple concept, but it's taken a while for phones and consumer technology to catch on. Today, smartphones, tablets, smart watches and wireless earphones are capable of wireless charging, although it's still quite pricey.
It can definitely make things a whole lot simpler (!) for your day to day life. No more forgetting to plug your phone in to charge before bed – as long as it's sitting on its charging mat beside your bed, or wherever you've put it, it'll be charged for the morning.
Not every phone is capable of a wireless charge, but it's quickly becoming a standard.
What are the types of wireless charging?
There are two main types of wireless charging and one type exclusive to Samsung phones.
Qi wireless charging uses a 100-205kHz band (more common)
PMI wireless charging uses a 277-357kHz band
Samsung's Fast Wireless Charging 2.0 is found on newer-model Samsung phones to be used with their exclusive Fast Wireless Charging stands and pads.
These differences mean some wireless chargers won't work for some wireless charging phones, so be cautious when you shop around.
Phones with wireless charging
Phones with wireless charging are still quite a new thing, so not every new phone being released will have it! Below, we've put together a list of popular phones that are capable of wireless charging. If your phone doesn't have wireless charging, it might be worth looking for a case that supports wireless charging.
Phone
Battery size
Wireless charging style

3,110mAh

Qi

1,821mAh

Qi

5,000mAh

Qi

3,400mAh

Qi, PMI, Samsung

Fast Wireless Charging 2.0

4,000mAh

Qi, Samsung

Fast Wireless Charging 2.0

4,300mAh

Qi, PMI, Samsung

Fast Wireless Charging 2.0

4,200mAh

Qi

4,200mAh

Qi

2,800mAh

Qi
If you'd like to get a new phone with wireless charging capability, several are offered through Telstra, Optus, Vodafone and Woolworths. We've prepared a snapshot of how much a phone with wireless charging will cost you through a 24 or 36 month plan. See the table below.
The following table shows selected published phones with plans on Canstar Blue's database, listed in order of cost, from the lowest to highest and then by data allowance, largest to smallest. Use our comparison tool to see plans from a range of other providers. This is a selection of products with links to a referral partner.
How does wireless charging work?
Energy is transferred from the charging mat and runs directly to your phone, provided it has a receiver and is capable of wireless charging. When this electricity meets the receiver, it's converted into battery energy and charges up the battery of your phone.
In practice it's much more simple. You put your phone on the mat and it'll start charging. Of course, the mat will need to be plugged into a wall socket. All you need to do is make sure your phone is compatible with the wireless charging mat, which there is a good chance it will be given that Qi charging mats and Qi-compatible phones are more common.
Is wireless charging safe?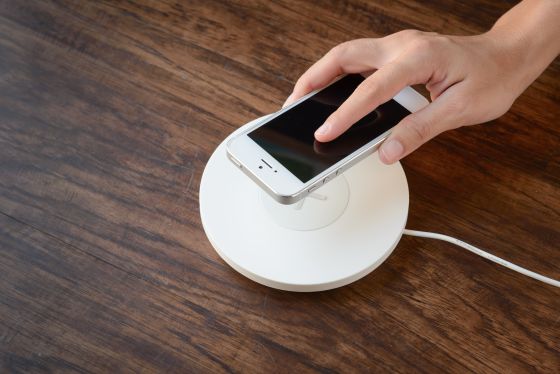 Wireless charging is safe, and it's just as unlikely to cause a house fire as a normal cable. The energy used to charge the phone through the pad is not strong enough to cause any harm, and as long as you're using it appropriately, your wireless charging shouldn't cause any issues.
As for your phone's battery, using a wireless charger shouldn't make your battery die over time any faster or slower than a wired cable. Your battery should still age at the same rate.