Vodafone covers all different types of mobile phone plans, including the latest Samsung or iPhone deals. And when it comes to SIM only plans, Vodafone has a competitive suite of products on offer, providing big chunks of data at reasonable prices. Compare Vodafone's postpaid SIM only offers in this Canstar Blue review.
Vodafone SIM-Only Postpaid Plans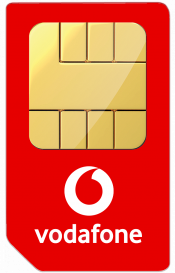 SIM-only postpaid plans are pretty straightforward — you're only getting a SIM card with your plan, no device to add on or pay off over a couple of years. Depending on the telco, you might find a SIM-only plan on a contract, maybe over 12 months, or they can be month-to-month/no lock-in plans.
The advantage to a month-to-month plan is that you're not obligated to stay on the plan for any longer than that first month, and there generally won't be cancellation fees. These can be useful if you need a plan only for a short amount of time; maybe you're between phone plans and need something in the interim, they can be useful for international students or visitors staying for longer periods (such as a year-long working holiday visa), and they are also a good way of testing out a plan and telco if you're considering switching.
While the flexibility of a no lock-in plan could be what you're looking for, there are advantages to choosing a SIM-only plan on a contract. Generally, telcos will offer more data or cheaper prices if you opt for a contract. If you know you're likely to stick with the same telco for a year or so anyway, signing up to a contract might be the right option for you.
Vodafone only offers month-to-month postpaid plans, both with or without a new device. You can combine your SIM-only plan with a new phone on a Vodafone device payment plan, or simply BYO your own unlocked smartphone. Read on as we take a look at just what you'll get for your money on a Vodafone SIM-only postpaid plan.
Vodafone Month-to-Month SIM Only Plans
If you'd prefer to have the flexibility of a month-to-month plan, there are currently three options to choose from at $45, $55 and $65 per month. The full-speed data inclusions are considerably generous, beginning at 40GB on the $45 plan, up to 300GB on the $65 plan. Once you use up your fast-speed data inclusions, you can continue using your data at the capped speed of 2Mbps. You'll also have 5G network access on these plans (where coverage is available), and unlimited international calls to select countries on the two more expensive plans.
The following table shows all published Vodafone month-to-month postpaid plans on Canstar Blue's database, listed in order of cost, from the lowest to highest and then by data allowance, largest to smallest. Use our comparison tool to see plans from a range of other providers. This is a selection of products with links to a referral partner.
Overall, it's a battle of flexibility versus value. Look at what your priorities are when it comes to your phone plan, whether you would want to stick with Vodafone over a long period of time, and just how much data you're really going to need from a plan.
Compare Mobile Phone Plans
How do Vodafone SIM Only plans compare to other providers?
Vodafone's SIM-only compete particularly well among the competition. While there are plenty of smaller telcos now offering big data at reasonable price points, Vodafone still manages to pull off some of the most generous data inclusions at its price points. Lets have a look at how Vodafone's month-to-month plans compare to other Aussie telcos.
Vodafone Month-to-Month SIM Only Plans Compared
Other telcos, like Vodafone, offer month-to-month plans with no lock-in contract. This is where the comparison gets interesting. Telcos which offer both types of plans will tend to put the big data or plan discounts on the 12-month offerings, while telcos which only offer month-to-month plans tend to pack more data for money on these plans.
Let's take a look at how Vodafone's month-to-month plans stack up against other telcos when it comes to value for money. The table below shows a selection of month-to-month postpaid plans from Canstar Blue's database which show a minimum of 10GB data, listed in order of advertised cost, lowest cost first, then by data allowance. Use our comparison tool to see a wider range of plans from other providers. These are products with links to referral partners.
Is a Vodafone SIM Only deal worth the money?
Vodafone crams a lot in, especially with its offering of 'unlimited' capped-speed data on all postpaid plans. However, with its base plans in mind – especially month-to-month plans – there may be better deals to be found. Vodafone often has to play catch-up against low-cost MVNOs, and tends to rely on its bigger data plans and the unlimited capped-speed data to make it stand out from the crowd.
When looking for a new phone plan, especially if you're considering a SIM-only plan from Vodafone, it's worth doing your research and comparing all of the options available to you. Overall, however, Vodafone is pining hard for your money and if you're willing to sign up for a while, Vodafone makes a SIM only deal well worth it.