Vodafone covers all different types of mobile phone plans, including the latest Samsung or iPhone deals. And in the SIM only segment the big red V is one of the most competitive providers. With Vodafone, you can expect lots of data bonuses and other tasty features. Compare Vodafone's postpaid SIM only offers in this Canstar Blue review.
Vodafone SIM Only Postpaid Plans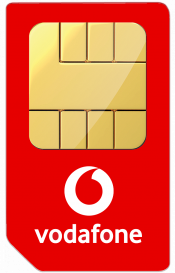 SIM only plans come without the fluff – without the phone and often without the contract. Vodafone does, however, provide strong incentive to sign up to a 12 month plan, as seen below, and customers can generally choose one of two paths – extra data, or more international inclusions.
Vodafone 12 Month SIM Only Plans
$30 for 4GB
$40 for 6GB
$50 for 14GB, OR 12GB plus 16,000 Qantas Points & international credit
$60 for 20GB, OR 18GB plus 20,000 Qantas Points & international credit
$80 for 32GB, OR 30GB plus 30,000 Qantas Points plus international credit
$100 for 50GB plus international credit
All plans come with unlimited national calls & texts
International credit includes up to 3,000 minutes to selected countries
Vodafone has nine postpaid plans in total under the 12 month umbrella, and in the middle of the pricing spectrum, customers have a choice between bonus data or international credit & Qantas Points. For the regular traveller, the latter option may be suitable, but for those with their feet planted at home on a daily commute, that extra data may be well worth it.
Vodafone also tends to offer upwards of 30GB bonus data on some plans, meaning you can cram a lot in for the price.
Vodafone also provides strong incentives to stick around, and if you can lock in a generous bonus data offer your plan will likely hold its value over that year. However, you will have to consider what that plan might look like in a year's time. With plans changing all the time, this year's hot deal may be next year's dud.
Vodafone Month-to-Month SIM Only Plans
$30 for 1GB
$40 for 3GB
$50 for 6GB plus international credit
$60 for 9GB plus international credit
$80 for 15GB plus international credit
$100 for 25GB
There are fewer options from Vodafone if you desire SIM only flexibility, but there is still a price to suit most budgets. However, as you can see above, Vodafone packs nowhere near as much into its monthly plans as it does its 12 month alternatives, but some customers may value flexibility over data and other perks.
Some plans still receive up to 1,000 minutes to selected countries.
Overall it's a battle of flexibility versus value. Vodafone often makes it so compelling to sign up for 12 months, with loads of bonus data and other perks it can be hard to say no.
How do Vodafone SIM Only plans compare to other providers?
Vodafone's 12 month plans compete particularly well among the competition, but its month-to-month plans leave a little to be desired. If you hop on Vodafone at the right time you may even get up to 30GB bonus data, which blows most other plans out of the water. Considering base plan inclusions, however, Vodafone has some competition hot on its heels.
Vodafone 12 Month SIM Only Plans Compared
If you're willing to sign up for a year, there are some providers giving strong incentives to do so. 10GB can be found for as little as $30 these days, and you will have to keep an eye on Mobile Virtual Network Operators (MVNOs) that tend to offer lots of data for a little price. Providers in this space worth keeping an eye out for include Jeenee Mobile, TeleChoice and Optus, but if you can jag a Vodafone bonus offer it is pretty tough to beat.
Vodafone Month-to-Month SIM Only Plans Compared
Vodafone's month-to-month plans are arguably a little lacklustre, and for the price points highlighted above, customers may stand to receive a lot more data choosing another provider. Other carriers even include upwards of 5GB for less than $30, while Vodafone is stuck only including 1GB. Jeenee Mobile is one telco worth keeping an eye out for again, as are SpinTel and Moose Mobile. Vodafone would clearly rather have you on a 12 month deal, but if you want flexibility, you'll have to keep your eyes peeled for the latest deals.
Is a Vodafone SIM Only deal worth the money?
Vodafone offers quite a few plans over both 12 month and month-to-month contracts, with unlimited national calls & texts standard on all plans. The big red telco crams a lot in, especially with its 12 month SIM only plans, and if you catch a deal at the right time then you can receive staggering amounts of data for comparatively little money. However, with its base plans in mind – especially month-to-month plans – there may be better deals to be found. Vodafone often has to play catch-up against low-cost MVNOs, and tends to rely on data bonuses to make it stand out from the crowd. Overall, however, Vodafone is pining hard for your money and if you're willing to sign up for a while, Vodafone makes a SIM only deal well worth it.