As televisions get smarter and sleeker, the quality of the in-built speaker system often gets overlooked in favour of space-saving. This can result in some pretty inconvenient movie-watching malfunctions, like hard-to-hear dialogue that demands a rewind or soaring soundtracks that fall flat in your lounge room. This can ruin many a good movie-marathon – after all, the soundtrack is often the best bit.
A full home entertainment system is one available option to fix your dilemma, however this may be pushing the budget and these systems can be clunky and require time and energy to install. So where is the middle ground? This is where a sound bar might save the day.
A sound bar on its own can be a compromise between high-quality, immersive home audio and budget and space constraints. However, if you really want that cinema-grade sound in your living room, a sound bar is a must-have element of your home theatre speaker set up. Better yet, sound bars are designed to fit seamlessly into your home so that the only space-saving you need to worry about is whatever action-packed saga is unfolding on your screen. But what should you be looking for in a sound bar, and what's available on the market? Find out with this Canstar Blue article.
What is a sound bar?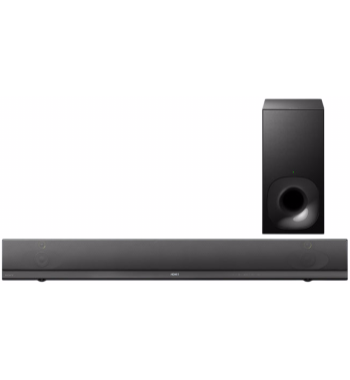 Sound bars are a type of loudspeaker, designed to upgrade the sound quality from your TV's in-built speakers. They are, as the name suggests, a wide, rectangular bar that is designed to fit , easily beneath or on top of your TV without taking up much space. A sound bar is generally a team player as part of a 5.1 surround sound speaker system set up, however they can also be used individually and can include a range of features which imitate a larger set up.
How do I choose a sound bar for my TV?
As with most tech products, the quality and capabilities of sound bars vary depending on the price and manufacturer, so there is something out there to suit a range of needs and price points. At one end, a sound-bar can be enough to simply boost the volume of your television's speaker, while a feature-heavy sound bar may integrate multiple speakers to emulate the surround sound effect usually reserved for a multi-speaker setup. These usually include at least left, centre, and right speakers, plus a subwoofer all rolled into one. There can be many variations of this, including different woofers and tweeters (speakers designed for deep and high-pitched sound respectively), so it is best to do some research before you buy.
When choosing a sound bar for your television, consider the types of sound bars available and how they might help your search for better sound. There are two main kinds of sound bars:
Active sound bars have built-in amplifiers. This means they're quick and easy to set up – they just need to be plugged into your TV or other compatible device.
Passive sound bars don't come with built-in power amps, and require a separate amplifier or receiver, with wires running to each. While they require a little bit more effort to set up, they deliver a crisper sound and greater control over settings and inputs.
Beyond these two categories, the main difference between sound bars is the number and type of speakers integrated into the unit.
Why would I need a sound bar?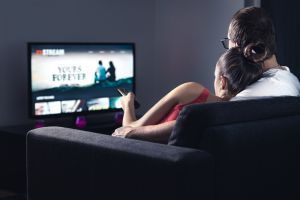 Sound bars were developed in response to a problem caused by flatscreen TVs. While today's slim screens produce amazing image quality, they're now too thin to fit decent speakers inside. This means audio quality has dropped, particularly for bass frequencies, as these require bigger speakers that can't be accommodated by most modern TVs. That's why you may have a harder time picking up dialogue or getting a strong deep sound from your brand new TV.
While you could get the best sound quality by picking up a surround sound system, that's an expensive path to take. Plus, having multiple speakers set up all around the room takes up space and adds clutter.
A sound bar is a compromise between audio quality, budget, and space efficiency. You'll get better sound than from your TV alone without taking up much space. Most can easily pop on top of your TV or sit below in the TV cabinet, or even be mounted onto the wall.
How much do sound bars cost?
Just like any speaker, there's a wide price range. You can go for something basic and affordable, or get a high-end high-tech setup that'll make you feel like you're at the movies. Sound bars generally range from around $200 anywhere up to $2,000 or more for a top of the range sound bar with external speakers and subwoofers included, plus a variety of tech features like voice control. Getting the most expensive sound bar doesn't necessarily mean getting the best – this depends on what you want and need out of a sound bar, so take the time to explore your options.
What features should I look for in a sound bar?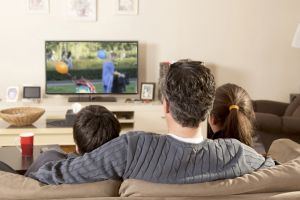 While audiophiles will consider a lot more than we cover here, here are some features you should look for when buying a sound bar:
Subwoofer: This kind of speaker is designed for deep, intense sounds. It's a must-have to get the full effect from action movies or a dramatic musical score. These are usually best as an external speaker, and are included with most sound bars. Most are wireless, but double check this before purchasing. The power of the subwoofer is another factor to consider – the higher the wattage, the more powerful the sound it produces. It's not an absolute necessity, but without a subwoofer your TV shows and movies will sound more shallow and less realistic.
Bluetooth: If you want to be able to play music from your mobile phone or music app, Bluetooth connectivity is a must. This also allows you to connect your sound bar with other compatible speakers throughout your home. While you can add Bluetooth with an adapter, this isn't ideal as it's clunky to use.
Controls: Although a physical remote is handy, many sound bars can be controlled through your smartphone. Higher end models are voice control activated or have AI technology, such as Google Assistant or Alexa, built-in. If you already have smart appliances in your home that are connected to one of these systems, keep an eye out for a sound bar that is compatible.
HDMI ports: Some sound bars have them, some don't, some have a lot. But you don't necessarily need a HDMI port on your sound bar. It can actually be neater to connect all of your home theatre gadgets to your TV, then connect the TV's audio output to the sound bar. However, it can be limiting, especially if your TV is older and has fewer HDMI ports – in which case more ports on your sound bar may be useful.
To fully understand the features and capabilities of individual sound bars, you might want to read further into the tech specs of a number of different sound bar models to find the best one for you and your budget.
Which brand of sound bar is best for me?
The quality of the sound bar and the features that are important to you will help determine which brand of sound bar is best for you. Once you've considered some of the important features outlined above, the next step is to look at the different brands and what they each have to offer. Here is an outline of some of the sound bar brands available:
Samsung

Samsung is a trusted tech brand and many of its high-end sound bars are renowned for their complex audio quality and ability to create a cinema-like experience. The top sound bars of the Samsung range can set you back anywhere up to $2,000, with many of these including external speakers for flexible configuration in your home-theatre. This is perfect for those who are happy to splurge on quality, as the experience of an immersive sound system in your home is priceless. If you're looking for something a little less OTT, Samsung sound bars start at around $299, giving those on a budget an option to explore further.

Sonos

Sonos speakers set a high bar for immersive home entertainment systems that go beyond the living room due to their wireless capabilities and voice control features. This means that you can mix and match speakers and configure them throughout your home and backyard any way you like. The speakers can be controlled via the Sonos mobile app, Apple AirPlay 2 and your voice, bringing a whole new meaning to the phrase 'if these walls could talk'. While the sound bar range is fairly limited, Sonos speakers start from around $500 up to $1,400, with a number of bundles available if you'd like to extend your collection beyond the bar.

LG

LG have a large range of sound bars at various price points which generally all include a wireless subwoofer for a richer, more immersive sound. The more basic models start at around $300 and sport some snazzy tech features, such as adaptive audio that changes settings automatically depending on what you're watching, and Bluetooth connectivity. If you want top of the range features, such as built-in Google Assistant and LG ThinQ so you can control other LG appliances around your home from your TV, you're looking at spending around $1,900.

JBL

The JBL sound bar range is packed with high quality features while still being budget-friendly. Its range is perfect for those wanting to add quality sound to their television and utilise some practical tools such as Bluetooth connectivity and Android TV, without the bells and whistles that the more expensive brands offer. While you can still pay up $1,500 for the most feature-rich model, the majority of JBL sound bars sit around the $500 mark.

Sony
Sony offers a wide range of speakers and home theatre systems, and its sound bar collection is no different. You can expect your Sony sound bar to include key features such as Bluetooth connectivity and front surround sound. Sony sound bars are also relatively easy on the pocket, with the cheapest offering costing around $300, while its most expensive is $900. What's more, the Sony website has a price match feature if you happen to see any models going for a cheaper price elsewhere. They also offer a range of Home Cinema sound bar bundles which include various external speakers along with the sound bar for a full cinema experience.

Yamaha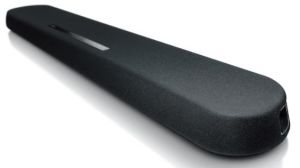 The Yamaha brand is well-known in the music world, and also as a manufacturer of high-quality home audio products. The sound bar range is extensive and covers everything from the budget-friendly basics to the professional-level, full studio setup. Some features of a Yamaha sound bar, include built-in subwoofers and surround-sound technology, Bluetooth connectivity so you can stream from your mobile and other compatible devices, as well as voice control, depending on the model. A Yamaha sound bar can set you back anywhere from $200 to over $2,000.

Other brands which offer a more limited range of sound bars, while still delivering a high level of quality in both sound and experience, include Hisense, Panasonic and Philips, to name a few, giving you plenty to choose from until you find something you like the sound of.

Should I buy a sound bar?
While sound bars can change your movie experience, keep in mind that at the end of the day they're still a compromise. A sound bar will give you far better audio than your TV's built-in speakers at a great price, but they won't be as good as an equivalent surround sound system. Some pros of a sound bars is that they are generally small and unobtrusive, more affordable than other speaker setups while still improving your TV's audio, and there's no shortage of options to choose from, while some of the cons are that it may not suit every room size, as positioning and speaker strength is generally more suited for smaller rooms or closer-seating positions in front of the TV.
Overall, if you're looking for an affordable way to boost the audio quality of your TV, a sound bar can be a great addition to your home entertainment system that is easy to assemble and relatively fuss-free.  If you're looking for some seriously rich sound and don't mind putting a bit of time and effort into your home-theatre, a sound bar may be the first step on your way to enjoying movies and music that much more.
Original Author: April Broadbent