So, you think you're all set with your home theatre system? You've got your big, flatscreen TV, the latest and greatest gaming console, and your streaming service is all ready to go. But if you're just relying on your TV's built-in speakers for sound, you're wasting your tech's potential.
As TVs have become slimmer, image quality has improved massively, but there's no longer much room to fit good quality speakers. Size does matter when it comes to great audio quality. It's becoming more and more necessary to use external speakers to get the most immersive, realistic entertainment experience.
You can easily turn your living room into a great home theatre without breaking the bank. Whether you want a high-end, high-tech setup, or you just want to cover the basics, there's a wide range of packages at a wide range of price points to choose from. Read on to find out how to choose the best home theatre system for your needs in this Canstar Blue guide.
What is a home theatre system?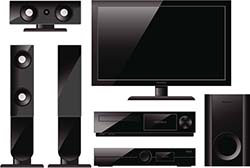 While 'home theatre system' technically refers to all of the visual and audio appliances that you use for entertainment at home, it's generally used to refer to the audio system used along with other entertainment electronics.
A home theatre package contains the following components:
Soundbars: Soundbars are the forefront of home theatre setups as they are compact, contain multiple different speakers in one and are the hub that handles everything for digital sound systems, in place of the traditional receiver. They are perfect space-savers as they can be standalone speakers, plus you can build on your home theatre by adding other compatible speakers and subwoofers.
Rear speakers (left and right): Also known as bookshelf speakers, these are essential to achieve that 'surround sound' effect. Placing good speakers to the left and right of the rear of the seating area makes sure that audio reaches everyone and draws you into the scene to make it feel more like you're really there.
Front speakers (left and right): While you can omit these if you're on a budget, having a speaker at each of the four points around the entertainment area makes for a far more immersive sound experience that fills the entire space. These days, soundbars incorporate the front speakers as part of their compact design.
Centre speaker: This generally includes at least one tweeter speaker in the unit. A tweeter is a type of speaker specialised for higher-pitched sound. You need good quality audio across the spectrum of sound for depth and realism.
Subwoofer: A speaker that you usually keep on the floor or under a table, specialised for deep sounds. This is how you get those cinema-quality booms and rumbles.
You can buy each of these components separately, but it can be easier and cheaper to buy a pre-assembled home theatre package.
Why should I get a home theatre system?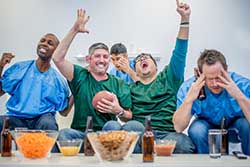 The sound coming from your television is probably a) not very good and b) not as immersive as a speaker system would be. While it's a bit of an investment, it can be worth it to get the most out of your sound – whether you're watching movies, sports, video games, or Netflix.
One of the downsides of modern TVs is that they can't fit great speakers. There's a reason why movie theatres and live bands use really big speakers and amplifiers. Bigger speakers are physically better at producing louder, clearer sound across a wider range of the sound spectrum.
The other problem is that when sound is coming from just one source, it can sound flat and less 'real'. When sound is produced from multiple directions, it sounds more real, because in regular life sound can come at you from any direction.
Moreover, when you have speakers in different locations, your audio output can be programmed to emit specific parts of the sound from different speakers. For example, if you're watching a movie where a loud noise happens to the left of the scene, that sound can be programmed to come from your left speaker to make it sound more realistic. If you've only got one speaker, all of the sound will come from the same speaker and seem more flat and one-dimensional.
Audio Technology Terms Explained
There's a bunch of different technical terms used when talking about home theatre systems that can be a bit tricky to decipher. Here are some of the most common ones explained, so you can get through the tech-speak to figure out what different systems can do.
Channel: Another way to refer to the number of audio speakers involved. Confusingly, there can be multiple 'speakers' in one unit. You can usually see this, but in the case of some designs such as sound bars, it's not so obvious.
1: A number used to refer to either the speaker system configuration or the audio signal format. The first number refers to the number of speakers involved, and the number after the decimal point refers to whether or not the system has a subwoofer or other low-frequency channel output.
Stereo: Stereophonic sound uses two channels for sound, which can be each fed to a different speaker to make different sounds come from different directions.
Piezo: Piezoelectric speakers are often used as tweeter speakers, as they're good at producing high-frequency sound.
How much do home theatre systems cost?
There's a wide range of price points for home theatre systems, which means that upgrading to a better sound system can be affordable even for those on a budget.
If you want to splash out, you can buy a complete home entertainment, surround-sound audio system and have it installed in your home professionally. Many brands, however, have soundbars and other compact speakers in their range that give you the home cinema experience with less individual pieces and therefore less fuss. You can also assemble your own system by buying components individually, which gives you more flexibility and customisability but involves a little more work.
Generally speaking, a home theatre system can cost anywhere from around $150 to $200 for an entry level set of speakers or a soundbar up to $1,500 for a complete five piece sound system setup. Top of the range home theatre systems that have multiple speakers built into less units can set you back around $7,999, up to $15,999.
Home theatre brands available in Australia
Yamaha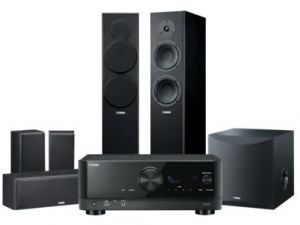 Yamaha is a manufacturer of high-quality home audio products, including a range of soundbars and home theatre packages. The sound bar range is extensive and covers everything from the budget-friendly basics to the professional-level, full studio setup. A full Yamaha home theatre system is generally a 5:1 setup with analog audio, digital audio and HDMI connections available so that you can hook up another device. The price range for a Yamaha home theatre pack is from $599 up to $5,000.

Sony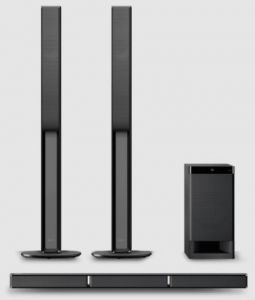 Sony offers a wide range of speakers and home theatre systems that include key features such as Bluetooth connectivity and front surround sound. The range of Sony home theatre speaker bundles include various speaker channels that allow for multiple speaker configurations, such as a soundbar and rear tall boy speakers, and a subwoofer for a full cinema experience. The general price point for a Sony theatre system is between $500 and $800.

Loewe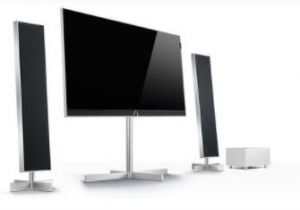 At the high-end of the price scale, German brand tech brand Leowe is known for high-quality speaker systems that are compact but powerful. You can purchase Loewe speakers and subwoofers individually, or in a 2:1 or 5:1 configuration for the complete Loewe audio experience. The top of the range Loewe 5:1 speaker set is wrapped up in two sleek standing speakers and a subwoofer, for a cool $15,999.

Samsung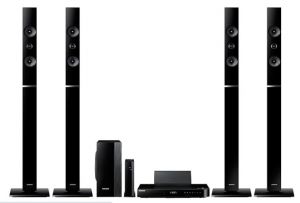 Samsung is a trusted tech brand and many of its high-end speakers are renowned for their complex audio quality and ability to create an immersive movie-watching experience. Beyond its soundbar with a subwoofer offerings, Samsung has a couple of home theatre bundles that include rear speakers as well. These cost around $1,900 for the whole package.

Bose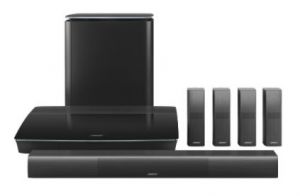 Bose speakers are renowned for their flexibility, as they can be connected via your Wi-Fi, which allows you to configure your speakers system any way you like. Not only can you connect the Bose speakers in your telly room for that cinema feeling, you can also connect multiple Bose speakers throughout your home to create a personalised entertainment system for all your listening and viewing needs. The Bose Lifestyle 650 bundle is a 7-piece home speaker system that costs $6,999, while the individual speakers start from around $399.95.

Sonos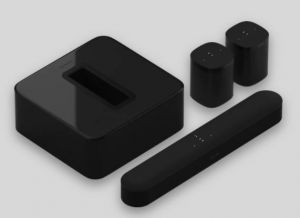 For those of you who are after a fully customisable digital home theatre system, Sonos ticks all the boxes. You can begin by purchasing a Sonos soundbar and build your home theatre from there with the addition of rear surround speakers and a subwoofer, all by connecting them over Wi-Fi. Aside from television and movies, you can stream music, podcasts, audiobooks and more. Entertainment and surround set bundles start at $1,598 for a Sonos Beam soundbar and Sub subwoofer, while a Sonos Surround set that includes an Arc soundbar, a Sub subwoofer and two One SL surround sound speakers is around $2,900.

How do I choose a home entertainment system?
Spending less doesn't necessarily mean sacrificing quality – you can get a good system at any price. Regardless of your budget, there are a few factors to consider to make sure you choose the best home entertainment system for you:
Budget: If you've got limited funds, prioritise speaker quality first – choose the package with the best speakers, not the fanciest receiver. The difference between different speaker qualities is much more significant than the difference between receivers.
Space: Do you need to compromise on size to fit your space, or can you accommodate those bigger units? Maybe a compact unit that has a number of speakers built-in would be a better fit.  Bear in mind that if you choose a system with multiple pieces, you'll need to keep at least your left and right side speakers at equal distance from viewers. The ideal setup has all speakers placed the same distance away from viewers, but this isn't always practical.
Arrangement: Where are you planning to place your speakers? Will you be hanging them from the walls, or do you need them on floor pedestals? Consider that the ideal positioning for front speakers is around head height and 2-3 meters away from your seat, while rear speakers should be a bit above head height. How will you be able to achieve this in your entertainment area? There are different speaker shapes for different arrangements, including tower speakers, wall-mounted speakers, and satellite speakers designed to be sat on top of a stand or table.
Analog or Digital: While traditional speaker setups rely on a web of cords, adapters and in-put and out-put ports, some of the modern speaker options connect wirelessly or via B Some people may still choose an analog setup for vinyl players or instruments. Although the audio quality may not be as good, the time and space that you save on a digital setup may be worth it.
Smart system: Many speakers and televisions these days have in-built smart capabilities such as a virtual assistant and voice control. If you already use a particular smart system, such as Google Home or Amazon's Alexa, it might be a good idea to look for speakers that will be compatible with other devices in your home.
Should I invest in a home theatre system?
A home theatre system can really bring your home to life, whether you enjoy watching movies with your family, getting immersed in video games with your mates, or just want to bring live shows straight to your living room. Luckily, there is a home theatre system to suit any range of needs, interests and budgets, so take you time to investigate brands and the products that they have on offer so that your investment is a worthwhile one.
Original Author: April Broadbent