So, you think you're all set with your home theatre system? You've got your big, flatscreen TV, the latest and greatest gaming console, and a swish Blu-ray player. But if you're just relying on your TV's built-in speakers for sound, you're wasting your tech's potential.
As TVs have become slimmer, image quality has improved massively, but there's no longer much room to fit good quality speakers. Size does matter when it comes to audio quality. It's becoming more and more necessary to use external speakers to get the most immersive, realistic entertainment experience.
You can easily turn your living room into a great home theatre without breaking the bank. Whether you want a high-end, high-tech setup, or you just want to cover the basics, there's a wide range of packages at a wide range of price points to choose from. Read on to find out how to choose the best home theatre system for your needs.
What is a home theatre system?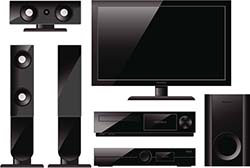 While 'home theatre system' technically refers to all of the visual and audio appliances that you use for entertainment at home, it's generally used to refer to the audio system used along with other entertainment electronics.
A home theatre package contains the following components:
Receiver: This is the hub that handles everything. Plug in all of your audio and video inputs and outputs – that includes your speakers, TV, Blu-ray player, gaming consoles, etc. The hub then sends video signals to the TV and audio signals to the speakers for output. You need a receiver to centrally organise and manage all of your inputs and outputs so that you can ensure everything cooperates. Plus, it means you only need to change the volume on one device and don't need to have half a dozen remote controls.
Rear speakers (left and right): Essential to achieve that 'surround sound' effect. Placing good speakers to the left and right of the rear of the seating area makes sure that audio reaches everyone and draws you into the scene to make it feel more like you're really there.
Front speakers (left and right): While you can omit these if you're on a budget, having a speaker at each of the four points around the entertainment area makes for a far more immersive sound experience that fills the entire space.
Centre speaker: This generally includes at least one tweeter speaker in the unit. A tweeter is a type of speaker specialised for higher-pitched sound. You need good quality audio across the spectrum of sound for depth and realism.
Subwoofer: A speaker that you usually keep on the floor or under a table, specialised for deep sounds. This is how you get those cinema-quality booms and rumbles.
You can buy each of these components separately, but it can be easier and cheaper to buy a pre-assembled home theatre package.
Why should I get a home theatre system?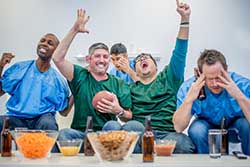 The sound coming from your TV is probably a) not very good and b) not as immersive as a speaker system would be. While it's a bit of an investment, it can be worth it to get the most out of your sound – whether you're watching movies, sports, video games, or Netflix.
One of the downsides of modern TVs is that they can't fit great speakers. There's a reason why movie theatres and live bands use really big speakers and amplifiers. Bigger speakers are physically better at producing louder, clearer sound across a wider range of the sound spectrum.
The other problem is that when sound is coming from just one source, it can sound flat and less 'real'. When sound is produced from multiple directions, it sounds more real, because in regular life sound can come at you from any direction.
Moreover, when you have speakers in different locations, your audio output can be programmed to emit specific parts of the sound from different speakers. For example, if you're watching a movie where a loud noise happens to the left of the scene, that sound can be programmed to come from your left speaker to make it sound more realistic. If you've only got one speaker, all of the sound will come from the same speaker and seem more flat and one-dimensional.
Audio Technology Terms Explained
There's a bunch of different technical terms used when talking about home theatre systems that can be a bit tricky to decipher. Here are some of the most common ones explained, so you can get through the tech-speak to figure out different systems can do.
Channel: Another way to refer to the number of audio speakers involved. Confusingly, there can be multiple 'speakers' in one unit. You can usually see this, but in the case of some designs such as sound bars, it's not so obvious.
1: A number used to refer to either the speaker system configuration or the audio signal format. The first number refers to the number of speakers involved, and the number after the decimal point refers to whether or not the system has a subwoofer or other low-frequency channel output.
Stereo: Stereophonic sound uses two channels for sound, which can be each fed to a different speaker to make different sounds come from different directions.
Piezo: Piezoelectric speakers are often used as tweeter speakers, as they're good at producing high-frequency sound.
How much do home theatre systems cost?
There's a wide range of price points for home theatre systems, which means that upgrading to a better sound system can be affordable even for those on a budget. Below are indicative price ranges from some of the major brands, as advertised by major retailers at time of writing. These are costs for complete packages, with varying numbers and sizes of speakers.
You can assemble your own system by buying components individually, which gives you more flexibility and customisability but involves a little more work.
| Brand | Low End | High End |
| --- | --- | --- |
| Bose | $999 | $6,999 |
| LG | $548 | $1,099 |
| Onkyo | $899 | $2,697 |
| Panasonic | $439 | $799 |
| Samsung | $629 | $1,795 |
| Sony | $999 | $1,299 |
| Yamaha | $475 | $3,899 |
Source: Various retail outlets January 2017
Below are some examples of home entertainment systems from arguably the two leading brands.
Panasonic SC-BTT405
This Panasonic home theatre system is Bluetooth enabled and can also connect to the internet for use with some apps so you can stream audio directly from your phone or computer. Its two rear and two front speakers are compact so you can fix them to the walls or buy stands for them. A set like this one may be a good entry-level consideration.
Samsung Series 7 HT-J7750W
This 7:1 channel system includes stands for each of the front and surround speakers, plus a wireless receiver module so you don't need to run wires to the front of the room to connect the rear speakers. It's made 7.1 (rather than the usual 5.1) by having the two surround speakers split the rear and surround channels into four. This may not make a difference with all media though – 5.1 is currently the standard surround sound audio format.
How do I choose a home entertainment system?
Spending less doesn't necessarily mean sacrificing quality – you can get a good system at any price. Regardless of your budget, there are a few factors to consider to make sure you choose the best home entertainment system for you:
Budget: If you've got limited funds, prioritise speaker quality first – choose the package with the best speakers, not the fanciest receiver. The difference between different speaker qualities is much more significant than the difference between receivers.
Space: Do you need to compromise on size to fit your space, or can you accommodate those bigger units? Bear in mind that you'll need to keep at least your left and right side speakers at equal distance from viewers. The ideal setup has all speakers placed the same distance away from viewers, but this isn't always practical.
Arrangement: Where are you planning to place your speakers? Will you be hanging them from the walls, or do you need them on floor pedestals? Consider that the ideal positioning for front speakers is around head height and 2-3 meters away from your seat, while rear speakers should be a bit above head height. How will you be able to achieve this in your entertainment area? There are different speaker shapes for different arrangements, including tower speakers, wall-mounted speakers, and satellite speakers designed to be sat on top of a stand or table.
So there you have it – everything you need to know about home theatre systems.