Drones have been around for some time, but it's only in recent years that they've become accessible to almost anyone. These compact aircrafts are revolutionising the industry of filmmaking as well as search and rescue, conservation, agriculture and energy infrastructure by allowing users to fly at extremely high altitudes with ease. It seems even drone racing has kicked off with the accessibility and affordability of these devices.
With this wide range of users, there are also a variety of types. An FPV drone stands for first person view and is specifically designed for racing. It lets you – the pilot – see exactly where you're going. However, if you're looking to buy a drone for aerial photography, you may like to consider an RC (remote controlled) drone with a gimbal as it lets you capture a wider variety of shots. Read on for all the specs and features of drones and which you can buy in Australia.
How do drones work?
The unmanned aerial vehicle (UAV) – commonly known as a 'drone' – uses light composite materials to decrease weight and increase movability. It's designed with the ability to fly, hover, as well as navigate without the input of a controller/pilot. Drones feature various types of technology including GPS, laser and infra-red cameras, depending on the type of drone. There are two key parts to a UAV – the control system and the drone itself – where the head of the drone is equipped with sensors and the navigation system.
Features to look out for in a drone
Depending on the reason you're buying a drone, whether it be a hobby, for filmmaking, or for enterprise use, the features to consider may differ. Some general aspects include:
Sensors to avoid collisions
Ready to fly design with limited assembly time
High maximum wind speed that the drone can fly in (if you expect to fly in areas with high wind speeds)
GPS return home function to bring the drone back to the starting location (if battery is running low or out of range)
High performance cameras such as 4k video and 12 megapixel stills for filming and aerial photography
Extended battery life and motor power if needing to use it for an extended time (on average one drone battery life is approximately 20 minutes in flight mode)
Extensive Wi-Fi range, depending on how far you want to fly the drone
How much do drones cost?
There are different types of drones from toy models to high quality professional camera drones. As a guide these are the prices you may expect to pay:
| Drone type | Price |
| --- | --- |
| Toy drones | $50 – $100 |
| Racing drones | $150 – $900 |
| Consumer camera drones | $300 – $2,800 |
| Professional camera drones | $5,000 – $21,500 |
General guide only
Toy Drones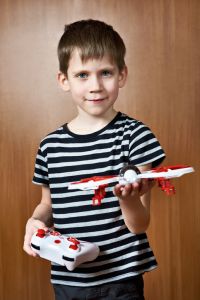 Propel: produces a range of flight and radio controlled devices with a Star Wars and Batwing editions
Navig8r: has a range of drones that are built to withstand casual falls and bumps
Swann: offers a range of toy RC drones and quadcopters, ideal for beginners
Racing Drones
Walkera: its range is equipped with anti-collision and anti-drop mechanics, minimising surface damage
Eachine Wizard: designs drones with integrated distribution and easy maintenance as well as an adjustable camera
Camera drones
There are several main brands of drones with cameras that you can purchase in Australia:
DJI
Parrot
Yuneec International
GoPro
Zero-X
We'll go into more detail about each brand below. The camera drone range also feature 'selfie drones' (brands: DJI, Rova) that sit around the $300 – $700 mark. If you're after camera fishing drones (brands: SwellPro Splash Drone), these are water-resistant and can be found for sale at around the $2,800 mark.
Drones in Australia
As drones are getting more and more mainstream, many retailers are stocking them on their shelves. JB HI-FI and Harvey Norman are two of the main stores where you can find these drones, but you can also purchase online.
DJI Drones
DJI is a leading manufacturer of drones, producing models for a wide range of users. It's a Chinese tech company with offices now spreading across the globe from its success in the market. Along with drones, it manufactures gimbals, cameras and stabilisers. DJI drones feature superior cameras, storage, speed and flight distance, but this comes at a price. Expect to pay about $2k for the consumer drones and up to $37k for its Inspire 2 Cinema Premium Combo.
One of the latest in the bundle is the DJI Mavic Air (RRP: $1,299). Its compact design allows you to take it anywhere with its controller fitting into your pocket. This is a definite plus as many drones with similar features require a large drone backpack for transportation. It features a 4k camera and a max flight time of 21 minutes. You're also able to connect the drone to the DJI googles (for an additional price) instead of limiting your vision to a smartphone screen.
DJI consumer drones

DJI Mavic, Mavic Pro, Mavic Air – under $1,700
DJI Phantom 1, 2, 3 & 4 – under $1,900
DJI Spark (selfie drone) – under $800

DJI professional drones

DJI Inspire 1 & 2 – from $3,000 to $37,000

DJI enterprise drones

DJI S900 Hexacopter – around $1,899
DJI S1000 Octocopter – around $2,399
DJI Matrice 100, 200, 600 series (for developers) – from $7,800
Parrot Drones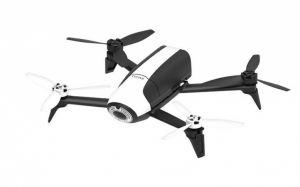 Parrot was founded in France and specialises in voice recognition, signal processing products, and of course, drones. It has a fairly extensive line of drones including its 'Minidrones' range designed without a camera. The Parrot Mambo Mission mini-drone allows users to shoot with the cannon, grab with the grabber as well as flip for high-flying challenges. For videography, the Parrot Bebop 2 has a 14-megapixel camera and 1080p full HD video quality along with up to 25 minute of battery life.
If you're a 'drone beginner' you may opt for one of the Parrot mini-drones. If you're looking to upgrade to a drone that can shoot aerial photos and videos, you might like to consider one of the Parrot Bebop drones as it offers the main key features you'd look for in a drone without a high price tag.
Parrot consumer drones

Parrot Disco, Disco FPV (first person view) Disco Adventurer – from $2,399
Parrot Bebop 2 & Bebop 2 Power – from $999

Parrot minidrones (without camera)

Parrot Swing – around $230
Parrot Mambo Mission, Fly & Code – from $149
Yuneec International Drones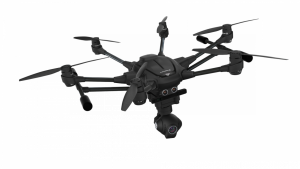 Yuneec is another Chinese aircraft manufacturer producing fun flying drones, along with 4k professional drones. It aims to increase usability and capability of its products. Whether you're starting out or looking to upgrade, Yuneec may have an option for you.
Yuneec's Typhoon H model offers 4K footage and up to 25 minute flying time. It has various flight modes including a 'Follow Me' setting and a 'Return to Home'. It features Intel RealSense technology, which allows the drone to detect obstacles even in the 'Follow Me' mode. This is a very handy feature and is becoming more prominent with new drones coming to market. For this feature packed drone you can expect to pay around the standard $2,000 mark.
Yuneec fun flying drones

Yuneec Breeze 4K (selfie drone) – around $300

Yuneec consumer drones

Yuneec Typhoon H & Typhoon 4K – from $1,000
GoPro Drone
Specialising in action cameras, GoPro focuses on one drone design, providing the – GoPro Karma Drone. It's stated to be compatible with GoPro Hero 4, 5 & 6 cameras, so if you already have your hands on one of these, the drone body by itself will cost you $849.95 (via the GoPro site). The advantage of having the detachable camera on the drone is that you can use it without the drone for handheld shots.
The drone can also connect to the GoPro Passenger App that lets your friends view how you're flying. The battery life of the Karma drone is up to 20 minutes of flight time. If you're using the GoPro Hero 6 camera with the drone, it allows you to film in 4k with 60 fps and 1080p with 240fps for high quality slow-motion playback.
Zero-X Drones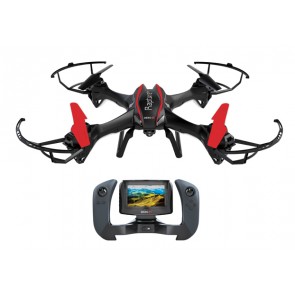 Zero-X drones are ideal for beginners, with prices all under $700. The Zero-X Rapture HD drone has a 720p camera and allows for up to 10 minutes of flight time. While it doesn't exactly compete with the more high-end models, it still offers a standard camera quality and battery life.
Its Zero-X Blitz model is specifically designed for racing, reaching a maximum speed of 72kph. You can fly the drone within a 600m controllable range. It also has an in-built camera with 720p video quality and 5MP stills, allowing you to capture aerial shots along with the racing capability.
Zero-X racing drones

Zero-X Blitz – around $700
Zero-X Raven & Raven+ – around $200

Zero-X consumer drones

Zero-X Rapture & Rapture HD – around $400
Zero-X Scout, Atlas, Titan, Spectre – from $149
The Bottom Line on Drones
Whether you're a beginner or hard-core enthusiast, it's important to consider your intended use before deciding how much you should splurge on one of these bad boys. High-end drones can certainly assist in a number of industries but if you're not a regular drone user, a more basic and inexpensive option may suffice. We all know someone who spent 2k on a drone and never uses it!
When comparing prices, ensure you check what is and what isn't included as well as the shipping fees involved. While some drones come in a bundle with additional carry bags, batteries and blades, many others don't. As most drones have a flight time of around 20 minutes or less, it would be wise to consider additional batteries if you expect to use it for longer. Extra blades might also come in handy for drones without sensors, giving rise to falls and collisions. Once you've factored in your budget, and what you intend to use the drone for, the sky is the limit.
Original Author: Veronika Hleborodova