Compare some of the best clothes dryer brands using our customer satisfaction ratings.
Compare clothes dryer brands with our customer satisfaction ratings.

High and dry: Electrolux achieve a second clothes dryer award win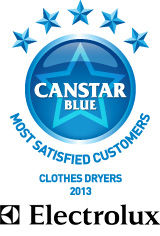 If you're shopping around for a new clothes dryer for your home, we've compared six notable appliance brands in these results. For the second year in a row, Electrolux has triumphed and receive our Most Satisfied Customers Award – Clothes Dryers.
Electrolux, received five stars in seven of the eight rated criteria this year, for value for money, performance and reliability, time taken to dry clothes, quietness while operating, design, warranty and the all-important, overall satisfaction. The brand was among excellent company in the five star stakes:
LG achieved five stars for design, and performance and reliability.

Bosch received five stars for its quietness while operating.
Simpson, Fisher & Paykel and Whirlpool were also rated in this survey.
If you're thinking of shopping around for one of these appliances, we've written a handy buying guide for clothes dryers just for you.
Three in four use Google to help make their appliance shopping decisions
Deciding which appliances to buy can be difficult without any prior product knowledge, with most people looking for advice before making a purchase. While three quarters of respondents to our recent survey read appliance reviews and ratings online before making their decision, three in five go to the source they trust most and ask friends and family for advice.
Thirty percent of respondents report they are happy to buy the model recommended by their retailer, while other respondents are content to let price be their guide: twenty-two percent of those surveyed admit they always buy the cheapest appliance available.
Long term cost-savings on specific appliances are important as well, according to the 92% of respondents who take notice of energy ratings when buying appliances such as clothes dryers. Nearly four in five reported they limit the use of their clothes dryer due to the price of electricity.