Compare some of the best clothes dryer brands using our customer satisfaction reviews and take some of the hassle out of laundry.
Compare clothes dryer brands with our customer satisfaction ratings.
What will your new clothes dryer cost you each year?
Of 93 clothes dryer models available on the Equipment Energy Efficiency Website at time of print,
the average cost per model (RRP) was $621,

the average load capacity ranged from three to nine kilograms, and

the average energy usage over 52 cycles was 240kW per dryer.
According to EUAA, the average cost of electricity is 25 cents per kWh (in 2012). Therefore, running your dryer once a week for a year costs roughly $62.50. Within six years, that becomes a $1,000 purchase!
We recommend you look up the wattage of your potential dryer purchase and use the widget on SA.gov.au to calculate your annual appliance running costs.
According to our most recent survey results, Queenslanders are most likely to limit the usage of their dryer due to power prices: 85% of sunshine state respondents in fact. Comparatively, 68% of New South Wales men and women agreed, as did 74% of Victorians.
LG clothes dryers strip the competition bare in our 2014 awards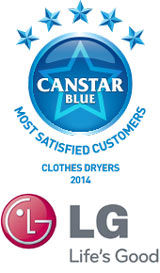 So you've determined how much your new dryer is going to cost in the long run, but which model should you choose? Well, first things first:
Once you're confident you're well read on the topic, you should look at our clothes dryer customer satisfaction reviews. We commissioned a market research company to survey everyday Australians about their new clothes dryer.
LG is out in front for 2014, receiving our Most Satisfied Customers award in this category ahead of Simpson, Fisher & Paykel, and Electrolux. Let's see where each brand excelled.
LG
At time of print, you can go to the LG clothes dryers home page and be greeted by the image of a brilliant red condenser dryer. Given how sleek it looks, we imagine this is the kind of appliance an Formula One driver would own.
LG's dryer design is truly stunning, with its condenser dryer range being real knockouts. Additionally, some LG clothes dryers come with digital temperature sensors to ascertain when clothes are finished drying (saving the clothes from damage and conserving energy), as well as steam generators to ensure clothes come out feeling fresh.
Of the eight survey criteria, LG received top ratings in four – a great result in such a competitive category. LG achieved five stars for overall satisfaction, value for money, quietness while operating, and energy efficiency. This brand also secured four star ratings for performance / reliability, time taken to dry clothes, warranty, and feel of clothes after drying.
Simpson
Simpson sport a variety of vented clothes dryer models at present; all with large loading doors, directional vents, and capacities appropriate for most households. You can also utilise one of Simpson's venting kits if you find your dryer is turning your laundry into a sauna.
Simpson customers were most satisfied with the performance and reliability of their dryer, the time it took to dry clothes, and the feel of clothes after drying. This brand picked up five stars in each of those areas; and four stars for overall satisfaction, value for money, warranty, and energy efficiency. It also received three stars for quietness while operating.
Fisher & Paykel
Have you ever heard of a 'quad-fin drum design'? We hadn't either, but it's what some Fisher & Paykel dryers utilise to ensure clothes are dried evenly. Additionally, this brand has condenser models that require no installation and no venting – making them a good prospect for apartments.
Fisher & Paykel took the top spot for clothes dryer warranty, receiving five stars in this regard. This brand also received four stars for time taken to dry clothes and energy efficiency; and three stars for overall satisfaction, value for money, performance and reliability, quietness, and feel of dried clothes.
Electrolux
As one of the largest appliance manufacturers in the world, it's no surprise Electrolux showcase both vented and condenser dryer models in the Australian market. Some include advanced temperature sensors, crease free options, indicators if your filter needs cleaning, and even options to delay the commencement of operation.
Electrolux achieved four stars for value for money, time taken to dry clothes, quietness while operating, warranty, and energy efficiency. This brand also received three stars for overall satisfaction, performance/reliability, and feel of clothes post-cycle.
–
How we rated clothes dryers
Canstar Blue commissions Colmar Brunton to regularly survey 2,500 Australian consumers across a range of categories to measure and track customer satisfaction. The outcomes reported are the results from customers within the survey group who have purchased a brand new clothes dryer in the last three years – in this case, 353 customers.
Each brand must have received at least 30 responses in order to be included. Results are comparative and it should be noted that brands receiving three stars have still achieved a satisfaction measure of at least six out of 10. Not all brands available in the market have been compared in this survey.
Past Ratings
Clothes Dryers (2011)
Clothes Dryers (2012)
Clothes Dryers (2013)