ALDI is known for cheap groceries and bargain Special Buys, and shoppers look set to 'clean up' once again when the supermarket kicks-off its dishwasher sale.
On Wednesday (July 4), ALDI stores across Australia will be stocking dishwashers with a price tag of just $299. But as usual, stock are limited.
ALDI Dishwasher (STR-DW12-W)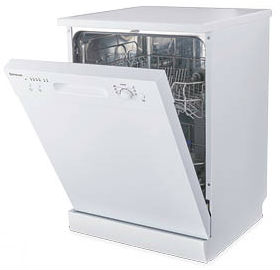 The ALDI dishwasher (Model no. STR-DW12-W) features 12 place settings and six wash programs for all types of washing. In addition, you will find an anti-flood device for safety.
For peace of mind, ALDI also offers a three-year in home warranty on this model, and with a total weight of 45kg, make sure you bring a friend along if you want to take this bad boy home.
To ensure it fits in your kitchen, measure up your space for dimensions of 845 x 600 x 600mm (HxWxD).
It has five out of six stars for water efficiency, using 10.2L per wash. In terms of energy, it's slightly lower at 3.5 stars, with an energy consumption of 256kWh per year.
So are you really getting a bargain? To find out, you'd have to look at what other brands are offering.
A Midea dishwasher with the same number of place settings and wash programs can be had for more than triple the price of the ALDI model at a recommended retail price tag of $919.
The Midea model (WQP12-9250I-AUS) has also just 2.5 stars for both its energy and water efficiency ratings, costing around $95 per year, according to the Standard Test (based on 30c/kWh).
ALDI Stainless Steel Dishwasher (STR-SSDW14)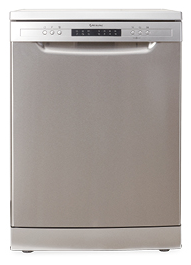 Another dishwasher from ALDI is this Stainless Steel model with 14 place settings, retailing for $349 (April, 2019). It features six wash programs with a delay start function, so you can set the dishwasher to run overnight and make use of the off-peak electricity times. The design incorporates a height adjustable upper basket to give you room for larger pots and pans. For safety, you'll find a child lock and an anti-flood device.
It has a three star energy rating with an energy consumption of 329kWh per year. In terms of water, it has a 4.5 star water rating, using 12.7L per wash. Product dimensions are 845 x 598 x 610mm (HxWxD) and it comes with a three year warranty. With a total weight of 45kg, ALDI suggests bringing a mate and a trolley to give you a hand with this unit.
What else is on sale at ALDI?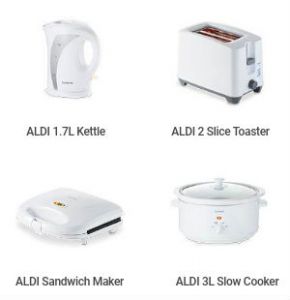 Sticking to the kitchen theme, ALDI is also offering kettles, toasters and sandwich makers, all for $7.49 apiece.
ALDI Slow Cookers will be selling for under $20, which offer 3L of capacity and three temperature settings – high, low and keep warm.
If you want to deck out your whole kitchen with ALDI small appliances, perhaps a 1.5L blender for $20 or a hand mixer for $15 is also on the shopping list.
For those who have knives in need of some sharpening, the ALDI Electric Knife Sharpener ($12.99) is boasted for coarse and fine grinding and is stated to also sharpen scissors and flathead screwdrivers.