Fact Checked
Panel heaters are the slim heating companion in many Aussie homes. They come in a range of sizes to suit any home, making them blend seamlessly into just about any space. But how do you know if a panel heater is the right kind of heater for you and your home? Read on to find out more about panel heaters in this Canstar Blue buying guide. 
What is a panel heater?
Panel heaters are a slimmer model of indoor heater that uses convective heat to warm a space. Panel heaters will draw in air, heat it up and circulate it throughout a room making them fairly effective heaters for smaller rooms. 
Are panel heaters expensive to run?
Panel heaters are a slightly less energy-efficient heater but your energy bill cost will come down to a number of factors. It will depend on how often you use the heater, how long you leave it running, and the energy star rating on the product if it has one. Read our winter heating cost guide to help figure out how much your heating appliance may cost. 
Panel heater pros and cons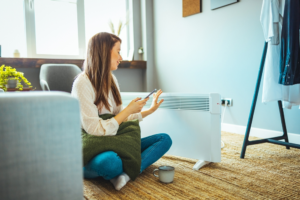 There are plenty of heaters available on the market, each with their own benefits and setbacks, and panel heaters are no exception. Pros and cons of panel heaters include: 
Pros: 
Compact and saves space

Consistent with heat output and heats a space evenly

Built-in and portable models available to choose from

Cheaper to buy upfront with some models starting at around $100
Cons:
Take longer to heat up compared to other

fan heaters

for example

Higher running costs due to the type of heating it produces
How much do panel heaters cost to buy?
Panel heaters generally cost from $100 to upwards of $800 for larger built-in models. Portable models of panel heaters will cost between $100 and $300 depending on the size and wattage, whereas built-in models will sit around the $400 to $600 mark. 
Who sells panel heaters?
Brands that sell panel heaters include Nobo, De'Longhi and Rinnai to name a few. Each brand has a number of portable and built-in models available direct from the brand or from retailers like Appliances Online and The Good Guys. 
Nobo Panel Heater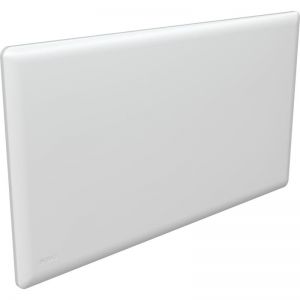 Nobo has multiple models of panel heaters, including both portable and wall-mounted models, and  retail from $400 to $900. Many of the models can be used as portable heaters or mounted to the wall, preferably in medium to large-sized spaces such as bedrooms, bathrooms and living rooms. The brand claims its heater can help improve the air quality with fan-free technology which prevents the appliance from blowing dust and allergens around the room while it operates. Added features include an IP24 water resistance rating making it ideal for bathrooms, an ultra-accurate thermostat and completely silent performance.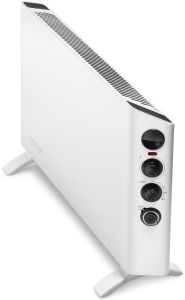 De'Longhi Panel Heater
De'Longhi is a popular appliance brand known for heaters, coffee machines, fans and other kitchen appliances. Its heaters retail from $150 to $500 making them a slightly more affordable brand of panel heater. Many models come with both feet and a wall bracket kit to let you use the heater in a way that suits you – either standing or wall-mounted. It also includes carry handles for extra portability, and other features like six power levels, an anti-frost function and a convenient 24-hour timer.
Rinnai Panel Heater
Rinnai is known for its heaters in not only electric models but gas too. Its panel heaters retail for $400 to $700 depending on the size and wattage of the model. Rinnai's panel heaters can be used either as a freestanding unit or mounted to the wall depending on how much space you have in a room or personal preference. Other features include thermostatic control, a programmable 24-hour timer with a delay function and an overheat protection function.  
Buying a panel heater
Panel heaters offer plenty of flexibility for heating options, but ultimately the decision will come down to personal preference. Cost doesn't play too big of a role in decision-making as there is a range of price points available to suit just about any budget and there are plenty of sizes available too for different room types. If you're still uncertain about whether or not a panel heater is right for you, compare brands of portable heaters below to help make a decision. 
Original Author: Tahnee-Jae Lopez-Vito