Fact Checked
The Thermomix has become a household name as far as kitchen appliances go, with its all-in-one capabilities and convenience. They're a pricey wager on how you get dinner done, but for some could make a world of difference in the kitchen. So, are they really worth it? Read on to find out more about whether this food processor  is the real deal. 
What is a Thermomix
Thermomix is a multipurpose kitchen appliance used to prepare ingredients of meals or cook entire recipes, sharing similar qualities to appliances like pressure cookers, steamers, mixers and slow cookers. Originally launched in the 1960's as a standard mixer series,  by the 1970's Thermomix had developed into an "all-in-one" design that has since changed into a high-tech model of the appliance with touch screen and built in recipes. The two most recent models of Thermomix – the TM5 and TM6 – are arguably the most advanced with a handful of different features between the two. 
Thermomix TM5
The Thermomix TM5 was launched in 2014 and unlike its predecessor, features a touch screen with an interactive recipe book. The recipe book has plenty of recipes, from carrot cake to a classic bechamel sauce. The TM5 also offers scales to measure out ingredients accurate to 5g which means you need fewer measuring tools, which means less washing up. One of the most advanced features was the Cook-key which allowed you to connect to the internet and browse recipes via a log in on your phone or computer.  
Thermomix TM6
Although extremely similar at first glance to the TM5, the TM6 has a few additional features that were released in 2019 with the new model. Firstly, the size of the screen is larger at six inches as opposed to four which makes browsing recipes simpler. The TM6 also has features like high temperature frying and caramelizing added which makes a world of difference to the TM5 which had significantly fewer cooking functions. 
How much is a Thermomix?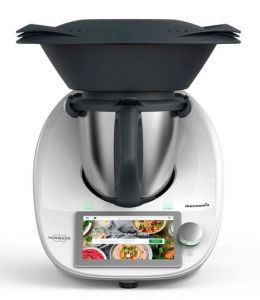 The price tag on a Thermomix may seem a little out of budget retailing between $1,800 and $2,600. However, given its number of functions, and if taken care of properly,  it is potentially worth the money for some. You can buy a Thermomix and all accessories directly from the Thermomix website.
Thermomix pros and cons
While the Thermomix claims to be amazing all-in-one appliance, it does have some drawbacks that potentially make it ill-fitting for some homes. Pros and cons of Thermomix models include: 
Pros:
Multiple cooking functions including steaming, sauté, frying and boiling.

Numerous cooking accessories that are easily stored away to assist with cooking functions.

Built in cook book and recipes.

Dishwasher safe cleaning for the mixing bowl and accessories. 
Cons:
The price compared to competing appliances is a lot more.

Older models are not as available as the most updated model meaning that people wanting to buy older ones at a cheaper price may struggle to find it. 

The appliance as a whole is quite heavy and can be hard to store away.
Thermomix accessories
There are a several Thermomix accessories that suit a number of models. The accessories include a blade cover and peeler, varoma steaming basket and trays, simmering basket and stirring attachment. The steaming basket and trays can be used to steam vegetables and dumplings as well as any other foods you may want to steam and the blade cover can be used to cook items as well as grate vegetables like carrots or cheese. There are more accessories you can purchase from Thermomix that also help with storing the appliance and more.   
Best Thermomix recipes
There are hundreds of recipes online in many Thermomix communities, but the recipes housed in the appliance cover an array of areas of coking from sweet to savoury. Some of the most popular recipes include the carrot cake recipe, bechamel recipe, soup recipes and even some cocktail recipes. Cookidoo is the official Thermomix recipe platform that shares new recipes and some crowd favorites for those looking to make the most out of their appliance.
Thermomix competitor appliances
While Thermomix is arguably one of the top appliances of its kind, there are a number of other brands that sell alternative appliances to a Thermomix. Brands like Tefal, New Wave and Kitchenaid have similar appliances that retail for less than a Thermomix but don't necessarily have all the same capabilities.  
Is a Thermomix worth it?
Whether or not you invest in a Thermomix will come down to a number of factors, price potentially being the main one. While they are above what some are willing to pay for an appliance, they do tend to last for many years and offer plenty of functions and features. Whether a Thermomix is for you will also come down to personal preference, but if you're still on the fence you can compare similar appliances like food processors below. 
Original Author: Veronika Hleborodova