The Thermomix seems to have become a 'love it' or 'hate it' kitchen appliance for many consumers, and with its high price tag it's little wonder why the debate continues as to whether it is really worth the money.
It's not a huge surprise as to why there is such an appetite for this innovative machine, as for many time-poor households owning an appliance that does all of the hard work for you is a win-win solution to the everyday challenge of cooking up a decent meal for the family.
Marketed as a machine that will combine all your main cooking appliances into one, the Thermomix should theoretically cut back on the expense of those individual items – and save on space in your kitchen.
The one-pot wonder not only cooks, it whips, grinds, steams, mixes, blends, chops, kneads, heats and weighs – to name just a few. There is no doubt that it is a quality piece of machinery. The blades stay sharp, the bowl looks like new every time you clean it, and the plastic seals for steaming food don't get corroded quickly.
The downside to this superior technology is that it doesn't come cheap!
Thermomix price and lifespan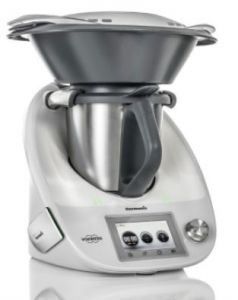 Haters of the 'Thermy' (as it's been affectionately renamed by those in the know) would say that the $2,000 price tag is just not worth it. While you can enter into a payment plan – to pay it off in instalments – there is still no getting away from the high price for a gadget that is secondary to your cooker.
However, you are paying for quality. Apart from the usual product malfunctions (there will always be a small number of buyers who receive a faulty item) such as needing a replacement sealing ring, most of the complaints come from those who say it simply takes the joy out of cooking. With proper care, the Thermomix should last a lifetime, and when you can replace your blender, bread maker, steamer, scales, mixer and so on with it, maybe this product really is value for money?
The bods at Thermy headquarters say that by creating food from scratch – such as bread, flour and yoghurt – you are automatically saving money, and with its favourable energy efficient rating, you are also cutting down on electricity costs.

Useability and effectiveness
So how easy is the Thermomix to use, and how do you become known as the 'best cook ever' by your family members? Well, the fact that your $2,000 Thermomix comes with its own consultant is a testament to the complexities around this kitchen tool.
The consultant will come to your home to help you set it up and get you trying out the millions of recipes from the cookbook they provide. For some home cooks, the fact that its capabilities are endless and that you will never see its full potential can be too much to bear…
Those who are opposed to this product also talk of the lack of taste to some of the meals it produces, and that many of the dishes are missing some much-needed crunch. For the lovers, the fact that they are able to serve a hearty, healthy meal for the family by throwing all of the ingredients in and then pressing the 'start' button is a no a brainer when considering whether to take that step into the Thermomix world.
What can the Thermomix do?
Thermomix claims to combines the functions of 12 different appliances in one: weighing, mixing, chopping, milling, kneading, blending, steaming, cooking, beating, precise heating, stirring and emulsifying.
Apparently, owning a Thermomix will turn recipes you've never tried before (because they seemed like too much effort) into easy and fun achievements. Meals that once took your grandmother several hours to prepare are now just a few buttons away.
So, what can you actually do? The Thermomix can:
Cook pasta and rice
Steam fruit and vegetables, meat and fish
Stew meat, vegetables and fruit
Boil and simmer liquids like sauces, soups and chowders
Chop and mince up meat, nuts, herbs and vegetables
Crush ice and frozen fruit
Blend fruits, frostings, soups, sauces, smoothies, milkshakes
Puree vegetables, fruits and special diets
Grind coffee beans, sugar and nuts
Mill into flour wheat, rice, nuts and grains
Knead bread dough, pizza dough, pasta and pastry
Whisk egg whites and yolks, frothy milk for coffee, and custards
Grate hard cheese, chocolate and nuts
Emulsify mayonnaise, salad dressings, body care products and cosmetics
Weigh liquids and solids
Keep heat at a certain temperature for yogurt, butter, cheese, baby food, chocolate, delicate sauces and fondue
What can't the Thermomix do?
The Thermomix is a pretty amazing kitchen appliance, but it can't do everything. So, here is a list of things you can't do:
You can't roast food. The Thermomix will boil and simmer, but it can't do it dry
You can't fry food. So if you like to brown the meat and onions for a stew before you add the other ingredients, you'll still have to do that on the stove
You can't pressure cook food
You can't bake food. You can mill the flour, mix the batter and knead the dough, but you cannot bake the cake. You'll have to turn on an oven
You can't dehydrate food. You'll need a food dehydrator for that
You can't preserve food. It's not a fridge
You can't freeze ice cream. You can mix it up in the Thermomix, but you need to either use frozen ingredients when blending, or freeze it after blending
It may be able to clean itself on the inside, but you'll be left to take care of the outside of your Thermomix.
Thermomix competitors
So, we know all about the Thermomix, but what about its rivals? What other know-it-all appliances are out there to help make kitchen life even more convenient? Other brands include:
Tefal
KitchenAid
Bellini
Kogan
ALDI
Here's how they compare on price:
| Model | Price |
| --- | --- |
| KitchenAid Cook Processor | $2,099* |
| Tefal Cuisine Companion |  $1,299* |
| Bellini Supercook | $399* |
| ALDI Mistral Thermo Cooker | $299* |
| Kogan ThermoBlend Pro | $199.99* |
Source: Prices taken from respective retailer websites, January 2020
KitchenAid Cook Processor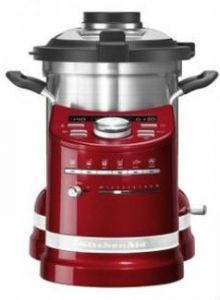 Coming in a little over the price of the Thermomix, the KitchenAid Cook Processor ($2,099 RRP) has been hailed as a big hit for its appearance. With a choice of colours to match your kitchen, this could be a winner for those who rate their appliances on style.
Designed with a large 4.5L bowl capacity, expect features such as six auto cooking modes, manual cooking functions and die-cast metal construction. Additionally, you'll find a StirAssist System stated to gently fold and stir ingredients.
Tefal Cuisine Companion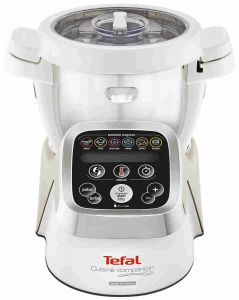 With a $1,299 price point, and large 2.5L capacity dishwasher safe bowl, the Tefal Cuisine Companion is a big competitor to the market leader. This product is particularly popular amongst those with a lot of mouths to feed. It features six automatic programs and a manual mode to adjust speed, heat and time for your own recipes.
In addition, it comes with four blade attachments that allow you to chop, mix and blend as well as knead dough. You will also find a steam basket and a keep warm function that stays on for up to 45 minutes.
Bellini Supercook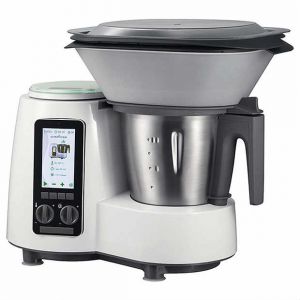 Now, if you are looking for value for money in an all-in-one cooking appliance, then the Bellini Supercook might take the accolade – available from as little as $399 at Target (June, 2018). With 13 cooking functions, this could be the machine for the money savvy.
It can operate at up to 130°C and is boasted for 1000W of cooking power with 500W of mixing ability. There are also 10 speed multi and turbo mixing functions to choose from. The large full-colour display and 2L jar capacity is aimed at making this machine a useful tool for any kitchen.
ALDI Mistral Thermo Cooker
ALDI's Mistral Thermo Cooker has appeared in its Special Buys for $299 in September 2019. It's described as eight appliances in one, allowing you to steam, blend, chop, crush ice, mix, dry, knead and make stew. It features an 800W motor with 2L of capacity. There's also a steamer unit with 1000W of heating power.
There are 10 speeds to choose from with an integrated scale and reverse functions. Additionally, it comes with a chopping blade, mixing tool and recipe book.
Kogan ThermoBlend Elite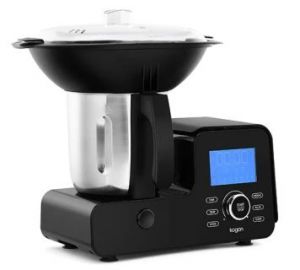 Kogan's ThermoBlend Elite All-in-One Food Processor & Cooker is another budget friendly option. With a price tag of $199.99, you can combine ten appliances in to one unit. It features an LED screen, timer, temperature dial and a smart speed control. There are 11 variable speeds to choose from along with a pulse button.
This multifunctional appliance provides 2L capacity and is stated to chop, mix, knead, blend, cook, steam, stir, fry and more. To help with the clean up, the utensils are said to be easy to clean while the cooking bowl is dishwasher safe. In addition, you'll find a steam tray, lids and measuring cups included.

The bottom line on the Thermomix
When all is said and done, the Thermomix is a machine with a very fancy engine and the ability to revolutionise how, and what, you cook. But it does cost a huge bundle of cash! Whether you consider it to be value for money really is down to you as an individual. Unlike the Thermomix itself, there is no one size fits all answer.