Review of Fisher & Paykel ovens
Fisher & Paykel has been producing home appliances since 1934 and is constantly challenging conventional designs. It's for this reason that the New Zealand brand has proved very popular in many of our customer ratings overs the years, including those for laundry appliances, fridges and ovens. This review will examine the ovens that Fisher & Paykel offers to its Australian consumers, in order to determine if they are worth spending your hard earned money on.
We will examine the price of each product and the special features they possess.
What ovens does Fisher & Paykel offer?
Fisher & Paykel offers a total of 28 built-in ovens. We won't be reviewing every single one of these, as 28 is quite a lot and you don't want to be reading this all day. So what we've done is divide these 28 ovens into four separate categories, where we have looked at the most prominent models.
Single electric ovens
Double ovens
Pyrolytic ovens
Large wall ovens
Fisher & Paykel single electric ovens
Of the 28 oven models offered, the majority of them are single electric wall ovens. These are the most common form of oven, and chances are you or someone you know has one in their house. The prices of Fisher & Paykel single ovens varies, ranging from $4,000 at most to just $800 at the least. We will have a look at the three most expensive and the cheapest single ovens to look at the differences between them:
The most expensive: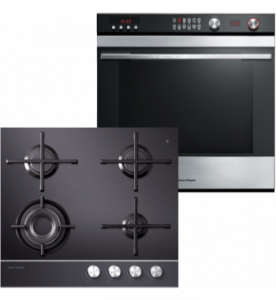 CG604DNGGB1OB60SL11 Cooking Package: $4,298 RRP*
OB60SL11DCPX1 Electric Wall Oven: $2,649 RRP*
OB60N8DTX1 Electric Wall Oven: $1,894 RRP* (currently not available, price correct as of November 2016)
The first model here is a cooking package (pictured), meaning it contains both an oven and a cook top (stove), which explains why it is so much more expensive than the others. It is a black, ceramic glass model with a large 90L capacity, and is the industry standard 60cm in size. It has the Fisher & Paykel exclusive ActiveVent technology, which lets you control the moisture level within the oven. Other cool features are its automatic timer, advanced cooling system, a catalytic venting system and Aerotech technology.
The second most expensive is the OB60SL11DCPX1. This oven is a 60cm, 90L capacity machine that comes in a steel black reflective glass design. This model is built for performance, with its ActiveVentTechnology allowing you to control the removal and retention of moisture from the interior environment to get the best cooking results. It also comes with 11 different cooking functions such as fan-forced, grill and bake. Other helpful features included are removable oven doors and shelves, rapid pre-heating and an A star rating for energy efficiency.
The third most expensive is the OB60N8DTX1 model, a smaller 45cm tall oven with a capacity of just 40 Litres. It is designed to fit virtually anywhere in your kitchen, which is great for convenience sake but does limit the amount you can cook in it. It does not have the ActiveVent technology that the other two have, but it comes with a number of other useful features, too. Such features include a catalysing filter to remove odours, removable glass panes for cleaning, temperature pre-selection and digital temperature control.
We will now compare these electric ovens with cheaper models to note the differences.

The cheapest: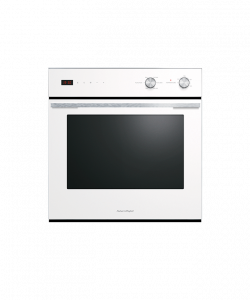 OB60SC5CEW1 Electric Wall Oven: $757 RRP* (currently not available, price correct as of November 2016)
OB60SC5CEX1 Electric Wall Oven: $849 RRP* (currently not available, price correct as of November 2016)
OB60SL7DEW1 Electric Wall Oven: $1,449 RRP*
The cheapest oven is the OB60SC5CEW1 model (pictured), an 85L gross capacity oven made of stainless steel. This oven has just five functions as opposed to 11, and its low price reflects the comparative lack of features. It has removable doors and shelves, a cool touch door and Whisper Quiet cooking, which significantly reduces noise when cooking. The next cheapest model at $849 has almost exactly the same features, so there is little difference between the two.
Finally, there is the OB60SL7DEW1 Electric Wall Oven, which costs just over $1,000. This oven is slightly more advanced than the other two, and has a generous 90L capacity. It has seven oven functions instead of five, with six possible shelf positions that can be removed or rearranged at will. It also has an advanced cooling system and a cool touch, triple glazed door. All of the three cheapest single ovens have an energy star rating of B.

Are Fisher & Paykel single ovens worth it?
When it comes to the more expensive single ovens, there is definite value to be seen in Fisher & Paykel's range. They do quite well in terms of price, and are roughly around the average you'd expect a decent oven to go for. The cooking package in particular seems to represent quite good value, despite costing over $4,000, as it has both a cooktop and an oven, giving you more options in one handy package. These single models come with a good amount of cooking functions and an interesting feature in ActiveVent, which creates extremely high quality meals.
The cheaper models could also be good value for money, however. While they lack the features of a stellar oven, they are still capable of performing the basics, and will cost you under $1,000. Your best option in this range appears to be the $1,000 model, has it has a good range of options closer to that of more advanced ovens, yet is ideal for those shopping on a budget.
Overall, Fisher & Paykel's single oven range is worth the money, as they are quite cheap, flexible and are also highly energy efficient.
You may also be interested in:
Fisher & Paykel pyrolytic ovens
Pyrolytic ovens are self-cleaning ovens. They self-clean by super-heating any leftover food remains until they are nothing but ash, which can then be swept away with ease. Due to the amount of time and effort they can save, pyrolytic ovens are in high demand. Fisher & Paykel has seven different pyrolytic models available. The cost of these ovens ranges from about $2,650 up to $6,250. We will look at the two cheapest and two most expensive ones to compare them.
The most expensive: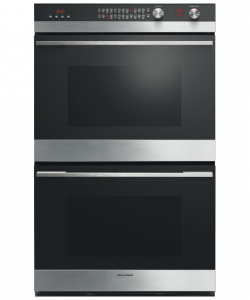 OB76DDEPX3 Electric Wall Oven: $7,999 RRP*
OR90SDBSIPX1 Freestanding Electric Oven/Stove: $4,803 RRP* (currently not available, price correct as of November 2016)
By far the most expensive model in this list, the OB76DDEPX3 Electric Wall Oven (pictured) is massive, coming in at 120cm high and 76cm wide, giving it a gross capacity of 115 Litres. It is a double oven as well as a pyrolytic one, so you can cook separate dishes at the same time. This oven comes with an incredibly useful 11 different oven functions such as bake, grill, roast and convection cooking, giving you plenty of different options depending on what you want to make. Other notable features include the AeroTech cooking system, rapid pre-heating, removable doors/shelves, precise electronic temperature control and more. To top it all off, it has a high grilling power of 4400 Watts, and of course, it can clean itself.
The second most expensive pyrolytic oven here is the OR90SDBSIPX1 model, which is a dual oven and stove. This machine is 91cm by 90cm (approximate), and has a large capacity of 100 Litres. It is a stainless steel model with an integrated grill, but it lacks some of the more advanced oven features. It comes with a removable door and shelves, and a cool touch triple glazed door, yet it doesn't have anywhere near the amount of cooking functions the previous oven has.

The cheapest: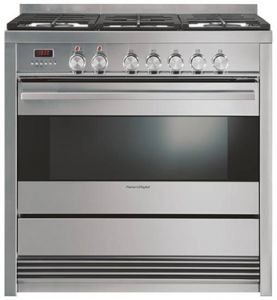 OR90SDBGFPX1 Freestanding Dual Fuel Oven/Stove: $5,049 RRP*
OB76SDEPX3 Pyrolytic Electric Wall Oven: $5,299 RRP*
The cheapest model is the OR90SDBGFPX1 Freestanding Dual Fuel Oven/Stove (pictured). This self-cleaning oven is made of grey stainless steel, and is very large at 90x91cm. This 85L capacity oven also has a lack of features in it, with the only notable ones being the removable shelves and rapid cooling system.
The next cheapest model, the OB76SDEPX3, is a bit better in this regard. With a capacity of 115 Litres, plus eight different shelf positions and 11 cooking functions, it affords you a great deal of flexibility with regards to your cooking. Notable features include AeroTech technology, rapid pre-heating, removable door/shelves, automatic cooking and a triple glazed door in addition to its self-cleaning capabilities.

Are Fisher & Paykel pyrolytic ovens worth it?
It seems that Fisher & Paykel's pyrolytic ovens might not be worth the money they cost. These ovens are extremely expensive, costing more than $2,600 at their cheapest, which is more than some of the most expensive single ovens. The most expensive is a whopping $6,000, which is an extremely heft outlay for a kitchen appliance.
Pyrolytic ovens tend to be more expensive than other types of ovens because of their convenience and extended lifespan, so their cheaper models might be worth they money if they weren't so lacking when it comes to cooking features. Other providers like Blanco have a host of useful additions to their pyrolytic models which somewhat justify their high prices. Fisher & Paykel doesn't really have any of these, so it is hard to justify spending the money on them.
Fisher & Paykel double ovens
Double ovens are quite simple in theory. They are larger ovens that allow you to cook two (or more) separate dishes at once at different temperatures and conditions. They usually have two separate compartments, and are extremely handy for people who need to feed large groups of people regularly. Fisher & Paykel has five different double ovens on the market, with prices ranging from $2,000 to $6,250. We will review three of them here to give you an idea of what they can do.
The most expensive: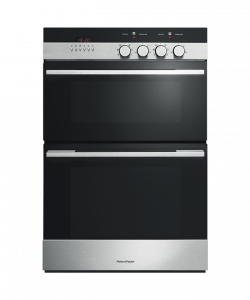 OB60B77DEX3 600mm/60cm Electric Wall Oven: $3,249 RRP*
OB60DDEX4 600mm/60cm Electric Wall Oven: $3,399 RRP*
The most expensive double oven – the OB60B77DEX3 model – is huge, offering a combined capacity of over 110 Litres, giving you the flexibility to prepare several courses simultaneously. It is a multi-function oven which comes with useful features such as a cool touch door, removable doors and shelves, self-cleaning catalytic runners, and seven different oven functions.
The other model here is the OB60DDEX4 double oven. Also known as 'the tower', it is over one meter tall and has a ludicrous 140+ Litre capacity. If you can find the space for it, then you'll have the ability to feed a small village in a short amount of time. Unfortunately, it has a lack of features to help it stand out further, with the Fisher & Paykel standard seven oven functions, plus removable doors and shelves.

The cheapest: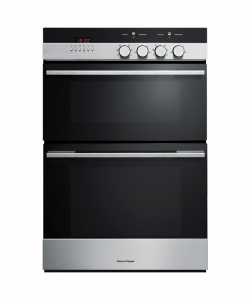 OB60B77CEX3 Electric Wall Oven: $2,649 RRP*
This model is essentially exactly the same as the more expensive ones, the only difference being it is roughly 90cm tall and has a capacity of about 110 Litres. Given how similar they all are, should you invest in a Fisher and Paykel double oven?

Are Fisher & Paykel double ovens worth it?
One of the things that stands out the most about Fisher & Paykel's double ovens is how big they are. Indeed, double ovens by nature are large, but these in particular are massive, particularly the OB60DDEX4 model, which has an absurd 140 Litre capacity. However, size is no indicator of quality, and they do contain only the most basic features and generally have a small number of cooking functions.
However, they are also quite cheap compared to the standard price of double ovens. You should check out our review of other double oven providers like Electrolux and Bosch to see how they compare in terms of price and features. Given that double ovens in general seem to lack extra features in comparison to single ovens, it is entirely possible that there is good value to be found in Fisher & Paykel's range.
---
Read more: Electric vs gas oven running costs 
---
Fisher & Paykel large wall ovens
Large wall ovens are a good investment if you enjoy cooking for special occasions such as dinner parties. They are extra wide ovens that heat up quickly and provide excellent temperature precision. They are less common in Aussie households, so Fisher & Paykel has just two options available in this category. We'll review both of them below.

The most expensive:
OB90S9MEPX3 Pyrolytic Electric Wall Oven: $4,599 RRP*
This oven is roughly 48cm tall, and 90cm wide, made of a black reflective stainless steel with a capacity of 100 Litres. It has just four different cooking functions (bake, grill, pastry bake and rotisserie), but it does have the following useful additions:
Catalytic smoke eliminator
AeroTech cooking system
Cool touch, quadruple glazed door
Quick pre-heat
The cheapest:
OB90S9MEX3 Electric Wall Oven: $3,399 RRP*
Despite being cheaper, this oven seems to have more benefits to it than its more expensive counterpart. It is the same size, finish and capacity, but comes with nine different cooking functions instead of four, including roast, bake, grill and fan-forced among others. Other useful features of this model are:
Removable doors and shelves
Advanced cooling system
Cool touch door
Automatic rapid pre-heat
AeroTech technology
Precise electronic temperature control
Are Fisher & Paykel large wall ovens worth it?
At first glance, it would appear that yes, Fisher & Paykel large wall ovens are worth the money. Not many providers manufacture these types of ovens, so there aren't that many out there on the market. Fisher and Paykel's more expensive large oven isn't really worth the money in our opinion, as it is over $3,000 yet lacks certain cooking functions and innovative features.
The cheaper model, on the other hand, has a good number of cooking functions, giving you a greater level of flexibility when it comes to entertaining, which is what you will likely be doing if you go for one of these ovens. It also has innovative features like the advanced cooling system and rapid pre-heating which more basic models don't have, so this oven is likely to be worth the money.
*Prices taken from Appliances Online, correct as of September, 2019
About the author of this page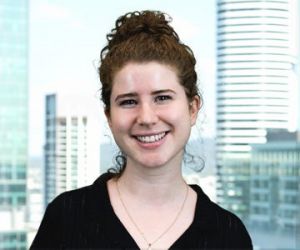 This report was written by Canstar Blue's Content Producer Luciana Lawe Davies. She writes about streaming, appliances and consumer products and services. Luciana enjoys bringing readers the best in what's on TV and at the shops, including the best deals and latest reviews.
What do customers think about Fisher & Paykel Ovens?
In 2019, Australian customers gave Fisher & Paykel 4 out of 5 stars for overall customer satisfaction for ovens.
Fisher & Paykel Ovens
Canstar Blue
Award:
Overall Satisfaction