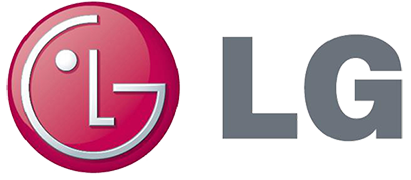 LG Washing Machines Review
Want to take your clothes for a spin, but don't know which appliance cleans up well? Consider giving one of the world's biggest manufacturers a test drive with our guide below. From refrigerators to televisions and washing machines, LG frequently performs well in Canstar Blue's customer satisfaction ratings for products such as front loaders and top load washing machines. The brand offers a bunch of models to suit a variety of household types and washing needs, and caters to a range of budgets with its reasonable prices. Here's the full lowdown on what's currently available from this South Korean tech giant.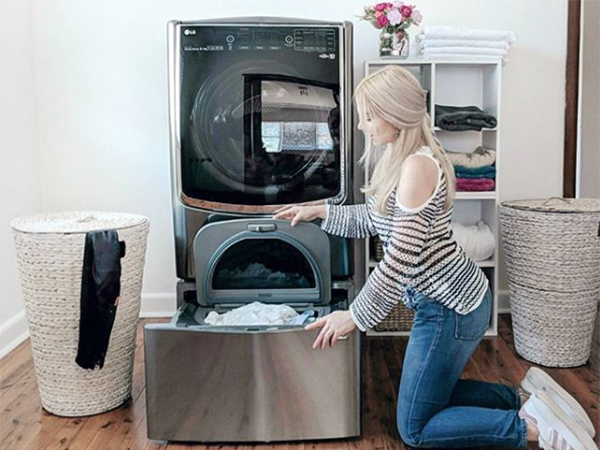 Types of LG washing machines
Whether you're looking for a 6.5kg top loader or an 18.5kg washer and dryer combo, LG has a unit in a variety of capacities and washer types. LG's washing machine range includes:
Front load washing machines
Top load washing machines
Twin load washing machines
Washer dryer combos
LG Front Load Washing Machines
Whether you're focused on capacity, energy efficiency, or trying to figure out whether your machine can accommodate certain materials, LG's front loaders have a number of features that cater to a variety of households. Depending on the model you choose, the range offers products designed to fit anywhere between 7.5kg and 14kg worth of laundry. This can set you back at least $799, while the more expensive units retail for up to $1,859.
LG 7.5kg Front Load Washing Machine WV5-1275W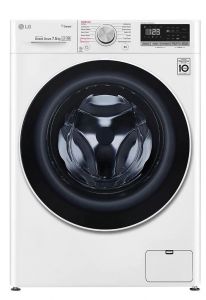 When it comes to laundry, washing machines around the 7kg mark are said to be a popular pick among Aussies. If this includes you, consider checking out the LG 7.5kg Front Loader Washing Machine (WV5-1275W). One of the key features is its 6 Motion Direct Drive, which is stated to use a variety of washing motions to provide a tailored type of clean depending on the item. The different motions include stepping, tumbling, scrubbing, filtration, rolling and swing. It also uses AI controlled smart technology to detect fabric weight, type and optimum wash function.
Similar to several other models by the brand, the LG WV5-1275W washer also allows you to pause the wash cycle to add any items you might have forgotten to chuck in. But this can only be done before the spin cycle. It also won't be available where the temperature is below 40°C or if the water level is high.
Energy efficiency rating: 4.5 stars (consumes 224kWh/yr)
Water efficiency rating: 4 stars (consumes 77L/cycle)
Spin speed: 1200RPM
Size (HxWxD): 850mm x 600mm x 535mm
The LG 7.5kg Front Loader Washing Machine provides 11 washing programs, including 'specialty cycles' such as 'Baby Care', 'Sports Wear', 'Delicate', 'Wool' and 'Rinse + Spin'.
LG 14kg Front Load Washing Machine WXL-1014B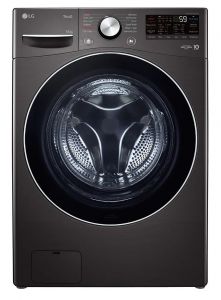 For big families with busy schedules, LG offers larger capacity washers like the LG 14kg Front Load Washing Machine with Steam+ and Turbo Clean. In addition to its generous size, this appliance includes useful time-saving features like Turbo Clean which supposedly creates faster wash times by reducing the number of rinse cycles.
The LG WXL-1014B front loader also uses the LG THINQ app which lets you remotely start or monitor the progress of your wash. It's also said to help you track energy consumption, download new wash programs, plus diagnose and troubleshoot problems.
Energy efficiency rating: 4 stars (consumes 533kWh/yr)
Water efficiency rating: 4 stars (consumes 144L/cycle)
Spin speed: 1000RPM
Size (HxWxD): 940mm x 645mm x 770mm
This LG washing machine contains 8 washing programs, including Stain Care, Baby Care and Allergy Care and Steam Wash for improved hygiene.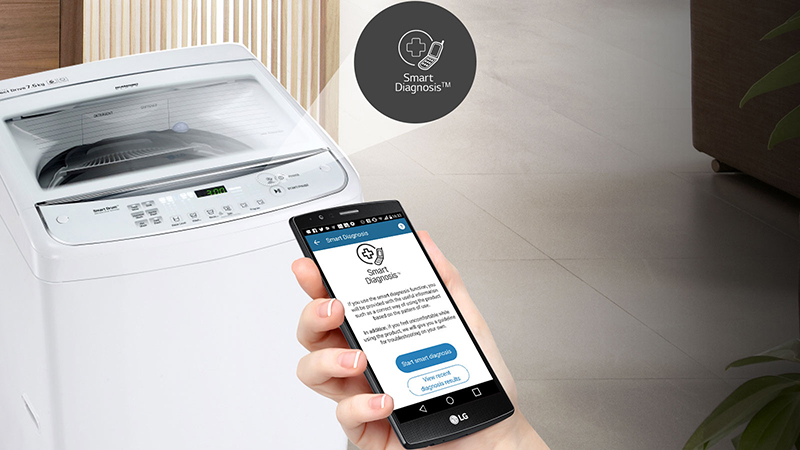 LG Top Load Washing Machines
LG's top loaders come with an impressive set of features to make you awash with excitement. While certain brands seem to be phasing out top loaders, LG still continues to sell a handful in its laundry series. The cost of these washers starts at $799 for the 6.5kg LG WTG6520 and max out at $1,799 for the 14kg LG WTG1434BHF.
LG 10kg Top Load Washing Machine WT-R10686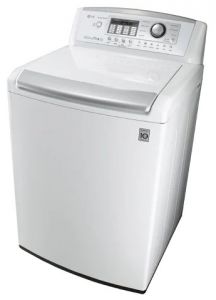 Believe it or not, but washing laundry doesn't end once you finish hanging the clothes on a drying rack. There's still the monthly task of scrubbing out any leftover residue or build-up of detergent to make sure your washing machine stays in healthy shape. That's why products like the LG 10kg Top Load Washing Machine with 6 Motion Direct Drive and Smart Drum contain convenient features specifically designed to clean the tub and hopefully save you a bit of time and effort. The brand claims the Stainless Steel Inner Tub in this particular LG washing machine controls bacteria growth better than some models which either use plastic tubs or contain plastic agitators.
Energy efficiency rating: 2.5 stars (consumes 693kWh/yr warm wash, 164KWhr/yr cold wash)
Water efficiency rating: 4 stars (consumes 102L/cycle)
Spin speed: 950RPM
Size (HxWxD): 1153mm x 686mm x 740mm
The LG WT-R10686 top loader provides nine washing programs, and additional functions such as 'Intensive Wash' and 'Tub Dry'.
LG 6.5kg Top Load Washing Machine WTG6520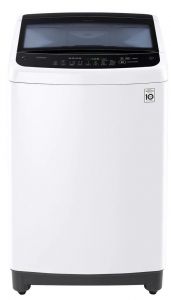 A key advantage of top loaders is that they're typically more energy efficient than front loaders, provided you're using the cold wash cycle. For example, the LG 6.5kg Top Load Washing Machine consumes 445KWhr/yr in a warm wash and only 69Whr/yr in cold wash. But be warned that this LG washing machine still has a rating of 2.5 stars for energy efficiency. Although if you live alone or in a small household, the compact size of the LG WTG6520 top loader might be worth considering.
Energy efficiency rating: 2.5 stars (consumes 445kWh/yr warm wash, 69kWh/yr cold wash)
Water efficiency rating: 3 stars (consumes 95L/cycle)
Spin speed: 740RPM
Size (HxWxD): 960mm x 590mm x 620mm
This LG washing machine contains eight washing programs, such as 'Quick Wash', 'Eco Cotton', 'Duvet' and 'Silent Wash'. The LG 6.5kg Top Load Washing Machine with TurboClean is a more expensive model at $949, but comes with a number of different features such as Turbo Wash, Remote Start, extra wash programs and slightly better water ratings.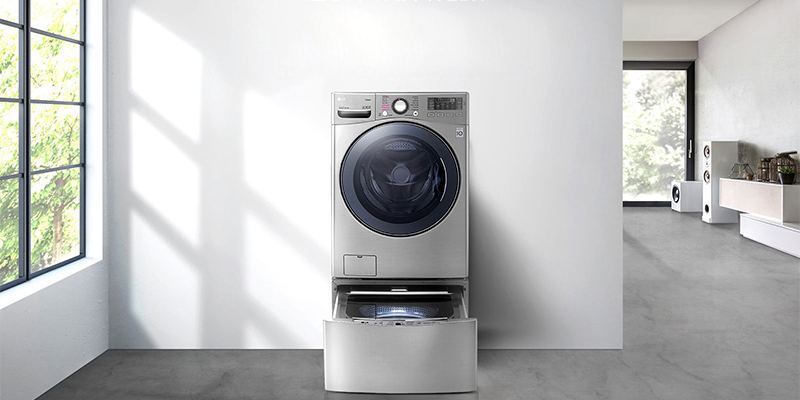 LG 'TwinWash' Washing Machines
Get two for one with LG's Twin Wash collection, which allow you to run two loads of washing simultaneously. You can choose from two washing machines in one with an LG  TWINWash or, an LG TWINWash Mini – a smaller machine which sits below compatible LG washing machines. Alternatively, there are models in the Twin Wash range that feature both a washer and a dryer.
LG Twin Load Washing Machines typically retail for at least $1,848 and can cost up to $3,799. The capacity of these units is also on the larger side, ranging between 10kg and 19.5kg. These are recommended for people who need to wash multiple loads at the same time.
LG 16kg Signature TWINWash 10kg/6kg Washer Dryer Combo SGTW171610H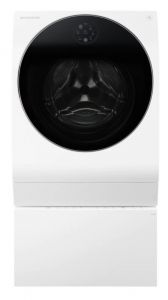 The LG 16kg Signature TWINWash featuring LG's MiniWasher is said to triple as a twin tub and dryer, effectively giving you three appliances in one. More specifically, you get a 10kg front load washer, a 2kg MiniWasher and a 6kg Dryer Combo.
Similar to other options by the brand, the SGTW171610H unit includes features like the auto dosing system, plus steam and turbo wash. The washer is described to automatically distribute what the brand claims is the correct amount of detergent and softener for your selected cycle. You'll just need to fill the detergent and softener compartments at the start.
This LG washing machine also uses the Smart ThinQ system, allowing you to monitor, troubleshoot and receive notifications via your smartphone.
Washer energy efficiency rating: 4.5 stars (consumes 318kWh/yr)
Washer water efficiency rating: 4.5 stars (consumes 86L/cycle)
Dryer energy efficiency rating: 7 stars (consumes 119kWh/52 uses)
Dryer water efficiency rating: 4.5 stars (consumes 3L/cycle)
Spin speed: 1600RPM
Size (HxWxD): 1215mm x 600mm x 675mm
This unit is equipped with 19 wash programs and five drying programs.
LG Washer Dryer Combos
If you don't have enough space for a washing line or a drying rack, or you just need your laundry done quickly, consider purchasing a washer dryer combo. This range of LG washing machines can accommodate a variety of washing capacity needs, with the brand offering smaller 7.5/4kg models as well as larger 16kg/9kg units. But if you're on a budget, be aware that LG washer dryers are not cheap and typically retail between $1,599 and $6,376.
LG 10kg/6kg Front Load Washer Dryer Combo WVC9-1410W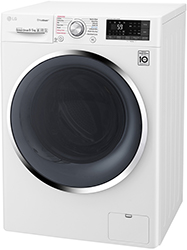 For anyone looking for an LG washing machine but need something wallet friendly, currently the most affordable washer dryer combo is the LG 10kg/6kg Front Load Washer Dryer Combo. A unique feature of this model is its Turbo 360 fast wash system, that allows you to wash a 5kg load in 39 minutes. It also uses AI Direct Drive to weigh laundry and assess laundry and choose the optimal wash function, as well as steam technology to remove bacteria for a cleaner wash.
Washer energy efficiency rating: 5 stars (consumes 241kWh/yr)
Washer water efficiency rating: 4.5 stars (consumes 86L/cycle)
Dryer energy efficiency rating: 4 stars (consumes 195kWh/52 uses)
Dryer water efficiency rating: 4.5 stars (consumes 66L/cycle)
Spin speed: 1400RPM
Size (HxWxD): 850mm x 600mm x 620mm
This LG washing machine contains 10 wash programs, including a variety of specialty cycles such as Quick Wash, Steam Refresh and a Delicates function, in addition to the general programs. This model is also TWINWash Mini compatible.
Does LG have the best washing machine for me?
The large range of front loaders, top loaders, and washer-dryer combos places LG among one the top picks for consumers when thinking about upgrading laundry appliances. It's also worth noting that many of LG's washing machine parts are backed by generous warranties – some are even 10 years long!
If you're shopping for a front loader, the outright sale price for an LG front load washing machine isn't that different to a top loader. But over time, you might find yourself saving money on electricity usage and water consumption with a front loader. Plus, the 'Pause and Add Item' function on several models within the front load range also allows you to throw in extra items during mid-wash. Forgot about a sock? No worries.
Although it's not to say a top loader isn't worth buying. Top load washing machines might be especially handy for people who find it difficult and uncomfortable to bend down when loading and unloading items. Depending on the type of space you will be installing your washer in, it might even be less convenient to use an appliance with a front hatch. Families and larger households may also benefit from the larger capacities of top loaders.
Overall, LG comes into the washing machine game quite strong. And with such a large range of products, it may be worth checking to see if the brand can make your 'Life good' – or at least make your life a little easier in the laundry room. To see how LG compares to other brands, you might like to check out our front long washing machine ratings via the link below.
Front Load Washing Machine Reviews
*Prices taken from respective retailers, correct as of November 2022. 
What do customers think about LG Washing Machines?
In 2022, Australian customers gave LG 3 out of 5 stars for overall customer satisfaction in front load washing machines.
Meet our appliance experts
---
Megan Birot: Home & Lifestyle Editor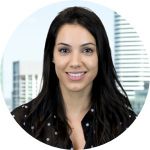 Megan is Canstar Blue's Home & Lifestyle Editor, leading the team that focuses on consumer products and services, ranging from supermarkets and groceries to home and personal appliances and retail stores. She interprets Canstar Blue's bespoke research on the thousands of brands that we compare, rate and review, to help shoppers make better purchasing decisions.
Samantha Howse: Consumer Research Specialist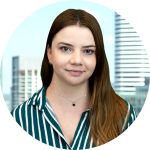 Samantha Howse is Canstar Blue's Consumer Research Specialist, coordinating the consumer research program behind our customer satisfaction awards across Canstar and Canstar Blue in Australia and New Zealand. Sam has earned a Bachelor of Business (Marketing) from Griffith University and, with seven years in market research and 2 years in marketing, she is experienced in survey design, implementation and analysis, coupled with an understanding of marketing principles and best practice.
LG Front Loader Washing Machines
Canstar Blue
Award:
Overall Satisfaction
LG has a bunch of front loaders, top loaders and wash/dryer combos. Here is a list of several other models from the brand and the prices.
LG front loaders
LG 7.5kg Front Loader Washing Machine with Steam WV5-1275W : $799
LG 8kg Series 5 Slim Front Load Washing Machine with Steam WV5-1208W: $899
LG 8kg Front Load Washing Machine with Steam+ WV7-1208V : $999
LG 8kg Front Load Washing Machine with Steam+ WV9-1408B : $1,081
LG 9kg Front Loader Washing Machine with Steam+ WV9-1409B: $1,399
LG top loaders
LG 6.5kg Top Load Washing Machine with Smart Inverter Control WTG6520: $799
LG 7.5kg Top Load Washing Machine with Smart Inverter Control WTG7520: $899
LG 6.5kg Top Load Washing Machine with TurboClean3D WTG6534W: $949
LG 8.5kg Top Load Washing Machine with Smart Inverter Control WTG8521: $999
LG 9kg Top Load Washing Machine with Smart Inverter Control WTG9020V: $1,099
LG 10kg Top Load Washing Machine with TurboClean3D WTG1034WF: $1,349
LG 14kg Top Load Washing Machine with TurboClean3D WTG1434WHF: $1,499
LG 10kg Inverter Direct Drive Top Load Washer WT-R10686: $1,579
LG 14kg Top Load Washing Machine with TurboClean3D WTG1434VHF: $1,599
LG 14kg Top Load Washing Machine with TurboClean3D WTG1434BHF: $1,799
LG TWIN Load
LG 2.5kg TWINWash Mini WTP22WY: $799
LG 10kg Total Washing Load TWINWash System including LG MiniWasher WV5-1408W-WTP20WY: $1,848
LG 11kg Total Washing Load TWINWash System including LG MiniWasher WV5-1409W-WTP20WY: $1,948
LG 11kg Total Washing Load TWINWash® System including LG MiniWasher WVC5-1409W-WTP20WY: $2,198
LG 11kg Total Washing Load TWINWash System including LG MiniWasher WV9-1409W-WTP20WY: $2,248
LG 12kg Total Washing Load TWINWash® System including LG MiniWasher WV9-1410W-WTP20WY: $2,388
LG 11kg Total Washing Load TWINWash® System including LG MiniWasher WV9-1409B-WTP20BK: $2,398
LG 12kg Total Washing Load TWINWash® System including LG MiniWasher WV9-1410B-WTP20BK: $2,498
LG 12kg Total Washing Load TWINWash® System including LG MiniWasher WVC9-1410W-WTP20WY: $2,498
LG 14kg Total Washing Load TWINWash® System including LG MiniWasher WV9-1412W-WTP20WY: $2,498
LG 19.5kg Total Washing Load TWINWash® System including LG MiniWasher WXLC-1116B-WTP357B: $3,799
LG Signature TWINWash® 10kg/6kg Washer Dryer Combo SGTW171610H: $6,376
LG Washer and Dryer Combos
LG 10kg/6kg Front Load Washer Dryer Combo with Steam WVC9-1410W: $1,599
LG 7.5kg/4kg Front Load Washer Dryer Combo WD1402CRD6: $1,599
LG 16kg/9kg Front Load Washer Dryer Combo with Steam+ and Turbo Clean WXLC-1116B: $2,199
LG 16kg/9kg Front Load Washer Dryer Combo with Steam+ and Turbo Clean WXLC-1116B: $2,199
LG Signature TWINWash® 10kg/6kg Washer Dryer Combo SGTW171610H: $6,376
Source: LG, November 2022