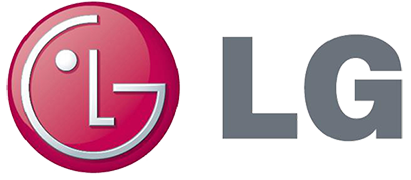 LG Washing Machines Review
LG is one of the world's biggest appliance manufacturers. From refrigerators to televisions and washing machines, the brand that says 'Life's good' has usually got you covered with generally quality products at reasonable prices. LG frequently performs well in Canstar Blue's customer satisfaction ratings for both front and top load washing machines, so let's get the full lowdown on what's on offer from this South Korean tech giant in Australia.
In Australia, LG has 20 top loader washing machines available, plus 25 different front loaders. For both kinds of washing machine, prices start from around the $700 mark and the dearest is about $4,000.
LG Front Load Washing Machines
LG front loaders cater for a variety of household sizes. Load sizes start from 7kg and max out with an 18.5kg capacity model (TWIN171216T) that incorporates two drums. With such a large array of capacity sizes and prices, there is likely to be one out there for you and your household. Furthermore, with the purported energy savings, you could potentially make up the initial purchase price of a front loader, and be kinder to the environment in the meantime. Key LG front loader features are:
Customised cycles for sportswear and delicate fabrics (e.g. Lycra and other sensitive polyesters, along with lace and other fabrics found on undergarments)
Many feature four star ratings for both water and energy consumption
Most feature a two years parts and labour warranty and an eight year warranty on inverter direct drive motor (parts only)
'Smart Diagnosis' system allows for troubleshooting via the LG App, demonstrated in the video below:
LG WD1207NCW 7kg Front Load Washing Machine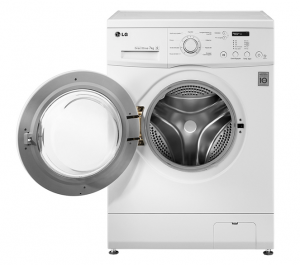 Starting at the smaller load capacity side in the LG range, the WD1200D model is a 7kg front loader equipped with a 1200RPM maximum spin speed. It features 14 wash programs including a 'Quick 30'. Its differentiating factor is the 'Pause & Add Items', allowing you to pause the cycle and add missed items, which is not usually possible with front loaders (door delays in opening depending on temperature).
The LG 7kg model is also equipped with a 'Six-way Motion Direct Drive' system – stepping, tumbling, scrubbing, filtration, rolling and swing. The video below demonstrates these different motions of the washing machine drum.
Its energy consumption is 350kWh, giving it a 3.5 stars energy efficiency rating. Furthermore, with 72L water consumption, it's rated four stars for water efficiency. According to the Standard Test, it will add approximately $99 onto your annual electricity bill.
Size (HxWxD): 850 x 600 x 610mm
RRP: $829
LG WD12595D6 10kg Front Loader with 6 Motion Direct Drive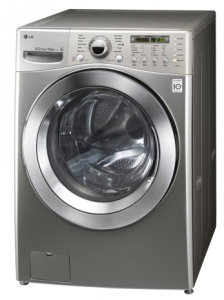 For a larger capacity washer, LG offers the 10kg WD12595D6 model. It's claimed to have a large opening door for easy loading and unloading. Similarly to the machine above, it's equipped with LG's 'Six-way Motion Direct Drive' system. Its other main feature is the 'Smart Diagnosis' system, designed for easy troubleshooting via the LG App.
The WD12595D6 washer has a maximum spin speed of 1200RPM and allows for variable temperature. It has four stars for both energy and water efficiency ratings. But with it comes a pretty hefty price tag of about the $2,000 mark. If you need a large capacity washer and are looking for a well-designed motor and drum, than this may be an option for you.
Size (HxWxD): 982 x 686 x 767mm
RRP: $2299
LG 'TwinWash' Washing Machines
A new range in the LG front loader category is the 'Twin Wash'. These are basically washing machines with two tubs in one. The LG 10kg/6kg Washer Dryer Combo model (SGTW171610H) triples up as a twin tub and dryer, giving you three appliances in one! It boasts timeless beauty – looking almost 'space' like – with a touch screen circular user interface. Other features of this model include:
Auto dosing system: you fill the detergent and softener reservoirs and the washer automatically dispatches the correct amounts for your selected cycle
'Smart THINQ': updated system of the 'Smart Diagnosis' that allows you to closely monitor, troubleshoot and receive notifications via your smartphone
It's equipped with 19 wash programs for the 10kg tub and six wash programs for the 6kg mini tub. With a maximum spin speed of 1600RPM, it's rated 4.5 stars for energy efficiency of the washer and seven stars for the dryer. Its WELS water efficiency rating is 4.5 stars.
Expect to pay well over $5,000 for such a high tech model. However, when calculating the cost of buying three separate appliances, you could be paying around the same price. The question is – will the design and features of LG Signature Twin Wash 10kg/6kg model be worth it for you?
Size (HxWxD): 1215 x 600 x 675mm
LG Top Load Washing Machines
While many brands are phasing out of top loaders, LG still merits them with numerous top loaders on offer. LG's top loaders start at just over $700 for the relatively small 6.5kg unit (WF-T6572) and max out at around $1,900 for the massive 14kg model (WTG1432VH).
LG's top loaders come with an impressive set of features to make washing awash with excitement. Okay, you still may not be excited, but more convenient washing usually means more time for the important things in life, such as eating chocolate! In fact, you could even drop your chocolate on your clothes, safe in the knowledge that LG's top loaders have technology to make stain removal as pain-free as possible.
LG WTG8520 8.5kg Top Load with Smart Inverter Control
Older generations of the LG top models use conventional systems while this new 8.5kg model is boasted for its 'Smart Inverter Motor', similar to that found in the front loader range. The inverter controls the speed and direction of the motor, and is stated to have increased durability and stability with minimal vibration. The 'TurboDrum' rotates the drum one way while the 'Pulsator' directs the water in the other direction for improved washing action compared to the LG conventional models.
The new system doesn't feature an agitator (vertical column in the centre of the drum), providing additional space without tangling laundry. The design also has three water outlets to help mix the detergent from various points. The transparent glass lid, allows you to keep an eye on the washing in the same way as a front loader. Additionally it's equipped with the 'Smart Diagnosis' system.
A key advantage of top loaders is that they're more energy efficient with cold wash cycles. With the WTG8520 model, a warm wash consumes 590kWh/365 uses and a cold wash consumes 150kWh/365 uses. Despite the decrease in energy usage, it's still rated 2.5 stars for the energy efficiency rating and three stars for the water efficiency rating. If you're living on your own or in a small household, there's a similar model – the LG WTS6520 6.5kg Top Loader – with a smaller load capacity.
Size for 8.5kg model (HxWxD): 1020 x 635 x 690mm
Size for 6.5kg model (HxWxD): 960 x 590 x 620mm
RRP: $849 (8.5kg) & $619 (6.5kg)
LG WTG1432VH 14kg Top Load with 6 Motion Direct Drive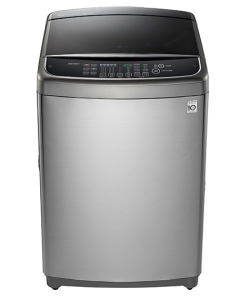 For a large family sized washer, the largest of the pack is the 14kg WTG1432VH model. Besides capacity differences, here are some key features that come with this top loader:
Multi-motion drum with 6-directional movement: designed to thoroughly wash your clothes
'Direct Drive' motor: the inverter control features less moving parts than traditional motors and this can result in a quieter cycle (LG has a 10 year warranty on this part)
Stainless steel tub: to rein in bacteria, plus it's hardier
'Smart THINQ': allows you to start and monitor the wash cycle, plus track energy consumption and troubleshoot problems
On-board heater: for increased stain removal ability
Special 'Tub Clean' cycle: for cleaning the cleaner; this monthly cycle removes detergent build-up and other residue
Air Dry (moisture reduction) cycle: can be put on for 30, 60, 90 or 120 minutes
The LG 14kg top loader features an intuitive design where the control panel sits at the front for easy access and has a transparent lid so you can see your clothes being walloped around. It has a maximum spin speed of 950RPM, and according to the Standard Test, it should add around $239 to your annual power bill.
Size (HxWxD): 1030 x 701 x 736mm
RRP: $1,899
Is an LG washing machine a smart move?
LG's large range of both front and top loader washing machines ensures it remains among the top of the brand pile that consumers keep a watch on. If shopping around, it makes sense to go for one of the leading appliance manufacturers in the world. In fact, many of LG's washing machine parts are backed by generous warranties – some are even 10 years long!
It also makes sense to opt for a front loader if looking at LG. The costs aren't all that different to a top loader, but you'll likely save money on electricity usage, and possibly water consumption, over time. Additionally, with the 'Pause and Add Item' on the 7kg Front Loader, you now also have the ability to add in clothes mid-wash. Forgotten a sock? No worries. However, there is still merit in buying a top loader, because:
You can just chuck clothes in at the top, as opposed to opening the hatch on the front, which can be better for the back and more convenient.
Top loaders generally provide large capacities, meaning bigger wash loads at a time.
Overall, LG comes to the washing machine game strongly, and with its large range, it's worth a look to see if LG could make your 'Life good' – or at least make your life a little easier in the laundry room.
Front Load Washing Machine Reviews
What do customers think about LG Washing Machines?
In 2017, Australian customers gave LG 4 out of 5 stars for Overall Customer Satisfaction for Top Loader Washing Machines.
LG Top Loader Washing Machines
Canstar Blue
Award:
Overall Satisfaction