Miele Cooktops Review & Guide
Craving a new cooktop to complete your kitchen? Miele has been cooking up high-end domestic appliances since 1899. Whether you're looking for an electric, gas or induction cooktop, the Miele offers a variety of sizes and styles to choose from. If you want a taste test of Miele's menu, read our guide below to get a whiff of what the German brand dishes up in the cooktops department.
What cooktops does Miele offer?
Whether you're looking to dedicate a section for induction heating with a small cooktop from the CombiSets range, or a large gas cooktop built to accommodate pots and pans of all different sizes, Miele has a variety of options to choose from. These include:
Induction cooktops
Induction cooktops with integrated extractor
Electric cooktops
Gas cooktops
CombiSets
Miele Induction Cooktops

Feel like you're playing with fire by having a bench space that's a little too cramped? Or maybe you're worried about the kids running in the kitchen with boiling pots and open flames. Induction cooktops are claimed to be safer compared to gas and electric cooktops, as well as faster and more energy efficient than gas and electric cooktops. This is because induction cooktops instead create an electromagnetic field that reacts to certain cookware, before directly sending heat into the pot. So, there's no naked flames and the cooktop begins to cool down once the cookware is taken off. There is also the possibility that you can safely use any unused space as extra space to rest chopped vegetables or whatever else you might need to prepare meals.
Miele induction cooktops, both combined and independent, are typically served at prices ranging between $1,899 and $6,999. Some popular models include:
Miele KM 7200 FR Induction Cooktop with Onset Controls: $1,899 (RRP)*

Miele KM 7464 FL Induction Cooktop with Onset Controls: $2,599 (RRP)*

Miele CS 7612 FL SmartLine Element With Induction PowerFlex Cooking Zone: $2,699 (RRP)*
Miele CS 7632 FL SmartLine Element with Induction Tepan Yaki: $4,799 (RRP)*
Miele KM 7897 FL Induction Cooktop with Onset Controls: $6,999 (RRP)*
Miele KM 7684 FL Induction Cooktop with PowerFlex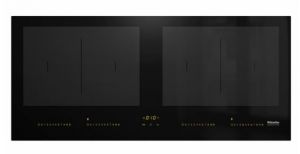 The Miele KM 7684 Induction Cooktop is touted as a hot-ticket item, with an attractive price tag to boot. Experimental home cooks as well as families that tend to use larger pots and pans may be especially tempted by the 'panorama design' which serves up four PowerFlex zones. This is said to add greater versatility in the kitchen by giving the option to link these zones together to create a bigger space to help heat large cookware like pasta pans or oven dishes more efficiently. 
The 91cm Miele Induction Cooktop provides four cooking zones, two cooking areas and accommodates up to four pans. It measures 916mm wide which is suitable for a surface-mounted or flush-fit installation. 
Dimensions (WxDxH): 916mm x 408mm x 51mm
RRP: $4,999*
Induction cooktops with Integrated Extractor
Miele KMDA 7774 FL 80cm Induction Cooktop with Integrated Extractor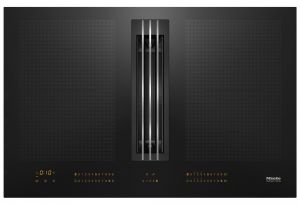 The Miele Induction Cooktop with Integrated Extractor is an all round versatile appliance,
with great energy efficiency and whisper quit extraction. Families that tend to use larger pots and pans may be tempted by the four zones offered by this model, especially as two of these sections are PowerFlex zones. This feature is said to give greater flexibility in the kitchen by linking these particular zones together to create a bigger space.
The Miele KMDA 7774 FL induction cooktop is also said to contain a built-in air extractor with an intelligent sensor that automatically maintains the level of extraction based on how much steam and smoke is released from the cooktop.
Dimensions (WxDxH): 574mm x 800mm x 520mm x 200mm
RRP: $5,999*
Miele Electric Cooktops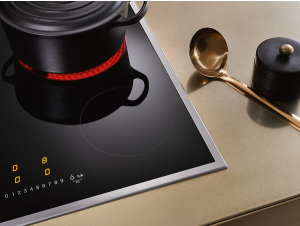 If you currently have a gas cooktop and can't decide whether to switch to an induction model, an electric hob might be a good option for you. Electric cooktops generate heat using an electrical current (through an electrical wire) under the ceramic glass which you can see in the glow of the burner.
There are two types of electric cooktops, ceramic and solid. Like many of Miele's models, ceramic electric cooktops are made with a flat, glass surface and usually present with safety features like residual heat indicators and auto-switch off functions. And since they're flat, these types of hobs are seen as easy to clean and can alternatively function as extra bench space when not in use.
Miele electric cooktops usually retail between $1,390 and $4,399. Different width options include 40cm, 60cm, 75cm and 90cm.
Electric cooktops currently available from Miele include:
Miele KM 6520 FR Electric Cooktop with Onset Controls: $1,399 (RRP)*
Miele CS 1327 Y ProLine Element with Electrically Heated Tepan Yaki: $4,399 (RRP)*
Miele KM 6520 FR Electric Cooktop with Onset Controls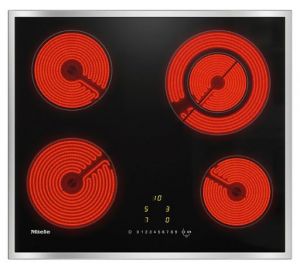 With an aim to provide home chefs 'maximum convenience', the Miele KM 6520 FR Electric Cooktop comes with features like Stop & Go to simultaneously lower the power level of all cooking zones as well as programs such as Auto heat-up to minimise the initial power boost and prevent food from burning. There's also a Minute Minder to help you monitor things like your tea brewing, and a memory function to save all your settings for a few seconds whenever the cooktop is switched off accidentally.
The Miele induction cooktop provides four cooking zones, including one Vario zone to accommodate pans of different sizes.
Dimensions (WxDxH): 574mm x 504mm x 43mm
RRP: $1,399*
Miele Gas Cooktops

Quick and easy cooking isn't limited to microwave meals. Gas cooktops are seen to be especially useful for preparing a variety of dishes fast, whether it's heating sauces on a slow simmer or using intense heat when creating stir fry. Gas cooktops are also a tasty option for households that are conscious of their electricity bill because, according to Miele, gas is a primary energy source and does not produce pollutants through conversion processes ordinarily seen in electric models.
Miele gas cooktops typically retail between $1,199 and $4,199, on par with similar types of cooktops by Miele. The different width options include 60cm, 75cm and 90cm. Here is a list of gas cooktops currently sitting on Miele's shelves:
Miele KM 2012 Gas Cooktop: $1,199 (RRP)*
Miele CS 7101 FL SmartLine Element with a Dual Burner: $2,399 (RRP)*
Miele KM 2334 Gas Cooktop with Mono Wok Burner: $2,599 (RRP)*
Miele CS 7102 FL SmartLine Element with Two Burners: $2,699 (RRP)*
Miele KM 3054 Gas Cooktop: $4,199 (RRP)*
Miele KM3014 63cm Gas Cooktop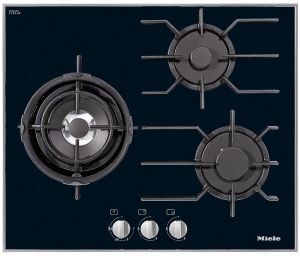 Miele makes the traditional gas cooktop more modern with electronic controls designed to ensure increased safety and convenience. One of these is GasStop, a function designed to make cooking safer by automatically re-igniting the cooktop when the gas flame is temporarily extinguished, or alternatively turning off the gas supply if the appliance isn't able to fire back up.
The Miele 63cm gas cooktop has three cooking zones, one of which doubles as a wok burner. It also has a sleek black finish and ceramic glass cooktop, making it especially appealing to those with a sweet tooth for contemporary design.
Dimensions (WxDxH): 626mm x 526mm x 53mm
RRP: $2,399*
Miele CombiSets

If you love to cook at home, picking something out of Miele's CombiSets collection might feel just as difficult as choosing a favourite child. There are three types – Induction CombiSets, Electric CombiSets and Gas CombiSets. These are available in a variety of sizes, ranging between 288mm, 380mm and 576mm-wide. The smaller models can be used for specific styles of cooking, allowing you to dedicate an area for induction cooking or cooking on a gas cooktop with Miele's electronically controlled ProLine gas burners.
The CombiSets currently available from Miele include:
Electric CombiSets
Miele CS 1327 Y ProLine Element: $4,399  (RRP)*
Gas CombiSets
Miele CS1013-1 G ProLine Element with Two Burners: $1,899 (RRP)*
Miele CS1018 G ProLine Element with One Bubrner: $1,999 (RRP)*
Induction CombiSets
Miele CS1212-1 I ProLine Element with Two Induction-Heated Cooking Zones: $2,699 (RRP)*
Miele CS1212-1I 30cm CombiSet Electric Cooktop with Induction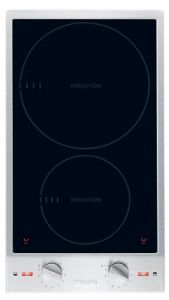 If you're a fan of induction cooking, consider adding the Miele CS1212-1I to your kitchen. It offers two cooking zones in different sizes and comes in the brand's 'classic' width of 288mm. This Miele 30cm Electric CombiSet also features the 'Keeping warm' and TwinBooster functions, as well as the three indicators apparently designed to help you prepare meals effectively and safely.
For safety, the induction cooktop is designed to automatically turn off the gas when the cooktop has been running for what the Miele describes to be an 'excessively long' time. Miele's ProLine appliances also contain different indicators, such as 'residual heat' to remind you not to touch the cooking zones while it's still hot.
Dimensions (WxDxH): 288mm x 520mm x 57mm
RRP: $2,699*
Are Miele's cooktops worth the money?
Hungry for versatility? Then Miele has you covered, building Flexible cooking zones into many of its cooktops in order to accommodate pots and pans of different sizes. The brand's range of CombiSets similarly allows home cooks to keep it hot in the kitchen (and in style), with individual and larger-size cooktops to add onto your existing Miele cooktop.
For those who tend to cook with intense levels of heat, or prefer an appliance that can fire things up fast and cook food quickly, Miele has a variety of gas cooktops and traditional electric cooktops to choose from. There are also induction cooktops for households that are short on bench space or need to avoid open flames. There is no question that Miele's quality, innovation, designs, features and of course
thorough German testing, have earned it a premium position in the market.
Still tossing up whether Miele has the cooktop for you? Click the link below to compare a variety of brands including Smeg, Fisher & Paykel, Bosch, Westinghouse, Electrolux and Chef through our ratings
*Prices taken from Miele, correct as of March 2020.
About the author of this page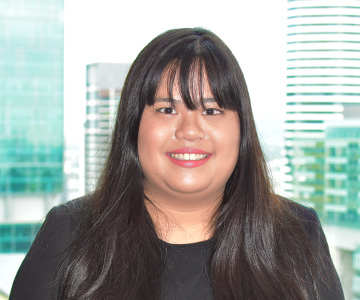 This report was written by Canstar Blue's home & lifestyle journalist, Tahnee-Jae Lopez-Vito. She's an expert on household appliances, grooming products and all things grocery and shopping. In addition to translating our expert research into consumer-friendly ratings reports, Tahnee spends her time helping consumers make better-informed purchase decisions on all manner of consumer goods and services, while highlighting the best deals and anything you need to be aware of.
What do customers think about Miele Cooktops?
In 2019, Australian customers gave Miele 5 out of 5 stars for overall customer satisfaction for cooktops.