Mitsubishi Electric Refrigerators Review
Finding a new fridge is not an easy task as it's probably been a while since you last bought one. With a whole lot more brands flooding the market, both budget and high-end, it might take some time to find the right one for your home. To give you a helping hand, we bring you this guide on Mitsubishi Electric fridges.
First off, one thing that sets Mitsubishi Electric apart from the rest, is its Fridge Finder App. It uses a VR photo feature, to show you how any selected Mitsubishi Electric fridge would look in your kitchen and can answer some common questions about different models etc. It's available on the App Store.
While Mitsubishi might ring a bell for vehicles, this Japanese multinational electronics company also manufactures and sells air conditioners, plus fridges. From family-favourite top mount models to large capacity French door fridges, there are a number of options to consider. Read on to find out all the specs and features of the full range.
What fridges does Mitsubishi Electric offer?
Starting from around $1,000 for its smaller sized fridges, the Mitsubishi Electric range goes up to $5,000 for its French Door models. There are over 10 models to choose from with different size capacities and colours available to help suit your household size and kitchen space. Let's dive into each range.
Top Mount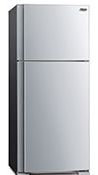 Mitsubishi Electric top mount refrigerators are boasted for latest advances in anti-bacteria technology and a range of new space saving storage options for Australian families. Here Mitsubishi Electric offers 389L, 420L, 508L and 560L capacity models; all with four-star energy efficiency ratings, which is outstanding. Its two-door top mount model (MR-560EK-ST) pictured, is designed with:
Sliding chilled case for easy access

Elevating plastic shelf that allows you to raise or lower a shelf without removing any items

Large bottle pockets for easy storage and retrieval of large and small bottles

Tempered glass shelves stated to be heat resistant and withstand up to 101kg of weight
It's also available in three colour options – white, black and stainless steel. This model is fixed with an anti-bacteria food liner and a Titanium filter claimed to maintain a hygienic environment for your food. It retails for around $1,599, making it one of the cheapest 560L capacity models in the Mitsubishi Electric range.

Bottom Mount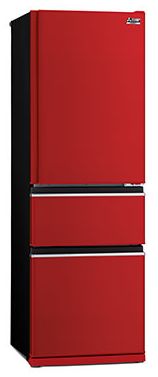 In this department Mitsubishi Electric offers 370L, 370L/402L and 325L/390L capacity models with two-door and three-door options available. This range is designed with user friendliness in mind, stating to have the fridge compartment at chest height due to it being most commonly accessed, plus separate drawers placed from waist height down to perhaps provide easy access to your groceries when preparing meals. Its three-door 402L bottom mount fridge (MR-CX402EJ-ST) features similar design elements to that of its top mount counterpart along with:
Freezer drawer which is divided by a sliding tray at the top that can be pushed back

Adjustable door shelf with each pocket being able to be moved for different sized items
The three-door design also features a humidity drawer, automatic ice maker and convenient freezer drawer. There is an additional red colour variant available with this model. Expect a 3.5-star energy efficiency rating and a retail price tag of $1,399. 

Multi Drawer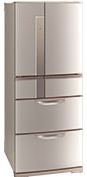 Mitsubishi Electric multi-drawer refrigerators are claimed to be a sophisticated range boasted for high levels of versatility and functionality to help keep different foods at optimum temperatures. There are 743L, 500L and 574L capacity fridges on offer in this range. Expect features such as a freezer drawer with a sliding tray for extra space and a 'Versa Drawer' featuring two main modes with built-in LED sensors for hot freezing, so if you place hot leftovers in the fridge it's claimed to adjust the cold air flow directly onto the hot food. Its (MR-EX574X) model (pictured), has 574L of capacity and features:
Automatic ice maker

External temperature control system with an LED touch control panel
It boasts a low noise level of 15 dBA, which you can compare to as quiet as your breathing. Colours available include silver, mahogany, platinum light and white. This 574L model has a 3.5-star energy efficiency rating and retails for over $3,500, although check out prices from different retailers before you buy. 

French Door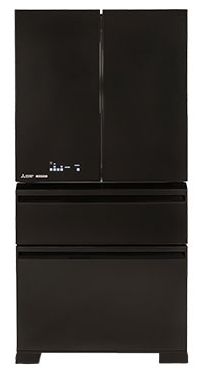 The last of the lot is the French Door fridges with capacities of 630L, 650L and 710L. You can expect some pretty hefty features from these bad boys, but it comes with a price. Its 630L LX Grande French Door fridge offers 760mm of internal space, ideal for large platters, plus a vegetable drawer and a freezer drawer. If you're after a large family fridge with the works, this might be one to consider. Similar to others in the range, you'll find tempered glass shelves, large bottle pockets and an automatic ice maker. Other specs include:
Supercool chilling case claimed to store items at about -3°C to 0°C without freezing it

Glass door finish

LED control panel
It has a four-star energy rating, using 390 kWh/year. It's available in a number of colours to suit your kitchen including silver, black and white. This 630L model has a retail price tag of $3,799, but larger models can go up to $4,999.

Is a Mitsubishi Electric refrigerator worth the money?
Most of Mitsubishi Electric's fridges cost over the $1,000 mark, making it a premium brand. However, its range has been around for more than 30 years in Australia and the company claims to pride itself on understanding the Aussie household to deliver tailored fridges to suit our needs! It certainly looks at outward appearance as a key feature of its range, with bold and trendy colours on offer, but it also delivers on:
Large capacity

Sleek designs

Convenient compartments
Those with a larger household might benefit from a Mitsubishi Electric fridge as some of the models boast various compartments and drawers for extra storage, plus wide chilled cases. However, for something in the 'budget' range, you might need to look elsewhere. To see how Mitsubishi Electric fridges were rated by Aussies in our consumer ratings, follow the link below:
*Prices taken from respective retailers, correct as of June 2020. 
About the author of this page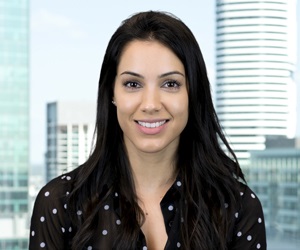 This report was written by Canstar Blue's Home & Lifestyle Content Lead, Megan Birot. She's an expert on household appliances, health & beauty products, as well as all things grocery and shopping. When she's not writing up our research-based ratings reports, Megan spends her time helping consumers make better purchase decisions, whether it's at the supermarket, other retailers, or online, highlighting the best deals and flagging anything you need to be aware of.
What do customers think about Mitsubishi Electric Refrigerators?
In 2018, Australian customers gave Mitsubishi Electric 5 out of 5 stars for overall customer satisfaction for refrigerators.
Mitsubishi Electric Refrigerators
Canstar Blue
Award:
Overall Satisfaction