If you're looking to upgrade your fridge to something larger and more modern, a French door fridge could be the right choice for you. French door fridges are a pricey but popular appliance in Australian family homes given their larger size and larger storage space. Read on to find out more about French door fridges and whether they could be the appliance for you.  
What is a French door fridge?
A French door fridge is a larger model of fridge that features a double door design and either a single or double door design for the freezer section. They are one of the most expensive models of fridges due to their larger size and added features. 
How much do French door fridges cost?
French door fridges cost from $1,500 to upwards of $11,000 for some models. Entry-level French door fridges won't have as many added features like a filtered water tap on the door or an ice maker, whereas the more expensive models have smart technology that can connect to an application on your phone, among other features. 
Who sells French door fridges?
There are a number of brands that sell French door fridges including LG, Samsung, Fisher & Paykel, Westinghouse, and Hisense. You can find these brands of fridges in stores like Harvey Norman, The Good Guys, and Appliances Online. 
LG French Door Fridge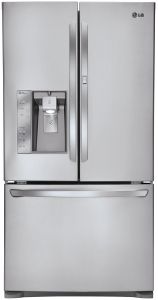 While it may not be the cheapest brand available, LG has garnered respect within the home appliance industry through years of experience, offering consumers plenty of options and products to fill their homes with. Its French Door range is expansive, giving Aussies plenty of options to play with.
With a capacity range that reaches over 900L, LG may be the best option for larger households, with many of the models coming with additional features such as the Door-in-Door feature, as well as the new InstaView function, which allows users to see what's in the fridge without opening the doors.
Samsung French Door Fridge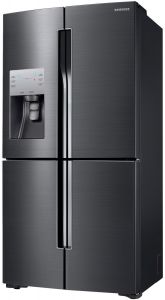 Well placed within the electronics market, it's not surprising that Samsung has been making waves in the home appliance space, with a wide range of appliances available, with top-of-the-line technology. Available in a variety of finishes and colours, many Aussies would no doubt be able to find a Samsung fridge for their household.
One of the more popular features available for Samsung fridges is the Family Hub, which is essentially a Samsung tablet on your fridge. It allows users to shop online for groceries, read recipes as well as let you peek inside your fridge via your phone. You can also leave notes and reminders for the family to read while they grab a snack. Other models include a four-door model, as well as the Chef Collection range, for those that are passionate about their food. With capacities ranging from 533L all the way up to 867L, Samsung has a model for you.
Fisher & Paykel French Door Fridge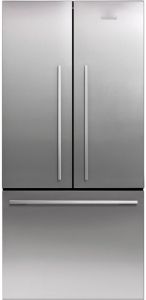 Known for its home appliances, Fisher & Paykel has been a regular within the Australian market, with its wide range of fridges allowing consumers plenty of options when it comes to upgrading their kitchen. For those after a stylish French door fridge, Fisher & Paykel offers a decent selection of models, all available in a variety of finishes, and colours, as well as integrated models, to suit your kitchen. 
The New Zealand company offers capacities ranging from 519L to 614L, with all models coming with its ActiveSmart Technology to adapt to your household's fridge usage to optimise temperature and cooling periods.
Westinghouse French Door Fridge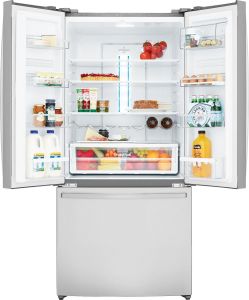 Another well-known appliance brand, Westinghouse has built its reputation on its quality range of home appliances. While its French Door range might not be as expansive as its traditional fridge range, Westinghouse may still be a suitable option for many households.
With models containing FlexSpace, consumers are able to maximise storage by altering the heights and positioning of the door shelves, allowing easy storage for those bulky items. Other features include a FamilySafe lockable compartment, as well as Spillsafe glass shelves for easy cleanup.
Other articles you may be interested in: 
Hisense French Door Fridge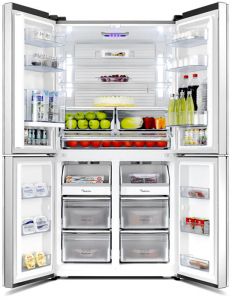 Offering a range of appliances for every room in the house, Chinese manufacturer Hisense provides consumers with a cheaper option for those on a budget, while also offering a wide range of colours and finishes to suit all kitchens.
Hisense has a model for all household sizes, with capacities starting at 509L, with the biggest model capable of storing 701L. All models come with individual cold air distribution to each department to optimise freshness for all food types, as well as customisable shelves for those bulkier items. Ice and water dispensers are also available on some models, perfect for those hot days.
Features to look for when buying a French door fridge
When heading out to search for a French door fridge, there are a number of features to consider to ensure you're getting the most out of your money. 
Size of household:

Being a larger-sized fridge, it's worthwhile considering how many people live in your home, and how much they eat! French door fridges are ideal for larger families, or for those who prepare a lot of food.  
Kitchen space:

If you have a smaller kitchen with limited space, a French door fridge may not be the best option, although with plenty of brands and capacities available, you may be able to find a convenient option for your space. 
Budget:

While price is a normal consideration for any purchase decision, for a French door fridge it should be at the front of mind. They are considerably more expensive than other models of fridge, although often come with additional features and space as a result. 
Energy efficiency:

Many modern fridges have a positive energy efficiency rating; however larger fridges can tend to guzzle more electricity in general. Think about how you want to impact your energy bill when considering a larger fridge. 
Is a French door fridge worth it?
For many, the kitchen is a central hub of the house, so it's important to have appliances that not only complement your lifestyle but work well within the space available. While there may not be huge differences in capacities and features between a traditional fridge and a French door model, for those after a bit of a 'wow' factor in their kitchen, the French door model may be a worthwhile purchase. Compare fridges today and see if a French door fridge is an appropriate choice for you. 
Refrigerator Reviews & Ratings
Original Author: Veronika Hleborodova