Mitsubishi Electric Air Conditioners Review
For most people, the Mitsubishi name immediately conjures images of various types of vehicles, but that's only one of the group's businesses, of which there are many. One of the more prominent brands under the Mitsubishi umbrella is Mitsubishi Electric, which manufactures and sells air conditioners (amongst other things). Mitsubishi Electric has a fairly wide range of air conditioners, split up into five main categories including wall-mounted, console split-system, bulkhead, ceiling mounted and multi-head split-system – so we've had a look at these different models, their features and prices, to help you make an informed purchase decision.
Mitsubishi Electric Split System Air Conditioners
Filled with innovative features such as the Plasma Duo filter systems (designed for the purification and deodorisation of air), the i-See Sensor and Catechin filters (designed to freshen air using anti-bacterial measures), wall-mounted air conditioners from Mitsubishi Electric are nothing to sniff at. There is a very large variety on offer, split into different series as seen below:
Signature Series EF
FB Series
FH Series
GE Series
GL Series
GN Series (Cooling Only)
All boast the same basic design – except for the Signature Series which can be finished in an attractive piano black colour. The Signature Series in particular is perhaps the most noteworthy in the range, with 'silent modes' achieving near-silence as low as 21dBa. The Signature Series in particular supports Wi-Fi control, meaning that you can control your unit from your smartphone or tablet on-the-go. Prices range from under $1,000 up to and over $3,000. And perhaps the best part of all is that they can be bundled together to provide multi-head cooling.
Mitsubishi Electric Multi-Head Split Systems
If you have the need to cool multiple rooms, Mitsubishi Electric allows the linking of up to eight 'heads' or split system units. This allows multiple indoor units to connect to one outdoor unit, which can save outdoor space and limit the use of arguably unattractive outdoor units.
Outdoor units can support from two units up to six units, with cooling capacities from 5.2kw (2 units) up to 15.5kw (6 units)
Outdoor units come with a 5 year warranty, and can support multiple air conditioning types including ceiling cassettes, wall mounted, and bulkheads and so on.
Mitsubishi Electric Console Air Conditioners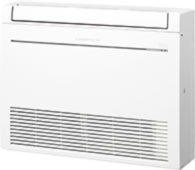 Designed to be unobtrusive and compact, these models are wall-mounted but sit at floor level, perfect for small homes with a lack of wall space. They can be recessed into your wall, which will cut down their protrusion by a third. Their multi-vane function ensures even air distribution, and they have the capacity to run at just 19dB on their lowest setting, making them an incredibly attractive option for those who dislike noisy air conditioners.
Consoles are just 750mm wide, 600mm high and 215mm deep
Cooling capacities range from 2.5kw to 6.0kw – suitable from a bedroom to a small apartment
Prices range from about $1,500 up to around $3,000, making it a suitable system for those who want moderate cooling capacities with whisper-quiet noise levels, and something that doesn't cost an arm and a leg.

Mitsubishi Electric Ceiling Cassette Air Conditioners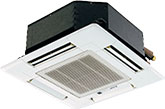 Perfect for areas with limited installation space, Mitsubishi Electric's ceiling mounted air conditioners are 'whisper quiet' models that take up very little space and can be installed in situations where other types of air conditioner could potentially not be installed.
There is just one base model but with many cooling capacities on offer – 2.3kw to 13kw
Ceiling cassettes can fit into a 2m² ceiling panel
Ceiling cassettes come with a 7-day programmable timer, and can be connected to MXZ series multi split systems, effectively meaning you can get all of your cooling needs through Mitsubishi Electric. Prices range from about $1,700 for the smallest capacities up to around $6,000 for the bigger models. This is evidently a comprehensive air conditioning system for the whole home.
You may also be interested in:
Mitsubishi Electric Ducted & Bulkhead Air Conditioners
Making use of inverter technology to provide high-speed cooling along with greater energy-efficiency, this type of air conditioner is best suited to those who either prefer an air conditioner that doesn't take up any space, or don't have the space on their wall for an air conditioner at all. These obviously require the most intensive installations out of Mitsubishi Electric's range. Despite the installation, many ducted and bulkhead units are low profile and lightweight making for discrete cooling.
There are many models on offer with many cooling capacities – from about 5kw up to 22kw
While these may not be suitable if you're just after a quick cooling fix this summer, if you are building a new home or undergoing major renovations, Mitsubishi Electric's bulkhead and ducted systems may be an option. Of course, Wi-Fi compatibility is also a feature on many models, which enables smartphone connectivity. This is an extra cost, but prices start at about $2,600 for the smaller varieties of bulkhead systems up to $6,000 for the bigger capacities.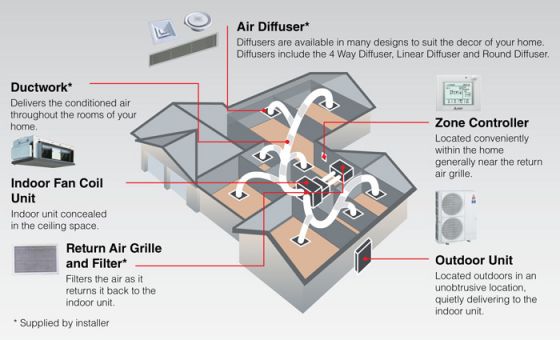 Is a Mitsubishi Electric air conditioner worth the money?
Mitsubishi Electric's range of air conditioners is impressively wide and offers a type of air conditioner suitable for any individual and the home they live in. With products like these, it's almost strange that Mitsubishi Electric isn't as well-known as its car-making counterpart. In any case, there's no doubt a home, shopfront or office you've walked into has had a Mitsubishi Electric air conditioner of some form, and for the consumer they start at under $1,000. This makes it accessible for many customers, and for those also looking for a lot of cooling or heating power for comparatively little money.
Aside from Wi-Fi connectivity you likely won't get all the bells and whistles with your Mitsubishi Electric air conditioner, but you will get straightforward cooling focused on user friendliness, and whisper-quiet operation with many models. With cooling capacities up to 22kw, Mitsubishi Electric's air conditioners are well suited to blanket your entire home in cooled or heated air, making your house comfortable all year round. While Mitsubishi Electric is perhaps not one of the 'go to' brands when thinking about air conditioning, it may be well worth a look into.
Air Conditioner Reviews & Ratings
About the author of this page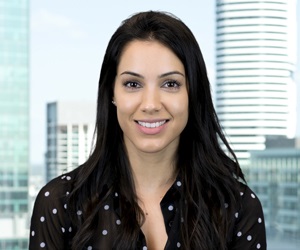 This report was written by Canstar Blue's Home & Lifestyle Content Lead, Megan Birot. She's an expert on household appliances, health & beauty products, as well as all things grocery and shopping. When she's not writing up our research-based ratings reports, Megan spends her time helping consumers make better purchase decisions, whether it's at the supermarket, other retailers, or online, highlighting the best deals and flagging anything you need to be aware of.
What do customers think about Mitsubishi Electric Air Conditioners?
In 2019, Australian customers gave Mitsubishi Electric 4 out of 5 stars for Overall Customer Satisfaction for Air Conditioners.
Mitsubishi Electric Air Conditioners
Canstar Blue
Award:
Overall Satisfaction