Review of Kmart Clothes Irons
Kmart got everyone going head over heels for its vacuum cleaners, but how about its budget clothes irons from just $7.50? Find out at Canstar Blue.
Australians are going crazy for Kmart right now. From cheap homewares to budget appliances and much more, the discount retailer can seemingly do no wrong. The fanfare reached epic propositions in July 2017 when online reviews of Kmart's vacuum cleaners went viral, leaving many wondering if it's really worth spending hundreds of dollars with brands like Dyson or Miele when Kmart has your vacuuming needs sorted at a fraction of the cost. But what else does Kmart have going for it in the world of small appliances? Canstar Blue takes a close look at Kmart's clothes irons, with price starting from just $7.50.
Kmart Clothes Irons
There are currently six models to choose from in the Kmart range. Kmart claims its irons are tested to appropriate Australian electrical safety standards, as well as durability and performance prior to QA approval so you can be sure they won't knock your power out when you plug them in. Some features across its full range include an auto shut off switch that turns off the clothes iron automatically if left unattended, a steam shot to help iron out creases and a self-clean function to assist in removing scale and impurities.
1200W Steam Iron – $7.50*
You wouldn't think much of an iron that costs under $10 and it certainly isn't the most powerful with 1200W of heating power, but if you're strapped for cash and need a simple iron to get a few crinkles out of your clothes, you may like to give it a try.
The Kmart 1200W steam iron uses a non-stick soleplate with a self-cleaning function for a quick and efficient ironing experience, as Kmart describes. Its soleplate is designed to be used on cotton, silk, nylon, linen fabrics and wool. Some basic features include steam control, steam shot and spray buttons to cover all the necessities. This model comes in a standard light blue colour; a shade that is broadly appealing to all members of the family so that you won't be the only one stuck using the iron.

2200W Steam Iron – $15*
For a bit more heating power than the previous model, this clothes iron provides 2200W. It also adds an auto shut off feature for peace of mind and a ceramic sole plate for improved glide ability over fabrics. It is also equipped with a few standard functions, including self-cleaning and steam burst. Although these features cover the necessities, Kmart's 2200W steam iron may not provide as much strength in its steam shot compared to other high end brands.
Its finish colour is dark blue with white components.

You may also be interested in:
2400W Steam Iron with white buttons – $25*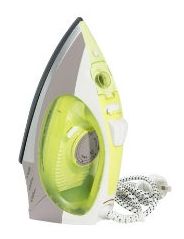 In the mid-range of the Kmart clothes iron line, this model has several additional functionalities to help with the ironing process. It provides a maximum heating power of 2400W and uses an anti-drip ceramic soleplate to stop water staining on clothes. It includes an auto-shut off feature as well as a self-cleaning function. For extra user friendliness, Kmart has designed this iron with a 360° rotating cord so that you can manoeuvre all you need around those tiny buttons. It includes variable steam to choose your steam output as well as a spraying and steam shot function. It comes in a subtle light green and white colour.

2400W Steam Iron with grey buttons – $25*
This model has a very similar look to the model above, but with grey buttons instead of white. With similar functionalities, including 2400W of heating power and ceramic soleplate, it seems like it will all come down to which colour button your eye prefers.
It's equipped with self-cleaning and steam burst functions, and can be used to iron on cotton, synthetic, silk, linen fabrics and wool. Kmart claims this model heats up fast and glides effortlessly over these types of fabrics.

You may also be interested in:
2400W Digital Steam Iron – $35*
Kmart is cranking it up a notch with the next two models in the range. Its 2400W Digital Steam iron is not only equipped with temperature adjustment features but a flash LCD display to show exactly what settings you are using. For an extra $10, why not upgrade to something a little more high-tech.
The 2400W Digital Steam clothes iron uses a ceramic soleplate and provides 2400W of heating power. It includes a safety auto shut off feature and a self-cleaning function to help maintain its lifespan. Kmart boasts this model ensures efficient ironing on all types of fabric as well as providing anti-drip technology to help prevent water drops. It comes in a sleek, modern design with black and grey features.

2400W Steam Iron – $39*
A similar clothes iron to the above, but with a slightly different design, Kmart's $39 model packs in a number of functions including auto shut off and a self-cleaning system.  It also uses an LCD display and an anti-drip ceramic soleplate to improve the ironing experience, and provides 2400W of heating power. It's another elegant design from Kmart, coming in a black colour with grey features.
If you're looking for more durability than Kmart's $7.50 clothes iron, you may like to stick to its high-end range.

Should I go home with a Kmart clothes iron?
Kmart has built its reputation on providing reasonable quality at rock bottom prices, and its clothes irons seem no exception. Whether you want the most basic model for cheap as chips ironing, or are willing to spend a little extra for improved performance, Kmart has you covered. Offering six different models at a range of different prices means it caters to all ironing needs.
There are many factors to consider when deciding which iron to choose, such as its heating power, user friendliness and durability. Kmart has a number of standard functionalities across its full range, so it may ultimately come down to how much you're willing to pay for a Kmart iron. The price differences seem to come down to the soleplates. Kmart provides a 12 month warranty across its full range so you do have some assurance if these budget irons let you down. For a thorough list of clothes iron brands, check out our ratings via the link below to see how Kmart clothes irons stack up.
Clothes Irons Reviews & Ratings
*Prices taken from Kmart, correct as of August 2017
About the author of this page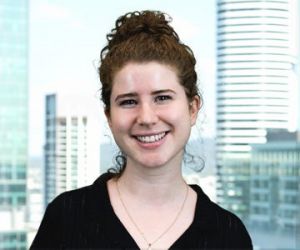 This report was written by Canstar Blue's Content Producer Luciana Lawe Davies. She writes about streaming, appliances and consumer products and services. Luciana enjoys bringing readers the best in what's on TV and at the shops, including the best deals and latest reviews.
What do customers think about Kmart clothes Irons?
In 2019, Australian customers gave Kmart 3 out of 5 stars for overall customer satisfaction for clothes irons.