Samsung Washing Machines Review
Samsung is a world leader in consumer technology, but what you might not know is it also manufactures a large range of household appliances, including refrigerators, air conditioners and washing machines. When it comes to the latter, Samsung makes both kinds – front loaders and top loaders – but with twists and tweaks to make them inherently 'Samsung' – tech-forward and featuring innovative developments. Between the two types of washing machine, Samsung is likely to have something up your alley. Let's see what the Korean tech giant has to show for itself in Australia.
Samsung Front Load Washing Machines
A common gripe with front loader owners is that the drum and capacity isn't big enough. Samsung front load washing machines start from a 7kg load capacity and increase to a whopping 16kg, catering for very large households and their washing needs.
Samsung 16kg Front Loader – WF16J9000KW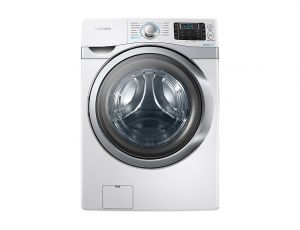 One of the biggest of the Samsung pack is the Samsung WF16J9000KW, washing machine weighing in at 16kg load capacity. Imagine the amount of clothes you could put in one of these! It has a max spin speed of 1100RPM, along with a 'Delay End' option that allows you to have your washing finish up by the time you get home. It also features the Smart Check' App as well as the 15 minute quick wash program, which may be handy for when you need to do a smaller load. Beyond that some other features include:
'Bubble Wash': generates foam from the start of the wash cycle which gives the washer a better chance to get rid of dirt and stains
'VRT' (vibration reduction technology): claimed to reduce noise and vibrations
Automatic drum cleaner: Who cleans the washing machine? The drum cleaner heats up to 70°C to help get rid of residue and dirt that forms from your clothes
Besides the above key tech systems, the 16KG washer has a four-star water efficiency rating and a 3.5 star energy efficiency rating. With all this in mind, you can expect to pay over $2,000 for this model. As a washing machine is a long-term investment, the extra price tag may be worth it long term, with an 11 year parts warranty on its digital invertor.
Samsung 8.5kg Front Loader – WW85J5410IW
If you're thinking a 16kg load capacity is slightly too large for your household, then Samsung has several other options to choose from, including an 8.5kg front loader. The Samsung WW85J5410IW is equipped with the 'BubbleWash' program, 15 min quick wash and 'BubbleSoak' – a pre-treatment cycle that soaks clothes in "active bubbles" before the cycle begins.
It also features an auto-load sensor, which selects the water level according to the weight of the load. Similarly to the model above, it boasts an automatic drum clean system and can be monitored via the 'Smart Check' app. Where it differs is with its faster spin speed of 1400RPM, as well as higher water and energy efficiency ratings of 4.5 stars and four stars respectively.
With similar key features as the above model, the Samsung WW85J5410IW seems to make for a great washing machine. But what makes it even better is that it shouldn't break the bank, as this machine can usually be found for less than $1,000. Seeing as some washing machines cost over $4,000, Samsung's front loader range overall represents a relatively cost-effective yet feature-packed option here.
Samsung AddWash Washing Machines
The next front load washers come with the much-desired ability to add clothes mid-wash to your front loader. This 'AddWash' function won Canstar Blue's innovation award in 2016 because we were excited by just how handy it was, and that it's a relatively rare feature on front loader washing machines.
These washing machines come with a pause function. You can then add any forgotten clothes using the 'Add Door', which is effectively a small hatch that allows you to slip clothes into the washer easily.
Samsung 16Kg AddWash Front Loader – WF16J9800KV
This is another 16kg load washer, with the addition of the 'Add Door', which is simply massive for front loaders as they're frequently less than 10kg. The WF16J9800KV overlaps with features found in the front loaders mentioned above, such as the 'BubbleWash', auto load sensor and 'VRT'.
Other features include the 'Smart Check' system and auto detergent compartment that only requiring re-filling every few weeks and Samsung takes care of the rest. Beyond that there is a large crossover with the previous machines so you can expect similar quality no matter if you go with the additional 'Add Door' feature or not.
It has a max spin speed of 1100RPM, as well as 13 wash cycles. A neat feature of this model is that it has an interior light, letting you see exactly how your washing is getting on, if you're interested to find out. It has a four-star energy efficiency rating, and according to the Standard Test, it will cost you about $89.32 in electricity per year.
Samsung 11kg AddWash Front Loader with AddDoor – WW11K8412OW
Again, Samsung offers similar washers but with smaller load capacity if you don't need a 16kg washing machine. This 11kg AddWash machine is boasted for its SuperSpeed program that uses "Speed Spray" to rinse your clothes powerfully and complete the cycle in under an hour. It has a maximum spin speed of 1400RPM that adds to this functionality.
Other features in place include Smart Wi-Fi Control and an auto load sensor. Additionally, it connects to the 'Smart Check' App for troubleshooting. Although it also has a four-star energy efficiency rating, this model will cost you slightly more in energy bills, owing to its faster spin speed.
Samsung Top Load Washing Machines
Samsung top load washers are much the same story as its front loaders, so expect large capacities. After all, Samsung does say "less loads – more life". Simply stockpile your clothes for the week, then go nuts.
These washers also won't break the bank. The smallest capacity models can be found for around $1,000, and you'll nary find a model over about $1,900. This ensures you get handy tech features at reasonable prices, accessible to many.
Samsung 13kg Activ DualWash Top Loader – WA13M8700GV
The 13kg WA13M8700GV model features yet another hefty feature from Samsung, the 'Activ DualWash' system. It's a built-in sink with a water jet, allowing you to pre-treat stains, as well as hand-wash delicate items. Samsung really has thought this one through.
This top loader also incorporates 'Magic Filters', designed to collect any lint, fluff and other particles that come off your dirty clothes. The filters still require manual cleaning, but are said to be easily detachable. An additional program available with this model is an 'Eco Tub Clean' cycle, designed to clean the tub itself for easy maintenance. For any troubleshooting, you can connect to the 'Smart Check' App also.
It has a max spin speed of 800RPM and a three-star energy efficiency rating. It should add around $217 to your annual electricity bill.
Samsung 8kg Top Load Washer – WA80F5G4DJW
While large capacity washing machines are handy for some, perhaps they're not as ideal for others, so opting for a washer around 8kg may be a better option. This 8kg top loader is designed with a clear glass lid, giving you the ability to check on the laundry in a similar way to a front loader. It features 11 wash programs including the 'Quick Wash'. Additionally, its compatible with the 'Smart Check' App.
The WA80F5G4DJW is also boasted for the Samsung 'Double Storm Pulsator' system, which is claimed to reduce tangling of laundry, as well as enhance washing and rinsing power. It has a maximum spin speed of 720RPM and a 2.5 stars energy star rating. Washing machines with higher energy efficiency ratings can help to reduce electricity bills. This model will use around $165.30 in energy per year.
Samsung Smart Check
Throughout this article we've referenced the 'Smart Check' Samsung feature, so what exactly is it? Well, when your washing machine has a problem, it will display an error code on the screen. Using Samsung's Smart Home App, you can enter the error code and receive advice on how to solve the problem. It could be as simple as closing the washer door, or restarting the wash. Download the smartphone app and start controlling and monitoring your wash cycle while out and about. The video below shows how to use it:
Samsung Top Loader Washing Machines
Canstar Blue
Award:
Overall Satisfaction