Samsung Washing Machines Review
Doing the laundry isn't always loads of fun. Whether it's trying to understand the different settings, or constantly finding pet hair and fluff after every wash, sometimes we can't help but feel like throwing the towel in. Thankfully, brands like Samsung are creating new technology and design features to help make things a little easier.
Samsung is a world leader in consumer technology, but what you might not know is it also manufactures a large number of household appliances, including refrigerators and air conditioners. When it comes to laundry, the Korean tech giant has a variety of tech-forward front loaders, top loaders and washer dryer combos.
Types of Samsung washing machines
The different types of Samsung washing machines include:
Samsung AddWash Front Load Washers: allows you to chuck in clothes after the cycle has started, as well as any hand-washed clothes you only need to rinse or spin dry.
Samsung QuickDrive Front Loaders: claimed to wash clothes up to 50% faster than other models sold by the brand. This is apparently due to the 'revolutionary' main drum and back plate that rotate independently to clean clothes quickly and gently.
BubbleWash Front Load Washers: featurs BubbleWash and optional BubbleSoak systems to ensure clothes get a deep clean while also receiving gentle treatment during the wash.
Activ DualWash Top Loaders: include a built-in sink to help you conveniently remove stains and perform any 'pre-washing' jobs. You can do this by lifting the sink and placing the items into the washer.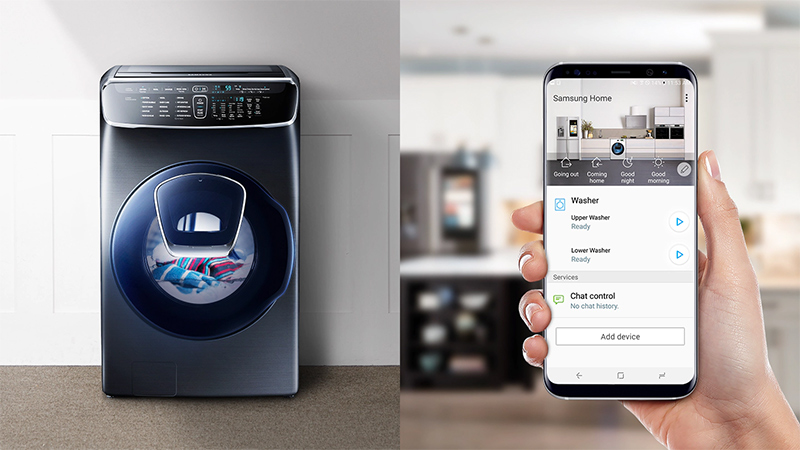 What makes Samsung washing machines different?
Not all households are created equal – and neither are washing machines. That's why different brands are constantly creating new ways to accommodate a variety of needs and preferences. Here are some common features in Samsung front loaders and top loaders you might want to know about:
AddWash: allows you to add any clothes you forgot to put in the wash, even though the cycle has already started.
BubbleWash: generates foam from the start of the wash cycle, which apparently helps to get rid of dirt and stains.
VRT (Vibration Reduction Technology): claimed to keep the tub balanced to minimise noise and vibrations, regardless of spin speed or load size.
Smart Control: allows you to control and monitor your washing on the go via the Samsung SmartThings app.
QuickWash: can wash up to 2kg of slightly soiled laundry in as little as 15 minutes.
Samsung front load washing machines
Samsung believes big things come from small packages. That's why the brand's range of front loader washing machines can hold up to 16kg worth of laundry, with prices reasonably starting from around $699 and reaching up to $2,049. And when it comes to features, Samsung doesn't let size hold anyone back.
Certain models include a Magic Filter, which claims to keep your clothes free of lint, fluff, and other annoying small bits from your washer. There's also the Magic Dispenser, a feature stated to help minimise residue left on your clothes.
Here are a few front load washing machines currently available from Samsung:
Samsung 7.5kg Front Load Smart Washer (WW75T504DTW): $699 RRP*
Samsung 8.5kg AddWash Front Load Smart Washer (WW85T554DAW): $849 RRP*
Samsung 9.5kg BubbleWash Steam Front Load Washer (WW95N54F5CW): $1,049 RRP*
Samsung 12kg Front Load Smart Washer (WW12TP04DSH): $1,349 RRP*
Samsung 8.5kg AddWash Front Load Smart Washer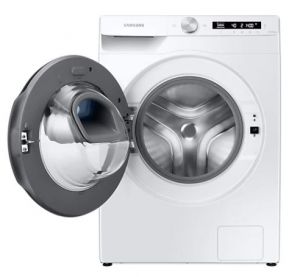 If you're looking for a low-cost laundry appliance, the Samsung 8.5kg AddWash Front Load Smart Washer is among the most affordable options available by the brand. The main features of the (WW85T554DAW) model include its Steam Cycle, claimed to give garments a deep clean by releasing steam from the bottom of the drum and its AI personalised settings which work to customise each wash cycle based on the weight of clothes, their level of soil and even your washing habits.
This model also comes with a 15-min Quick Wash cycle, BubbleWash (makes foam by pre-mixing detergent with air before a cycle) and BubbleSoak (optional pre-treatment cycle). The drum is also said to contain small water exit holes to prevent fabrics from being trapped and damaged.
Other features include:
4-star energy rating
4.5-star water efficiency (WELS) rating
Consumes 73L worth of water per wash
Child lock
The Samsung 8.5kg AddWash Front Load Smart Washer comes with an 11-year parts warranty.
Samsung 12kg Front Load Smart Washer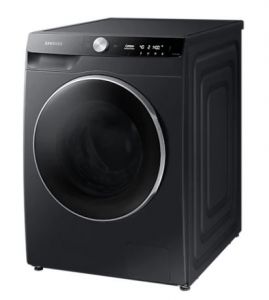 Short on time and patience? Then you might like to use the Super Speed cycle on this Samsung 12kg Front Load Smart Washer (WW12TP04DSH), allowing you to wash a 5kg load in just 39 minutes. This setting uses a combination of drum rotation, additional water shots to create more bubbles and a speed spray to drain detergent out quickly and reduce rinse time.
Besides the generous capacity (perfect for larger households), this model also features personalised AI functions that remember users' behavioural patterns to provide automatic suggestions of wash cycles, Steam Cycle for a more hygienic clean, and of course BubbleWash and BubbleSoak.
Other specs include:
5-star energy rating
4.5-star water efficiency (WELS) rating
Diamond drum
Child lock
This model also features Digital Inverter technology and VRT Plus (Vibration Reduction Technology) to reduce noise and vibrations by up to 30% during washes, according to Samsung.
Samsung top load washing machines
Samsung top load washers are much the same story as its front loaders, so expect large capacities. After all, the brand does say 'less loads – more life'. Compared to the brand's front load range, Samsung's top loader machines can generally carry bigger piles.
These washers won't necessarily break the bank, depending on your budget. The smallest capacity model can be found for $799, while more expensive units go up to $1,299. Whether you're shopping for a feature-heavy top loader, or a simple unit with less bells and whistles, this price range might give you more reason to buy a Samsung washing machine.
A few Samsung top load washing machines include:
Samsung 9kg Top Load Washer (WA90T6250BW): $799 RRP*
Samsung 10kg Top Load Washer (WA10A8376GW): $1,149 RRP*
Samsung 12kg  Top Load Washer (WA12A8376GW): $1,249 RRP*
Samsung 12kg  Top Load Washer (WA12A8376GV): $1,299 RRP*
Samsung 9kg Top Load Washer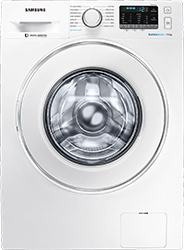 For Samsung, magic happens in the laundry. The Samsung 9kg Top Load Washer contains the Magic Dispenser, a feature claimed to powerfully dissolve liquid and powder detergent, then disperse it evenly before the wash cycle starts. This function is said to better reduce the chances of residue being left on your clothes and washer. The Samsung (WA90T6250BW) also has an easy to empty Magic Filter, which is said to keep your clothes clean by gathering the lint, fluff and other particles that come out of your laundry.
Other things you should know about the Samsung 9kg  Top Load Washer include:
4-star energy rating
4-star water efficiency (WELS) rating
Consumes 92L per wash
On a budget? The Samsung 9kg Top Load Washer isn't the cheapest washing machine, but it's the brand's most affordable top loader in the range and one of the brand's few models to sell under $1,000.
Samsung 12kg Top Load Washer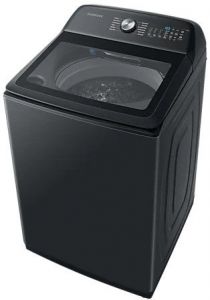 The Samsung 12kg Top Load Washer features yet another hefty feature from Samsung, the 'Hygienic Steam Cycle' system. This feature is said to wash at 60°C to sanitise clothes and help remove up to 99.9% of certain common bacteria and stubborn stains. The Samsung  (WA12A8376GV) also includes its Vibration Reduction Technology (VRT), which apparently ensures a quiet wash cycle no matter the spin speed or load size.
Some details about the product include:
12kg washing capacity
4-star energy rating
4-star water efficiency (WELS) rating
Consumes 123L per wash
Gentle swirl drum
Other features include a built-in heater, Magic Filters, Mist Shower, and a soft close lid and sink system. For any troubleshooting, you can connect the unit to the 'Smart Check' app.
Does Samsung have the best washing machine for me?
Samsung washing machines are packed with nifty and smart features, designed to make doing the laundry easier for busy households, but also more efficient with most models featuring water-saving functions like Quick Wash and Speed Cycle. Front load and top load washers are available in various capacities and price points. Samsung's washing machines aren't the cheapest in the market, but retail at a fair price for the smart capabilities and features they offer.
That's why it might be useful to make a list of the features you need before heading to the store or shopping online. If you don't need to wash 16kg worth of laundry but still want to enjoy the big features, don't worry, many of the same programs and technology found in larger models are also available in small capacity washing machines.
Can't help but feel like you're spinning in circles in the appliance aisle? You might like to compare the latest features and prices of a variety of washing machine brands by heading to our appliance ratings. Read a load of reviews and ratings to find the right top loader or front loader for you.
Front Load Washing Machine Reviews
*Prices taken Samsung, correct as of October, 2022.
Meet our consumer experts
---
Megan Birot: Home & Lifestyle Editor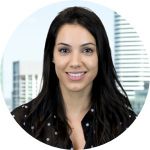 Megan is Canstar Blue's Home & Lifestyle Editor, leading the team that focuses on consumer products and services, ranging from supermarkets and groceries to home and personal appliances and retail stores. She interprets Canstar Blue's bespoke research on the thousands of brands that we compare, rate and review, to help shoppers make better purchasing decisions.
Samantha Howse: Consumer Research Specialist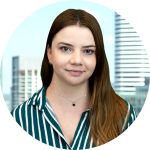 Samantha Howse is Canstar Blue's Consumer Research Specialist, coordinating the consumer research program behind our customer satisfaction awards across Canstar and Canstar Blue in Australia and New Zealand. Sam has earned a Bachelor of Business (Marketing) from Griffith University and, with seven years in market research and 2 years in marketing, she is experienced in survey design, implementation and analysis, coupled with an understanding of marketing principles and best practice.
What do customers think about Samsung washing machines?
In 2022, Australian customers gave Samsung 5 out of 5 stars for overall customer satisfaction for top load washing machines.
Samsung Front Loader Washing Machines
Canstar Blue
Award:
Overall Satisfaction