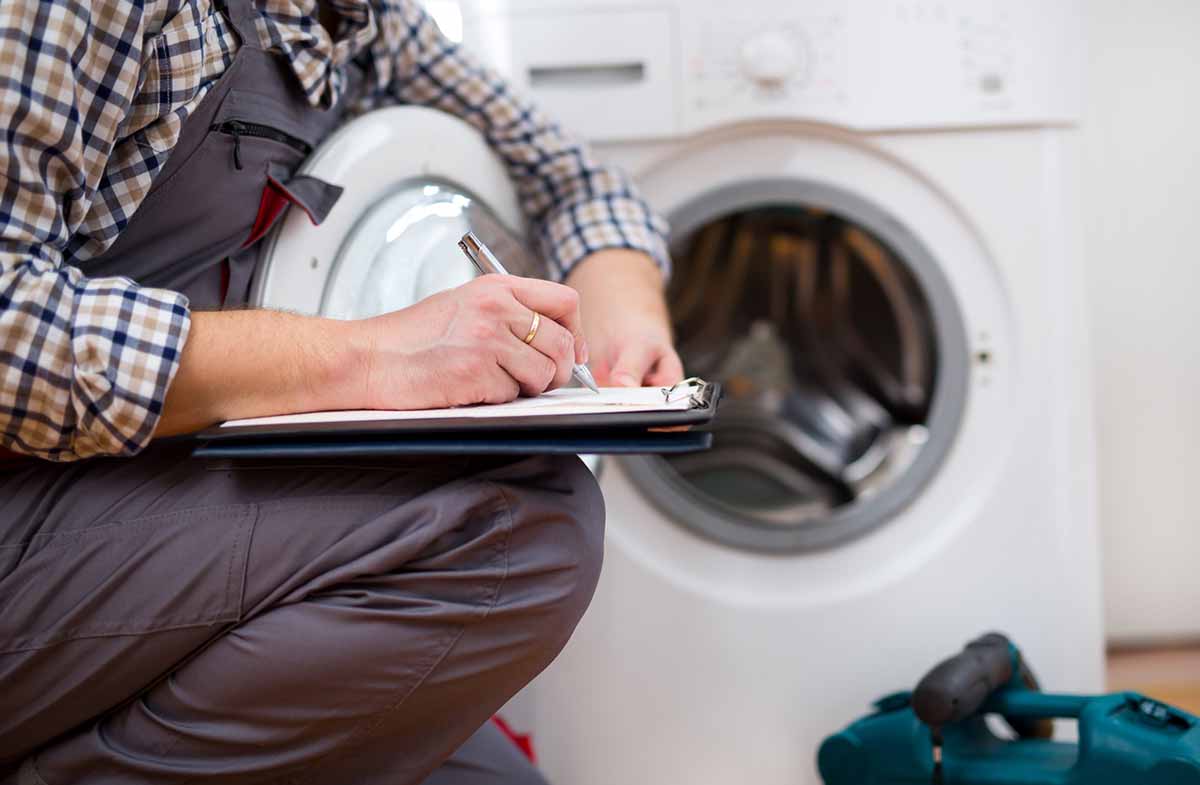 Simpson Washing Machines Review
Simpson is a bit of a standout among other appliance brands in that it specialises solely in washing and drying. Simpson is a no-gimmicks, fuss-free manufacturer of both top loader and front loader washing machines. The brand was based in Adelaide for almost 100 years, before it became part of the Swedish Electrolux group. Nevertheless, Simpson still makes a range of quality washing machines for sale here in Australia.
Its motto 'Quality kept simple' is reflected in its washing machines that have a focus on being solid value for money. So what's in the Simpson range, and will you be saying 'Woah' or 'D'Oh' to what Simpson has to offer? Find out in this Canstar Blue review.
Simpson Washing Machines
As it stands there are eight top load washing machines on offer from Simpson as well as three front load washers. With both types considered, prices start at about $550 for smaller capacity models, with some larger capacities costing nearly $1,350. Overall though, Simpson is a brand focused on the budget end of the market, whereas some of its competitors – such as Miele and Bosch – have washing machines that cost many thousands of dollars.
Simpson Top Load Washing Machines
Simpson is perhaps best-known for its top loaders – probably because they're found in all manner of hotels and holiday apartments across Australia (presumably because they're fairly cheap). If you've had a weekend at the coast recently, the washing machine in your apartment was likely a Simpson one. The brand is also popular with renters for the basic 'bang for buck' it delivers. You don't get amazing washing machines in terms of additional features, but they'll get the job done with minimal fuss. At the time of writing, there are eight top loaders models in total:
Capacities range from 5.5kg to 10kg
Prices range from about $550 all the way up to about $1,350 for the bigger capacities
Simpson Ezi Set 6.5kg Top Loader Washer (SWT6541)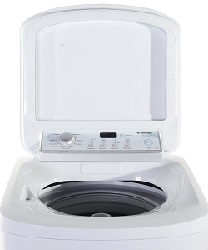 Small washing machines – like the Simpson 6.5kg top loader – are ideal for those living on their own or with limited space in a household of one or two people. The SWT6541 model is equipped with 11 wash programs including a fast wash for the busy lifestyles or just the occasional small load. It uses Simpson's 'Agitator Wash Action', aimed to wash clothes evenly and without tangling. It also features a delay start option to plan when you want the washing to be done, especially handy for when you're on the go.
Simpson's 6.5kg washer is designed with an 'Ezi Reach' control panel, which is accessible even when the lid is up (pictured). Its top lid is stated to be durable enough to withstand a basket full of wet towels. Furthermore, the gentle drum features thousands of holes to increase water flow rate and dissolve the detergent effectively. It has scored a 2.5 star energy efficiency rating. It also has a 3.5 star water efficiency star rating, consuming around 79L of water. Please note, this product is currently not available to be purchased online.
Simpson 10kg Top Load Washer (SWT1023A)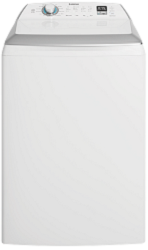 If you're looking for a large capacity washer, you might like to consider Simpson's 10kg top loader. The SWT1023A model features control dial and touch controls for easy cycle settings, allowing you to choose water temperatures, soak times and rinse options. It boasts several features including:
Ultra-Wash System: gentle wash agitator that is stated to move clothes in multiple directions
Time Adjust function: allows you to increase or reduce total wash time
Delay End function: lets you program the wash to end at a time most convenient for you
Automatic water level sensor: the machine chooses an appropriate amount of water to use for the load inside
ActiveBoost detergent pre-mixing technology: claimed to provide effective results in cold water where the detergent and water is premixed in separate chambers before being sprayed onto the clothes, reducing detergent residue
Additionally, it's designed with a scratch resistant flat surface lid for extra durability that can be used as additional work space. It has 14 wash programs including a Quick 20 program for small loads and a Daily 45 minute program for regular loads, plus it features a memory function that allows you to save your most used wash program. It boasts a 4 star water efficiency rating and 4.5 star energy efficiency rating.
Simpson Front Load Washing Machines
As mentioned there are three Simpson front loader models on offer. They're all around the middle-road as far as capacity goes:
Capacities: Two are 8kg and the other is 7kg
Prices range from about $700 to $900
One of the main benefits of top loaders has always been the ability to add in missed items mid cycle – a feature that front loaders typically lack. However, Simpson front loaders are equipped with a pause and add button, so you won't have to worry if you've accidently dropped a sock on the way to the laundry room.
Simpson Ezi Sensor 8kg Front Loader (SWF12843)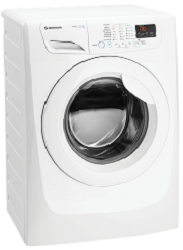 Simpson's 8kg SWF12843 front load model is designed with 1200RPM spin speed. It features seven wash programs including a fast wash that allows a daily 3kg load of lightly soiled clothes. Similarly to the 10kg top loader above, this model has an auto water level sensing system. It's also stated to have a durable inverter motor with a 10 year warranty (parts only). Other features include:
Digital display dictating how much time is left on the cycle
Rinse+ option for additional rinsing
Delayed start times to make use of off-peak energy tariffs
Larger hatches and drums for easy access
In general, you can expect the Simpson front loaders to run much more efficiently than top loaders. This 8kg model uses only 68L of water per load, and consumes 373kWh in electricity. This subsequently gives this model a 4.5 star water rating, with a 3.5 star energy rating. So, while you may spend more in upfront costs buying a front loader, you may find that in time you could save money through cheaper power bills! Considering washing machines are kept for some time, this is very possible. For a similar model – but slightly smaller capacity – the Ezi Sensor Front Load SWF12743 has a 7kg capacity. Please note, the two models are not available to be purchased at this time.
RRP: $869 (8kg model)* and $719 (7kg model)*
---
How much are your weekly laundry loads eating up your power bill by? Canstar Blue's washing machines running cost guide compares average annual energy costs for front and top loaders in each state.
---
Are Simpson washing machines good value?
The short answer is probably, yes. Simpson makes some of the most prominent 'bang for buck' washing machines available here in Australia. Frequently its washing machine prices are less than half that of its competitors. However, what's the catch?
Certain Simpson top loaders can have a tendency to consume a fair amount of electricity and water, giving them pretty average water and energy ratings
However, Simpson's front loaders are not that much more to purchase, and boast far better water and electricity consumption figures
Generally, both are quite light on nifty features, lending to its cheap prices
Most of Simpson's range is priced under $1,000, but with this you'll have to be willing to sacrifice some of the more advanced features that higher-priced washing machines boast. If it's a cheap and cheerful washing machine you want, Simpson may be your first port of call. Are you a renter, or just on a budget? Simpson seems to represent a good option for both, but don't expect all the bells and whistles.
*Prices taken from Appliances Online, correct as of March 2018
About the author of this page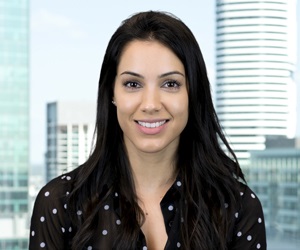 This report was written by Canstar Blue's Home & Lifestyle Content Lead, Megan Birot. She's an expert on household appliances, health & beauty products, as well as all things grocery and shopping. When she's not writing up our research-based ratings reports, Megan spends her time helping consumers make better purchase decisions, whether it's at the supermarket, other retailers, or online, highlighting the best deals and flagging anything you need to be aware of.
What do customers think about Simpson Washing Machines?
In 2019, Australian customers gave Simpson 4 out of 5 stars for overall customer satisfaction for top load washing machines.
Simpson Top Loader Washing Machines
Canstar Blue
Award:
Overall satisfaction