Many people have owned their fridges for years, and if it isn't completely busted, buying a new one isn't at the top of the list. It can be a sizeable investment so knowing the ins and out of types of fridges can be important so you make the right decision. In this guide, we break down different types of fridges and everything you need to know if you're thinking of buying a new one.  
Types of fridges
There are five types of fridges that all have their own features that suit different homes:
Top-mount Fridges

Bottom-mount Fridges

Side-by-side Fridges

French door Fridges

Bar and drinks Fridges
Top-mount fridges
A top-mounted refrigerator is a single-column refrigerator, with the top third (approximately) dedicated to a separate freezer compartment. This type of fridge is the most common, meaning it's also generally the cheapest costing from $500 to upwards of $2,000, and has the widest range on offer. Also worth noting is that these types tend to be the most energy-efficient type of fridge, being about 10-25% more efficient than fridges with bottom or side-mounted freezers.
Benefits of a top-mount fridge
Top mount fridges offer a range of benefits including: 
Cheaper to buy

Have an easy access top mounted freezer

Economical to run and energy efficient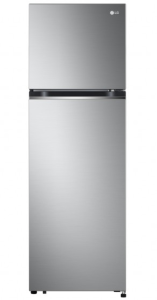 LG Top Mount Fridge
LG is a well-known appliance brand with a number of top-mounted fridges in its range, retailing from $700 to $1,200. Its top-mounted fridges are ideal for medium size families and slimmer designs can be ideal for smaller households. These fridges come in silver and white all with energy star ratings of 3.5 and above.  
Bottom-mount fridges
As the name suggests, a bottom-mount fridge is just like a top-mount fridge, with the obvious exception being that the freezer compartment is at the bottom. Generally speaking, these models are less common, which means less variety or range, and as mentioned earlier, they tend to be less efficient or more expensive than a top freezer model.
Benefits of bottom-mount fridges
Although bottom-mount fridges are less energy efficient, they still have a number of benefits:
Bottom freezer means easier access to the fridge section

Easy storage with a larger freezer space

Good for small kitchen spaces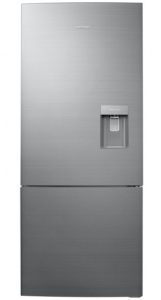 Samsung Bottom Mount Fridge
Samsung offers a few bottom-mount fridges in their refrigerator range retailing from $1,000 to $1,500. These fridges offer sleek handle-less designs, multiple shelf spaces in the fridge and freezer, and adjustable door guards to fit all kinds of drinks and condiments. With generous 4-star energy ratings, they're a potential choice for small to medium households without a huge sacrifice to energy bills.   
Side-by-side fridges
Side-by-side fridges are essentially wider-than-usual fridges split in half, with one half being the fridge side and the other the freezer side. For those who tend to freeze leftovers in high volume, this type of fridge may be ideal. Some side-by-side fridges allocate slightly more room for the fridge section; however, the freezer will still be larger than that of any top or bottom freezer model. 
Benefits of side-by-side fridges
Side-by-side fridges are a larger model of refrigerator that offer benefits including: 
Easy access to both fridge and freezer

Larger so ideal for families

Include features like an ice maker and filtered water tap on the door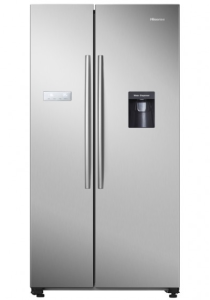 Hisense Side by Side Fridge
Hisense offers a couple of side-by-side fridges in their range costing between $1,300 and $2,500. With dedicated storage and an easily refillable non-plumbed water dispenser, the Hisense fridges give you a bang for your buck, although with a slightly lower star-energy rating of 3.5 stars. The more premium model of fridge also offers an electronic control panel on the fridge door and an alarm if you accidentally leave the door open.  
French door fridges
Possibly the most versatile – and most expensive – type of fridge, French door fridges are similar in width to side-by-side models and have the entire bottom third devoted to freezer space, just like a bottom freezer model. Most French door fridges retail from $2,000 to upwards of $5,000 depending on added features. As with side-by-side fridges, the fridge door is split into two, opening from the centre for the fridge section. Some French door fridges have a single door for the freezer section, but some split the freezer section the same way as the fridge section, making for a grand total of four doors on your fridge.
Benefits of French door fridges
As a more premium model of fridge, French door fridges offer a wealth of benefits including:
Added features like filtered water tap and ice maker

Double the storage space with a large bottom-mount freezer

Less clearance is required between the fridge door and surrounding surfaces like benchtops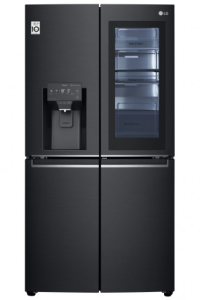 LG French Door Fridge
LG's French door fridges retail from $2,000 to upwards of $9,000 for their top-of-the-range models. Many of its French door fridges feature the option for plumbed and non-plumbed filtered water, ample storage space with multiple shelves and some top-of-the-range models also feature an InstaView window on the front of the door.  
Bar Fridges
Though not strictly a category unto its own, bar fridges are handy to mention as a lot of people are undoubtedly looking into buying one as the summer season rolls around. Bar fridges benefit from being very cheap to purchase and they get the job done when it comes to keeping drinks cold.
Many are under 100L, and some are even smaller in capacity than 50L, however, bar fridges are rather energy-inefficient relative to their size. In fact, they often use similar amounts of electricity as regular-sized fridges, but at less than a quarter of their capacity.
Benefits of bar fridges
While bar fridges may be somewhat energy efficient, they offer a number of benefits including: 
Useful for drinks and entertaining in outdoor spaces

Cheap to purchase

Easy to move around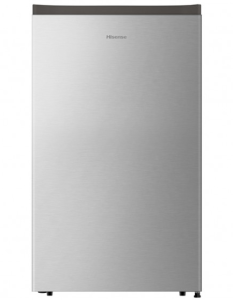 Hisense Bar Fridge
Hisense has a small range of bar fridges ranging from 45L to a larger 125L capacity, retailing from $250 to $400. Hisense bar fridges come with generous shelf space for such a small fridge with an easily adjustable internal thermostat to keep drinks at the perfect temperature. They are a nice compact size so they can fit under outdoor benches and can be moved wherever the party is. 
What type of fridge should I buy?
Which type of fridge you buy comes down to a number of factors including how many people are in your household, storage space, and energy efficiency. For those looking for something basic a top or bottom-mounted fridge is ideal. For those looking for a longer-term investment for a family, a French or double door may be the best choice. Compare fridges to make the right choice today. 
Original Author: Harrison Astbury