The side by side fridge is a product of the changing fridge market. Functionally, this design works better for large kitchens, as well as appealing to many from an aesthetic point of view. Choosing one for your kitchen, however, can become a bit of a challenge, as the market has quickly become home to many brands and models. Find out what the leading brands offer, and which side by side fridge may be the best fit for your home.

What is a side by side fridge?
A side by side fridge is a fridge split down the center with one side dedicated to freezer space and the other to fridge space. Most side by side fridges will have more space for the fridge and a slimmer design for the freezer side, however, some may have a more equal ratio between the two. 
How much do side by side fridges cost?
Side by side fridges will cost from $1,000 up to $3,000 making them a rather affordable style of fridge. Some models will generally cost more if they have added features like a filtered water tap on the door, an ice maker, or a door-in-door design. 
Who sells side by side fridges?
There are a number of popular brands that sell side by side fridges including Hisense, LG, Westinghouse, and Samsung. You can find different models from these brands at retailers like Harvey Norman, The Good Guys, and Appliances Online. 
LG Side by Side Fridge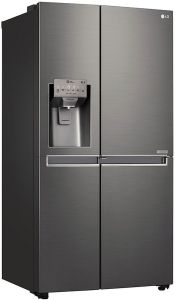 An appliance giant, LG has an expansive fridge range to suit almost any home, with the company offering a number of side by side fridges. While the cheaper models will suit those after something simple, the higher-end models come with features such as ice and water dispensers, as well as the Door-in-Door feature, ideal for those looking to impress.
With similar capacities across all side by side models, the features are what will really set each product apart. For those who like their fruit and veg, some models include the FRESH Balancer, which allows the crispers to be set to optimal temperatures for either fruit or vegetables, ensuring your groceries are kept fresher for longer.
Samsung Side by Side Fridge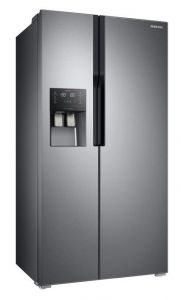 While more known for its personal electronics, Samsung's appliance range has expanded its household range significantly. For those after a side by side fridge, Samsung has a variety on offer, which can be bought at various retailers.
The smallest model, which still has a capacity of 589L, is fitted with a Twin Cooling System to ensure optimal cooling and air temperature for both the fridge and freezer sections of the unit, with a Multi-Flow function additionally cooling each individual section to ensure they remain consistently cooled. Other Samsung features include Tower LED lights, allowing you to spot the good stuff, as well as frost-resistant technology to keep food fresh. Other Samsung models include Door-in-Door functionality, as well as ice dispensers and recessed handles for a sleek finish.
Westinghouse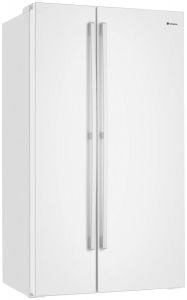 Another pioneer of the home appliance industry, Westinghouse has been readily available in the Australian market for years, with their range of fridges being no exception. In terms of the side by side fridge, Westinghouse offers a number of models, all of which come in different finishes and colours to suit your kitchen style.
With capacities ranging from 610L to 690L, size isn't an issue, although functions and features vary from model to model, with only a select few available with a water and ice dispenser. All Westinghouse models are fitted with the FlexSpace and FlexStor function, which allows users to adjust the door shelves to allow for the grocery shop in large households. Westinghouse also provides dividers for the crispers, so your fruit and vegetables can be kept separate.
Hisense
Hisense offers a wide variety of fridges for households to choose from, although its side by side range is unfortunately not as expansive. Offering three models, Hisense is one of the cheaper options available, making it an option to be considered for those on a budget. The three models available come in capacities of 566L, 610L, and 690L, with the largest model available in stainless steel, white, or black finishes
Hisense fridges also come with an LED display with touch control, as well as an ice maker for those hot days. Models are also installed with a PowerSave function for when you go away on holidays, which will help you save on your electricity bill without spoiling the food inside.
Other articles you may be interested in: 
Is a side by side fridge worth it?
With the importance of the fridge within the household evident, picking a new one can prove a tough decision, especially now with many brands diversifying styles and functions. While there may not be a huge difference between the traditional fridge and the side by side variation in terms of capacity and price, the decision to purchase a side by side model will come down to personal preference. Compare different types of fridges to see if a side by side fridge is the right choice for you. 
Refrigerator Reviews & Ratings
Original Author: Veronika Hleborodova