Just like corded phones, corded vacuums are now a thing of the past. Dyson is a pioneer in vacuum cleaners – first creating the bagless vacuum and now putting an end to corded vacuums forever. With standard cord-free vacuums having limitations relating to run-time and suction power, Dyson is revolutionising the industry with its Cyclone V10 range. But it comes at a high price. Is it worth it? Read on for Canstar Blue's review.
What is the Dyson V10?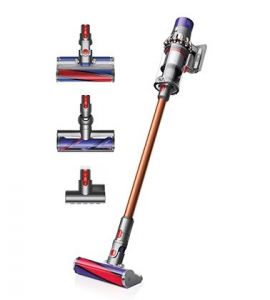 The V10 cord-free vacuum is stated to be Dyson's fastest and most powerful cordless stick vacuum with the suction power of a full-sized vacuum. While standard stick vacuums are marketed towards the small cleaning jobs and hard-to-reach areas, Dyson boasts its Cyclone V10 range as the one stop vac for the whole house.
How does the Dyson V10 work?
The Dyson V10 uses an improved motorised motor that provides a maximum spin speed of 125,000RPM, making it the fastest in the Dyson range and 20% more powerful than the previous V8 model. Its ceramic shaft is boasted to be three times harder than steel but with half the density, giving it a total weight of 2.68kg. While many other brands also boast lightweight models between two or three kilograms, the Dyson V10 is half the weight of its predecessor. When compared to the first generation V2 vac, the V10 power to weight ratio has increased over three times.
Rather than an on/off switch, the V10 vacuum uses a trigger to generate extra power. When released, Dyson states it will stop almost instantly. In terms of noise levels, it has several key specs, including:
acoustic material to absorb vibrations
a post-motor filter that dampens sound
"acoustic baffles" to further reduce noise
Noisy or not, the V10 Cyclone cleans up a treat in this Dyson promo video. Though, who actually lets their floors get that dirty in the first place?!

How long does the Dyson V10 battery last?
The V10 "energy-dense" lithium-ion battery has had one more cell added – totalling up to seven. It's claimed to run at a higher voltage and create more power while maintaining a light weight with smaller sized cells. It also has innate LED system diagnostic and altitude sensors that enable it to automatically optimise output power.
The total run time is claimed to be "up to 60 minutes" (this applies to the powerful suction mode with non-motorised tool attached). Currently, the standard suction time of cord-free vacuums in the market is about 40 minutes for the big name brands and about 20 minutes for the more budget friendly models out there. This time decreases significantly when used on high power modes.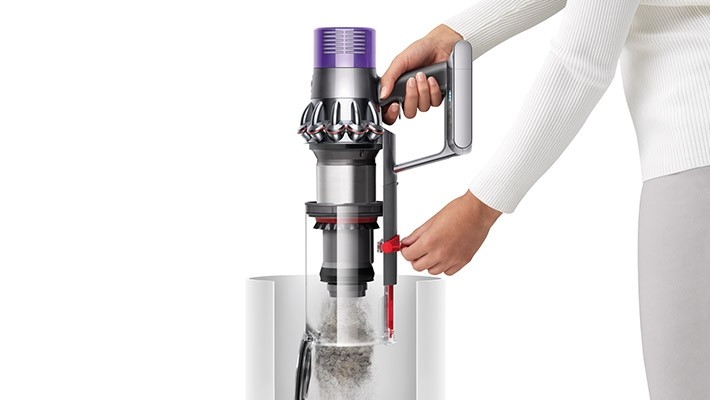 Dyson V10 Design
With Dyson constantly aiming to enhance and improve its products, it's no surprise that even the slightest elements have had a revamp, including:
Handheld vac: one click transformation to a handheld, allowing you to clean the hard to reach areas, as well as your car. It's designed with a centre of gravity to help clean up high
Whole-system filtration: claimed to have the entire system fully sealed with an airtight gasket and a pressurised rubber seal around the filter to retain dust particles as small as 0.3 microns, ideal for allergy and asthma sufferers
'Point and shoot' alignment: allows the 0.77L capacity bin to release content with ease
As demonstrated below, the body of the V10 model has an in-line configuration, stated to help the air draw directly from the top in a straight line, increasing the suction: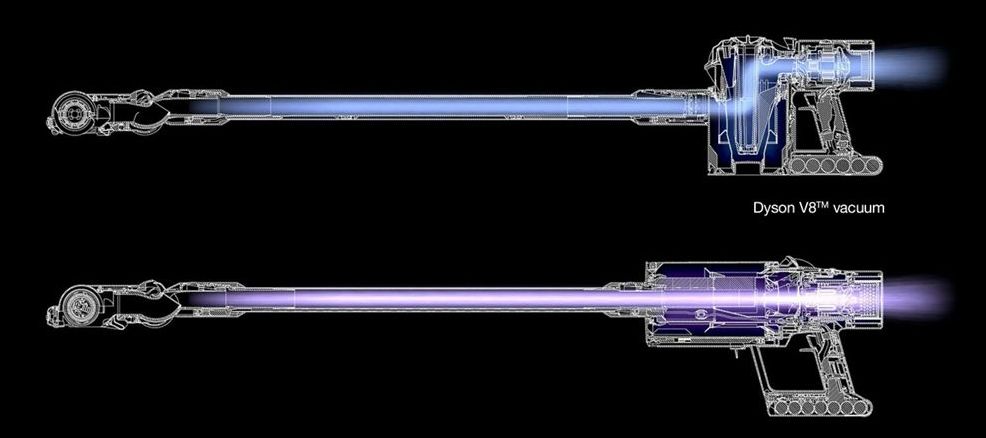 Dyson Cyclone V10 Accessories
Soft Roller Cleaner Head: large roller covered in woven nylon and anti-static carbon fibre filaments
Direct Drive Cleaner Head: features stiff nylon bristles and anti-static carbon fibre filaments
Combination Tool: two tools in one with a simple switch – push the bristles up or down
Crevice Tool: for precise cleaning in narrow gaps or around edges
Mini Motorised Tool: for tight spaces to tackle hair and ground-in dirt
Soft Dusting Brush: manoeuvres into narrow gaps and features soft bristles, ideal for dusting furniture and flat surfaces
Flexi Crevice Tool: designed to extend and flex in "awkward" gaps, ideal for car cleaning as well in between furniture
Extension Hose: extends to 60cm for confide areas including behind cabinets and beneath car seats
Accessory Tool Bag: to store tools in one place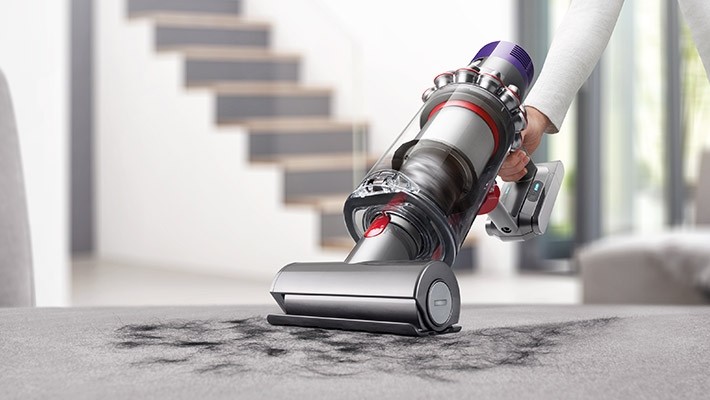 How much does the Dyson V10 cost?
There are currently two V10 vacuums in the range – the Dyson Cyclone V10 Absolute+ and the Dyson Cyclone V10 Animal. The Absolute+ has a slightly higher price but comes with two cleaner heads and six tools, while the Animal only features one cleaner head and just four tools, reducing the price by $100. The tools included with the V10 Animal are a combination tool, crevice tool, mini motorised tool and soft dusting brush.
Dyson Cyclone V10 Absolute: $999 (RRP)
Dyson Cyclone V10 Animal: $899 (RRP)
That's a lot of money for a vacuum cleaner, but…
"The Dyson Cyclone V10 is so light, so powerful, it can deep clean anywhere in your home, on any floor type. It is the reason I've stopped developing full-size vacuums." – James Dyson pic.twitter.com/DyNl7fa6dQ

— Dyson (@Dyson) March 6, 2018
Should I buy the Dyson V10 vacuum cleaner?
If you're looking for a cord-free vacuum that aims to provide extended run time and powerful suction for the whole house – not just one bedroom, then the Dyson V10 might be one to consider. However, with a price tag of almost $1,000, it may be worth weighing up the cost compared to a standard full-size corded vacuum to see if you really need this latest improvement. While it's no fun to lug a traditional cylinder vac around the house and re-plug from room to room, you're bank account may also not enjoy the hit. In due time, we may see more brands jumping on the bandwagon to increase competition and to help decrease the price. But for now, Dyson's best vacuums command a hefty price.
With this new release, make sure to keep an eye out for sales of previous models, such as the Dyson V8 Absolute. While not as powerful and long-lasting, it still packs a punch as far as handstick vacuums go. You may also like to consider online ratings – such as ours – to see how Dyson competes with other big brands in terms of effectiveness, ease of use and value for money.