Fact Checked
Getting down and dirty with pet fur, long hair and dust is a mess that you'd probably rather sweep under the rug. A bagged vacuum cleaner might be the perfect solution to this problem. Alternative bagless models require users to empty the canister directly into a bin, which can cause dust and other particles to go rogue. Fortunately, bagged vacuum cleaners offer a simple, allergy-friendly alternative. Read this Canstar Blue guide to learn all you need to know about bagged vacuum cleaners.

What are bagged vacuum cleaners?
Bagged vacuum cleaners trap dust and debris in a disposable bag. Using this type of vacuum simply involves taking the dust filled bag out of the vac and chucking it in the trash after cleaning. No mess, no stress. Bagged vacuums often come in the form of a barrel or backpack model, so expect a chunky body and long cable. No cordless stick vacs or independent robot vacs here.
Bagged vs bagless vacuum
The main difference between bagged and bagless vacuum cleaners is simple – one possesses a disposable bag, and the other does not. In a bagless vacuum cleaner, the debris gets sucked into the filter before being channelled through to a canister, tank or dustbin. Alternatively, bagged models capture your debris in a specific bag which can easily be thrown away. Bagged models minimise the risk of allergies, require less maintenance, and don't need to be emptied as much as bagless cannisters. However, the ongoing cost of purchasing bags can compound overtime and they can become increasingly less efficient as the bag fills up.
Who sells bagged vacuum cleaners?
A variety of brands offer bagged vacuum cleaners in Australia. This includes Hoover, Vax, Bosch, Miele, and Wertheim.
Hoover bagged vacuum cleaners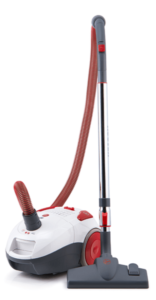 Hoover have been designing reliable cleaning products and appliances for over 100 years. As a leader in floor care design and technology, Hoover aims to create intuitive products that make cleaning simple. Its bagged vacuum cleaner range is accessible, with multiple quality models being offered.
The Hoover Performer Bagged Vacuum Cleaner is a compact model designed for smaller homes, featuring a 1400W motor and a four-stage filtration system. The suction strength can be adjusted to suit your needs, allowing you to achieve a deep carpet clean or get rid of dust from skirting boards more efficiently. This model will cost you around $100.
Vax bagged vacuum cleaners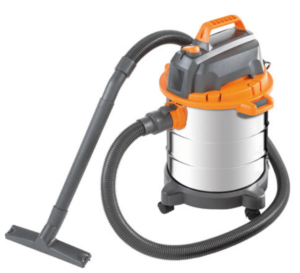 Vax are a UK based brand, specialising in floor cleaning products. It offers a range of carpet cleaners, vacuum cleaners, steam cleaners, and other floor care products that are effective in the home. Vax's bagged vacuum cleaners are versatile, with powerful suction and a variety of accessories.
If you need a serious workhorse that can clean everything from pet hair to spilled drinks, the Vax Wet & Dry Vacuum Cleaner might be worth considering. This barrel vacuum cleaner packs a generous 20L tank capacity and comes with castor wheels to easily move around the house, garage, car or workshop. This model will cost you around $130.
Bosch bagged vacuum cleaners
Bosch are a trusted appliance brand that have a history of cleaning innovation. It offers a range of floor cleaning products from cordless vacuums to a variety of handy accessories. Bosch's bagged vacuum offerings are powered by a motor that can handle both hardwood and carpet cleaning.
Bosch offers an allergy-friendly option with the Bagged Vacuum Cleaner ProPower. It packs a powerful 2200W motor, with options to adjust the level of power available to suit different cleaning needs. This Bosch vacuum additionally comes with a hard floor nozzle for parquet and wooden floors. This model will cost you around $150.
Miele bagged vacuum cleaners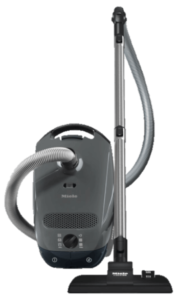 Miele has been an independent, family-owned company since 1899. The household appliance brand focusses on durability, ease of use, performance, energy efficiency, and design. Among its many floor cleaning appliances, Miele offer a number of bagged vacuum cleaner models.
The Miele Classic C1 Junior Vacuum Cleaner is one of its more affordable options. This barrel vacuum provides up to 900W worth of power and can be used on tiles and carpets, plus upholstery. It's also equipped with a thermal protection function which prevents the vacuum from overheating and automatically switches off if the air passage gets blocked. This model will set you back around $450.
Wertheim bagged vacuum cleaners
Wertheim is a pioneer in the appliance space, famous for its deep-cleaning power heads and quality filtration systems. Wertheim's floor cleaning range includes barrel vacuums, robot vacuums, multi-steamers, stick vacuums, and a number of bagged vacuum models.
The Wertheim Series 7 Bagged Vacuum Cleaner offers both allergy relief and powerful suction. This model features digital power control, seven specialised cleaning accessories, on-board accessory storage for added convenience, and a four-stage HEPA filter. This model will cost you around $1,300.
How much does a bagged vacuum cleaner cost?
The price of a bagged vacuum cleaner depends heavily on design, size, brand, and other additional tools. Cheaper models will cost you around $60, while more expensive options may cost more than $1,400.
Purchasing a bagged vacuum cleaner
If you're sick of the dust explosion that occurs when you empty your vacuum's cylinder, then a bagged model may be the perfect appliance for you. Remember, a bagged vacuum will end up costing you slightly more over time, as you'll have to regularly purchase new bags. So, it's important to weigh up all the pros and cons of different vacuum models. If a bagged vacuum cleaner isn't your style, you may want to consider some alternative options. To help you decide which appliance is the best cleaning fit for you and your home, compare some of Canstar Blue's best-rated vacuums.
Original Author: Tahnee-Jae Lopez-Vito