Fact Checked
Dyson and Shark are two of the biggest and most popular brands in the world of sucking up dust and dirt from your floors, but which really offers the best vacuum cleaners, and the best value for money? To help you decide, Canstar Blue has produced this comparison of their vacuum cleaners large and small, paying close attention to their sucking power, features, accessories and prices.
Dyson Vacuums
Dyson's range of vacuum cleaners covers almost all cleaning needs from convenient handheld cleaning to bigger jobs that require some more suction power. 
Dyson Stick Vacuum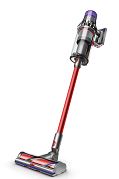 Dyson's Stick Vacuum range is one of the broadest on the market. Some models of stick vacuum from Dyson have unique attachments and functions to help with general cleaning around the home. You can expect features such as HEPA filters to clean microscopic dust and dirt, powerful suction using a Hyperdymium motor and 18 Dyson cyclones which generate forces of more than 79,000g to clean microscopic particles. Dyson's stick vacuums also have models specific for cleaning pet hair, which feature brush heads that help reduce tangling and clogging of hair. 
Dyson Ball Vacuum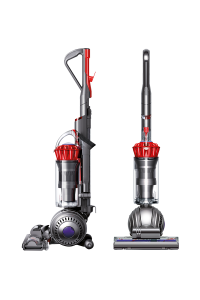 The Ball Vacuum range from Dyson features its big ball range and its smaller upright barrel ball range. The big ball range are bagless vacuums that drag along the floor as you clean. They are the most powerful model of Dyson's vacuums, providing over 100,000g of suction power using cyclone technology. The slightly smaller model of Dyson upright vacuum provides up to 100,000g of suction power and features unique attachments such as a pet hair brush, carbon fibre dusting brush and a fabric and mattress tool to name a few.
Dyson Robot Vacuum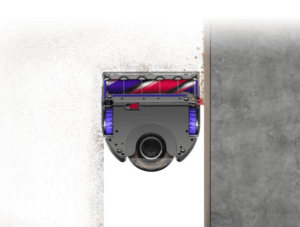 The Dyson 360 Vis Nav robot vacuum is the only robot model from the brand and features 360 degree vision so it easily navigates your living space to clean. It features smart home connection so you can wirelessly connect and customise your cleaning from the app. You can also expect intelligent obstacle avoidance, four power modes to clean your way and easy emptying so you don't have to get your hands dirty. 
Shark Vacuums
Shark is another known name on the vacuum market with a broad range of vacuuming appliances, including stick, handheld and upright models. 

Shark Stick Vacuum
Shark's range of cordless stick vacuums has a generous eight models. Some features include deep cleaning technology that detects and reacts to mess, a self cleaning brush roll and multi-flex wand to get those hard to reach spots under couches and tables. Other features to expect is the real time LED display that indicates whether a space is clean, being cleaned or needs to be cleaned based on the amount of debris detected.    
Shark Handheld Vacuum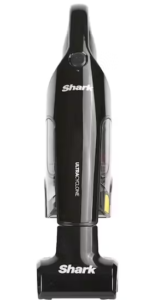 Handheld vacuums can be hard to come by from a vacuum brand, as more often than not a model will be the vacuum barrel with a shorter attachment as opposed to a seperate vacuum. Shark's handheld range offers both options, with one model offering a convertible vacuum system that converts from a small handheld vacuum to a larger stick vacuum unit. The others are standard smaller models of handheld vacs. Some features include 35 minutes of run time, 50% more power and multiple attachments to clean different surfaces and spaces.  
Shark Upright Vacuum
Shark's upright vacuum models are all corded with large capacity dust bins and powerful suction. You can expect deep cleaning capabilities as well as a self-cleaning brush head to save you pulling hair out of your vacuum after every clean. Some models have a HEPA system to get all dust and dirt as well as multiple attachments to clean those hard to reach spaces with ease.  
Shark Vs Dyson: Technology
While Shark and Dyson vacuum cleaners are powered by different technologies, both brands claim to offer innovation without compromising on power or performance.
Shark vacuum technology
Duoclean technology:

Features two distinct brush rolls – a bristle to deep-clean carpets and a soft brush to clean and polish hard floors. Shark has removed the front wall, which typically propels debris forward on most of its vacuums, to allow the Duoclean to pull in what other traditional vacuums can leave behind like particles and stuck-on dust.

Powered Lift Away

: Selected Shark vacuums come with a Powered Lift Away mode which allows for the canister to be removed, while the brush roll keeps spinning to reach under furniture and in nooks and crannies.

Self-cleaning brush rol

l: All models across the Shark range feature a self-cleaning brush roll to remove hair wrap and debris from the bristles.
Dyson vacuum technology
Dyson Cinetic science:

Dyson barrel vacuums come with Cinetic science, including numerous cyclones to accelerate air to 180mph and fling microscopic particles out of the airflow to maintain powerful suction.

Ball technology

: This helps the upright vacuum to steer around furniture and ledges and for the vacuum to self-right if it gets knocked over.

Cyclone technology:

Maintains suction even when the vacuum bin is full.
Dyson Vs Shark: Price
Shark and Dyson vacuum cleaners each have its own pricing for vacuums depending on the type of vacuum as well as the features it has. For a comparison, here is how each type of vacuum compares to the other in price: 
Stick Vacuums: 
Dyson Stick Vacuum: $800 to over $1,000 RRP*

Shark Stick Vacuum: $500 to over $1,200 RRP*
Barrel and Upright Vacuums:
Dyson Barrel Vacuum: $400 to over $1,000 RRP* 

Shark Upright Vacuum: $400 to $800 RRP*
Handheld and Robot Vacuums:
Dyson Robot Vacuum: $1,800 to $2,000

Shark Handheld Vacuum: $200 to $500 RRP* 
Choosing a vacuum cleaner
If it comes down to choosing between a Shark vacuum and a Dyson vacuum, there's plenty of choice and lots of features on offer. Price can be a major decision point given that Shark is slightly cheaper than Dyson, however, Dyson does offer some added features that Shark doesn't. If you're still uncertain about either brand you can explore other brands below.