Dyson and Shark are two of the biggest and most popular brands in the world of sucking up dust and dirt from your floors, but which really offers the best vacuum cleaners and the best value for money? To help you decide, Canstar Blue has produced this comparison of their vacuum cleaners large and small, paying close attention to their sucking power, features, accessories and prices.
Both Dyson and Shark boast innovative features, but which comes out on top? Read on to find out as we compare the standout appliances from each brand.
Dyson Vacuums
Dyson has a well-regarded reputation with a number of futuristic vacuum designs, aiming to make them more exciting than household appliances really are. Dyson's vacuums are separated into three categories – cordless vacuums, upright vacuums and barrel vacuums. Dyson products are sold online and are stocked at a variety of retailers like Harvey Norman, The Good Guys, Myer and even Big W. Let's look at some of Dyson's standout models.
Dyson Light Ball Multi Floor+ vacuum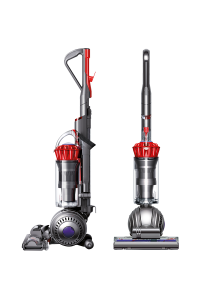 This iconic model uses ball technology to help you steer around furniture and obstacles with a simple turn of the wrist. It's designed with a spherical roller and cyclonic separation tubes around the main airflow section to intake maximum air pressure. The cleaning head itself has a self-adjusting base plate to adjust to the surface being cleaned, allowing for optimal suction. With this vacuum you will also find an instant release hose and wand, which allows you to vacuum upwards in ceiling corners, for example. It weighs 6.33kg and has a 12m cord length.
Dyson V11 Outsize Cord-Free Vacuum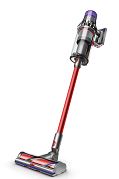 This model is stated to have been optimised for deep cleaning and has been re-engineered to include a 150% larger bin, 25% bigger cleaner head and run for up to 120 minutes with a click-in battery system. The Dyson V11 Outsize also features a powerful Hyperdymium motor and 18 Dyson cyclones which generate forces of more than 79,000g to fling microscopic particles – such as pollen, dust and bacteria – into the bin. This machine also has a fully-sealed filtration system which traps up to 99.97% of particles as small as 0.3 microns.
Dyson V11 Absolute Extra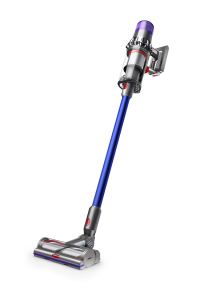 Like the Dyson V11 Outsize Cord-Free model above, the Dyson V11 Absolute Extra is claimed to have the most powerful suction of any cordless vacuum, using the Dyson Hyperdymium motor, which spins at up to 125,000rpm. It's also a smart vacuum which automatically adapts to different floor types, with three cleaning modes optimised for a variety of tasks. Its standout feature is perhaps its real-time monitor system which keeps track of performance (8,000 times a second) and reports in real time to the LCD screen. The Dyson V11 Absolute Extra also uses a unique battery power management system to help maximise run time, only using power when you need it.
Shark Vacuums
Shark has a slightly more modest range of vacuum cleaners compared to Dyson, but what it lacks in quantity, it more than makes up for in quality. The full range currently extends to the following models:
Shark Rotator Powered Lift Away Vacuum with DuoClean (NV800)
Shark Corded Upright with Self Cleaning Brushroll (NZ801 )
Shark Corded Stick Vacuum with Self Cleaning Brushroll (HZ390)
Shark Rotator Lift Away Upright Vacuum (NV600)
Shark Cordfree Handheld Vacuum (WV203)
Shark Rocket Cordless (IZ102)
Let's look at arguably the two standout models.
Shark Lift-Away Rotator Bagless 850W

This Shark upright vacuum is claimed to be lightweight with enhanced swivel steering for cleaning around and under furniture. It's a 'lift around' vacuum to help clean staircases or high areas. With the anti-Allergen Complete Seal Technology it is claimed that there is no loss of suction. Shark's HEPA filtration system also aims to capture and hold 99.9% of dust and allergens inside the vacuum.
The Shark Lift-Away Rotator vacuum provides 850W of suction power, which differs to the Air Watts measurement that Dyson vacuums boast, so don't be fooled by this large spike in numbers. It's simply a different type of calculation, which may ultimately confuse consumers even more.  At time of writing this model was approximately $599 from leading retailers.
Shark Rocket True Handstick

This is a corded 500W vacuum with a 9m cord length. Although some may find cordless vacuums convenient to use, the downfall is the operating time. Unlike battery-operated versions, Shark boasts the corded handstick design to never run out of power while maintaining a light weight, 4kg in total. At the time of writing the price was approximately $399 from leading retailers.






Shark Vs Dyson: Technology
While Shark and Dyson vacuum cleaners are powered by different technologies, both brands claim to offer innovation without compromising on power or performance.
Shark vacuum technology
Duoclean technology: features two distinct brush rolls – a bristle to deep-clean carpets and a soft brush to clean and polish hard floors. Shark has removed the front wall which typically propels debris forward on most of its vacuums, to allow the Duoclean to pull in what other traditional vacuums can leave behind like particles and stuck-on dust.
Powered Lift Away: selected Shark vacuums come with a Powered Lift Away mode which allows for the canister to be removed, while the brush roll keeps spinning to reach under furniture and in nooks and crannies.
Self-cleaning brush roll: all models across the Shark range feature a self-cleaning brush roll to remove hair wrap and debris from the bristles.
Dyson vacuum technology
Dyson Cinetic science: Dyson barrel vacuums come with Cinetic science, including numerous cyclones to accelerate air to 180mph and fling microscopic particles out of the airflow to maintain powerful suction.
Ball technology: this helps the upright vacuum to steer around furniture and ledges and for the vacuum to self-right if it gets knocked over.
Cyclone technology: maintains suction even when the vacuum bin is full.
Point and shoot bin emptying: which allows to easily and hygienically empty the contents of the vacuum into your waste bin.
Dyson Vs Shark: Who offers the best value for money?
There are several factors to consider before purchasing either a Dyson or a Shark vacuum cleaner. These include:
The effectiveness and overall performance of the vacuum
Ease of use and storage of the vacuum
Noise levels of the vacuum cleaner
Dyson offers a large range of vacuum cleaners to suit any home and it certainly boasts innovative features as well as modern designs that stand out. You may find that Dyson sits higher on the price spectrum, but this is not to say that Shark doesn't scratch up with its features. If you're on a budget, Shark vacuum cleaners will be up to the task.
While Dyson tends to provide a compact design with its vacuums for easy storage, Shark offers simple designs for ease of use, as well as advancing in technology for noise reduction. Depending how you use your vacuum and if you need specific features such as the ability to vacuum high ceilings, you may like to choose accordingly. Via the link below, you can find how Aussie consumers rated the two brands along with the other top vacuum cleaner brands.