If you want a Thermomix, you know you'll have to pay through the nose. Top-of-the-line models retail for upwards of $2,000 and frankly not everyone can afford this luxury.
Now, if you've been living under a rock, here's a quick recap. Thermomix is one of the most technologically advanced kitchen appliances in the market right now. It's an all-in-one thermo cooker, food processor, plus blender and mixer − that can cook everything from starters to desserts in one go. It's like having your own kitchen wizard, but it comes with a hefty price tag. Luckily, there are alternatives out there that get pretty close to doing the job of a Thermomix (or at least partly) for much less than what you'd pay for the real deal. Canstar Blue investigates some of the options for your consideration.
Top 10 Thermomix alternatives you can buy
Kogan ThermoBlend Elite All-in-One Food Processor & Cooker: $199.99*
ALDI Mistral Thermo Cooker: $299*
New Wave Thermochef Natura v2: $299*
Thermocook Pro-M: $589*
Bellini Supercook Kitchen Master BTMKM810X: $699*
Kenwood Multi Smart Thermo Cooker & Multi Cooker: $750*
KitchenAid 4.5L Artisan Cook Processor: $799*
BioChef Mycook Multi-Function All-in-One Thermo Cooker: $899*
Tefal Cuisine Companion: $1,699*
Magimix Cook Expert: $2,099*
Kogan ThermoBlend Elite All-in-One Food Processor & Cooker − $199.99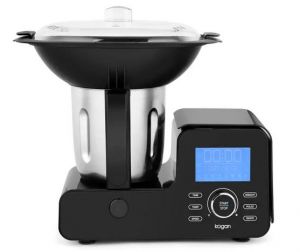 This Kogan ThermoBlend food processor is the ultimate sous chef for your kitchen and costs only $199.99, an absolute steal compared to similar contraptions out there. It combines 10 appliances in one and comes with 21 functions, including steam, cook, jam, sauce, saute, dough, cake, ice crush, juice, puree, grind, emulsify, whip, mix, stir, blend, chop, shred, slice, knead and weigh. It can basically make any meal, as well as bread, desserts, jams, smoothies and more.
This model features a built-in scale and timer, smart speed control for processing different ingredients, a 30°C to 120°C temperature range and a 2L capacity to feed the whole family. To make clean-up easy, it's also dishwasher-safe and comes with a stainless-steel cooking bowl and other utensils, plus the steam tray, lids and measuring cup are BPA-free. This also comes with a free recipe book!

ALDI Mistral Thermo Cooker − $299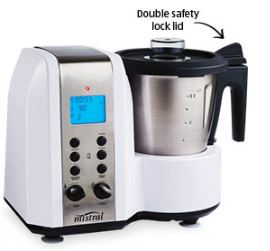 OK, so ALDI's Mistral Thermo Cooker is only available once or twice a year as part of the supermarket chain's Special Buys, but it's worth hanging out for, if online reviews are anything to go by. It usually sells for $299, or just 13% of the price of the Thermomix TM6 ($2,269). ALDI's alternative is described as an eight-in-one appliance that can steam, blend, chop, mix, knead, saute and boil.
This cult cooker comes with a 2L stainless steel bowl, built-in scale function, chopping blade, mixing tool, steamer unit, an 800W motor, reverse function, 1000W of heating power and a recipe book.

New Wave Thermochef Natura v2 − $299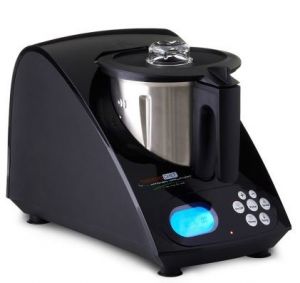 The Thermochef can help you whip up all kinds of meals in a jiffy. It has the functions of more than 10 different appliances in one unit and comes with 14 cooking settings to beat eggs, soften butter, boil, bake cakes, grate and melt chocolate, chop, crush ice, heat, juice, knead, mince, steam veggies, saute and more.
This model is boasted for being extra quiet and for its heating technology, which has a 'low speed 1' option for auto-cooking and pulse function to mix and chop ingredients at a high speed. This New Wave Thermochef also features a powerful 1500W motor, and comes with a cooking basket, steam tray, heat-resistant mixing tool, spatula and cook book with over 200 recipes to choose from. This model sells for $299 at Dick Smith and various retailers.

Thermocook Pro-M − $589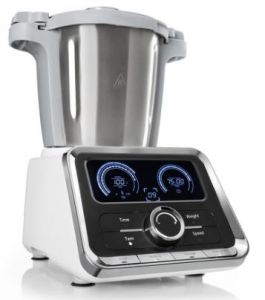 The Thermocook Pro-M has been dubbed as the compact Thermomix rival and has 20 convenient cooking modes to choose from, including all your standard beat, chop, blend, crush (hello frozen margaritas), cook, grind (your morning coffee), mince, emulsify, steam, stir, whip, knead and more.
It has 15 pre-set programs to make all your favourite meals like soups, stir frys, stews and the likes, as well as desserts, sauces, bread, dips and everything in between. But what really sets this model apart from the rest, is its unique DIY function that memorises your favourite recipes! It also comes with a cooking basket, mixing tool, digital designer kitchen scale and spatula. This model is currently on sale for $589 for a limited time, on eBay and Frothie.

Bellini Supercook Kitchen Master − $699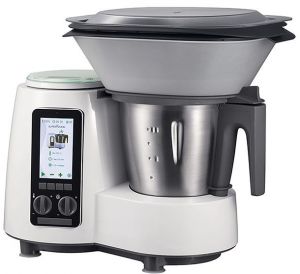 This Supercook Kitchen Master (SC110) is a multi-functional kitchen appliance that combines 13 cooking functions into one nifty device. The 'Yumi' control module is by far its standout feature. It allows you to connect your appliance to the Yumi app to download lots of recipes to try at home, with step-by-step instructions on what you need for preparation and updates on the cooking progress sent directly to your phone!
This model has 10 speed levels (including turbo), a 2L capacity – ideal for a family of four – and comes with a range of helpful accessories, including a kitchen scale, Supercook knife, whisk paddle and more. This Bellini model is on sale for $699 through Supercook. Availability through regional partner shops.

Kenwood Multi Smart Thermo Cooker & Multi Cooker − $750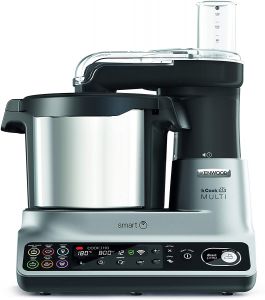 This Kenwood thermo cooker can offer you a smart cooking experience for much less. It features six cooking functions to allow you to cook different meals at the same time. You'll be able to steam your fish and veggies, while also cooking sauces and preparing a salad or soup on the side − all with this one machine.
This model has an eight-hour maximum cooking time, 12 stir settings, and a wide temperature range from 30°-180°C to allow for everything from slow cooking to frying and browning. It has a 4.5L capacity bowl and 2.6L working capacity to serve up to eight people. This model is currently selling on Amazon for $750, with free delivery to certain areas. Bargain!

KitchenAid 4.5L Artisan Cook Processor − $799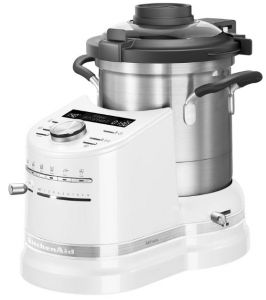 This KitchenAid cook processor boasts enough multi-functionality to cook whole meals in minutes. It comes with all your standard cooking modes from boiling, frying, steaming, stewing and making dough, to chopping, mincing, pureeing, emulsifying, whipping and more. It also features a manual cooking mode, for those who like to be hands on in the kitchen, a 4.5L dishwasher-safe bowl, lid and cooking utensils to make cleaning up a breeze.
Last but not least, it comes with the Cookbook App to give you new ideas and recipes to try. This model (KCF0104) has garnered four-star customer reviews on the KitchenAid website, and is currently on sale for $799, down from $2,099 RRP. It's available to purchase on Afterpay and zipPay.

BioChef Mycook Multi-Function All-in-One Thermo Cooker − $899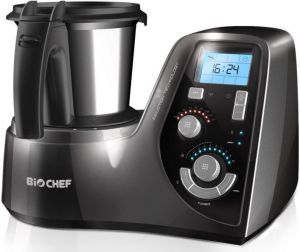 This BioChef Mycook marvel is an all-in-one thermo cooker, food processor, blender and mixer. This model is said to feature a unique induction technology unlike any other thermo cooker on the market, by cooking food using hot air (similar to air fryers), rather than through contact with heating elements, to lock in flavours and nutrients and allow for better temperate control.
It boasts 15 cooking functions including sauteing, frying, steaming, emulsifying, blending, pulverising, grinding, mincing and everything else in between. Aside from that, it comes with precision electronic weighing scales within the jug, an LED display and timer, as well as automated and manual heating, speed and time settings. You can buy this model on Amazon for $899.

Tefal Cuisine Companion − $1,699

This Tefal appliance is more than a multi-functional food processor. It's an all-in-one cuisine companion, equipped with six automatic programs to cook sauces, steam ingredients, make soups and broths, slow cook meals, whip up pastries and dough, plus easy desserts. It features four blade attachments, including an ultra-blade to chop and mix, a kneading/crushing blade to make bread, a beater for whipping and beating egg whites, and a stirrer.
Additionally, it comes equipped with an intuitive and easy-to-use interface, manual mode for full control of speed, heat and time settings and a 45-minute keep warm function. It has a 2.5L capacity dishwasher-safe bowl and lid. It sells for $1,699 on Amazon.

Magimix Cook Expert − $2,099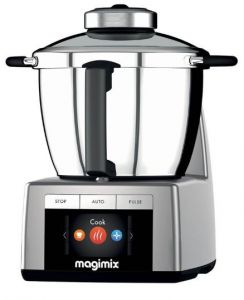 This Magimix cooking food processor (7CO18900A) can prepare everything from starters to desserts, so that you can enjoy the fun part of cooking − eating! It's decked out with 12 automatic programs and an induction heating system to cook soups, risottos, stews and purees, as well as cakes, breads, puddings and more.
This little baby also has a two-hour keep warm function and boasts an energy-saving function which switches your appliance to automatic standby mode after two to eight minutes. It also works with the free Cook Expert app to allow you to create shopping lists, watch recipe demos and more. This model sells for $2,099 on the Magimix website.

Thermomix vs other all-in-one cooking appliances
Nothing beats the wonders of the Thermomix – there, we said it. It's generally considered as the most reliable, well-designed and smartest kitchen appliance out there. However, a slew of all-in-one cooking appliances have appeared on the market in recent years, some of which offer functions similar to the real deal, at a fraction of the price. So, if you're looking to stretch your budget further these options are definitely worth considering, but do your research before you hand over your hard-earned cash!

Pictures credits: Gupina/Shutterstock.com.