Fact Checked
If you got beef and like a little pork on your fork, it may be time to invest in a meat grinder. It's a pretty nifty tool to have, especially if you like making burgers, sausages, and falafel. It's also a useful device to have for grinding nuts, vegetables, herbs, cheese, and more. If you're thinking you need a meat grinder in your kitchen, check out our buying guide below for everything you need to know before you make your final purchase.
How does a meat grinder work?
A meat grinder (or meat mincer) is a kitchen appliance that may look complex on the surface, but it's designed to perform one task − grind meat. It's actually pretty straightforward – meat is placed into a feed tube, which is then pushed through a screw conveyor and cutting plate, which determines the size of your meat cuts. Once the meat has been grounded, it's pushed out of the grinder at the back.
All meat grinders come with various plate attachments to help you get the meat to your desired texture, such as a burger patty or meat balls. They can also be used for fine chopping other ingredients including fish and veggies.
Why use a meat grinder?
Grinding your own meat helps to better retain those 'meaty' flavours and it's fresher than anything you'd find sitting on supermarket shelves. It also allows you to customise your meat cuts as you want and gives you control over how much fat you want to add or remove from the end result. Here's a list of other benefits:
It's clean: Grinding meat at home can help reduce the risk of E. coli and Salmonella contamination, according to the National Center for Biotechnology Information (NCBI). And, you can be sure the job is done to the best hygienic standards. It's also the best way to ensure your meat doesn't contain additives and preservatives.
It's economical: Minced meat is typically marked-up in most supermarkets, so buying large cuts and grinding them yourself should save you money in the long run.
It's precise: Another benefit of DIY meat grinding is that you can get your patty and sausage meat just as you like it, whether it's leaner or chunkier, using different attachments to mince and ground different cuts, etc.
You get better texture: Meat that sits in packaging on butcher or supermarket shelves is often compressed and oxidised over time. Grinding meat fresh can help to keep it loose and improve both moisture levels and texture after cooking.

Meat grinder types
There are only two types of meat grinders: manual and electric grinders.
Manual meat grinders have been around for yonks. It's the original method of mincing meat. These are built to be clamped to a counter or table and need a bit of elbow grease because you'll have to manually crank the handle to grind the meat. Manual meat grinders typically feature a funnel on top (where the meat is fed into), a spiral auger connected to a handle, and cutting plates that rotate against a cutting knife to ground and slice meat. This can be a good and cost-effective option if you grind meat occasionally or in small batches. This is not the best option if you're a novice though.
| | |
| --- | --- |
| Pros | Cons |
| Cheaper to buy | Only grind small quantities |
| Durable | Require force to operate |
General guide only
Electric grinders are the most common type. They're built with an electric motor (instead of a spiral auger) which powers the cutting blades to do the hard mincing for you. They also have various speed settings and programs for fine, medium and coarse grinding, as well as for specific things like kebbe and sausages. They typically also feature a pushing tool to make grinding easier. Electric grinders also have functions for reversing the motor if meat gets jammed in the grinding tube. This is the ideal option if you grind meat regularly or in large batches.
| | |
| --- | --- |
| Pros | Cons |
| Easier and quicker to operate | Harder to clean |
| Grind large quantities | More expensive to buy |
General guide only
How much does a meat grinder cost?
Manual meat grinders are cheaper to buy, with prices ranging from just $30 from online marketplaces like eBay or Kogan, to up to $200 or more. If you want an electric grinder, you'll need to fork out a little more, for the convenience of automation and extra functionalities; in the ballpark of $100 – $500.
Our top picks for meat grinders
If you're looking for a good quality meat grinder, at a good price, we've rounded up these models for you to consider:
Kmart Meat Grinder: $49*
Baccarat Prepare Meat Mincer: $69.99*
KitchenAid Metal Food Grinder Attachment: $219*
Luvele Ultimate Electric Meat Grinder: $234.95*
Tre Spade #8 Electric Mincer: $449.95*
Kenwood Pro 2000 Food Mincer: $469*
Kmart Meat Grinder ─ $49*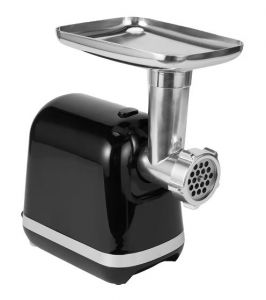 For something cheap and cheerful (as well as stylish), it's hard to beat Kmart's Anko retro-style meat grinder. This model is said to be able to cut and shred meat in seconds, and online reviews suggest it's also super easy to use and compact enough to store in small cupboards. Kmart's benchtop meat grinder features an on/off inversion integrated switch and seven attachments, including one cutting blade, two stainless steel blade plates, one upgraded meat pusher, one metal tray, and one sausage attachment.
Baccarat Prepare Meat Mincer ─ $69.99*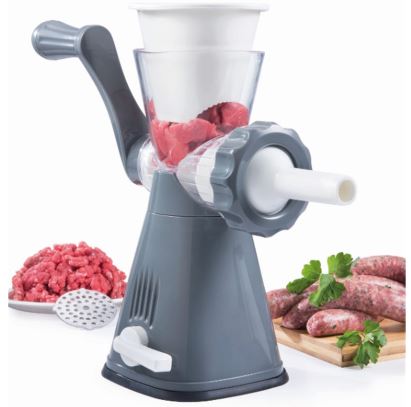 This easy-to-use manual meat grinder is ideal for creating your own homemade mince and sausages. It comes with an 8mm large cutting plate, 4mm fine cutting plate, a sausage attachment and a cutting blade, as well as a non-slip base with a locking mechanism. This model is available from Robins Kitchen and online.

KitchenAid Metal Food Grinder Attachment ─ $219*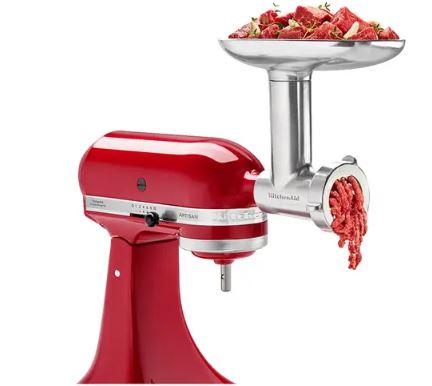 This KitchenAid meat mincer (5KSMMGAA) from Kogan is made from durable die-cast metal, and comes with two sausage stuffer tubes, fine, medium and coarse grinding plates, as well as a grinding blade, cleaning brush and food pusher. Its standout feature though, is the fact that it can be pre-chilled in the fridge or freezer to maintain a cold grinding temperature, which is important when mincing meat.

Luvele Ultimate Electric Meat Grinder ─ $234.95*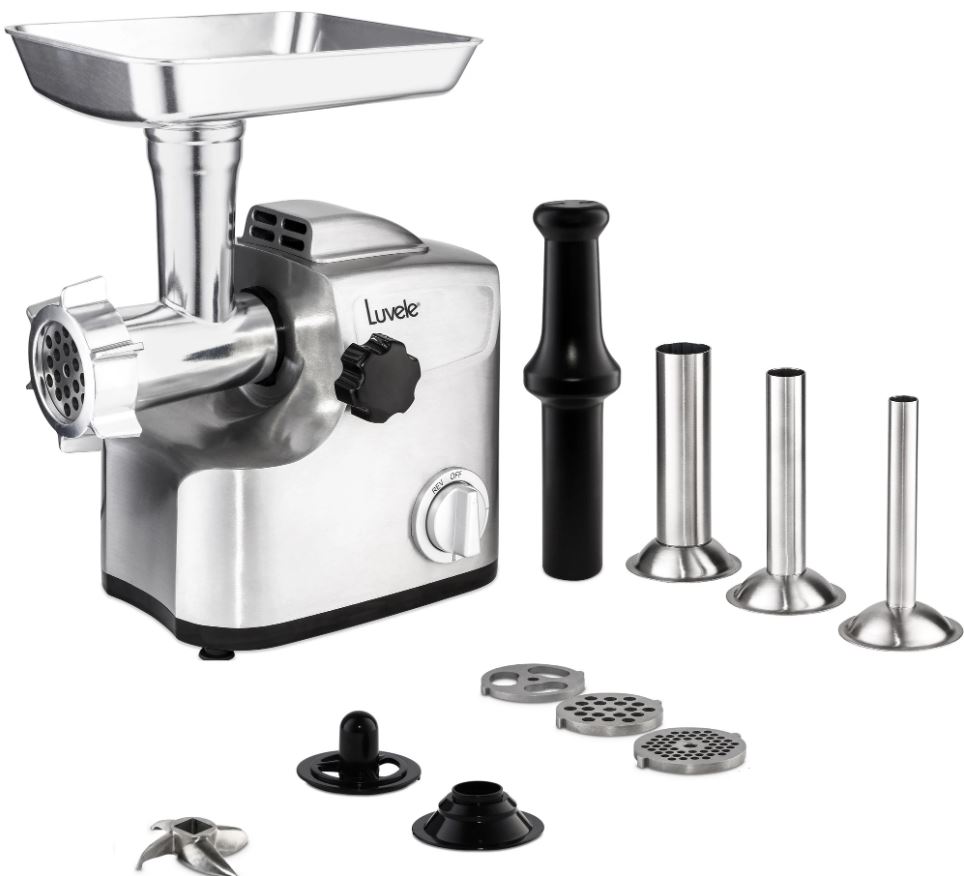 This electric Luvele heavy-duty meat grinder (LUMG700AUS) is the ultimate sausage maker. It comes with a 1800W pure copper motor, a die-cast aluminium body and a stainless-steel 16mm, 22mm and extra-large 32mm nozzle for extra-thick sausages. In the box, you'll also find 5mm and 8mm cutting plates.

Tre Spade #8 Electric Mincer ─ $449.95*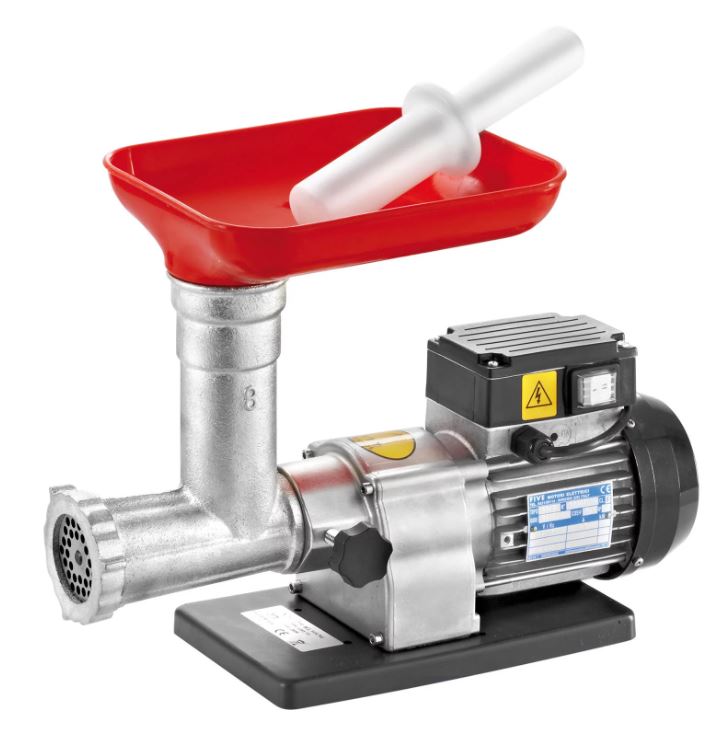 This Tre Spade (07MO496) electric meat mincer is made with stainless-steel parts and a cast iron body. It features a powerful motor that can grind up medium to hard meats, as well as nuts, seeds and veggies. It also has a standard self-sharpening stainless-steel blade and a large food plate that allows food to be prepped and ready for pushing and grinding. This model is available from Kitchen Warehouse.

Kenwood Pro 2000 Food Mincer  ─ $469*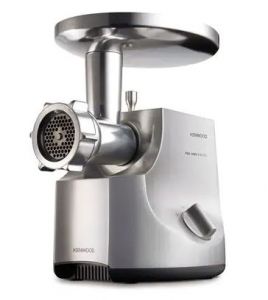 This Kenwood Pro 2000 Excel food mincer is another reliable heavy-duty performer. It comes with a 2000W motor that can process up to three kilograms of meat per minute and features three XXL mincing screens for fine, medium, and coarse grinding, and a sausage attachment. It can also grind fish, nuts, tomatoes, and even make breadcrumbs. It's made with a die-cast aluminium body, which means it should stand the test of time. This model is available on Appliances Online.

Can you make sausages with a meat grinder?
Yes, you can. Most meat grinders come with stuffing tube attachments to make sausages. The process is also quite simple. Just grind your meat to your desired consistency, add fat, salt, and flavouring to the mix and then use the stuffing tube to funnel your ground-up meat into castings.
Can you grind bones with a meat grinder?
Most electric grinders can only grind smaller animal bones and soft bones from chicken, duck, rabbit, and sometimes turkey. Beef, pork and lamb are all considered hard bones. If you want to grind bones, make sure they're not frozen and use a large or coarse grinding plate to do the job, to avoid damage to your appliance.
What size meat grinder do I need?
The meat grinder size you need will depend on how much meat you want to grind and much how storage space you have in your kitchen. Here's a size chart below for reference.
| | |
| --- | --- |
| Size | Minced meat per minute |
| Small (size of a toaster) | <1.5kg |
| Medium (size of a blender) | >1.5kg -3kg |
| Large (size of a multicooker) | >3kg- 4kg |
General guide only
Meat grinder parts
All meat grinders contain the same basic parts ─ the pusher and hopper to funnel the meat down the feed tube and a turn screw which pushes the meat down the shaft and toward the blades. The blades and plates are what do the actual grinding. The blade is a small, criss-cross piece with a sharp edge on each arm that rotates against the plate, which looks like a flat piece of metal with holes in it. The size of the holes determines the fineness and texture of the final grind.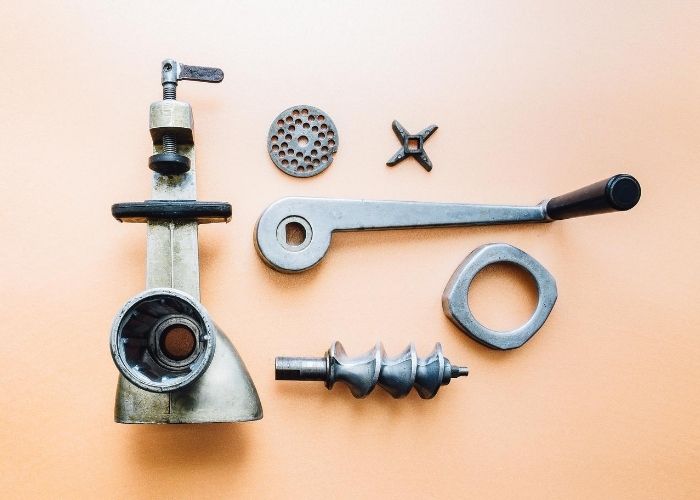 Meat grinder features to look out for
Attachments: Most meat grinders will come with various grinding plates and attachments to cut your meat as you want it, with the right texture and consistency. If you're a kitchen whizz, or simply like to experience with food, look for an appliance that comes with stuffing tubes for sausages and kebbe.
Materials: Meat grinders are heavy-duty tools, which is why it's important to find one that's made from robust materials. Check that your appliance's grinding and cutting blades are made with stainless-steel (instead of aluminium or carbon steel), which is more durable. If you can find a meat grinder that also has a stainless-steel body, that's even better. Those with plastic bodies may be cheaper upfront, but will cost you more in the long run.
Grinding power: If you plan to grind large quantities of meat, somewhat regularly, it's best to invest in a high-power grinder. Power is measured in watts, so the more watts, the more power your appliance will have. Anything with a 1500W motor or over is pretty good.
Easy to clean: If you're a fan of cooking, but not so much of cleaning, then try finding a meat grinder that's dishwasher safe, and that comes with parts that are easy to dismantle and re-assemble.
How to clean a meat grinder
Step 1: Unplug your meat grinder from the wall.
Step 2: Dismantle all parts, including the feeding tube, plates, and hopper, from the body and soak them in hot, soapy water to remove oily meat residue.
Step 3: Wash blades separately with a gentle brush around the sharp edges and let them soak in hot water for a few minutes.
Step 4: Use a damp cloth and cleaning spray to wipe down the body and motor. Don't submerge the motor in water as this will damage the circuits.
Step 5: Dry all steel parts first, including the blades, with a towel to prevent corrosion and re-assemble your appliance once all parts are completely dry.