Appliances with smart capabilities – meaning they can be controlled via a smart device – are becoming the norm nowadays. From the TV to your air conditioner, it's become normal to turn things on and off via your phone or tablet. But what about a smart food blender? The NutriBullet 'Balance' blender is the latest innovation from arguably the king of blending, featuring Bluetooth functionality that allows you to select recipes, blend and track the nutritional information of your smoothies, shakes and everything else you decide to mix together! Impressed? You should be.
What is the NutriBullet Balance?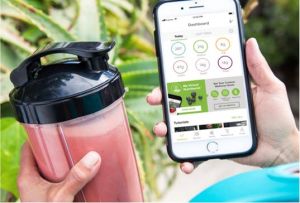 The NutriBullet Balance is a 1200W blender that connects to your smart device via Bluetooth. You can say goodbye to recipe books and measuring cups because the app features hundreds of healthy recipes developed by scientists, nutritionists and dieticians to help you lose weight, improve your heart health, or even manage diabetes, according to NutriBullet. The patented technology measures the nutritional information of the ingredients you put in the blender, helping you to eat the right amount of the right foods.

How does NutriBullet Balance work?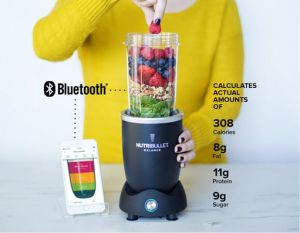 Once you launch the Balance App on your smart device, the power base of the blender will connect via Bluetooth. In the account settings, you can select eating styles and also indicate any dietary restrictions, allergies or dislikes you may have. The Balance will then use your preferences to search its database for recipes that suit you.
The NutriBullet Balance can also prompt you on which ingredients to put in the blender first. Typically, it's high-moisture foods first with solid foods last, but you won't even have to think about that since the blender does it for you. As you add each ingredient, it calculates the nutritional value of each item and automatically sets the blend time for the consistency the recipe requires. It uploads nutritional information to your profile, plus updates any other fitness apps you use through Apple HealthKit.
NutriBullet Balance App
The NutriBullet Balance App is aimed to be like a virtual nutritionist, which can do the following:
Get nutrition data: as you add your ingredients, it uses Bluetooth to communicate with the NutriBullet Balance blender's Smart Nutrition Sensor for real time nutritional information
Set wellness goals: includes goals for sports performance, weight management, detox, energy boosting, gut health, heart health and immune health
Track nutrition goals: calculates calories, protein, fat, carbs, sugar and fibre to help you keep to your goals
Personalise recipes: it's customisable so that you only get recipes suited to your goals and tastes,plus it lets you select any dietary restrictions or allergies you might have such as anti-inflammation, diabetic friendly and FODMAP
Timer: the app recommends a blending time for each recipe and automatically stops the blender after the set time
Connects to other apps: syncs with other fitness apps through Apple HealthKit
NutriBullet Balance Design
The Power Base is designed with an insulated matte base shell and easy-grip rubber base with anti-slip suction legs, so that it's stable when in motion. It also features an LED power button at the front. Inside, it's stated to be equipped with a Smart Sensor scale, Bluetooth Smart Technology and a 1200W motor.
NutriBullet Balance Accessories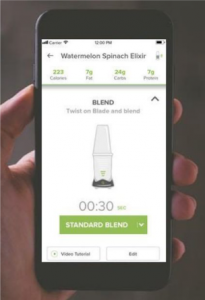 The NutriBullet Balance comes with a 9-piece set that includes the following accessories:
1200W Power Base with Smart Nutrition Sensor
2 comfort lip rings
2 colossal cups (900ml)
2 flip-top to-go lids
1 stainless steel extractor blade
1 User guide and manual
Additional accessories such as stainless-steel cups ($39.99) or cups with handles ($16.99) can be bought separately.
How much does the NutriBullet Balance cost?
Typically, blenders range from $100 to $1,000, depending on size and their power capability. Personal blenders, such as this one, cost anywhere between $100 and $500. At the time of writing, the NutriBullet Balance retails for $279.99 RRP, sitting towards the high-end range.
NutriBullet Balance: $279.99 (RRP)
A blender with…Bluetooth? Say goodbye to recipe books and meet Balance, the new SMART blender from NutriBullet. #NutriBulletBalance #NutriBullet pic.twitter.com/DfAp0IckTm

— NutriBullet (@thenutribullet) April 11, 2018
Should I buy the NutriBullet Balance blender?
The NutriBullet Balance is certainly a unique blender in the market. Being able to connect to your phone and calculate nutritional information is convenient, especially if you're tracking your diet. Also having a bunch of recipes at your fingertips, customised with your preferences, might help you to fast track the recipe searching process.
While adding Bluetooth connectivity is handy, if you're not going to use this feature, you might be able to save some cash and buy a similar model without it. The NutriBullet 1200, for example, has the same blending power capability and retails for $80 less at $199.99 (RRP). So, consider if you'll benefit from this feature and if you think so, it might be worth investing in.