Samsung is best-known for major household appliances – like washing machines and fridges – as well as the latest electronics, including televisions. Chances are you own at least one or two Samsung products. But it also produces a concise range of innovative vacuum cleaners, with the Samsung 'POWERstick Pro' the latest addition. Competing against the likes of Dyson and LG, this new Samsung handstick vacuum is designed to help transform the act of cleaning, claiming to provide an extended battery life, high suction power and an 'ergonomic' design. Handstick vacuum cleaners are certainly the future, but is this one set to change the way you keep your home tidy?  Read on to find out.
What is the Samsung POWERstick PRO Vacuum?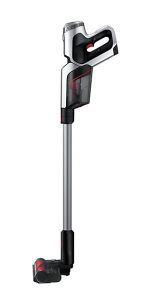 The POWERstick PRO is the latest cordless stick vacuum in the Samsung range. It's boasted for improved battery life, flexible ergonomics and easy maintenance. As many stick vacuums currently on the market aren't designed for full home cleaning because of their limited battery power, this new Samsung model will be one to compete with.
How does the Samsung POWERstick PRO work?
Powered by Samsung's Digital Inverter Motor, the POWERstick PRO is claimed to deliver up to 150W of suction power to help collect dust, dirt and hair from numerous types of floor surfaces. While the digital inverter motor rotates, the "airfoil" motor blades minimise air resistance to generate powerful suction, according to Samsung. The Turbo Action Brush then helps to maximise cleaning performance by driving bristles into the carpet to remove small dust particles.
How long does the Samsung POWERstick PRO battery last?
Battery life is vitally important for cordless vacuum cleaners, and it's one area that many budget friendly models lack in. The POWERstick PRO runs on a 32.4V lithium-ion removable power pack that is claimed by Samsung to give up to 40 minutes of battery life. A second battery – that can be purchased separately – can be swapped out, doubling the run time to up to 80 minutes.
Samsung POWERstick PRO Design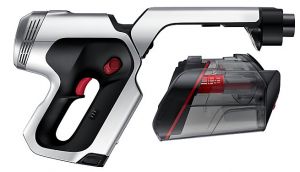 The Samsung POWERstick PRO is said to deliver a comfortable and thorough clean, while maintaining a sleek, metallic look. The new ergonomic 'FlexHandle' is designed to fold up to 50 degrees, giving you the ability to reach beneath furniture such as coffee tables, while minimising the strain on wrists and back.
Meanwhile the POWERstick PRO's Easy Clean technology is claimed to reduce the hassle of cleaning the vacuum itself. The Easy Clean Dustbin can be emptied by pulling one lever and tipping out the contents.Removing dust, debris and even tangled long hairs is said to be hassle-free, while the advanced HEPA Filtration system helps ensure that dust collected stays in the barrel and isn't released back in to the air.
Samsung POWERstick PRO Accessories

Available in two different models, the POWERstick PRO comes with additional accessories to help with a variety of tasks:
Mini Motorised Tool: features a rotating brush that's stated to pick up tiny particles trapped in fabric, ideal for cleaning furniture
Soft Action Brush: designed to target fine dust on hard floors
Combination Tool: is claimed to pick up dust and dirt on a wide range of surfaces such as on window frames and table tops
Flexible Tool: bends at an angle to pick up dust and dirt in hard-to reach places such as on top of the fridge
Extension Crevice Tool: long and slender design boasted to reach into tight spaces as well as extend to reach the high, hard-to-reach areas, such as the ceiling.
How much does the Samsung POWERstick PRO cost?
The POWERstick PRO sits in the high-end of the price spectrum for handstick vacuum cleaners. There are two models currently available, with the difference being that only the SS80N8076KC model comes with the addition of a soft action brush and flexible tool. Both models are available from major retailers, with the following recommended retail price tags:
POWERstick PRO (SS80N8015K2): $699
POWERstick PRO (SS80N8076KC) with soft action brush and flexible tool: $799
Should I buy the Samsung POWERstick PRO vacuum cleaner?
Cordless handstick vacuum cleaners certainly help to eliminate many challenges that Aussies face when vacuuming their homes. You can forget all about re-plugging the vacuum from room to room, as well as tripping over the cord and the barrel itself. The Samsung POWERstick PRO is boasted for a long battery life of up to 40 minutes, as well as an ergonomic design with the ability to clean the hard-to reach spots, so you can clean efficiently and have more time to do the things you enjoy.
With major recent improvements from the leading brands, it seems that handstick vacuums will become the norm in households in the near future – Dyson will no longer produce vacuums with cords! But while the Samsung POWERstick PRO may provide convenience and good usability for some, it does come with a hefty price – $699 and $799 RRP. If you want to pay a premium price, knowing that you're getting a well-designed appliance that should last, then perhaps it's worth the investment. But before you jump in, it would be wise to consider customer reviews and ratings, such as ours via the link below.