The rise of smart appliances has seen manufacturers launch products with an increasing number of intelligent features and automatic settings, many of which can often be activated with the press of a single button. And that innovation has extended as far as the mundane, old laundry.
A Canstar Blue survey found one in four Australian households stick to the same wash settings on their front loader (27%) or top load washing machine (26%), regardless of the type of items they're washing, with a handful of consumers admitting they're confused by the different cycles. Samsung's research similarly revealed that many Australians don't use half of the washing settings available on their washer, as well as using too much detergent! So, to help you take the guesswork out of doing the washing (and drying), Samsung introduced its smart AI range of laundry appliances.
Samsung's Smart AI line of washing machines and clothes dryers received Canstar Blue's Innovation Excellence Award (Laundry Appliances) for 2021 ─ a new award recognising smart innovations in home appliances and consumer electronics. This award uses our sophisticated rating methodology under which winners are scored based on a range of factors, including whether the product is unique and how disruptive it is to its product category. Other factors considered are affordability, ease of use, and impact on the average consumer.
What is the Samsung Smart AI range?
Samsung's Smart AI range is the latest addition to the brand's product line, offering several washing machines, clothes dryers, and washer-dryer combos that utilise AI (Artificial Intelligence) and Wi-Fi connectivity to help make doing the laundry easier and more efficient.
The brand's Smart AI washers feature four built-in sensors and an Auto Dispenser, which are designed to ensure the machine only uses what it considers the appropriate amount of water, detergent, and rinse time, based on the weight of the laundry load and level of soiling. When partnered with a Smart AI Dryer, the dryer can similarly achieve 'optimal' results by using the Auto Cycle Link to select the best drying cycle based on the wash cycle used in the Smart AI Washer.
Other features seen in several Smart AI machines include:
Hygiene Steam Cycle: provides a deep clean by releasing steam from the bottom of the drum and soaking the items, to kill up to 99.9% of common bacteria and allergens.
Super Speed Cycle: designed to wash loads weighing up to 5kg within 39 minutes.
Drum Clean+: cleans the inside of the machine to reduce odour-causing bacteria.
StayClean Drawer: uses a water flushing system to help clean detergent residue.
VRT Plus: reduces vibration by up to 30%.
Samsung's Smart AI Washer & Dryer prices
Here are the prices for some of Samsung's Smart AI washing machines and dryers.
| Model | RRP |
| --- | --- |
| Samsung 8.5kg Top Load Washer (WA85R6350BW) | $799* |
| Samsung 8.5kg AddWash Front Load Smart Washer (WW85T654DLE) | $1,049* |
| Samsung 9.5kg AddWash Front Load Smart Washer (WW95T654DLE) | $1,149* |
| Samsung 8.5kg/6kg AddWash Washer Dryer Combo (WD85T554DBW) | $1,249* |
| Samsung 12kg AddWash Front Load Washer (WW12TPS4DSH) | $1,449* |
| Samsung 9.5kg/6kg AddWash Smart Washer Dryer Combo (WD95T754DBT) | $1,549* |
| Samsung 8.5kg/6kg QuickDrive Smart Washer Dryer Combo (WD85T984DSH) | $1,849* |
*Prices taken from Samsung, correct as of June 2021.
Why do we like the Samsung Smart AI range?
Samsung's Smart AI range helps families avoid paying for the 'unnecessary', from removing excess amounts of detergent to using less energy as a result of shortened cycles. The AI Pattern function also allows the Smart AI washer or dryer to learn and remember users' habits and preferred settings over time, offering a tailored experience while helping households save time and money.
Samsung has additionally reduced the number of physical buttons and installed an on-screen display, claiming this will make the task of choosing settings simpler and allow loads to complete sooner. Similar to other smart dryers and smart appliances, users can use the SmartThings App on their smartphone to schedule their washing, as well as monitor their load and access controls remotely.
What are our Innovation Excellence Awards?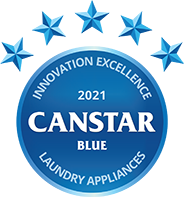 Canstar Blue's Innovation Excellence Awards use our unique expert rating methodology to compare submissions received from home appliance and consumer electronics brands throughout Australia. Canstar Blue's Innovation Excellence Award winners represent a selected group of innovative products released within these fields over the most recent year. Canstar Blue's Innovation Awards Methodology is available on request.