The fantasy of having your own version of Rosie the Robot maid from The Jetson's might be closer to reality than you think. While Samsung is dishing up smart fridges with grocery shopping functionalities and even an built-in TV, brands like LG and Miele are similarly creating smart washing machines with sensors that automatically detect and run personalised washing cycles.
When it comes to smart clothes dryers, it seems brands are no longer hung up on simply speeding up the process or providing supposedly superior results – they're also promising to downsize our electricity bills by cutting down energy usage. So, what actually are smart dryers, and are they worth the money?
What is a smart clothes dryer?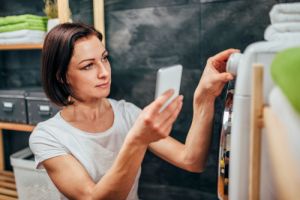 Like all 'smart' appliances, a smart clothes dryer is designed to make life that little bit easier. Depending on the brand, the programs or technology included in the machine can range from energy-saving cycles to troubleshooting programs that provide customised answers.
What is sensor drying?
How a sensor drying function works varies between different models. But it essentially refers to an innovative feature that allows the machine to detect factors such as the type of fabric, the weight of each laundry load, and the amount of moisture. This is said to help the machine better understand which cycle is appropriate for the specific load, before automatically adjusting the settings. 
How much do smart clothes dryers cost?
Compared to traditional clothes dryers, smart dryers tend to be more expensive. These usually offer a larger variety of features designed to give you fabric-specific – or item-specific – drying programs. The capacity of the machine will be a major factor in the price, although smart dryers are likely to cost at least $1,000 – but there are definitely still some larger size models for less. The following table offers a pricing guide.
| Clothes Dryer Model | Price |
| --- | --- |
| Haier 8kg Condenser Dryer HDC80E1 | $899* |
| Electrolux 8kg Ultimate Care Condenser Dryer EDC804BEWA | $1,199* |
| LG 9kg Condensing Dryer with Tag On Function TD-C90NPE | $1,499* |
| Beko 8kg Sensor Controlled Hybrid Heat Pump Dryer BDP83HW | $1,599* |
| Samsung 10kg Hybrid Heat Pump Dryer DV10R8540GV | $2,599* |
Source: Respective retailers and Appliances Online, January 2020
Who sells Smart Dryers?
In Australia, these are some of the brands you'll find that sell smart dryers:
Haier 8kg Condenser Dryer HDC80E1
Living in a small space with not much place to air out your dirty (or, rather newly washed) laundry? The Haier 8kg Condenser Dryer provides 12 drying programs, including an anti-crease mode, to minimise the need to lug out the ironing board. This model also allows you to choose between three dryness levels, so you can avoid over drying a particular item (or alternatively, unload a wet towel that's just as soggy as it went in).
Other features include a stainless-steel drum, LED display screen, a child lock for safety, and even four temperature options. It also features sensor drying, designed to monitor the temperature and moisture level to ensure garments are dried to the desired setting.
Energy efficiency rating: 2 stars
RRP: $899
Electrolux 8kg Ultimate Care Condenser Dryer EDC804BEWA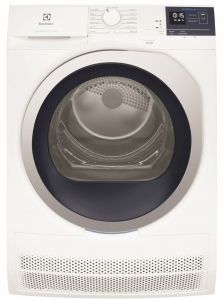 Just like us, sometimes your laundry just needs a little extra love. If you have items that need gentle garment care, Electrolux claims its Electrolux 8kg Ultimate Care Condenser Dryer can prevent clothes from damage as a result of over drying.
The machine is said to periodically reverse the direction of the drum to minimise tangling and wrinkles, while the drum itself is described to provide a "gentle environment for delicate clothing" by limiting the amount of contact clothing makes with the drum. The 'advanced' humidity sensors are similarly stated to prevent over drying.
Energy efficiency rating: 2 stars
RRP: $1,199
LG 9kg Condensing Dryer with Tag On Function TD-C90NPE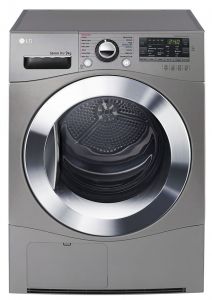 Think the change from cheap Tuesdays at Blockbusters to on-demand content on Netflix was big? LG's got our heads spinning with its Tag On dryer function, a feature using Near Field Communication (NFC) technology to let you download more drying cycles to your machine and even check your usage history.  Plus, many laundry appliances from the brand are compatible with the LG ThinQ app which allows the model to "talk for itself" and help users solve issues while supposedly saving more time and money on "unnecessary call outs".
Smart dryers like the LG 9kg Condensing Dryer with Tag on Function also contains three sensors on the dryer display to monitor the heat exchange, moisture and air temperature. These sensors are claimed to automatically control the drying time and temperature based on the chosen program in order to achieve what the machine considers "optimal drying results" as well as prevent 'over drying'. If you're worried about space or installation, the process used by condenser dryers from LG, such as this one, apparently removes moisture from clothes without increasing the humidity in your laundry. This is said to ultimately remove the need for bulky venting kits and make installation easier.
Energy efficiency rating: 2 stars
RRP: $1,429*
Beko 8kg Sensor Controlled Hybrid Heat Pump Dryer BDP83HW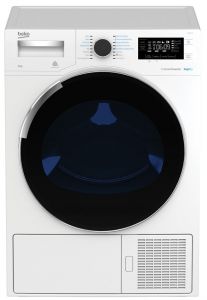 While the smart dryer might be a recent trend, Beko works to combine the old with the new to create its range of savvy, wallet-friendly, laundry appliances. Models like the Beko 8kg Sensor Controlled Hybrid Heat Pump Dryer with the RapiDry feature are described to give you the option of drying items quickly or drying energy efficiently.
Beko offers a variety of hybrid tumble dryers designed to combine the traditional heater with modern heat pump technology, such as EcoGentle Technology. This is claimed to dry clothes without removing the colours, and keeping the energy consumption minimal to avoid high electricity costs in the long run. The 10 Year ProSmart InverterMotor Technology is similarly advertised to provide increased efficiency and reliability by confusing less energy whilst prolonging the life of the machine.
Energy efficiency rating: 8 stars
RRP: $1,599
Samsung 10kg Hybrid Heat Pump Dryer DV10R8540GV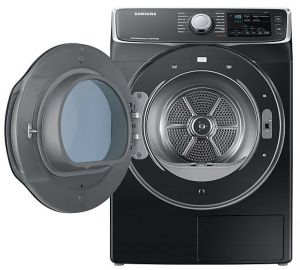 Need to vent after finding out your dryer is draining your wallet as well as your clothes? Samsung promises to unload some of the work that might be affecting your electricity bills. Models like the Samsung 10kg Hybrid Heat Pump Dryer contain Hybrid heat pump technology claimed to reduce energy usage, with the machine also having an 8-star energy efficiency rating to prove it. According to Samsung, the Hybrid heat pump uses a heating element to preheat the air and quickly begin the drying process. The temperature is apparently maintained throughout the cycle, ultimately recycling the warm air and minimising the amount of energy consumption needed.
Similar to LG's ThinQ app, Samsung has its Samsung Q-rator to provide extra help through your smartphone. First time living on your own? The 'Laundry Recipe' offers suggestions on what the machine considers to be the best drying cycle for your load, while the 'HomeCare Wizard' is said to help keep your machine in check by identifying problems and recommending solutions.
Energy efficiency rating: 8 stars
RRP: $2,599
Is a smart dryer worth the money?
Smart dryers might be pretty useful if you need fabric specific programs or are looking for a more energy efficient clothes dryer. The ability to monitor, schedule and control the appliance from your smartphone can also be handy if you're busy and want more organisation in your life. But while a machine may have energy-saving programs, there are still plenty of smart dryers with low 2-star energy efficiency ratings.
To give you a hand in comparing the clothes dryer brands mentioned above, alongside a range of others, you may like to check out our star ratings via the link below, which will offer you further guidance on the best dryer for your home and budget, as judged by everyday Aussies.
Clothes Dryers Review & Ratings
Picture credits: Didecs/shutterstock.com, Zivica Kerkez/shutterstock.com
Original Author: Tahnee-Jae Lopez-Vito